The Fashionisto: What is your background in fashion?
Thomas Engel Hart: I was born and raised in New York in the 1970s... which was pretty hella cool looking back on it even though as a youngster I didn't really spend too much time on St Marks Place- I saved that for later. I went to FIT for a couple of years in my early 20s all the while going out at night, dressed to the nines, at the Limelight, Pyramid, and any other dive featuring booze, dancing, club kids and drag queens. Afterwards, I studied fashion here in Paris at Studio Bercot, and afterwards, I assisted Andre Walker and Veronique Leroy before launching my label in 2001. My style consists of:  strong sexy cuts married with an eccentric and very cool style.
TF: What goes into styling your lookbook?
TEH: About 45% glam rock, 25% Japan, and a healthy dose of last minute brilliance, courtesy of my team and the models!
TF: What does this collection express?
TEH: It was about a 1970s glam sensibility with strong Japanese influence. I was thinking about Kazuo Ohno, Lindsay Kemp and David Bowie. And always, how to well use the fabrics and create some extra- cool clothing.
TF: How would you describe the style in which you design?
TEH: Strong, individual, flattering and with a subtle sexiness.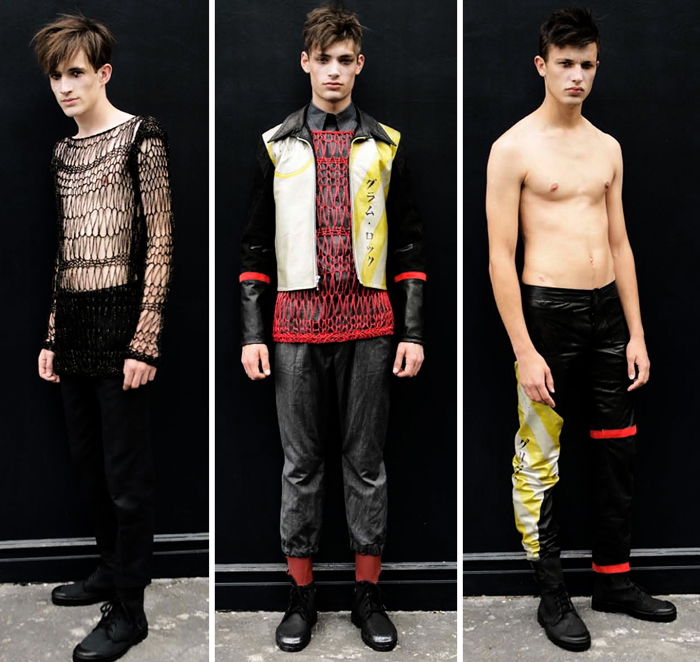 TF: Describe your collection in adjectives.
TEH: Rich, individual, strong, sexy, creative, man.
TF: What is your personal style?  Does it deviate from the style of your collections?
TEH: I guess its all of the same but I tend to be somewhat lazy in my day looks cuz I m very busy these days!
TF: Where do you hope to see your brand in the next five years?
TEH: In the wardrobes of even more of the coolest men in the world!