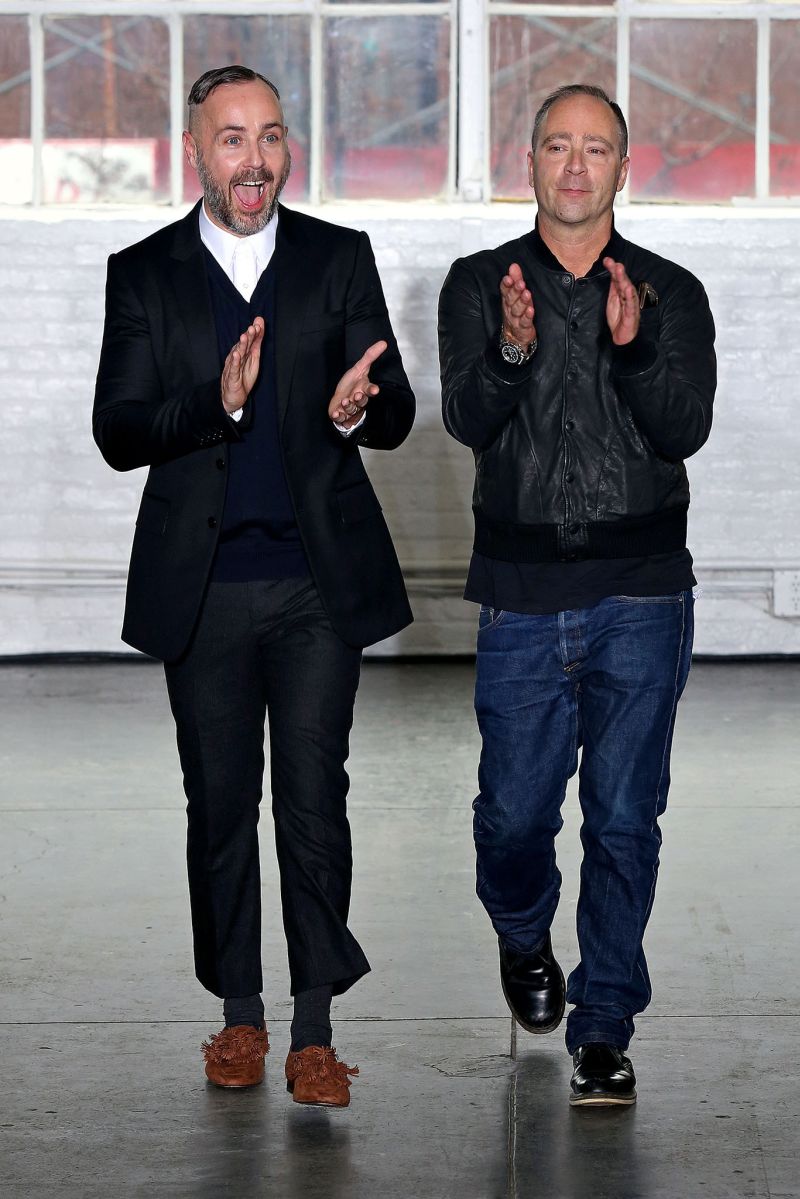 The Duckie Brown runway show kicked off fashion week February 7th at the Industrial Theater and asked the age-old question – Why do we wear shirts under jackets? With street-savvy tailored looks, designers Steven Cox and Daniel Silver designed a minimalist collection of tweed overcoats and Japanese denim jean jackets for fall 2013/14. The clean and street chic looks were accentuated by the urban sound mixed by music maverick Laurent Vacher. The electronic psychedelia beats cut out half way through the show leaving the audience sitting in 12 minutes of silence enforcing the importance of music at Fashion Week. It's hard to strut your stuff in complete silence. Already knowing the importance of music, I met up with Cox and Silver to chat music, fashion, and breakfast habits. / Words by Gregory DelliCarpini Jr.
What did you have for breakfast?
Daniel: I usually always have oatmeal but it wasn't ready this morning so I had a bagel and some camomile tea instead. Then I went to the studio smoked a bunch of American Spirit cigarettes and played scrabble.
What is the music selection process like?
Steven: It's a natural progression. We always think about what we want. Sometimes it's very definite. It comes out very obviously. I don't like it all to fit together. I am not producing a show based on out of Africa with an African prince dressed in leopard and suddenly bongo drums coming at me. I've been to shows like that before. On the program it said inspired by Africa and the first model was African-American with the whole headdress on and bongo drums playing. Although I won't tell what show it was. It was a great show.
Daniel: It was Zang Toi. We love Zang!
You've always worked with Laurent to mix your music. What do you love most about working with him?
Steven: Laurent has done our music for 10 years now. We have our team that has been with us for years now. We are all growing old together. I love him because we are the same age and have the same taste in music. We grew up loving the same bands like New Age and Siouxsie and the Banshees. That whole electronic thing that we had when we were teenagers was great and still relevant today. I like that kind of electronic mod music. He's playing the new version of that this season.
Who is it this season?
Daniel: Nina Cherry. We've had her many times before. We love her. But this time it's great and fresh. So Laurent looked at the collection and he brought us 15 – 20 selections. We loved Nina Cherry and the cool new stuff she is doing. That's how it goes. It fits together but doesn't. It's a fashion show we want it to be a little more blood pumping. But we do want the models to walk slowly for this collection. Music's great. Why is Snoop Dogg now Snoop Lion now?
What about the fashion? What is this collection all about?
Steven: It was a role reversal. We wondered what happens if you put a sweater over a jacket. A short jacket over a long jacket? I saw this guy on the street who had all these funny layers on and I took a picture and that was it. We did no shirts and only outerwear. We got to a point where we didn't need any more inspiration. It's just what we do.