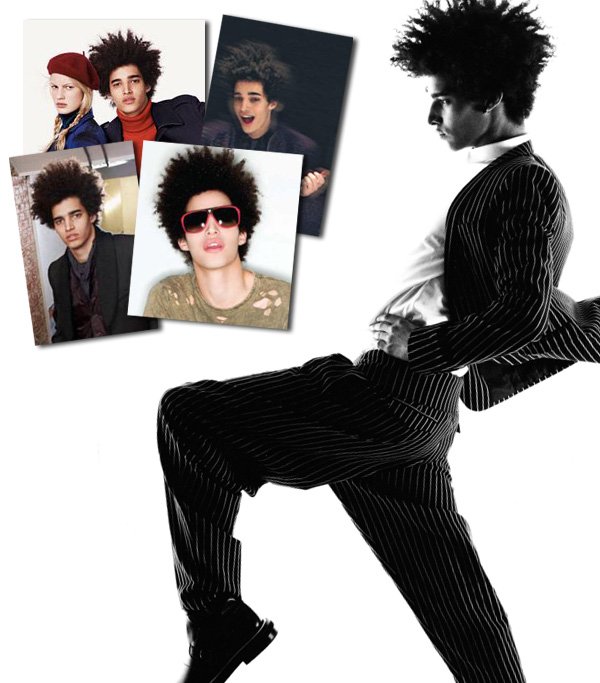 Appearing in fall 2010 campaigns for United Colors of Benetton, Paul Smith, Tommy Hilfiger and Etro, DNA model Luis Borges experiences his breakout season in a sensational fashion. Twenty-two years-old and from Portugal, Luis made a quiet debut on the runway almost two years ago before getting a phone call, where in a humorous fashion, Luis Smith had been confirmed for Paul Smith. Surely a mistake that would not be made today, Luis is not going anywhere anytime soon with campaigns already lined up for next year. One of the friendliest talents around, we look forward to what the near future holds for this new star.
Luis photographed by Marco Pires with best friend and fellow model Ana Sofia
How did you become a model?
Luis: It all started when my sister put me up for Elite Model Look in Portugal without me even knowing it. They called me to go to the casting…I was one of the finalists…but no, I did not win. That's life. Anyway it is all my sister's fault ah ah ah.
When did you start modeling then?
Luis: I started around 18 months ago. But full-time, I have only been doing it for the past 12 months.
How has your demand as a model changed in the last year?
Luis: It changed a lot, actually it did not change, everything happened in the last year. The shows for great designers, four campaigns for winter 2010, the ranking at Models.com…Sometimes I just think to myself it's all going too fast, but after I just go: No it's not too fast, it's great!!!
What was the first fall 2010 campaign booking you found out about?
Luis: The first campaign was Paul Smith, after was Tommy Hilfiger and Benetton.
What was your reaction?
Luis: I remember I was in Paris doing my castings, I had just got off the subway, and my booker called me "Ça va Luis Smith?" I told him I was Luis Borges, not Luis Smith, that's when he told me I had been confirmed for Paul Smith. I was shouting in the middle of the street, after all it was my first campaign, I had the right to do it. Thank God I was in a hotel room in London when I got the confirmation for Tommy, otherwise I would have been arrested.
Most memorable shoot so far?
Luis: I think it was Tommy Hilfiger because it was shot on location in Los Angeles, and all the production involved. It was a very nice family reunion: the Hilfigers.
The evening before a runway show, what is your routine?
Luis: I try to go to bed early, as sometimes we have to wake up really early. I have to make sure I will be okay for the job.
Where do you currently live?
Luis: At the moment, I'm in Lisbon, Portugal where I was born.
What hair products do you use?
Luis: I know it does not look like it, but my hair is really easy to style. I just need to use products with keratin: shampoo and mask.
How would you describe your personal sense of style?
Luis: Unique! ah ah ah . It has already happened to me, to be stopped on the street by people asking me where I bought my boots or even a plain t-shirt. I'm happy to know people like my style and identify with it. I think that is very important for a model to dress up with his own style.
What is your favorite movie?
Luis: I love My Sister's Keeper with Cameron Diaz where she plays a mother that battles to save her daughter's life that is sick with leukemia. It's very touching. I also love Saw because I love all the "games" they have to go through to prove they deserve to live their life.
What were you doing before modeling?
Luis: I was working at an accounting office in Castelo Branco, the city where I was living until I moved back to Lisbon to start modeling.
Describe your dream vacation.
Luis: Hmmmmmm. I just had my dream vacation in Mexico. I was there for 2 weeks. I love to visit new countries and cultures. But I would say I would love to go to Cape Verde. To meet my roots and meet the people that are very warm and friendly.
As of today, what is the future looking like?
Luis: When my modeling career ends, I would like to have my own agency. I also intend to take a fashion photography course.