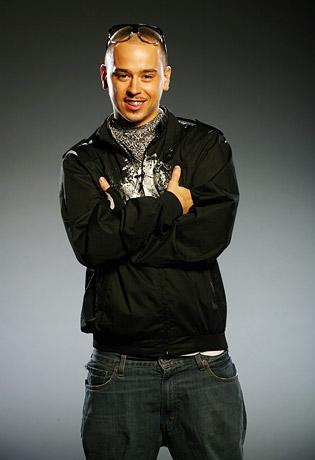 If you have been watching VH1's Glam God, you have probably found it near impossible to not LOVE Indashio.  His style is crazy and his personality is addicting.  For those living under a rock, VH1's Glam God is hosted by Vivica Fox and is a competition where stylists compete in weekly challenges to win a $100,000 and a chance to style a notable celebrity.  Episode 5 aired last night and Indashio is still going strong.  Good luck!
Q & A
Favorite designers: Jeremy Scott, John Galliano, McQueen, Karl Lagerfeld, Patricia Field and Vivian Westwood.
Favorite magazines: US Magazine, V, Lucire
Favorite reality shows: Glam God, I love NY,
What was the last thing you read? The Secret, but it was on CD. I don't really read.
What are you currently reading? YUCK! NO! I'm a visionaire. I need to start tho. I like picture books.
What was the last artist you listened to? FLO RIDA! I luv the dirty south!
What were you doing before? I just woke up. so I will be checking emails and getting ready for tonight's episode [of Glam God] on VH1!
How did you get involved with NY Profile?
I was contacted by them to host their event
Any up and coming Profile designers catch your eye?
Yes, I loved ALL OF THEM! I find something unique from each of them.
What celebrities are really doing it style wise currently?
Pharrell, Kanye West, Joel Madden, Rhianna, Katy Perry, M.I.A.
How did you hear about Glam God and what were your reasons for participating?
I heard about it on Perez Hilton and I went to the casting call. If course they fell in love with me instantly!
What have you taken out of the experience?
I learned so much from the show...from the challenges. It really made me a better stylist.  I made alot of new friends and I have it all on tape for memories!
Do you get recognized in public?
Yes.  Since the show I have been getting recognized everywhere I go...its very surreal.  I am usually in my own world and don't notice people noticing me, but if I am with friends, they always point it out and get excited.
How is that?
Its cool.  I was in a bad mood getting off the train in Times Square and this girl did a double take and yelled " I LOVE YOU!! I HOPE YOU WIN!" That made my day!

What does the future have in hold for INDASHIO?
That's a good question. I am living my dreams and the most amazing life! I never thought my dreams would take me this far so I am excited to see how much farther they will take me. I hope I am able to continue to inspire people, travel the world and do what I love.  I am looking forward to a spin off show, a book, [an] expansion of my clothing line and a hotel!