Alright, it's a new era and couples are going out on dates with other couples now. Have you adjusted your mindset appropriately? Good, then let's move into the fashion that goes into couples dating. After all, there are a lot of ways that you can make yourself and your partner look glam when you're meeting other people and other ways that you can look really badly as well. Just take some time to check out this list and see what you need to do to look your best for your couples date.
Save the Little Black Dress for Another Time
If you're going out on a date with another couple and bringing your husband along, then you need to leave the little black dress at home. Black has a tendency to make people look older than they are while also making you seem like you're trying too hard for the date. Also, there is no way to present yourself and your other partner together that looks good. What goes well against a black dress that is making such a statement? Nothing, that's what. Keep the LBD handy, but leave it at home for now.
Don't Be Too Formal
Another thing that you want to avoid when you are looking for couples dating is being too formal. You might want to show up and put on a good face for your dates, but you're really there to build connections. Make sure that the guys go for business casual and the ladies go for something a little less than business casual, maybe with a hint of sensuality. If you are a couple seeking female companions only, then you are going to want to show a little more class so that she can be sure you two are into the finer things in life.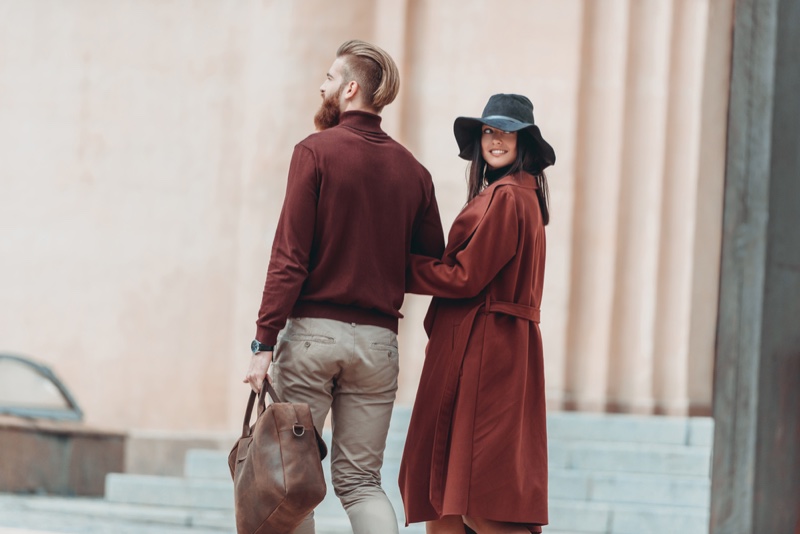 Make Sure the Trendy Clothes Look Good on You
One of the other tips that you need to keep in mind when you're dressing up for a couples date is to be mindful of the trends. For ladies, there are a lot of floral patterns and denim that are coming back this year. Those things are not going to look good on everyone, so you have to consider whether it is better to be trendy or to wear something that looks right on you. Always opt for the latter choice because you want to appear to at your very best. Don't count on the latest fashions to be your best option.
Never, Ever Match Your Partner
The final thing that you have to keep in mind with regards to fashion and couples dating is to never match your partner. There are plenty of people out there who will show up wearing the same color schemes or patterns just to appear more cohesive as a couple. Forget all of that and just dress in clothes that are going to be comfortable as well as good-looking on you. Of course, there are times when dressing in certain color schemes will be requires, but always complement each other's clothes and don't copy them.
There are a lot of fashion rules that you have to keep in mind, but even more so when you are dating couples together. You don't want to kick things off by being too formal, trendy to your own detriment, match clothes with your partner, or look like you just came from a funeral. With all those things in mind, you can manage to wear some outfits that will show off your fun and flirty side that will complement the way that you look!