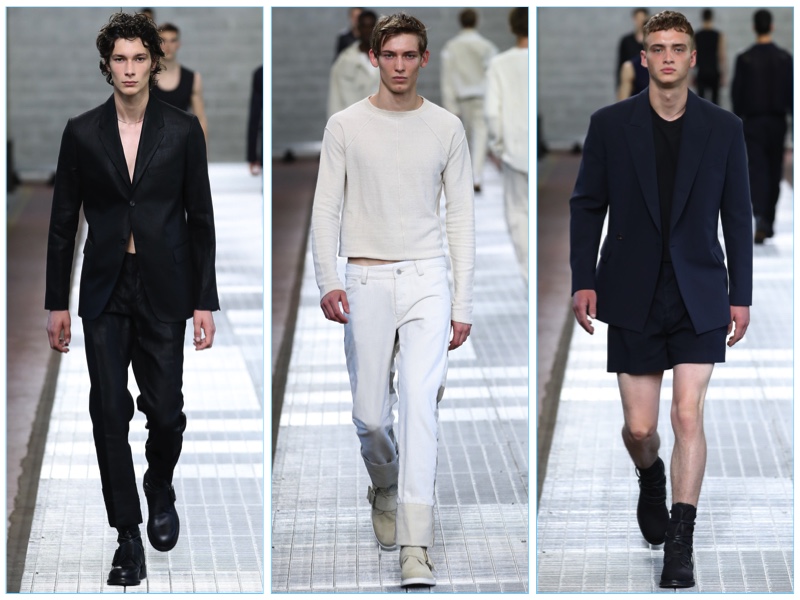 Dirk Bikkembergs tackles a minimal point of reference for spring. The fashion brand turns out a sleek collection with clean lines and fresh details. Creative director Lee Wood modifies the house's athletic code with a sophisticated approach towards masculinity. Picture-perfect tailoring and a chic practicality come together. Hero pieces range from cropped jackets and sweater vests to dashing suits.
Related: Dirk Bikkembergs Finds Order with Military Inspired Tailoring
Dirk Bikkembergs Spring/Summer 2018 Collection
An authoritative and authentic take on the masculine aesthetic, according to the Dirk Bikkembergs codes. Creative director Lee Wood continues his own path of redefinition of the Bikkembergs identity, looking at the foundations while moving forward. Truth, manliness and assurance are his chosen bywords. A man, confident and grown up, is his chosen character.

Truthfulness and functionality this season are amplified to such intensity they almost get raw, looking at the imposing forms, honesty to materials and progressive utopias of Brutalist and Radical Architecture. Shapes are assertive and straightforward. Generous parkas, blousons, pragmatic trousers are the archetypal blueprints on which strong contrasts highlight details and constructions, suggesting rhythmic repetitions of modules. The effect is graphic, with a tangible physical vibe. On the same vein, rugby nods recall the noble physicality of an intense sport and the graphic allure of its uniform. Sharp cuts and decisive volumes give an hyper-masculine yet thoughtful twist to classics such as the double-breasted blazer, the crombie, the straight trousers. Boots and functional sandals anchor the silhouette to the ground, suggesting mobility and presence.

Much in the brutalist vein, fabrics get a sophisticated rawness, playing with contrasts. The tactile firmness of armored cottons, linens, dry wools, calf are offset with the fluidity of technical materials and viscose used for shirting in bold regimental stripes. The organic color palette of white, ivory, sand, light camel and pearly grey is broken by flashes of inky blue, green and black.

Asserting his own presence with unremitting directness, the Dirk Bikkembergs man finds his own progressive balance in brutal honesty.