How you dress up influences how people perceive you especially in business.  For this reason, you should project the right image to show confidence in your look and fashion. After all, you should always follow a certain dress code from the office to the boardroom.  That's why you should learn how to achieve that sharp and successful business look. Here is how.
Dress comfortably
This is the very basic rule of thumb.  But by saying that doesn't mean you dress like a slob or like a bum.  First, it is about following your office protocol, and then dressing as if you're meeting your customers for the day or perhaps a CEO.  
Show you care about your appearance to impress them, but choose clothes that make you feel comfortable while keeping that manly style – according to the function or occasion.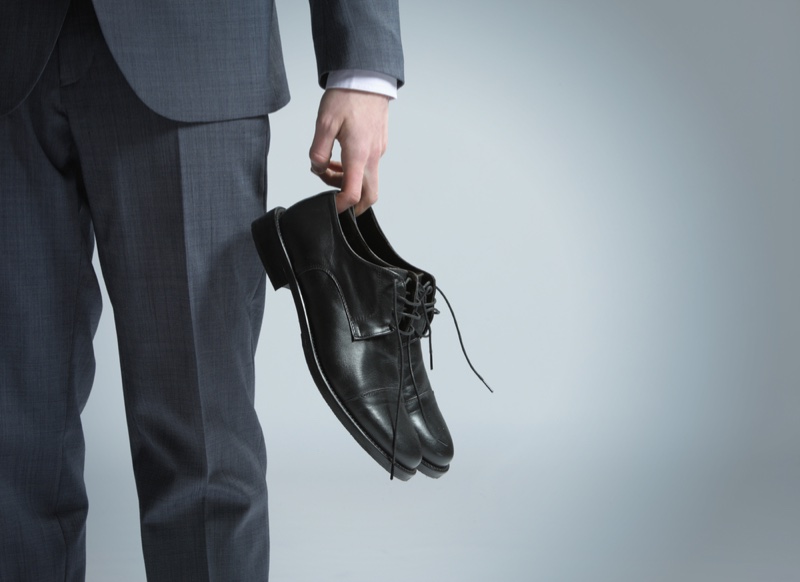 Wear the right shoes
This can't be stressed enough. The kind of shoes you're wearing matters more than what you're thinking.  Do you think you'd impress people with smudged up sneakers?
You cannot go wrong with men's casual boots, wingtips, blucher or oxfords. They all look stylish, classic and elegant, giving you that overall great image projection no matter the people you're meeting for the day.
It all boils down to – "a man can be judged by his shoes."  This thought is still alive these days because people can assume your social or career status simply by looking at your shoes.
So, invest in a great pair of men's shoes to look sharp.  And of course, shine those shoes. Don't make them look worn or scuffed.  Make sure they're looking their best and shined all the time.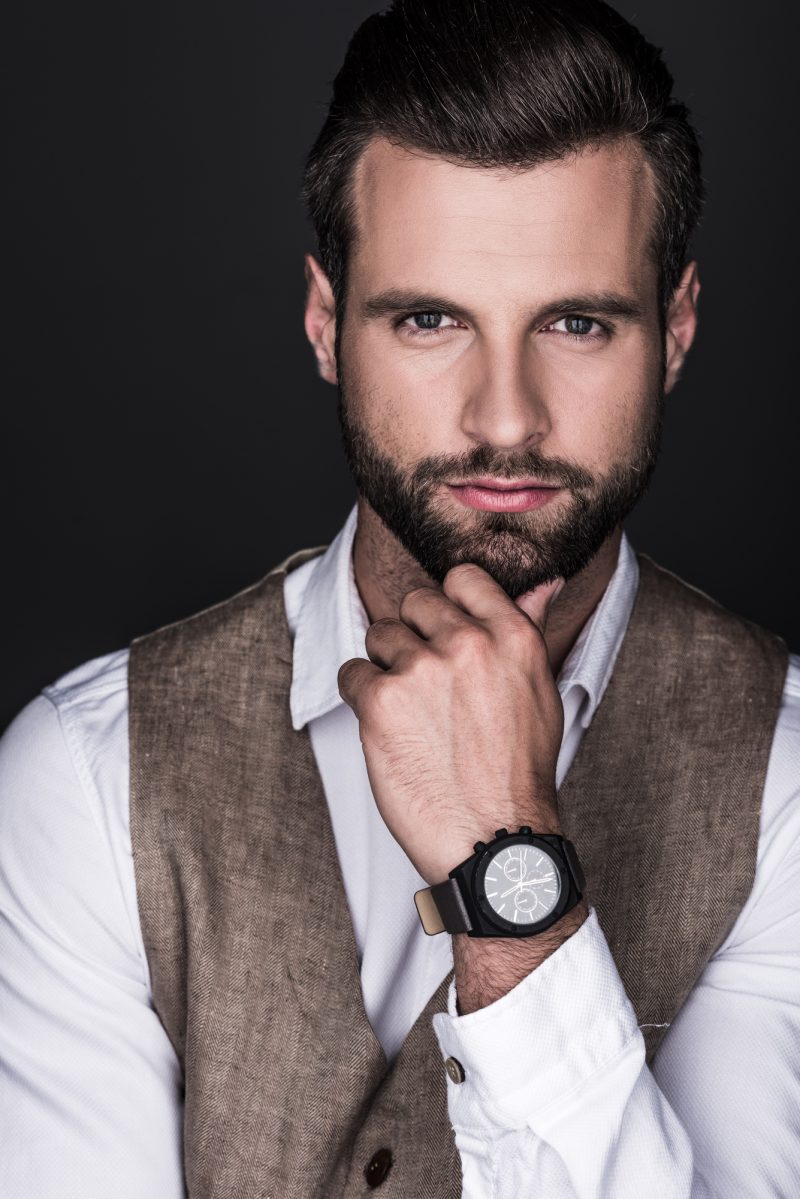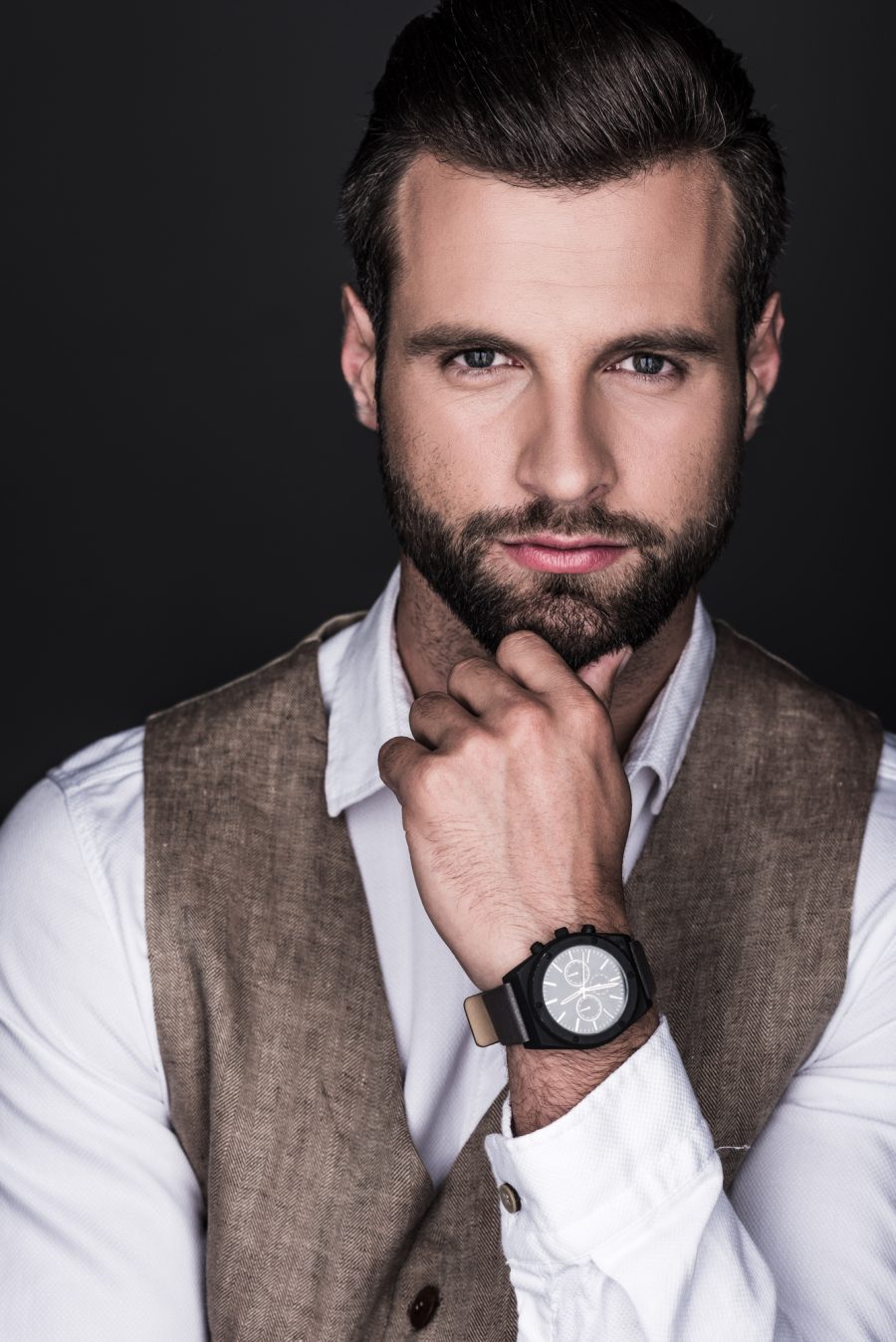 Wear a watch
It's an accessory a man should never go without no matter how this tip seems a bit old school. Having a nice watch can complement your outfit and make you look more professional.  
As a tip, you might want to stay away from a digital or sport watches but go for one with silver or gold because it looks more stylish and classic. Alternatively, you may want to go for leather-strapped watches, which also look professional and simple.
Complete your look with jewelry
Jewelry not only finishes off your outfit but also gives you that successful and luxury look.   For this reason, you should also consider investing in nice jewelry that can complement your outfit. Consider high-quality silver jewelry for that sharp executive appeal because it never goes out of style and looks formal.
Choose classic colors
If you want to create that great image for yourself as an entrepreneur, you must stick with classic colors, such as blue and black. They're still the winners in the business world because they make it easy for people to decide what to wear.
Wear a suit
Men can't go wrong with a classic and sharp business suit that can give them that confidence and business appeal. Suit up with a tailored jacket and trousers and compliment it with a well-ironed shirt.
While ties are also good to finish off the look, they're optional.  But if you're suiting up with a tie, make sure you're staying away from those with weird or cartoon patterns. Or else, you might not be taken seriously. The wisest thing to do is to go for ties with muted patterns or colors. A suit and a tie is also your best bet, especially whenever you cannot decide on what to wear. It's still the perfect combo to solve any difficult fashion challenge.
Final Thoughts
While all positions require a dress code, you can never go wrong if you know how to achieve that sharp executive look.  Always dress up appropriately to make a great impression on your bosses, customers, co-workers and everyone in general.
After all, people all have their opinion of your abilities, personality, and character just based on your appearance alone.  So without even saying, dressing smartly is critical to become successful and look sharp as well.