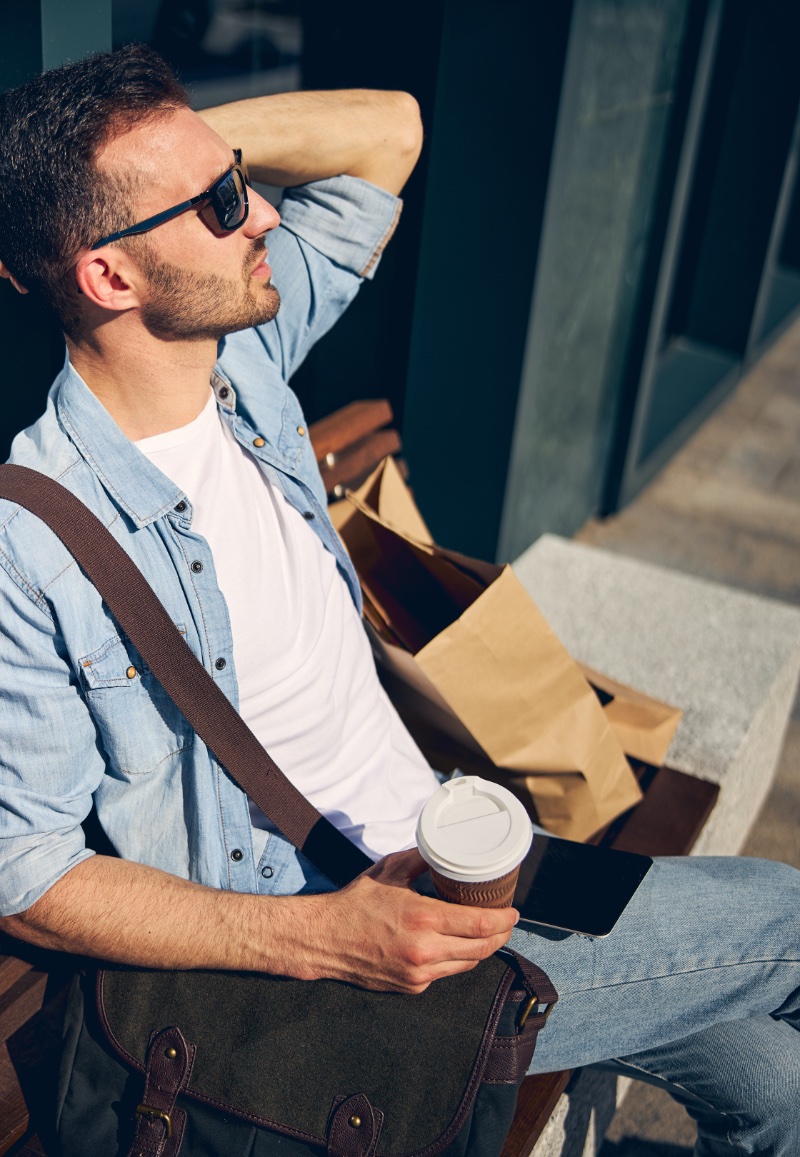 In the fast-paced business world, where time is a premium asset, travel can feel cumbersome. For the contemporary man, this isn't merely about getting from point A to point B; it's an extension of a lifestyle that demands flair and function.
The secret sauce? Knowing what to pack to maintain that signature style, even when you're miles away from home. With the right choices, your travel wardrobe becomes a harmonious blend of comfort and sophistication, unrestricted by the mode of transport—car, train, or plane.
So, let's elevate this discussion from mere luggage logistics to an elevated form of expression. We're about to explore the subtle art of curating a travel wardrobe that ensures you arrive not just in style but in business-ready style.
Tailored Travel Gear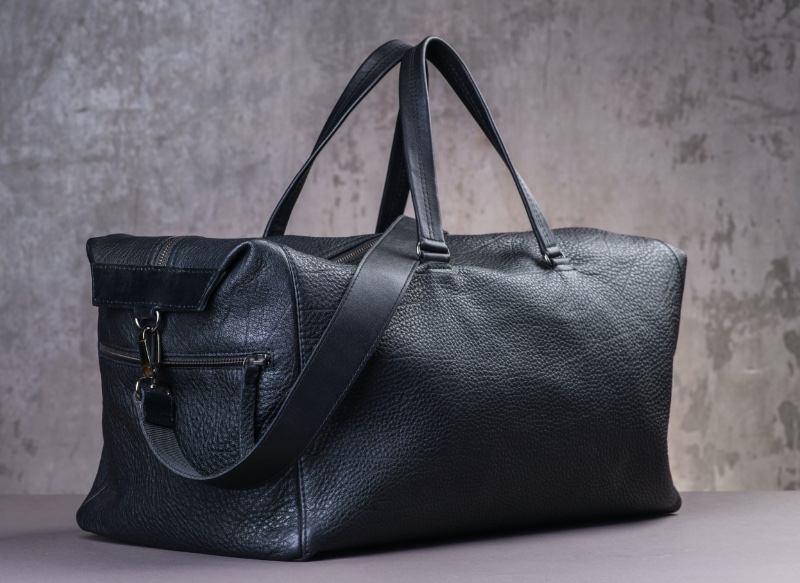 Navigating the open road or crossing time zones, the last thing you want is clunky luggage weighing you down. It's far from the epitome of stylish travel. The answer lies in curated travel gear that marries utility with sophistication.
Envision leather duffels that acquire character over time or specialized backpacks with pockets designed for each indispensable item. The benefit here isn't just aesthetic. It's about streamlining your travel experience through thoughtful organization.
After all, the caliber of a man's trip isn't only evident in his wardrobe but also in the luggage he selects.
Elevating Casual: The Smart Edit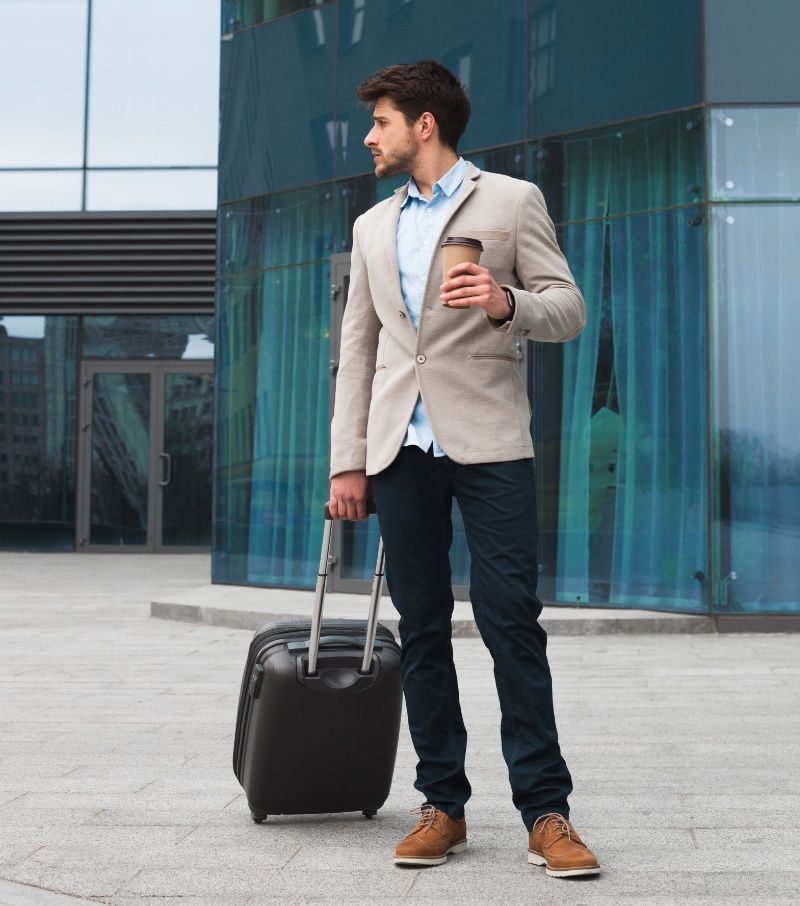 In business travel, versatility is your ticket to a stylish and functional wardrobe. A sports coat, particularly in versatile shades like charcoal or navy, becomes the linchpin of your casual yet sophisticated look.
A sports coat possesses the transformative power to elevate a simple t-shirt and dark jeans into a confident ensemble—ideal for a dinner that doesn't demand full business attire or an impromptu meeting in a café.
The lightweight sweater is another star player, especially in high-quality materials like cashmere blends. This versatile item straddles the line between casual comfort and understated elegance.
Worn alone, a sweater pairs seamlessly with jeans for a look ready for the hotel lobby as it is for a quick coffee run. Under a sports coat, the sweater adds a layer of sophistication without the burden of added bulk.
Consider adding a finely knit turtleneck to your luggage if you're venturing into locales with fluctuating weather. It is an effective layering piece but stands strong on its own, delivering an air of European flair to your overall look.
What about the lower half? A pair of tailored chinos can be your go-to. These versatile trousers are comfortable and effortlessly traverse the casual-to-smart spectrum when paired with the proper upper wear.
Incorporating these carefully selected pieces into your travel repertoire ensures you're always on time for a last-minute outfit.
The Art of Layering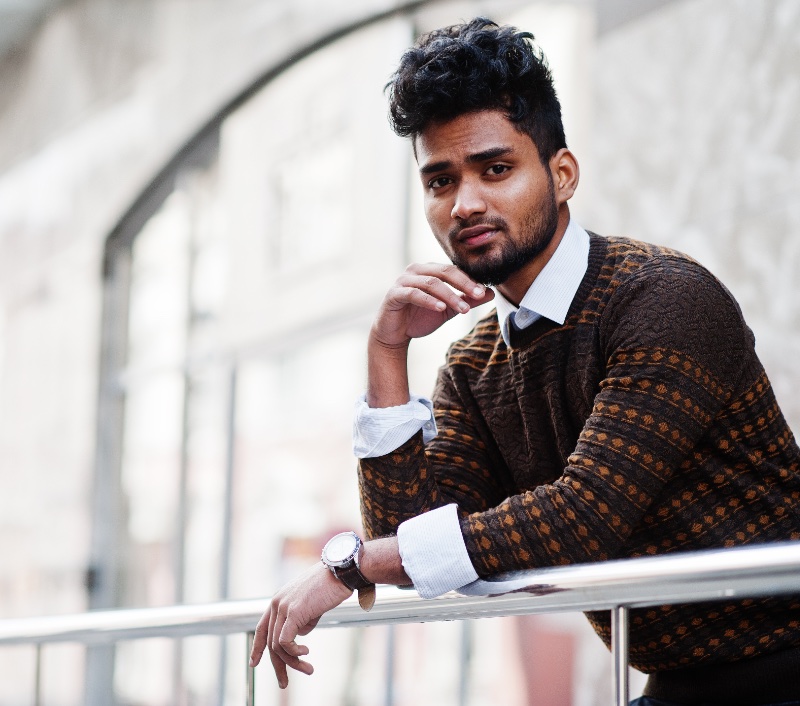 Layering is the cornerstone of the business traveler's attire, allowing for fluid outfit transitions that can adapt from an informal stop to a high-stakes meeting.
Begin with a timeless white tee, layer on a cashmere sweater of minimal weight, and finish the look with a well-fitted blazer. This tactic keeps you ready for shifts in weather or unforeseen agenda changes.
The focus isn't on amassing layers but thoughtful pairings that offer flexibility. As you refine your approach to layering, it evolves into an essential component of your business travel playbook.
Smart Footwear Choices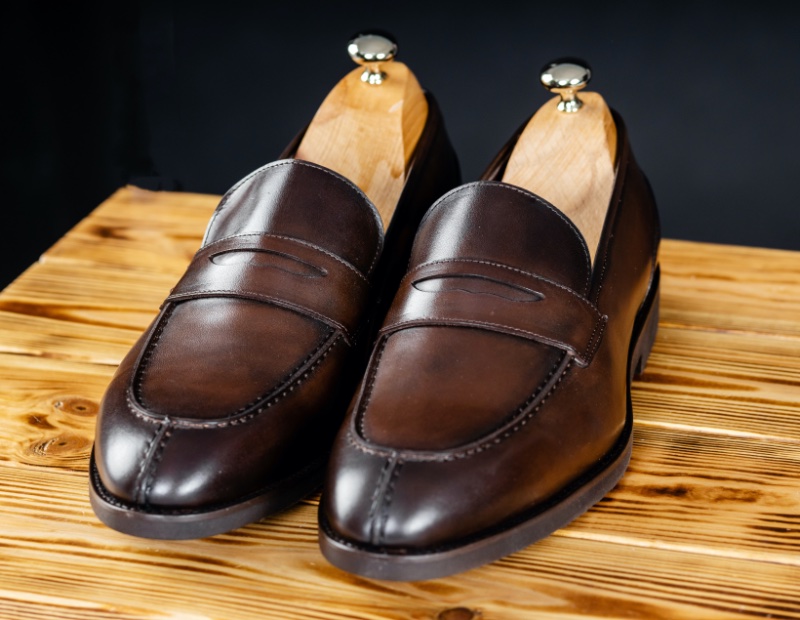 Footwear is a cornerstone for the business traveler, requiring a balance between comfort for various transit modes and a refined look upon arrival. Loafers are versatile: simple to slip off during travel and equally effortless to don as you step out.
Driving moccasins provide coziness and a decent aesthetic for more relaxed settings. However, pristine Oxfords should always find a place in your luggage, serving as your sartorial ace in the hole for unexpected formal occasions.
Safety & Style: Eyewear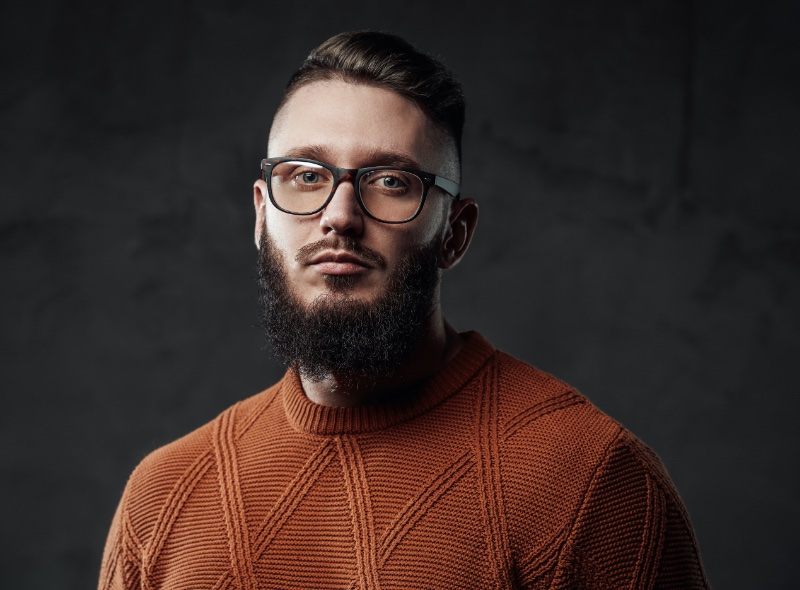 Enduring long stretches of travel calls for more than just resilience; keen vision is a must. The sun's glare during dawn or dusk can pose challenges. Enter polarized sunglasses: a simple yet impactful solution that minimizes eye strain while enhancing clarity.
Transition lenses offer an elegant compromise for those toggling between men's prescription glasses and sunglasses. These lenses adapt to changing light, ensuring consistently clear vision while navigating busy airports or bustling train stations.
Grooming on the Go
Extended travel can take its toll, leaving you needing a refresh. While packing grooming staples is a given, consider dual-purpose items to optimize space and utility.
A moisturizer boasting SPF hydrates and protects your skin from sun exposure. Given the drying effects of constant climate control, a high-quality lip balm is another must. 
Finally, a spritz of revitalizing facial mist can invigorate weary skin, ensuring you arrive with the same freshness you set out with.
Accessorize with Purpose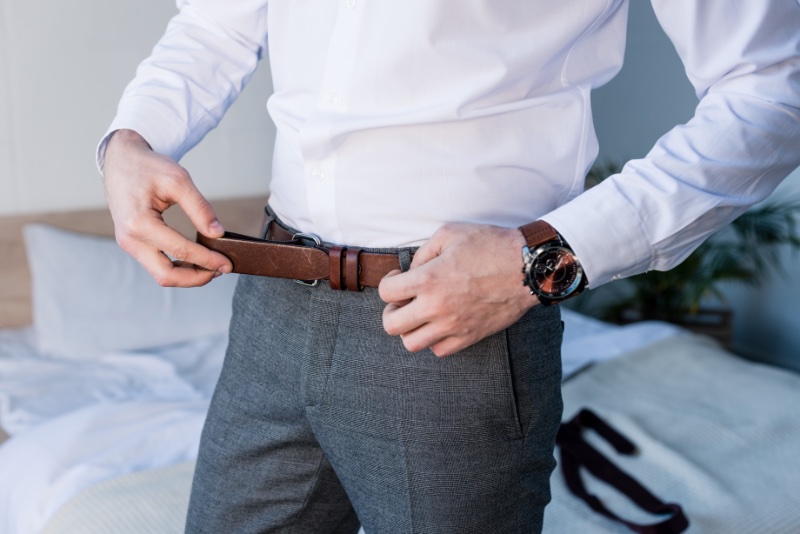 Accessories serve a dual role: they're both functional and style-enhancing. A well-crafted leather belt does more than its primary duty; it lends a subtle layer of elegance to your outfit.
Cufflinks, though small, telegraph your keen eye for detail. On the other hand, designer tie options elevate the ensemble, emitting a refined air. These minor yet mindful additions significantly influence your overall appearance.
Travel on the Road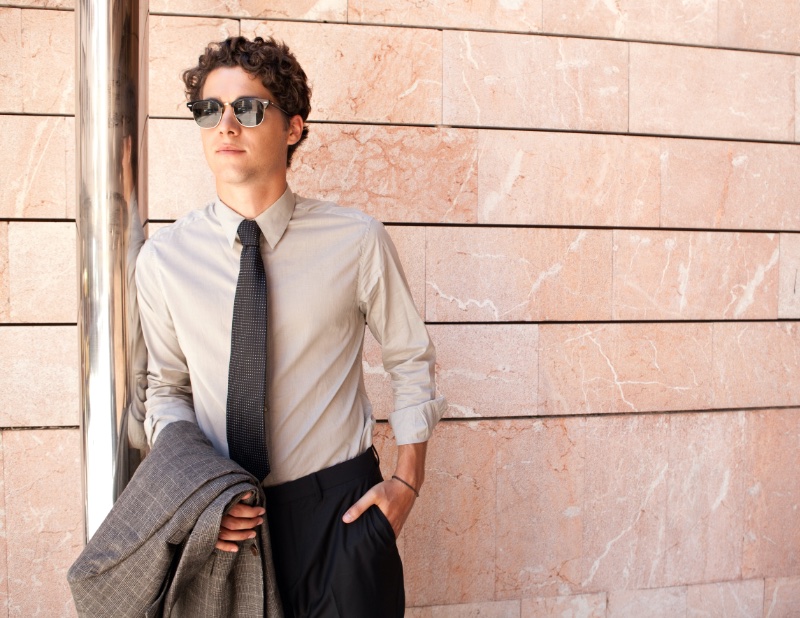 For the contemporary businessman, the journey encompasses more than mere geographical progress. It reflects the planning and finesse that characterize successful business endeavors.
Style isn't confined to your garments. It's an ethos mirroring the scrupulous planning integral to any business venture. Details, as ever, make a difference.
Whether it's a flawless pair of shoes or the understated elegance of a designer tie, these elements come together to project an unimpeachable image.
So, as you prepare for your upcoming business travel, keep this in mind: the path may be extensive, but armed with a thoughtful style strategy, it becomes an expedition in elegance.