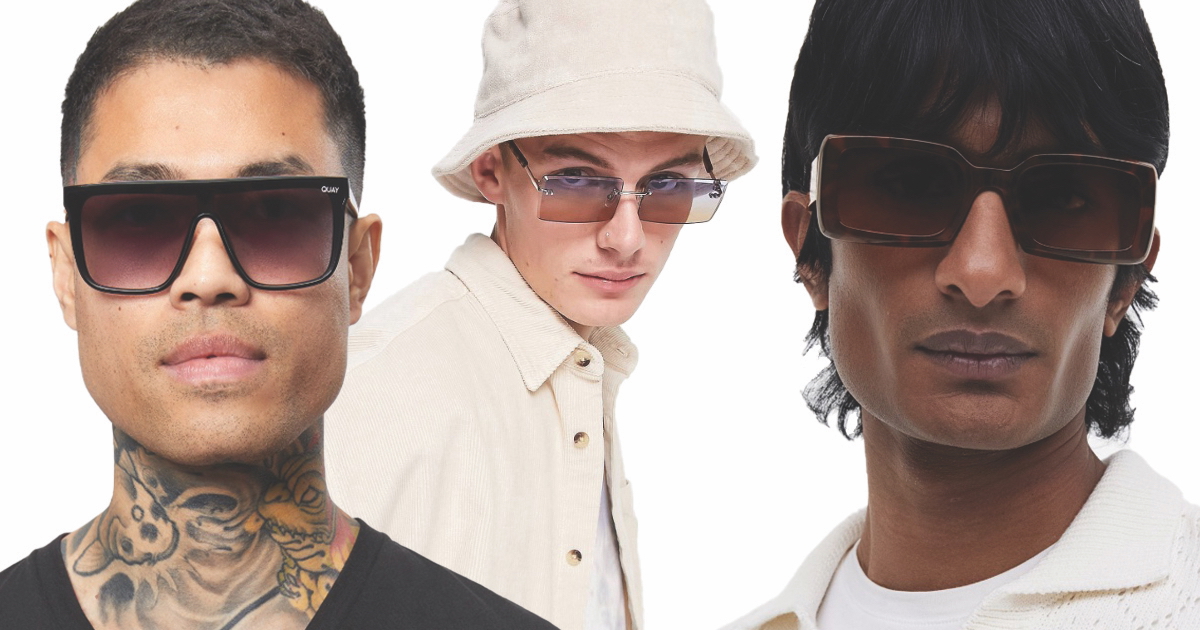 Sunshine or rain, summer or winter, a man's best friend for every season is a pair of sunglasses. From the classic aviators to the trendy D-frames, men's sunglasses styles are as varied and vibrant as the men who flaunt them. Whether you love vintage teashades or modern wayfarers, finding the perfect pair of sunglasses is a journey filled with exciting discoveries and transformative style moments.
An Overview of Men's Sunglasses Styles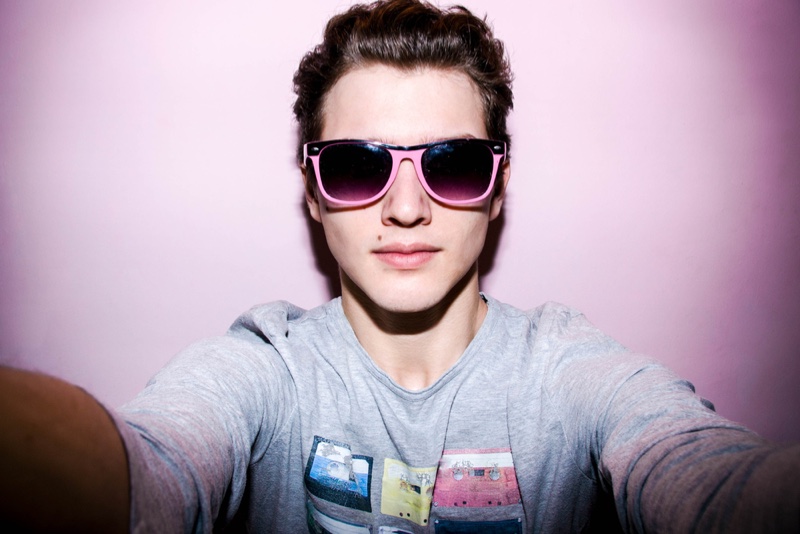 Sunglasses are not just a fashion accessory; they're a statement of your character and a reflection of your style. Let's step into the arena of men's sunglasses in style and discover the different types that have made waves in men's fashion.
Classic Styles
These are timeless sunglasses and have remained popular through various fashion eras:
Aviator Sunglasses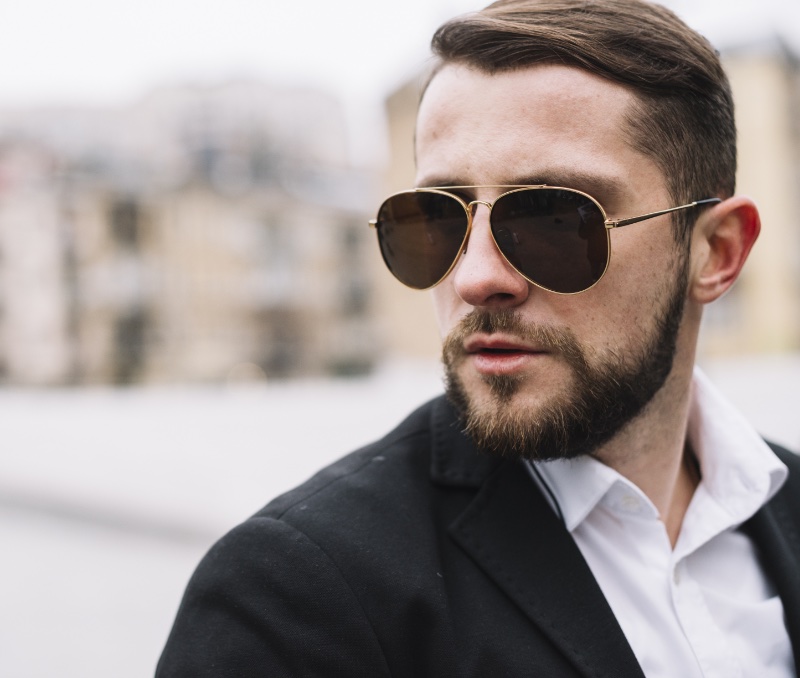 Aviator sunglasses, with their distinctive teardrop-shaped lenses and thin metal frames, are a classic example of timeless elegance. Initially designed for pilots in the 1930s, aviators have transcended their functional roots to become a staple in every man's wardrobe. Their universal appeal lies in their ability to blend effortlessly with any outfit, offering an unmatched level of versatility.
Wayfarers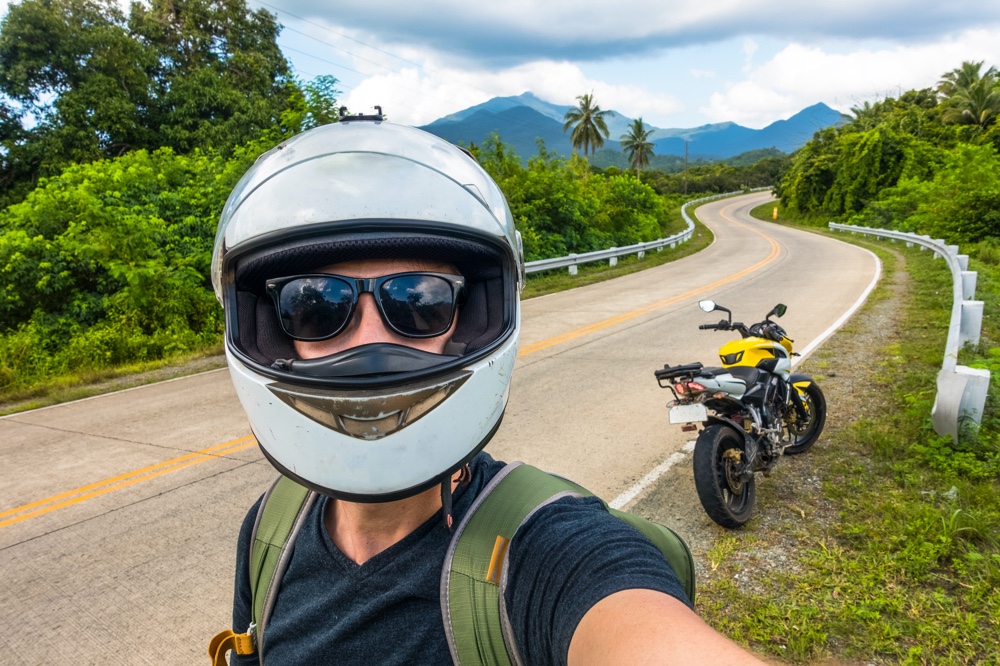 Wayfarers symbolize effortless cool with their bold trapezoidal shape and thicker rims. Introduced by Ray-Ban, the wayfarer has become synonymous with contemporary style. Its sharp lines and dramatic angles add an edge to any look, making it a popular choice for men who love making a statement with eyewear.
Clubmasters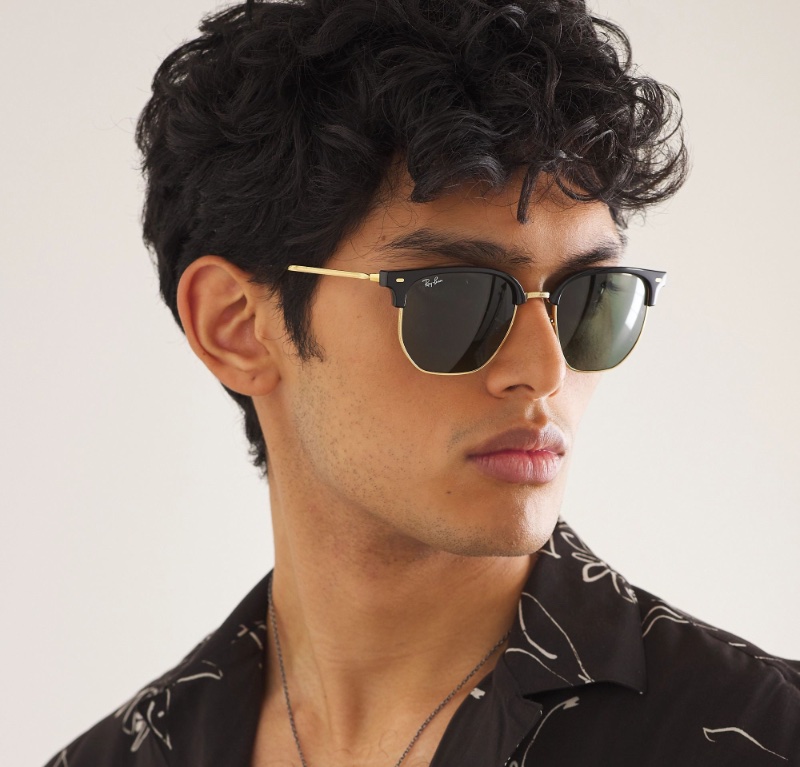 Clubmaster sunglasses are a retro-inspired style with a sense of sophistication and class. Characterized by their distinct half-rim frame with a horn shape on the top and circular bottom, clubmasters are a staple for formal events and elegant occasions. Their unique design adds a touch of vintage charm to your ensemble, making them a must-have for the fashion-forward man.
Round Sunglasses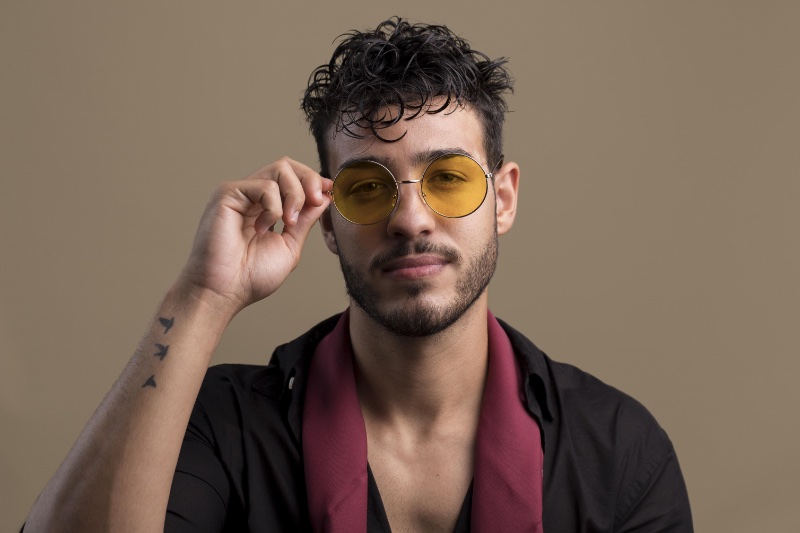 A classic retro style, round sunglasses are emblematic of creativity and artistic flair. Their symmetrical and gentle curves soften the appearance of angular faces and add a touch of whimsy to an outfit. Round sunglasses have transcended time, often associated with musicians, artists, and free thinkers, making frequent comebacks in various fashion eras.
Modern & Contemporary Trends
These frames reflect current fashion trends and appeal to those looking for something more fashionable or edgy:
D-frames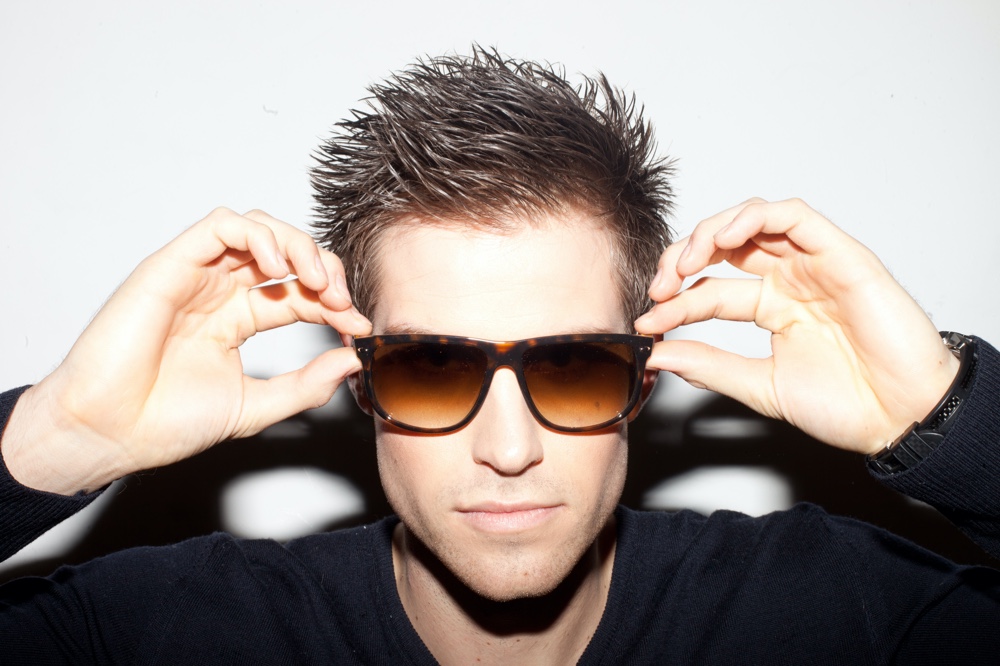 With their tall and wide rectangular shape, D-frame sunglasses are a bold choice for the modern man. They offer a unique blend of style and functionality, providing complete eye coverage perfect for driving or outdoor activities. D-frames have a distinctive design that sets them apart from other styles, making them an excellent choice for men who like to stand out.
Flat-top Sunglasses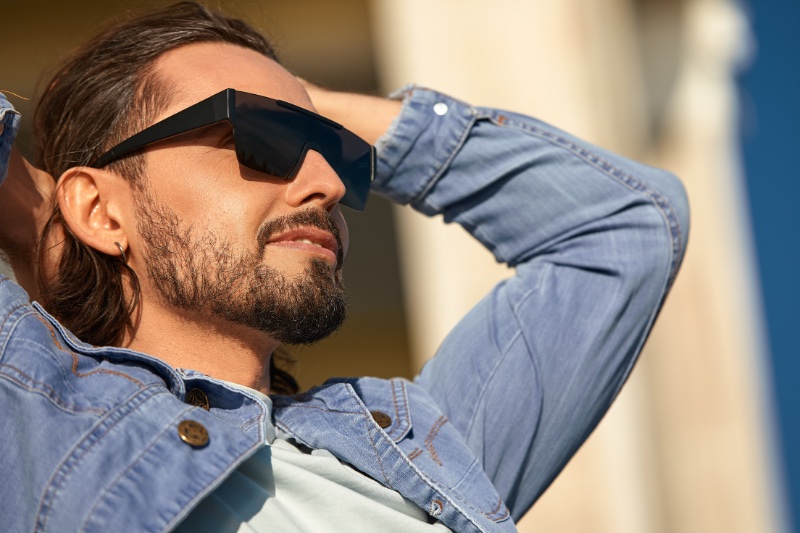 Flat-top sunglasses are characterized by a straight line across the brow, creating a sharp and modern appearance. This sleek design conveys a sense of power and assertiveness, perfect for those wanting to make a bold statement.
Often seen on the runways and worn by celebrities, flat-top sunglasses blend effortlessly with urban and contemporary fashion, adding an edge to casual and formal attire. They work particularly well with softer facial features, providing balance and contrast that highlights the wearer's unique style.
Rectangular Sunglasses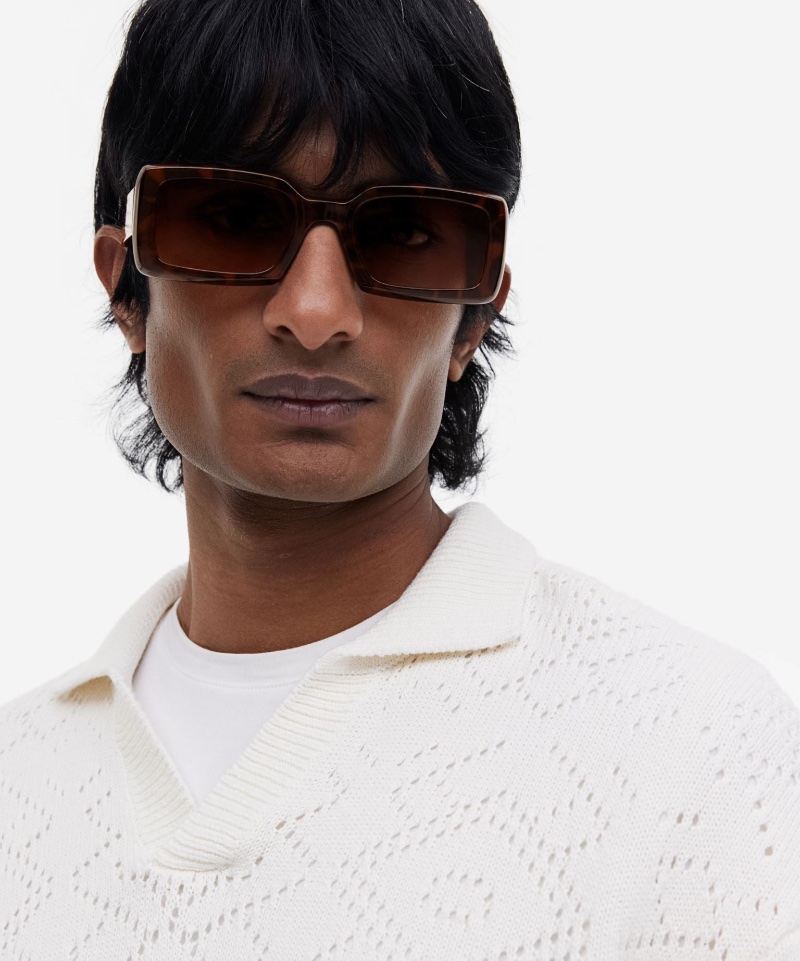 Rectangular sunglasses offer a geometric look that's both versatile and on-trend. With their elongated horizontal lines, these sunglasses can add length to rounder faces and create a streamlined effect. They range from subtle, narrow frames to more pronounced and wide designs, providing various options for different preferences and occasions.
Double Bridge / Brow Bar Sunglasses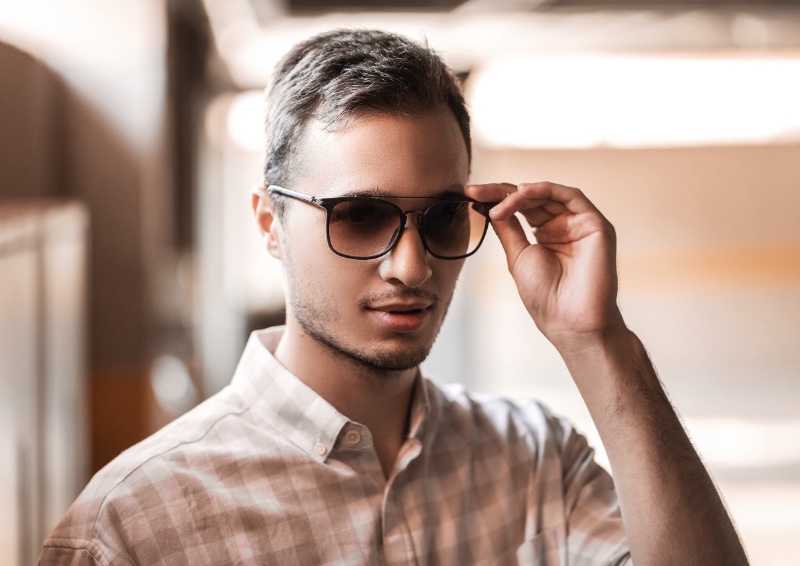 The double bridge or brow bar sunglasses are known for their additional metal or plastic bar that runs parallel to the bridge over the nose. This distinctive feature adds a layer of sophistication and complexity to the design, making them a sought-after choice for fashion enthusiasts.
They come in various shapes from brands like Lindberg Optical, including aviators and round frames, with the double bridge adding an extra touch of elegance. The double bridge design is not just an aesthetic appeal; it often provides additional support and structure to the frames.
Vintage & Retro Charm
These styles evoke nostalgia and have a distinctive historical or artistic appeal:
Browline Sunglasses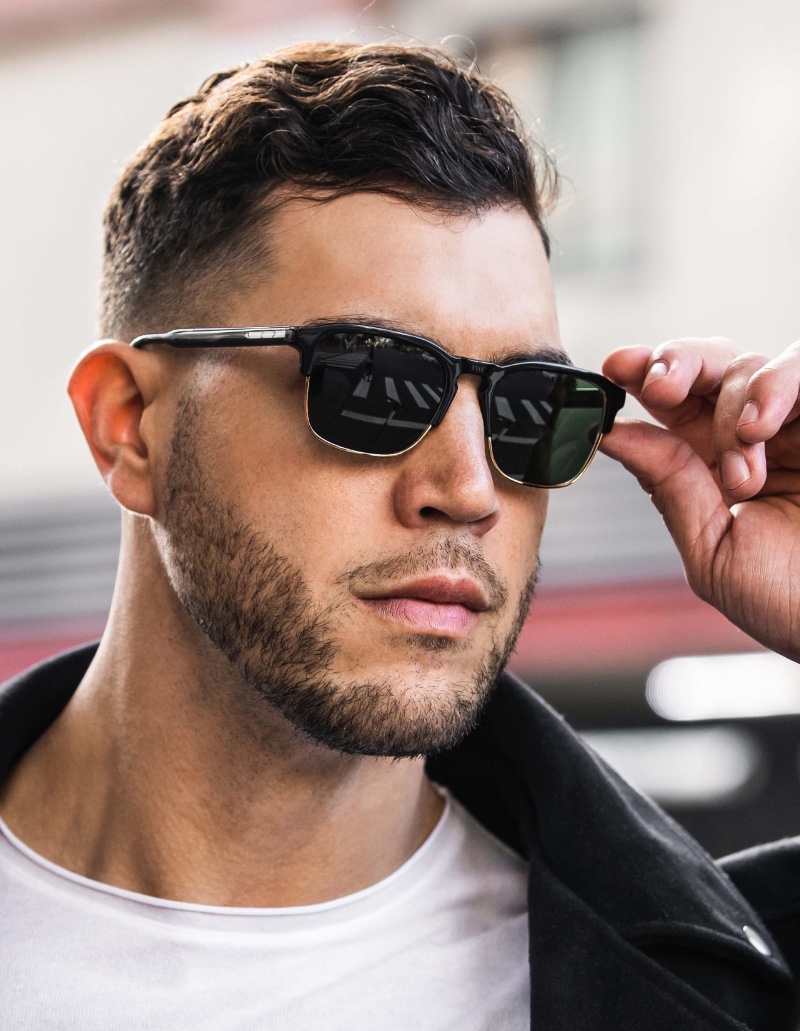 Browline sunglasses, distinguished by their bold upper frame that follows the wearer's eyebrow line, are a fusion of retro and modern elegance. This design emphasizes the contours of the brow, creating a striking visual impact that draws attention to the eyes.
Often crafted with a combination of materials, such as metal for the lower frame and thick plastic for the top, browline sunglasses add a touch of class to any ensemble. Popularized in the mid-20th century and experiencing a revival in recent years, these sunglasses are suitable for various face shapes.
Teashade Sunglasses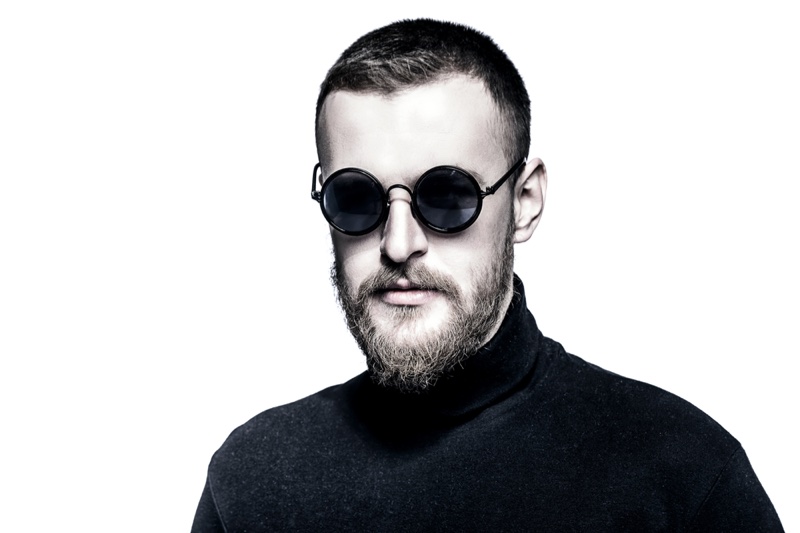 Teashade sunglasses, also known as "John Lennon glasses," are tiny, round sunglasses that symbolize counterculture and artistic expression. They are a bold choice for the fashion-conscious man, offering a unique look that stands out in a crowd.
Sporty & Functional
These are primarily designed for outdoor activities and active lifestyles:
Wraparounds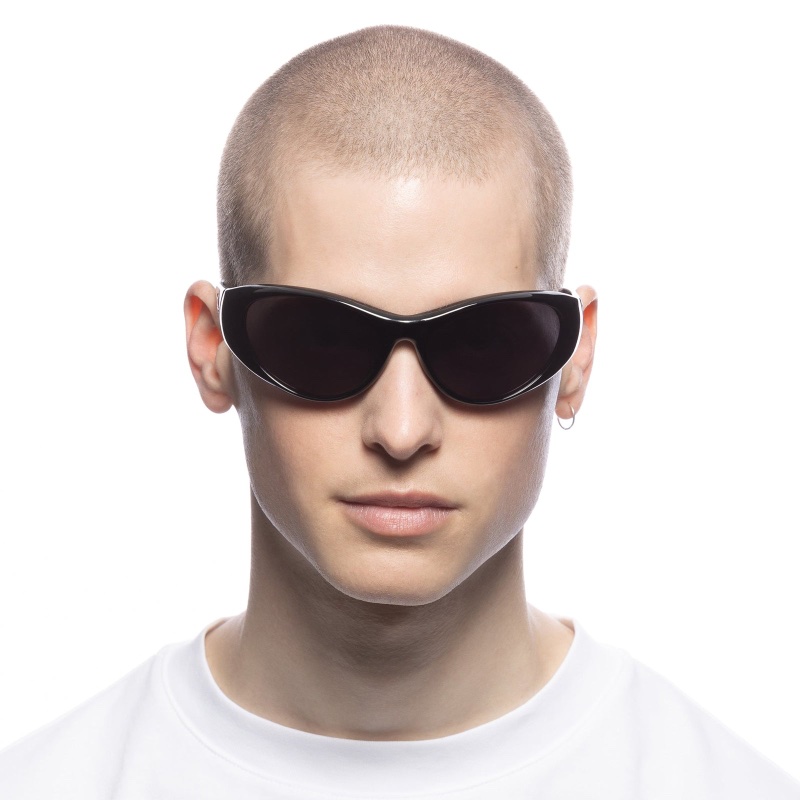 Wraparound sunglasses, as the name suggests, wrap around your face to provide comprehensive coverage from the sun. These sunglasses are ideal for sports and outdoor activities, offering superior protection against UV rays and glare. They are also favored by men who prefer a more active lifestyle.
Shield Sunglasses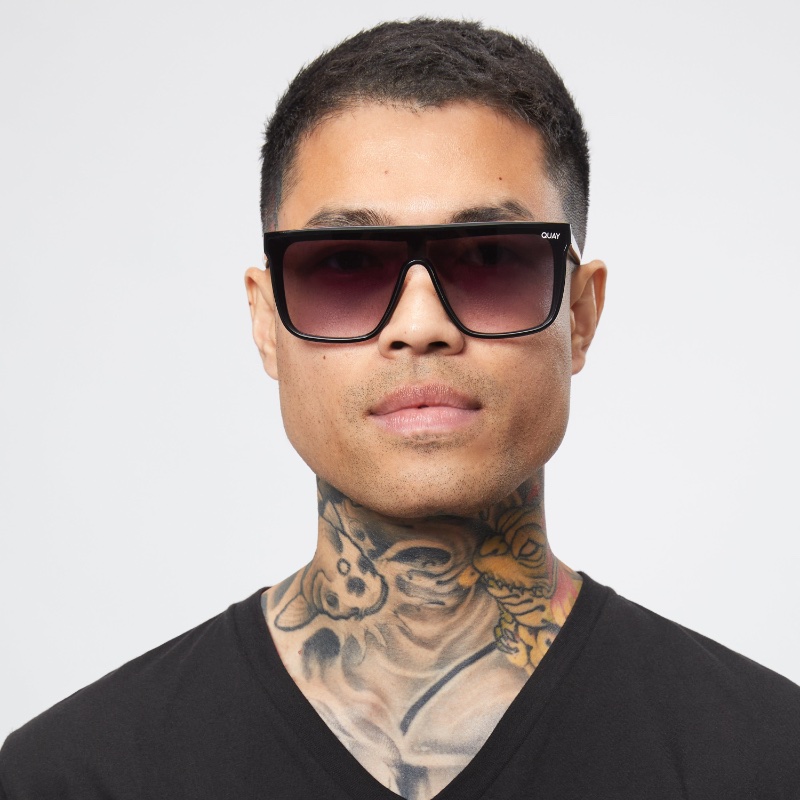 Shield sunglasses stand out for their large, single-piece lens that spans across both eyes, often extending to the sides of the face. This bold design offers a futuristic, sporty look and comprehensive protection against UV rays and glare.
Often seen in sports and outdoor activities, shield sunglasses are engineered for function without sacrificing style. The wraparound feature ensures a secure fit, making them suitable for high-intensity pursuits, while the sleek lines and continuous lens create an eye-catching appearance.
Unique & Bold Choices
These styles are for those who dare to be different and want to make a strong statement:
Cat Eye Sunglasses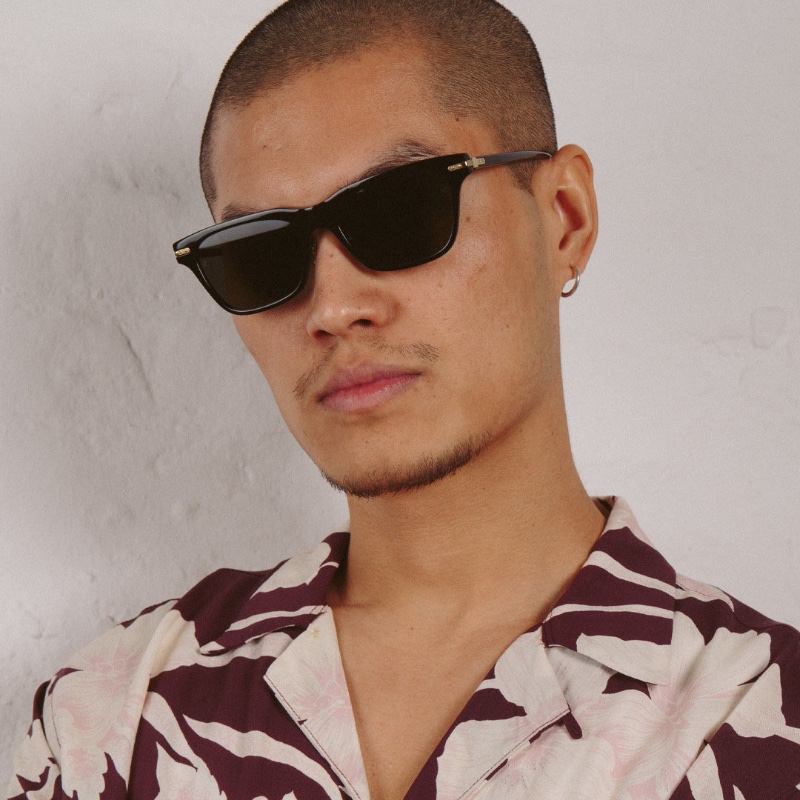 Cat Eye sunglasses are a feminine style that has found its place in men's fashion thanks to their sophisticated and edgy appeal. Characterized by their raised outer corners that mimic the shape of a cat's eyes, these sunglasses can add a touch of drama to any outfit, making them a perfect choice for men who dare to be different.
Oversized Sunglasses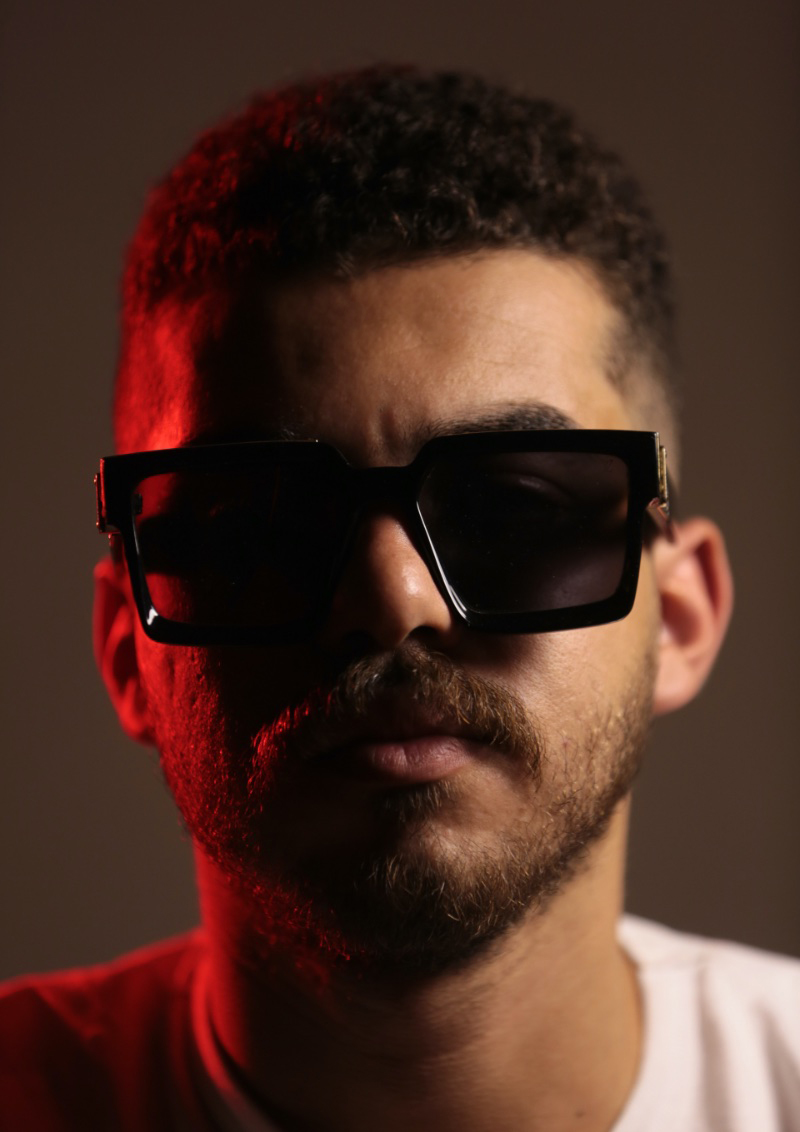 Oversized sunglasses, known for large frames and lenses, make a bold fashion statement. These sunglasses exude a sense of glamour and luxury, often evoking the chic style of Hollywood's golden age. Beyond their aesthetic appeal, oversized sunglasses offer more comprehensive protection from the sun, covering a larger area of the face.
Frameless/Rimless Sunglasses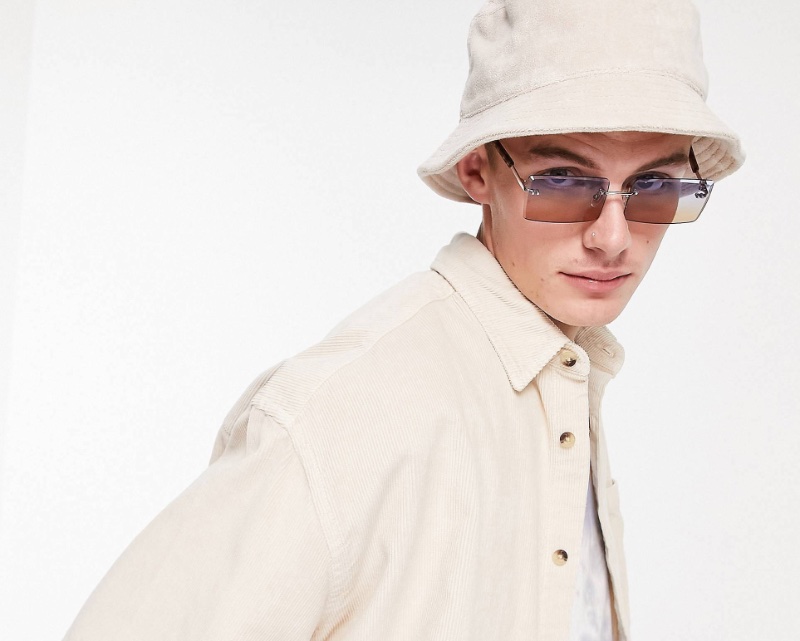 Frameless or rimless sunglasses offer a minimalist and modern design, where the lenses are attached directly to the bridge or temples without a surrounding frame. This design creates a clean and unobtrusive look, allowing the wearer's features to shine.
Often chosen for their lightweight and comfortable fit, rimless sunglasses can subtly enhance one's appearance without dominating the face. Available in various shapes and lens colors, these sunglasses suit those who prefer a sleek and understated style.
The Anatomy of Men's Sunglasses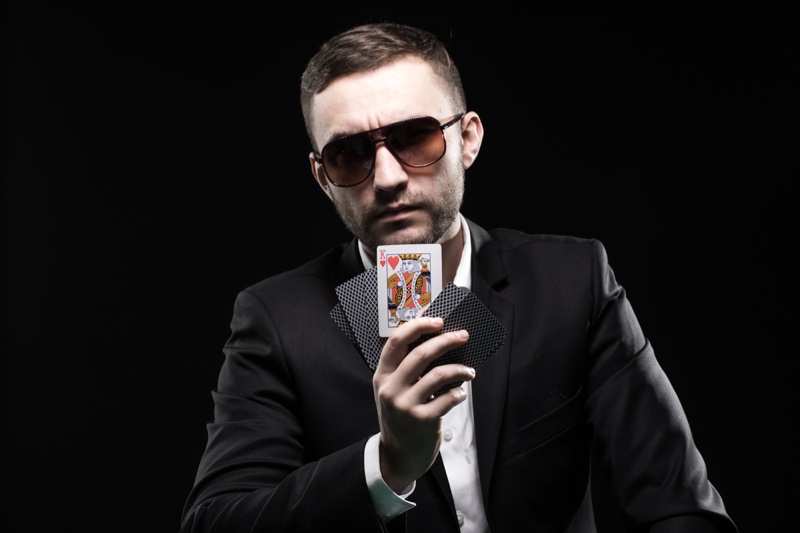 Selecting the perfect pair of sunglasses is more than just a matter of style. It's about understanding the components of a pair of sunglasses and how they contribute to comfort, fit, and appearance. Here's a detailed look at the anatomy of men's sunglasses:
Top Bar: This connecting bar is found on some sunglasses, linking the top parts of the lenses over the bridge. It can add a unique aesthetic touch.
Bridge: The bridge spans the nose and supports the frame's weight. Its design and fit are crucial for comfort, so understanding its structure can help you choose a pair that fits well.
Nose Pads: Often made of plastic, these pads are affixed to the frame's inside and are designed to keep the glasses steady on the face. They also enhance comfort, making them an essential feature to consider.
Frame Rim: The frame rim encases the lenses and is vital to the sunglasses' style. From sleek metal to bold plastic, the choice of frame rim can define the overall look.
Temple: These are the arms of the sunglasses, extending along the sides of the face and over the ears. They play a crucial role in keeping the sunglasses securely in place.
Temple Tip: Usually covered with plastic or silicone, the temple tips ensure comfort by relieving the pressure on the ears. This small detail can make a significant difference in wearability.
Hinge: These small yet essential mechanisms connect the frame rim to the temples, allowing them to open and close according to the face's width. A well-designed hinge ensures a comfortable fit.
Joint: This part of the frame connects the temple to the frame rim, acting as a crucial junction in the overall structure.
Understanding these components can lead to a more informed and satisfying purchase. Whether seeking a pair for daily wear or a specific occasion, recognizing the functions and importance of each part ensures that the chosen sunglasses will look great and provide the comfort and fit that meet individual needs.
Choosing the Right Frame for Your Sunglasses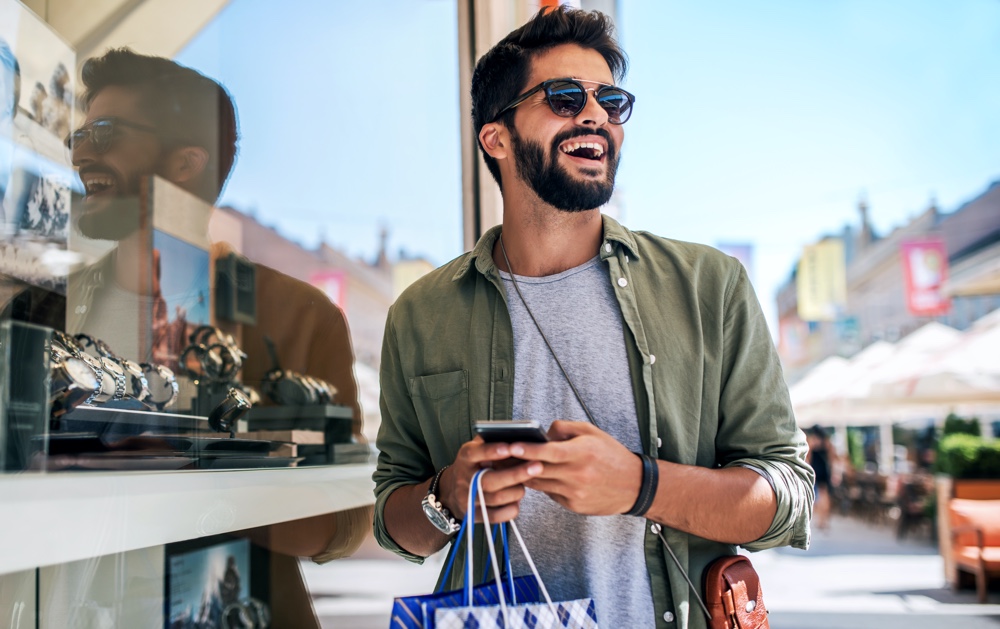 Selecting the perfect frame for sunglasses is a vital decision influencing appearance and comfort.
Types of Frame Styles
Full Frame: These lenses are encased entirely in metal or plastic and offer a robust and classic look.
Half Frame: With only part of the lens framed, this style provides a unique aesthetic but may require more careful handling.
Frameless or Rimless: These lenses connect directly to the temple, offering a sleek and modern appearance. Though fashionable, they demand delicate care.
Materials Used in Frames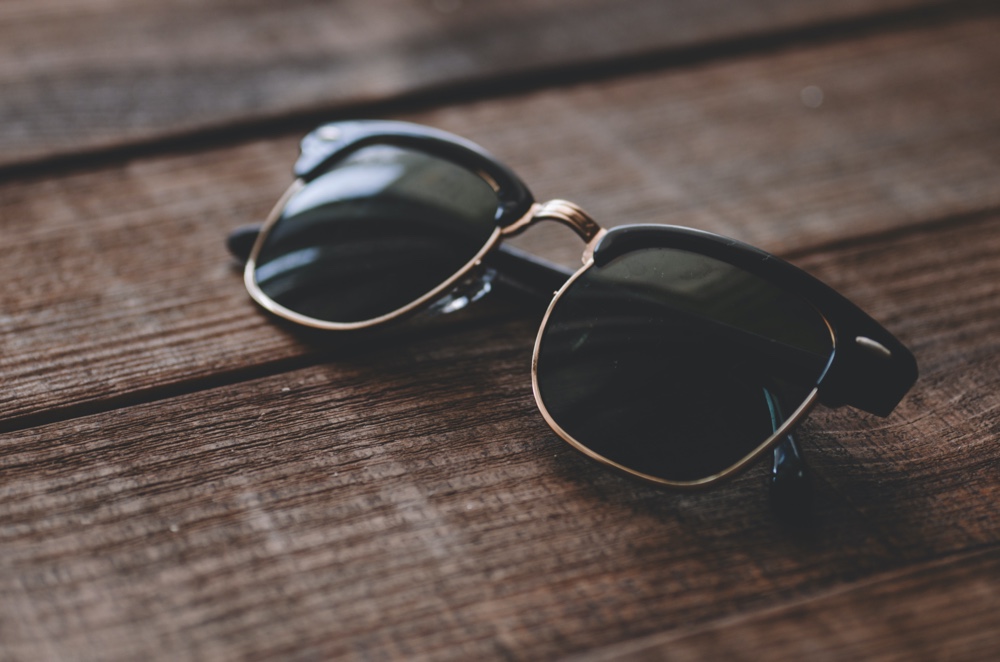 Molded Plastic: Versatile and budget-friendly, molded plastic frames come in various colors, providing an accessible option for many.
Acetate: A step above standard plastic, acetate frames are lighter, more flexible, and can be layered for a customized look.
Metal: Known for their adjustability and resistance to corrosion, metal frames offer a sophisticated appearance. However, they may be less durable and carry a higher price tag.
Natural Material: For those seeking an organic and artisanal touch, frames made from Buffalo Horn, Tortoise Shell, or Wood provide a unique and luxurious option, though they are typically more costly.
Considerations for Selection
Face Shape: Understanding one's face shape can guide the selection of frames that complement natural features.
Lifestyle Needs: Active individuals may prefer durable materials, while those seeking a statement piece might opt for more distinctive styles.
Budget Constraints: From economical plastic to high-end natural materials, there's a frame to fit various budget levels.
Trend Awareness: Staying informed about current fashion trends can help you choose a contemporary and timeless frame.
Lens Options for Men's Sunglasses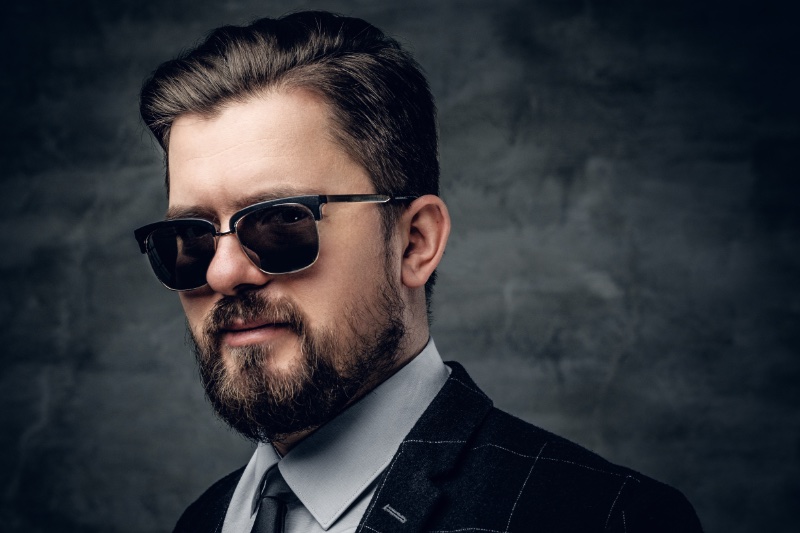 Selecting the right lenses for men's sunglasses after an eye exam is a crucial decision affecting style, vision, and comfort. Here's a comprehensive guide to the various lens options available:
Lens Materials: Strength & Clarity
Optical Glass: Known for distortion-free vision, optical glass lenses are a top choice for those seeking clarity and durability. They resist scratches, making them a long-lasting option.
Plastic Lenses: Thicker plastic lenses need a special coating for scratch resistance and UV protection. They offer a budget-friendly alternative.
Polycarbonate: Ideal for active lifestyles, polycarbonate lenses are thin yet provide outstanding impact resistance, surpassing many other materials.
SR-91 Lens: A fusion of quality and strength, SR-91 lenses combine the clarity of optical glass with the resilience of polycarbonate, along with 100% UV protection.
Lens Colors & Tints: Aesthetic & Function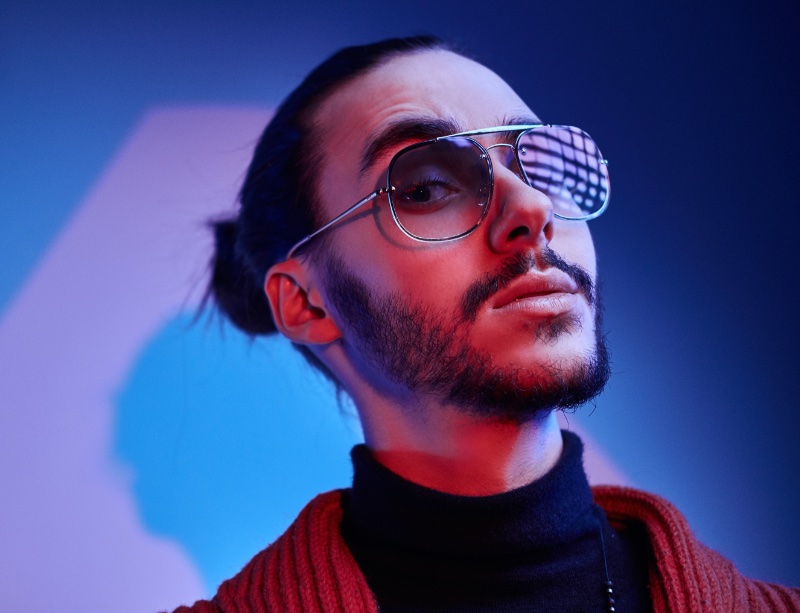 Different lens colors change the appearance and influence how the eyes perceive light.
Gray: For a color-neutral view and crisp contrast.
Yellow/Orange: Enhancing contrast and depth perception, perfect for overcast days.
Brown/Amber: Improving the quality of light, these tints are versatile for various lighting conditions.
Green: Filtering blue light and reducing glare, green is soothing to the eyes.
Purple/Red: By blocking blue light, red tints increase contrast, adding a bold touch.
Blue: Filtering white light, blue lenses are unique in enhancing color recognition.
Lens Coating: Protection & Style
Manufacturers often add special coatings to lenses, enhancing their functionality.
Polarized Lenses: Essential for those spending time near water or snow, these lenses minimize glare from reflective surfaces.
Photochromic: Adapting to changing light, photochromic lenses darken in bright sunlight and lighten in lower light conditions.
Gradient Lenses: Tinted from the top down, gradient lenses are stylish and practical for driving.
Mirror or Flash Coating: Adding a reflective film to the lenses gives a fashionable edge while providing additional protection.
Final Words on Men's Sunglasses Styles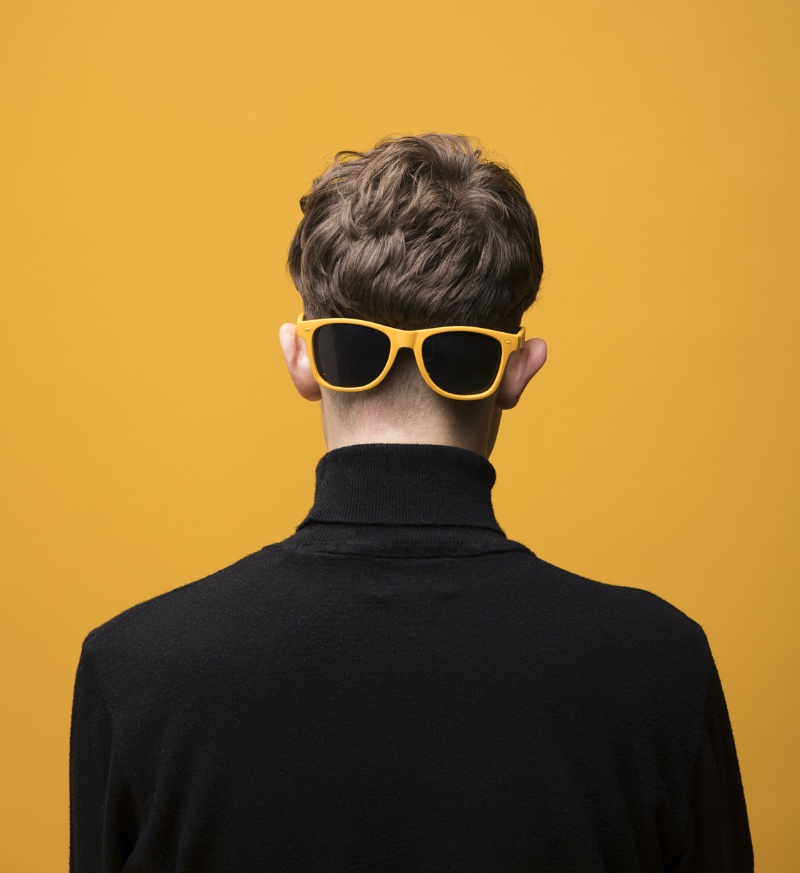 When it comes to choosing your sunglasses, remember that confidence is critical. Go with your gut instinct and pick a pair that makes you feel great. And always buy the best pair that you can afford. Investing in a high-quality pair of sunglasses will ensure that they last for years, providing you with style and protection every step of the way.
Whether you are drawn to the timeless elegance of aviators, the modern edge of D-frames, or the retro charm of clubmasters, the world of men's sunglasses styles is a treasure trove of style and sophistication.