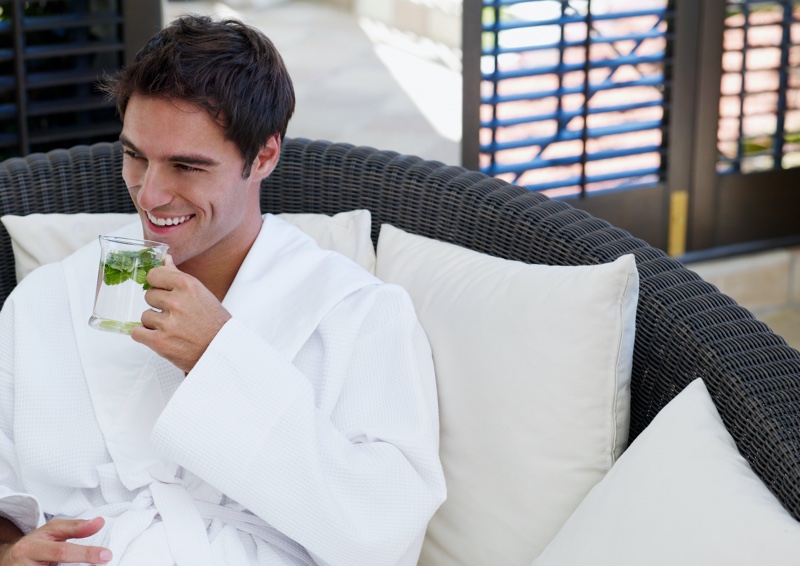 Spa robes are typically high-quality robes made from elegant fabrics such as silk, satin, or Egyptian cotton. These items are designed to enhance your comfort and style while enjoying a spa session.
A wide variety of colors and styles are offered for the robes, catering to the unique preferences of every individual. Some feature intricate embroidery or lace decorations, while others may have simple accent lines or patterns. Some also come with convenient pockets and removable waist ties for adjustability.
Luxury spa robes are a great way to add elegance and sophistication to your spa experience while providing a luxurious feeling of comfort. They make the perfect gift for those special occasions or to spoil yourself.
With their effortless style and comfortable feel, these robes will make you feel relaxed and pampered. So, if you're looking for extra indulgence during your spa day, look no further than a plush robe. They are sure to help you feel as luxurious as the robe itself.
Spa Robe Materials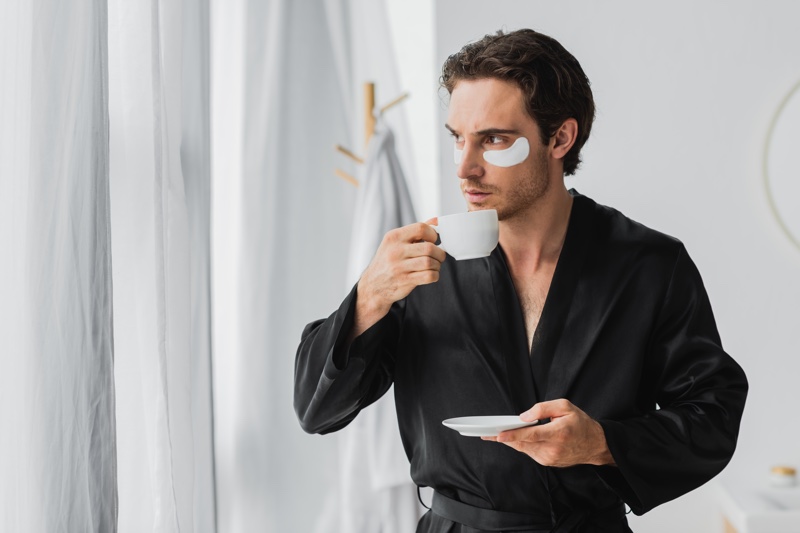 Indulge in the ultimate luxury and comfort with spa robes meticulously crafted from exquisite fabrics like the following.
Organic Cotton
Organic cotton is ideal for spa robes as it is naturally soft, lightweight, and breathable. This type of cotton is grown without chemicals or pesticides, making it a much more sustainable and eco-friendly choice over conventional cotton. Organic cotton also has excellent moisture-wicking properties, which helps keep your skin feeling dry during your spa experience.
Silk
Silk is a lavish and gentle fabric perfect for luxury spa robes. It has a smooth, soft texture that feels great against the skin, and it also provides excellent insulation from both hot and cold temperatures. Silk is also resistant to wrinkles, making it a perfect choice for robes that will need to be stored in between uses.
Satin
Satin is another elegant fabric that is often used for spa robe material. Satin has a beautiful shine and is incredibly soft and smooth, making it an ideal material for robes. It also helps to retain heat, providing extra warmth while you lounge in your robe.
Microfiber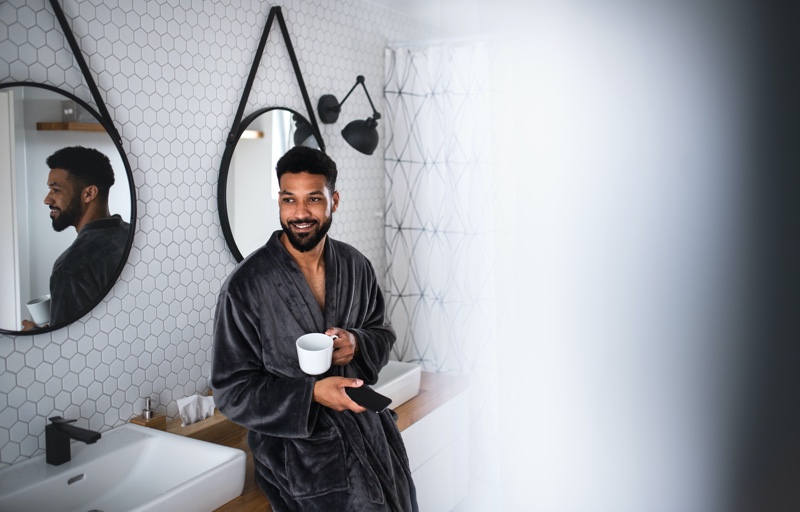 Microfiber is an ideal material for robes because of its softness and comfort. It is made from beautiful fibers that have been woven together to create a fabric that feels incredibly smooth and light against the skin. The material also has excellent moisture-wicking properties, helping to keep your skin feeling dry during your spa experience.
Egyptian Cotton
Egyptian cotton is a premium type of exceptionally soft, luxurious, and durable cotton. It has an incredibly long fiber length, making it even smoother than other types of cotton. This makes it very comfortable to wear and perfect for spa robes. The fabric will also last longer, staying soft and looking fresh over time.
Turkish Cotton
Turkish cotton is an excellent choice for luxury robes due to its superior softness and comfort. Turkish cotton is grown in the Aegean region of Turkey. It is exceptionally well cared for and produces a high-quality fabric you can count on.
The fibers of Turkish cotton are quite long, making them softer than other types of cotton. The material retains its shape and color even after multiple wears, making it ideal for long-term use.
Bamboo
Bamboo is another good choice for a robe due to its unique properties. Bamboo fabric is naturally soft, lightweight, and breathable, making it highly comfortable to wear. It offers great insulation against both high and low temperatures. Additionally, bamboo is hypoallergenic and antibacterial, making it ideal for those with sensitive skin.
Cashmere
Cashmere is a luxurious, high-end fabric that is perfect for spa robes. It is incredibly soft and smooth to the touch, making it an ideal choice for providing ultimate comfort during your spa experience. Enjoy the superior insulation of cashmere, keeping you comfortable in any weather. Stay cozy and content throughout the year with this luxurious fabric.
Why Spa Robes Are Worth It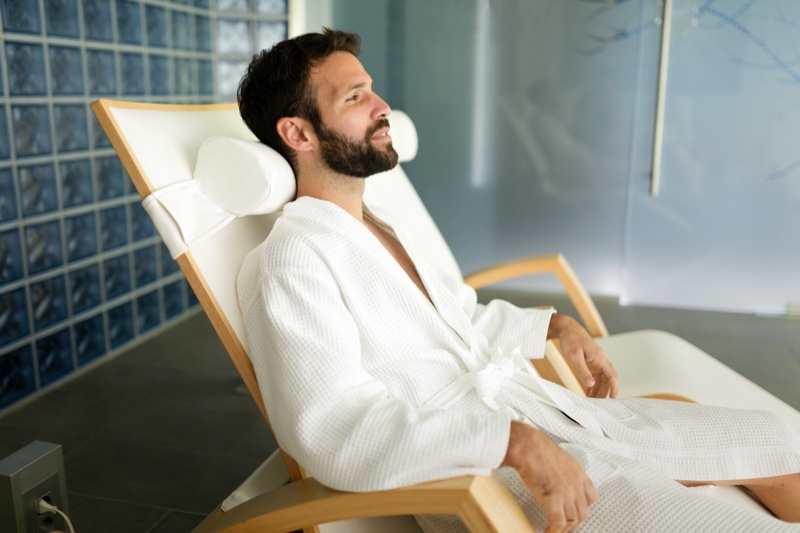 The Soft & Plush Feel
Spa robes are designed with comfort and style in mind, giving wearers a soft and plush feel. They are made from high-end fabrics such as organic cotton, silk, satin, Egyptian cotton, bamboo, and cashmere. Each material offers unique properties that make them ideal for spa wear. Organic cotton is naturally soft and breathable, while silk provides excellent insulation from both hot and cold temperatures.
Durability
Invest in the durability and longevity of robes for the spa. Crafted with premium-quality fabrics, these robes maintain their softness and pristine appearance for years to come. Embrace the lasting elegance and reliability of spa robes.
Absorbent & Quick-drying
These robes are designed with absorbency in mind, ensuring that you will stay comfortable and dry throughout your spa experience. The fabrics used in these types of robes have excellent moisture-wicking properties, meaning they will quickly draw sweat away from the skin and keep you feeling dry. Additionally, these fabrics are quick-drying, meaning they will dry quickly after washing.
Provides Warmth & Comfort
Elevate your relaxation experience with elegant robes that offer an additional layer of warmth and comfort. Specially designed to regulate your body temperature, these robes ensure optimal comfort as you unwind.
Great for Use at Home or a Spa
Robes are an ideal option for anyone looking to enjoy the comfort and style of a spa experience at home or in a professional setting. Whether you're taking a relaxing bath or getting ready for a night out, these robes provide just the right amount of relaxation. 
Perfect for Gifting
When it comes to finding the perfect gift for any occasion, robes are a great choice. They offer a luxurious and indulgent experience and can be personalized to fit the recipient's preferences. Whether it's for a birthday, anniversary, or bachelor party, robes can be monogrammed, embroidered, or customized in any way to make it a thoughtful and unique present.
Final Words
In the world of indulgence, spa robes crafted from the finest materials reign supreme. These robes, made from luxurious fabrics such as silk, Egyptian cotton, cashmere, and more, offer heightened comfort and style.
With their soft and plush feel, exceptional durability, absorbency, and quick-drying properties, these robes provide a warm and cozy experience. Whether used at home or in a spa, they can elevate relaxation.
They also make perfect gifts, personalized to create lasting memories. Embrace the art of indulgence with these exquisite spa robe materials and experience the epitome of luxury and comfort.