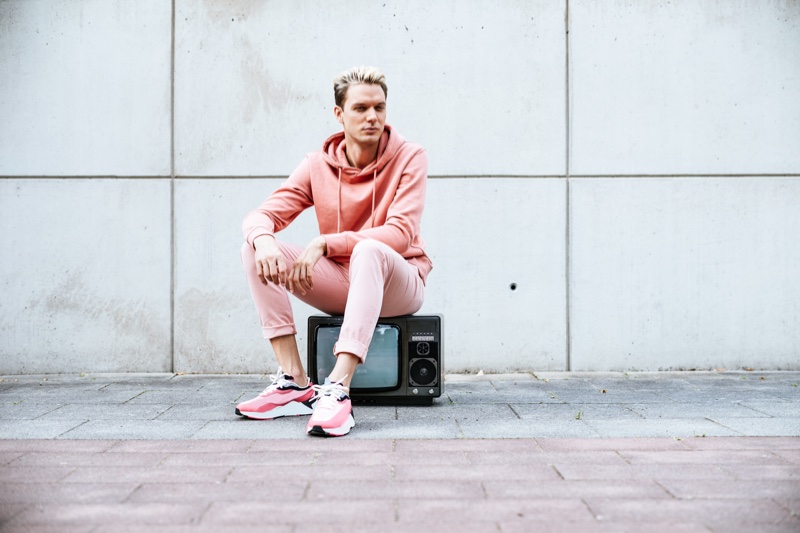 Traditionally, pink has been associated with femininity, but with time, perceptions are changing too, and more men are embracing this bold color with full enthusiasm. Pink shirts, hoodies, traditional attire, and ties are now popular choices for men across the globe, with the color finally reaching the idea of gender-neutral dressing. Pink outfits for men allow fashionistos to discover a trove of different hues for everyday wear and festive occasions online.
If you're wondering what all the fuss is about, here are some reasons why pink has become popular in menswear worldwide.
Reasons to Wear Pink Outfits for Men
1. It is a Soothing Color
Pink has always been considered a soothing color. The lighter shades of pink are easy on the eyes and a go-to men's clothing option to buy for every season. Besides, the color adds tranquility to a man's overall outfit.
2. Enhances the Skin Tone
Pink is a beautiful color that really brings out and enhances skin tone. If your skin looks too washed out or red-faced, you can add a cool shade of pink, change the hue of your outfits and see how they highlight your face. Warmer pink colors are a good choice if you have a darker skin tone. Salmon pink is a color that fits well with warm skin tones.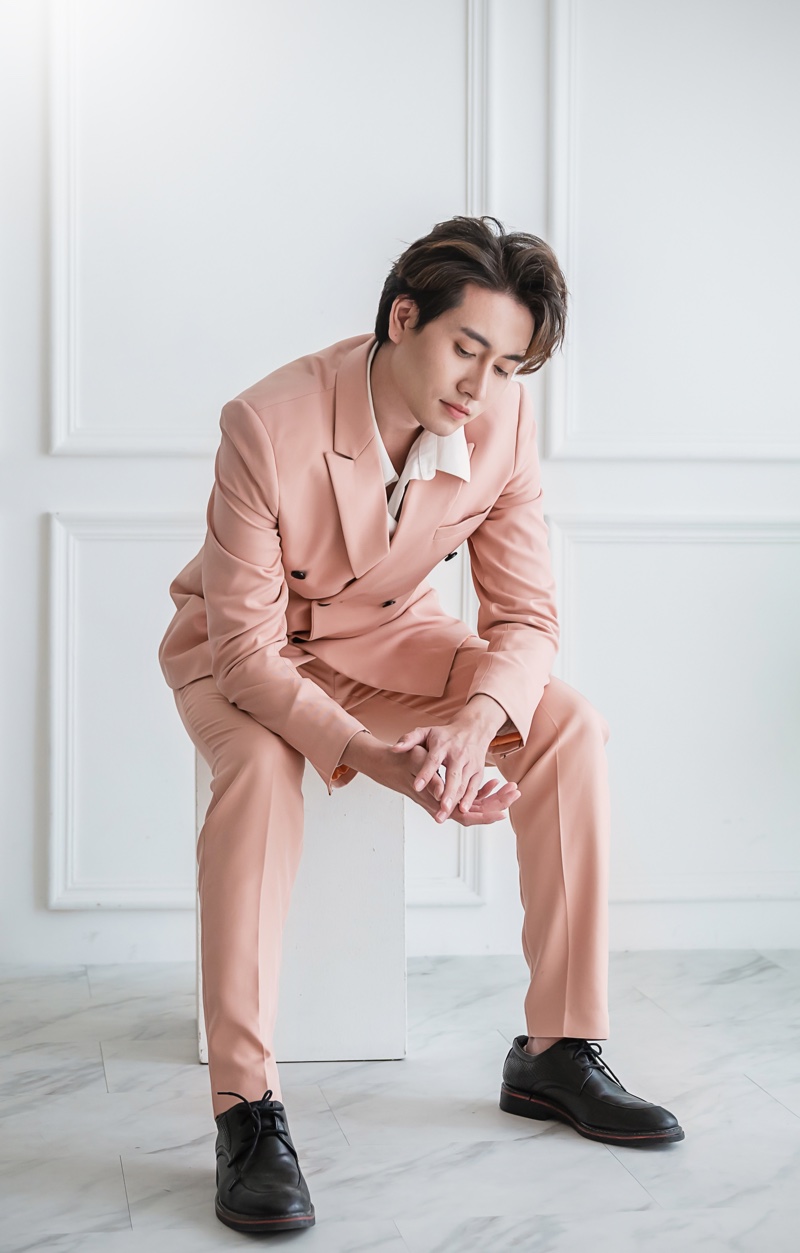 3. Creates Lasting Personal & Professional Impressions
Pink is a color that single-handedly stands out from the crowd. It draws eyes towards you and turns heads when you walk across the room. You can wear pink for a professional or a personal occasion.
Wearing solid and monochromatic tones is generally expected of professional men. However, breaking the mold by donning pink will make a major statement that sets you apart. It's your chance to display boldness while at work and let your personality shine! You can create a lasting impression on the people you meet with colors that pop and make you stand out.
4. It is a Versatile Color
Pink is an evergreen and versatile color. It can be paired with many pastel and bold colors and worn to any occasion, formal or informal. It works great with any attire, and pink outfits for men are a way to brighten up the room easily.
Popular Men's Clothing In Pink Worldwide
Here are some of the popular choices in menswear that would look amazing in hues of pink.
Pink Shirt
Men have been embracing pink in a range of styles and patterns. From block designs to prints, the selection of pink shirts is growing more popular than ever before! You can go for a cotton slub shirt or a block-printed cotton shirt in pink. You can pair it with white pants or black jeans to get a striking, perfect look.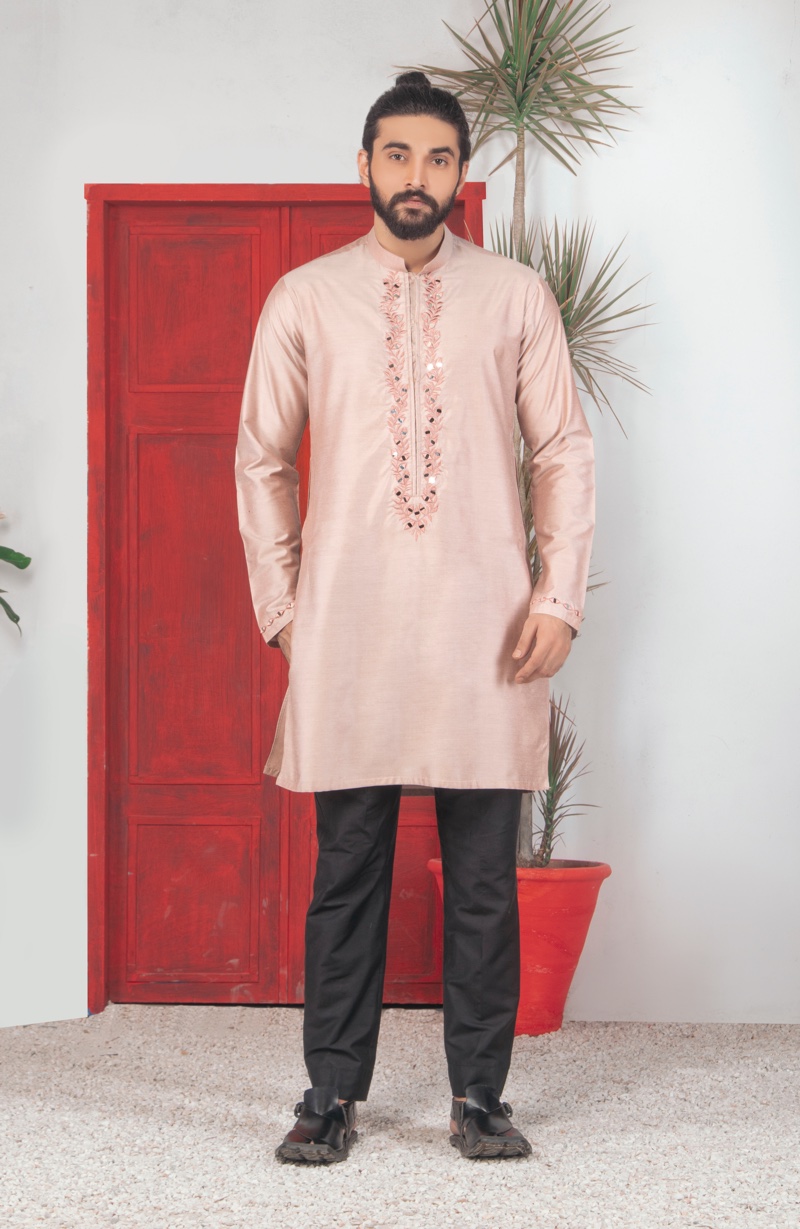 Pink Kurta
Pink outfits for men are popular worldwide. Depending on the occasion you choose to wear a pink kurta, you can select from a wide variety of plain cotton kurtas, kurtas in block prints, and embroidered silk kurtas in pink.
Pair it with white or a contrasting color choice of pants to get the best festive look of the season. You can also pair a dhoti kurta in a warm shade of pink with heavy embroidery to make the best look for the festivities.
Pink Blazers
Men love their pink blazers; they've become a must-have trend that's all the rage. You can get a lot of variety in blazer material, from cotton and linen to polyester and silk. You can choose from a wide range of patterns like floral, checkered, solid, geometric patterns, etc., to get the best look for weddings or other semi-formal occasions. This season, the perfect shades to adorn blazers and jackets are salmon pink and coral pink – two warm tones that never fail to impress.
Pink Nehru Jackets
Nehru jackets can be worn with kurtas at weddings or during festivals. Pink has become fashionable recently because of its adaptability, and it can be incorporated into many kurtas as a vibrant addition. These coats are known to have asymmetric cuts for people who love to experiment with fashion. The best part is that one of the most popular colors for all these patterns is pink because it fits a pastel theme and a warm theme depending on the color palette you choose.
Embroidered Dupatta
If you are THAT guy, a pink embroidered dupatta is not a whole outfit but an accessory that has gained far-reaching popularity among men to pair with their traditional wear. These beauties are available in digital prints, cotton, raw silk with different embroidered patterns, and geometric and sharp prints. But a popular choice for a dupatta is one made of warm velvet pink, which suits every outfit and is a perfect addition to your wardrobe.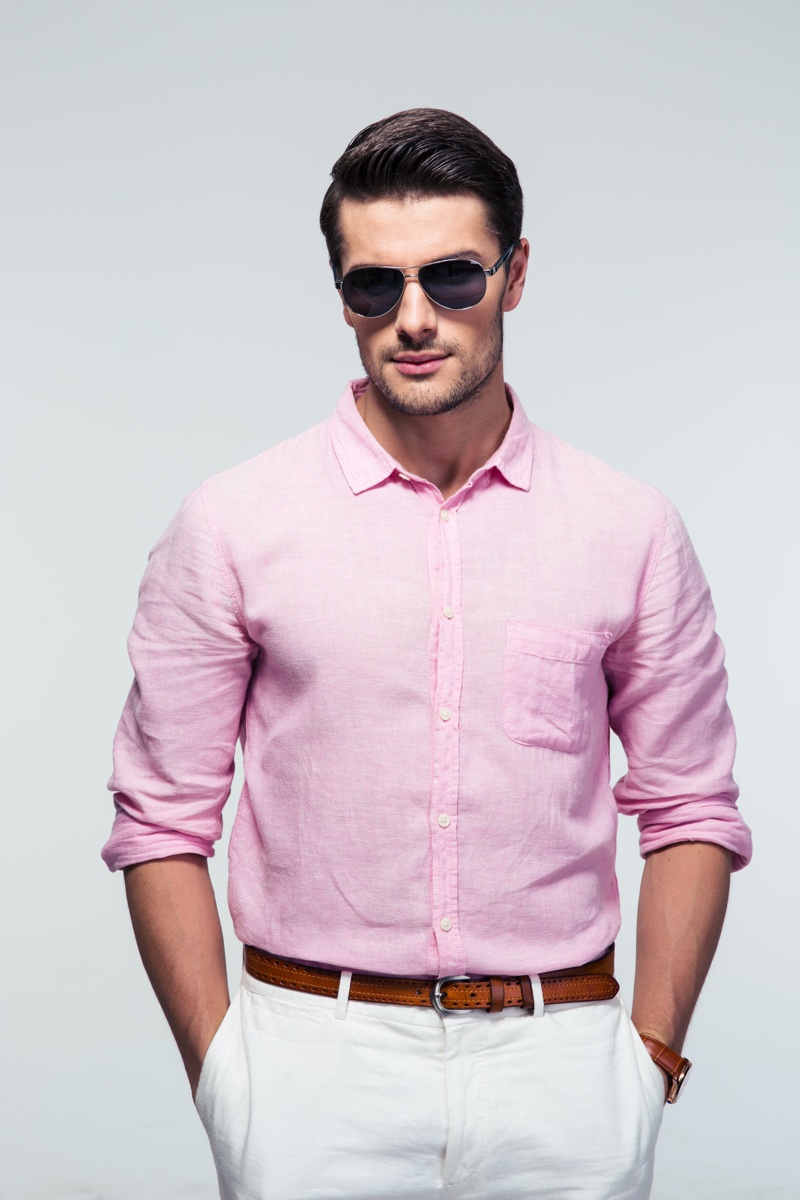 Conclusion
The stereotype of men and pink has been broken, and it's time to buy a modern pink shirt if you haven't already. Give it a wave and try wearing some shades of pink before you can identify the right shades that fit your personality and skin tone. Pink outfits for men around the globe are no longer seen as unfashionable. Make a statement with your next pink ensemble and stand out from the crowd.