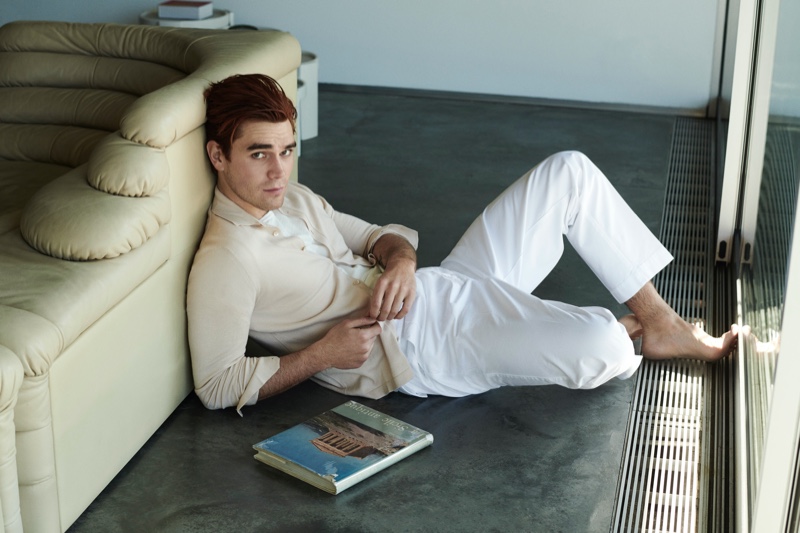 KJ Apa steps into a sleek new spring wardrobe for his latest feature. The Riverdale star links up with Mr Porter for an interview and photo shoot lensed by photographer Bruno Staub. Promoting his latest film, I Still Believe, Apa takes a moment to inspire in must-have menswear. Mitchell Belk styles the New Zealand actor in fashions from brands like Prada, Oliver Spencer, and Officine Generale.
Related: KJ Apa Fronts New Fossil Watch Campaign
Talking to Mr Porter about I Still Believe; a biopic about singer Jeremy Camp, Apa shares his first impressions. I read the script and I loved it. I cried. But I didn't want to do it…I was scared sh*tless. Apa continues, I'm just proud of myself for doing it and, watching it back, I feel proud of the work that I did.
Related: Riverdale Stars Cole Sprouse & KJ Apa Cover Seventeen
Discussing Riverdale, Apa can't help but discuss the passing of co-star Luke Perry. It changed everything when Luke passed. I had never gone through anything like that before. I've never lost anyone close to me, so it was a really hard time. The 22-year-old actor explains, It's still hard. Going to work, I can just feel that he's not there anymore. We had a really, really, really good relationship, me and Luke. He was just kind of a guy that kept us, especially me, grounded because he'd been through all of this stuff. I was so blessed to have him in my life to say, Maybe don't do that, or, This is a good idea. Just giving me advice. I miss him. I just miss talking to him. I miss listening to him. Read more at MrPorter.com.
KJ Apa Mr Porter Photo Shoot