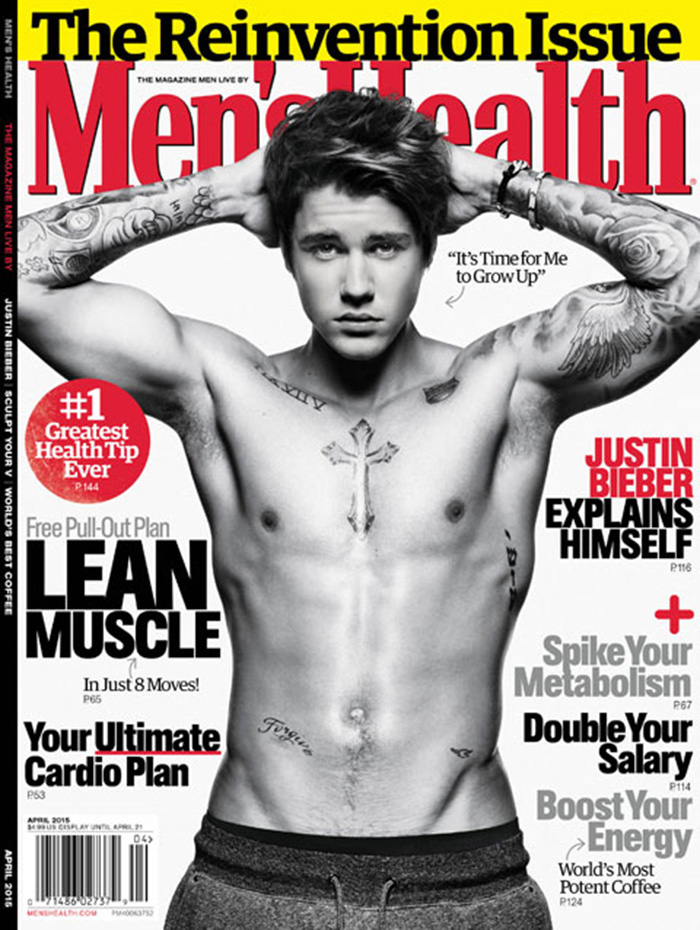 Justin Bieber continues to make headlines as he covers the April 2015 issue of Men's Health. An unlikely cover star for the men's fitness magazine, the 21 year-old singer is photographed by Peter Hapak for the gym photo shoot. Addressing criticism from the magazine's loyal readership, Men's Health editor-in-chief Bill Phillips shares, "Our cover guys reflect the Men's Health brand: positive, empowering, trustworthy, real. We should all learn something from these men–their successes and their failures."
Opening up to the magazine, Bieber addresses maturing, revealing "There's a part of me that I don't ever want to grow up. I want to always remain…to have that sense of purity inside of me where I don't…I don't want to lose that sense of purity." Moving on to the subject of his regular gym sessions, he confesses, "You know I'm just getting bigger, man. It's like, my shoulders don't fit in some things."
Talking about his Calvin Klein Underwear advertisements, Bieber says, "I never thought I'd see my own billboard in on Sunset, in Hollywood. I remember just thinking that I'd never even go to Hollywood, living in a small town in Canada, just like watching TV. That was never even a thought." Read more on MensHealth.com.