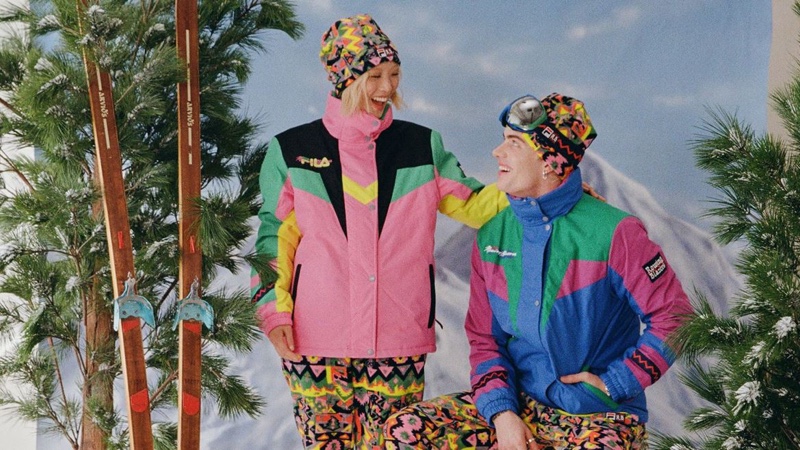 The 1980s and the 1990s had their respective times. Neon shirts, big hair, and glam metal gave way to emo pop-punk, baggy pants, and shiny shirts. The Reagan-led '80s gave us the Clinton-led '90s. The yuppie culture of the '80s gave way to the slacker culture of the '90s. They were different but tethered.
While both decades are long since over, their presence is still felt, maybe now more than at any time since 1999.
When Jack Carlson founded Rowing Blazers in 2017, the unique and authentic looks of the blazers worn by rowing squads were a primary inspiration and how the brand was spawned.
But not far behind in that inspirational pecking order were the fashion and the brands that made the looks of the '80s and '90s so compelling.
"One of the really fun things has been getting to collaborate with brands that I grew up with, like Fila and Lands' End," Carlson says. "Just delving into the Fila archives and looking at all of this incredible stuff — ski gear from the late '80s and the early '90s — is amazing."
So what exactly was the fashion of the '80s and '90s — and how does Carlson fit it into the 2020s?
How Jack Carlson and Rowing Blazers Are Tapping Into The 1980s
The 1970s were all about government paranoia, hard rock, and, in many ways, being an extension of the 1960s when it came to fashion.
Bell-bottoms were still en vogue most of the decade, as was longer, mostly natural hair. Wide collars, floral prints, and short shorts still ruled the day.
The 1980s almost seemed to work against what the 1970s had to offer actively. And it makes sense.
The end of the 1970s, in the United States at least, saw massive inflation, a perceived weakening of American political and military power in the global marketplace, and a growing sense of the best days being behind us.
Who wouldn't want to move on from that?
And the 1980s did. The heavy rock of Led Zeppelin and the earth-toned clothes of the 1970s evolved into glam metal, pop-rock, and shoulder pads.
The decade gave us big hair, big earrings, acid-washed jeans, and lots and lots of color.
For the first time, the fashion of the day wasn't entirely dictated by the "kids." Baby boomers were at the point where they were running companies and dictating policy, and the "Me Generation" certainly wanted to have a say in the fashion of the day.
There were more competing styles in the 1980s than in any decade previous — which is saying something, as there was no influencer culture, no YouTube channels for brands to showcase their wares, and no internet to get information out there.
The main conduit for brands to sell their product and be noticed? That would be the mall, which became not just a hub for shopping for many during the 1980s but also a cultural influencer, a gathering and dining destination, and for many in the suburban sprawl, the center of "cool."
But malls exist (well, existed) to make money, and that isn't often done by selling unique and authentic clothing brands. It's done using cookie-cutter, for-the-masses bulk product that could be as palatable as possible for as many as possible.
Which, of course, left a big hole in what people knew was out there for their fashion choices.
Jack Carlson and Rowing Blazers saw an opportunity.
"There's just so much cool stuff that I think is … I don't know. I don't want to say it's underappreciated, but I think there's so much that's untapped," Carlson says. "One of the things I love with Rowing Blazers is getting the opportunity to go down those rabbit holes and draw inspiration from something that some people might know about and might know is cool, but that we can also show [it] to a whole new audience who might have forgotten or not even realized existed. That's a big part of the fun for me."
Examples abound on Rowing Blazers' website. A 1991 Australia limited-edition World Cup rugby union shirt with all the team crests (currently sold out) or a rainbow-striped wool cricket sweater fit the bill. These are items that, while amazing, likely didn't make it into shopping malls in 1980s Kansas City.
Rowing Blazers seems tailor-made for the later 1980s. The "preppy" theme was strong for both male and female fashion, and Rowing Blazers has leaned into retro looks like that and brought that style back.
It wasn't hard: Carlson founded the brand on the premise of merging some of the classic preppy looks of rowing and rugby crews, so the crossover was there.
One of the most prominent collaborations Rowing Blazers has done has been with '80s and '90s fashion leader Fila. Ski fashion was hot in the '80s, and Fila was at the forefront.
Carlson has brought back the bright colors and smooth pastels of the era in a series of ski jackets and vests as well as loungewear for the lodge.
But the 1980s weren't the only decade inspiring the retro looks of Rowing Blazers. The '80s gave way to a whole new, and a decidedly different decade of fashion: the 1990s.
What Do the 1990s Have To Do With Rowing Blazers: Well, Everything
While the 1980s gave us preppy looks and shopping malls, the 1990s began, as most decades seem to, with a departure from the trends of the previous decade.
That doesn't mean preppy went away in the 1990s — far from it — but the mainstreaming of the internet, as well as the increased popularity of networks like MTV and the various cable outlets that increased consumers' views of what was out there, led to a variety of fashion subcultures in the 1990s.
The one probably most familiar to casual students of the decade was grunge. While new wave and heavy metal fashion (think Slayer T-shirts and tight black jeans) were trending in the late 1980s, the early- to mid-1990s belonged to the grunge look.
The bright colors of the 1980s would make a comeback in the late 1990s into the early 2000s. Still, the middle of the decade was dominated by tartan flannel, stonewashed jeans, and darker colors like maroon, forest green, browns, and indigo.
The musical tastes of the era fostered this growth, with bands like Pearl Jam, Stone Temple Pilots, and Nirvana all giving big nods to the trend.
But grunge wasn't the only subculture to find its footing in the '90s. Raver culture and clubwear went from fringe to mainstream. Tight-fitting nylon shirts, neoprene jackets, platform shoes, fluffy boots, and "phat" pants in bright neon colors managed to make their way into the general fashion flow.
There was, of course, also Britpop (Ben Sherman polos, denim jackets, aviator sunglasses), goth (long leather trench coats, frilly poet shirts, tight pants … basically The Matrix), and skater wear (baggy pants, gas station shirts, and/or bowling shirts).
But Carlson was more inspired to look at the other trend that took rise in the early 1990s and hasn't let go to this day: hip-hop wear.
Popularized by the hip-hop and gangsta rap artists emerging at the end of the 1980s and into the early 1990s, the look was wide-leg jeans, khakis, tracksuits, and snapback ball caps worn backward. And let's not forget saggy pants.
This time frame also gave rise to the sneakerheads culture as well as gold chains and FUBU T-shirts.
Preppy never really died in the 1990s, but it was undoubtedly overshadowed by some of the more fleeting trends.
It's in these two areas that Jack Carlson and Rowing Blazers saw an opportunity. While the late 1990s saw some cross-pollination between preppy and hip-hop, by the time the two were gaining traction together, the early 2000s had brought in what is commonly called "Y2K" fashion. This would lean into dark and reflective apparel, wraparound sunglasses, halter tops, and of course, the famous pearl-printed black cocktail dress of fashion designer Karen Walker.
Right now, the timing is for Carlson and Rowing Blazers to lean into that preppy-meets-hip-hop trend, and it's become a pillar of what the company tries to do.
Rowing Blazers weaves together a variety of influences, but none more prominent than the marriage of preppy and hip-hop, both of which bring in tow a strong sports background.
In addition to working with Fila, Rowing Blazers has a partnership with the NBA, mixing team logos and activewear with rugby shirts, blazers, ties, and scarves.
The result is a look both hip-hop and preppy, such as a green, black, yellow, and red-striped rugby shirt with the Brooklyn Nets shield on the left breast or a classic navy blazer with a Los Angeles Lakers emblem on the pocket.
While one could describe that collaboration as "preppy comes to hip-hop," another Rowing Blazers collaboration flows in the other direction.
The seminal boat shoe company, Sperry, was not known as a trendy fashion brand; its popularity was in its sandbox of the boat and country club set.
But Carlson saw an opportunity: a well-made, American product that simply needed a little push to get it seen by a whole other grouping of potential buyers.
Now, on the Rowing Blazers site, one sees not just the traditional white canvas sneaker or the brown leather Authentic Original Topsider, but also electric-blue leather lugs and tricolor CVO Pett felt shoes as well.
Rowing Blazers also saw an opportunity with watchmaker Seiko, with whom it collaborated on a' 90s-inspired SRPG53 timepiece. It blended the distinctive red, yellow, blue, and green colors so often seen in the mix during the decade.
Results for Rowing Blazers
This mix of traditional prep wear and updated hip-hop and sports fashion has led to a cult following for Rowing Blazers, particularly in the celebrity set.
Household names as diverse as Saturday Night Live cast member Pete Davidson, The Office star Mindy Kaling, former Miami Heat superstar Dwyane Wade, Dune headliner Timothée Chalamet, and rapper Macklemore are all fans, and in some cases spokespeople, for the brand.
The Times of London framed the brand's aesthetic well when it said Rowing Blazers was "cult streetwear inspired by a young, sporting Prince Charles."
The brand has managed not just to create a distinctly unique look with its designs but to create a universe where fans of the brand can make their looks by mixing and matching the various irreverent styles the brand puts out.
The magazine GQ pointed out in a story in 2018 that early adopter Chalamet was "fond of mixing the brands' rugby shirts and collegiate-font-logo tees with bomber jackets and scuffed designer sneakers like he's breaking boarding school dress code on his way to detention."
The celebrity sway has certainly paid off for Jack Carlson and Rowing Blazers. Since the brand launched in 2017 with a run of shirts, ties, and jackets, sales have increased fourfold. While blazers are still a focus, more than 80% of its sales are direct to consumers, while only about 10% are private blazer sales to teams and clubs.
That diversification is precisely what Carlson was looking for when he started the brand.
"We started as, primarily, a menswear brand," Carlson says. "Obviously there are some brands that are really primarily women's. There are some brands that are primarily men's. There are some brands that are for everybody. We started off four-and-a-half years ago as primarily a menswear brand, but we're now for everybody, I would say."
And by everyone, Carlson doesn't just mean those that fall into a nice, categorical box such as "preppy" or "sneakerhead."
"I came across this term. I didn't come up with it. It's from a book by Dan Fox, and the term is 'cultural omnivores,'" Carlson says. "It really just refers to this phenomenon of people having fairly eclectic tastes and not fitting neatly into the little boxes or categories that I think a lot of big brands and media try to put people in. I think there used to be a lot greater sense of, 'I belong to this group and not to that group.'"
Now, he says, people are more inclined to find their own look regardless of where it "fits." And Rowing Blazers is happy to help.
"I think life is much more interesting when you go beyond these little labels and when people don't fit so neatly into these little categories," Carlson says. "At Rowing Blazers, we have such a diverse array of influences, and I've always had such eclectic tastes myself that I think this phenomenon is very cool."
It certainly is.