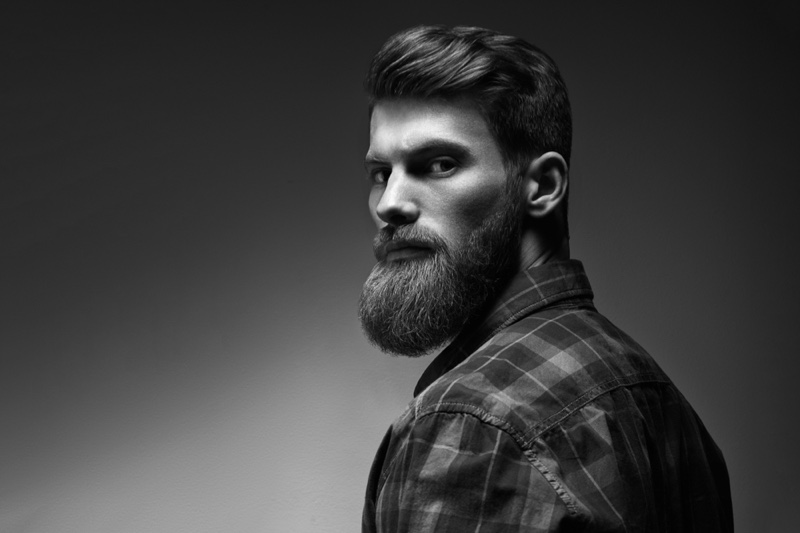 Growing facial hair is the universal epitome of masculinity. To achieve your beard's full potential as fast and naturally as possible, you need to understand everything there is to grow one. In this article, we shed some insight on how to grow a luscious and full beard naturally.
What Causes Your Beard to Grow Fast
Beard growth is affected by a natural hormone, testosterone. The amount of testosterone within your body can greatly influence the rate at which your beard grows. While genetics can also affect your beard, we'll focus on some of the tips you can utilize to increase your testosterone levels and grow a beard faster and naturally.
1. Stick to a Healthy Diet
Sticking to a good nutrition regime and a balanced diet will benefit facial hair growth. Ensure to target the following nutrients into your diet:
Protein

Long-chain(Complex) Carbohydrates

Vitamins

Zinc and Iron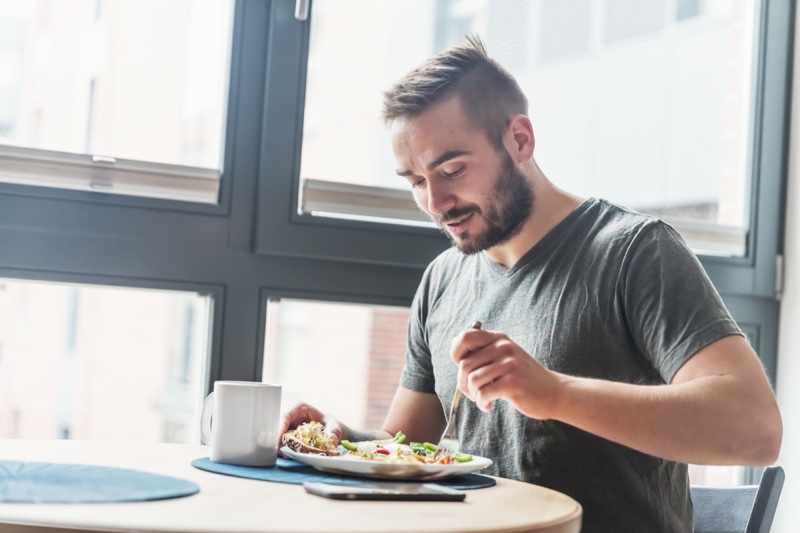 Protein
Your hair is comprised of protein and peptide bonds. Getting sufficient amounts of protein will promote better facial hair. The main sources include seafood, beef, chicken, lamb, eggs, and pork. They ensure your body gets adequate amino acids to foster the development of a silky smooth beard. The protein in these meats also repairs facial cell damage, especially if you've been scratching your growing beard often.
Complex Carbohydrates
Carbs are essential to your energy stores. Without enough energy, your body will prioritize other functions aside from growing your beard. Whole grains, wheat, and pasta prevent brittle hair. Therefore, include some carbohydrates into your diet.
Vitamins
These are the building blocks of life. They include fruits and green veggies rich in vitamins B6, B12, A, D, C, E, and niacin, which promote a full beard. More so, these foods are high in antioxidants and anti-inflammatory properties, which flush out toxins and reduce swellings from razor burns and itching.
Zinc, Calcium, and Iron
Nuts, milk, yogurts, liver, and salmon are rich in nutrients like zinc, iron, and calcium, which are essential to growing beard naturally. Calcium strengthens and enhances your jawbones, making your beard appear fuller. Iron and zinc are responsible for the healthy color and shine of your facial hair.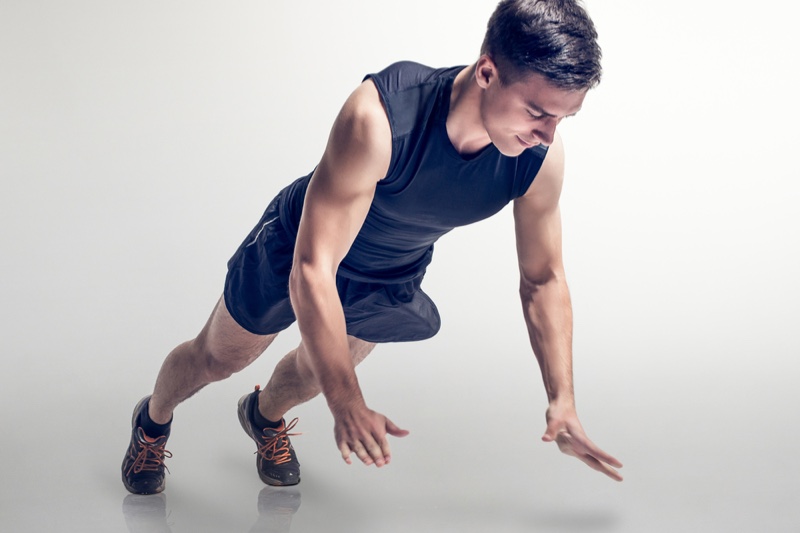 2. Exercise Regularly
Aside from keeping you fit and healthy, exercise has a myriad of benefits such as:
Enhanced strength

Weight loss

Muscle development etc.
All of which can properly redefine your face (shed some fats off your cheeks), and reinforce your jawline. According to research, frequent exercise increases your overall testosterone levels naturally.
When you exercise, you allow your body to distribute essential nutrients faster. This increases your beard growth patterns and blood flow, which ensures your facial hair receives the adequate nutrition it needs.
Exercise also helps alleviate stress. When you're relaxed, your body maintains a stable hormonal balance instead of storing fat and causing hypertension when stressed. Therefore, if it's jogging, weightlifting, or yoga, getting physically active will aid your growing beard naturally.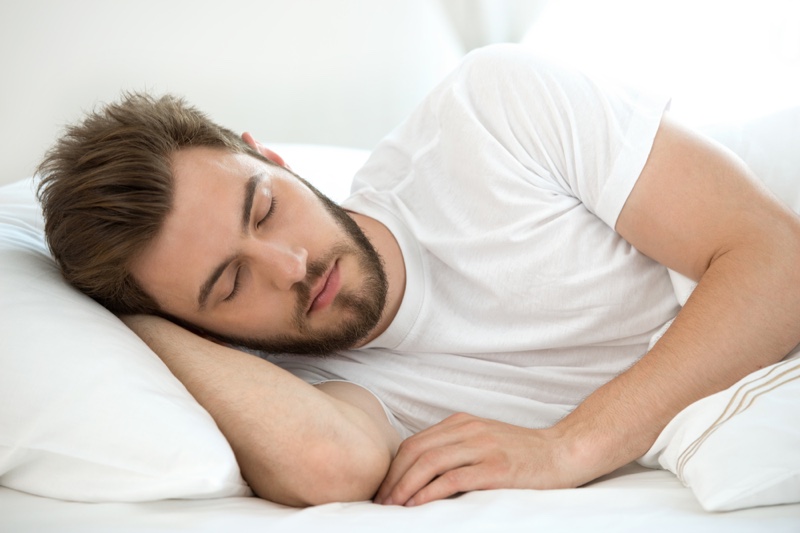 3. Improve Your Sleep Routine
Not only is getting 7-8 hours of sleep important to your health and body, but it is also necessary for fostering beard growth. During slumber, your body has enough time to engage in critical functions such as cellular repair, hair growth, and testosterone release.
Sleep deprivation results in decreased production of testosterone and incurs normal body functions. More so, it can lead to severe effects such as sleep apnea, insomnia, and chronic narcolepsy.
Studies show that Rapid Eye Movement Sleep (a unique state of slumber) correlates to a natural increase of testosterone in adults who foster proper sleep cycles.
Therefore, it's important to get proper sleep if you want to naturally grow a beard faster. To improve your sleep, try the following:
Dimming bright and white lights etc. phones, laptops.

Listening to a soothing playlist or podcast

White noise machine

Meditation

Comfy Pillows

Stretching before bedtime.
In a nutshell, no matter how much you train and eat healthy, depriving yourself of sleep will prohibit you from reaching your goals.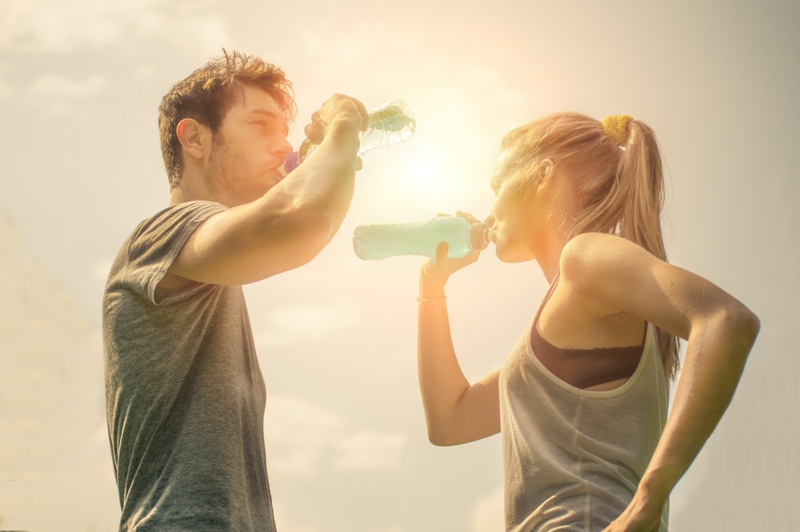 4. Drink Plenty of Water
Water is important in keeping your vital organs hydrated. It also keeps your skin and beard smooth, gleaming, and fresh. Benefits of drinking water include:
Cell repair

Glowing face and skin

Smooth hair

Flushes out toxins

Prevents chapped lips
All of which promote a more vigorous look to compliment your developing beard. When you don't drink enough water, your skin begins to crack. This causes your facial hair to experience difficulties growing. Underneath your dry skin, the hairs receive less moisture as your body first prioritizes repairing facial cell damage and results in prolonged beard growth.
More so, staying hydrated makes grooming more comfortable as hair tends to soften out and curl less; thus, combing your beard becomes a seamless task.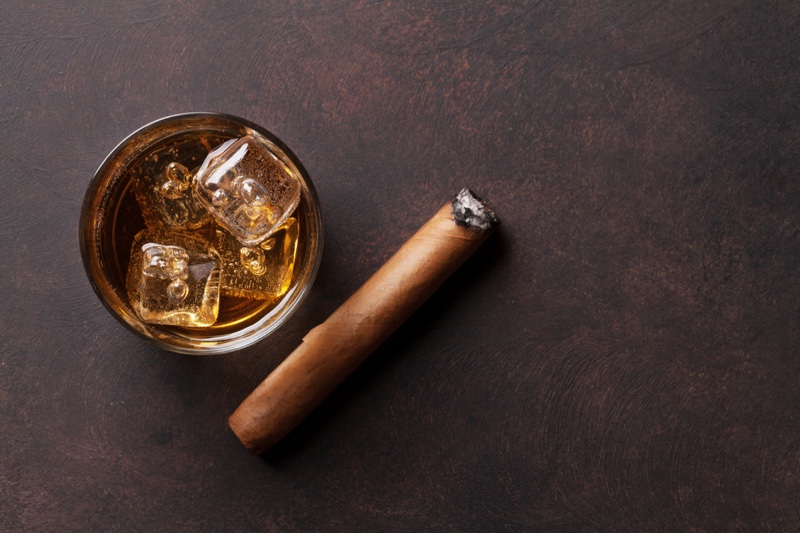 5. Minimize Alcohol Consumption, Caffeine and Smoking
Adapting to a few lifestyle changes will help your beard and health tremendously.
Caffeine – Cutting down on coffee, sodas, and chocolate will make it easier for hair regeneration. Excess caffeine inhibits your growth, which makes it slower for your beard to grow.

Alcohol – Drink in moderate. Alcohol in excess will slow your liver's ability to detoxify harmful chemicals. It can result in fragile and scruffy facial hair.

Smoking – Nicotine and tobacco in cigarettes, cigars prohibit smooth blood and oxygen circulation within your body, which deprives your beard of receiving adequate nutrients. It also douses it with a foul, ashy odor.
BONUS: Natural Beard Growth Remedies
Another way of nurturing rapid beard growth is by opting homemade treatments. Here are a few natural DIY beard remedies you can utilize with relying on cosmetic supplements.
Rosemary + Coconut Oil
A mixture of coconut oil and rosemary works wonders on your facial hair. It helps grow your beard naturally and fast, depending on how often you employ the remedy. Simply, mix five teaspoons of coconut oil with half a teaspoon of rosemary. Rub the mixture on your beard and let sit for a few minutes and rinse.
Lemon & Cinnamon
Lemon is rich in citric acid and antioxidants, which exfoliate your skin and kills bacteria. Squirt two teaspoons of lemon/lime juice into a cup and mix with one teaspoon cinnamon powder. Stir thoroughly into a paste and apply on face. Rinse and repeat several times a week.
Eucalyptus Oil
Aside from aiding sore throats and stuffy noses, eucalyptus oil can enhance beard growth. Available from your local chemistry or mart, apply two parts oil onto a cotton swab and apply to face. The oil can have a stinging sensation to the eye, so it's best to close your eyes when applying.
Olive Oil
Olive oil is an excellent remedy for promoting accelerated beard growth and covering spots/patches. It prohibits DHL hormone production responsible for hair loss. Simply combine two teaspoons of olive oil with one teaspoon of coconut or eucalyptus oil. Apply on face for 15 minutes and rinse.
The road to growing an abundant beard is mainly determined by your DNA, testosterone levels, and dietary nutrition. However, if the genes are in your favor, adhering to these few simple tips can quickly increase the rate of your beard growth. Remember to keep healthy, fit, and hydrated for the best results.
Author: Alex Rogers
Alex is a beard aficionado who loves everything to do with men's style and grooming. After discovering how much difference simple style and grooming made to his life; he started his blog and brand Norse Grooming to share valuable tips & products with others.