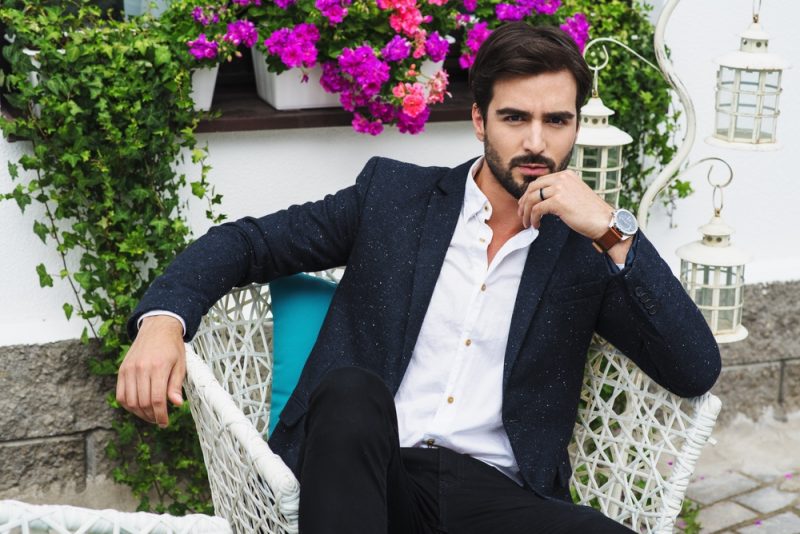 Originally designed by English gentlemen who needed a rugged yet stylish jacket for shooting, riding, and other outdoor activities, the sport coat or sports jacket is a classic men's garment that comes in a wide range of colors, styles, and fabrics to suit every wardrobe. Every stylish man should own at least one sport coat, but you can't go wrong by owning sport coats in different colors and styles. This versatile garment can be dressed up with slacks or dressed down with jeans and looks great whether you're attending a wedding, heading to casual Friday at the office, grabbing a beer, or putting the sports jacket to some of its original uses in the great outdoors.
However, just as with any other men's garment, you need to know how to wear a sport coat right to pull it off. Fit is key, and since sport coats are typically patterned and may be colorful, it's also important to make sure the jacket doesn't clash with the rest of your outfit. Whether you choose to dress the sports jacket up or down, make sure to complete the look with high-quality garments in good shape.
Choose the Right Style & Fit
A sport coat is a jacket cut in the same style as a suit jacket but doesn't come with any matching trousers. It's sometimes called an odd jacket because it doesn't come as part of a matching set (you could buy an odd vest or waistcoat too, for example). Sport coats are often confused with blazers, but in fact, a sport coat is not a blazer — at least, it's not always a blazer. Blazers are a type of sport coat that typically comes in a solid, neutral color, like navy, with contrasting buttons. 
However, the typical sport coat is made of patterned fabric, like wool, cotton, flannel, linen, or wide-wale corduroy. Design elements include elbow patches, side or rear vents, and lapels, though some styles, like the Norfolk jacket, feature elements like wind tabs, belts, pleats, and sleeve cuffs. Common sport coat patterns include plaid, houndstooth, windowpanes, and herringbones, but stodgy, old-fashioned British styles aren't the only option for stylish American men. Western sport coats are available in leather-mimicking microfiber fabrics, and many have stylized, cowboy-inspired yoke designs.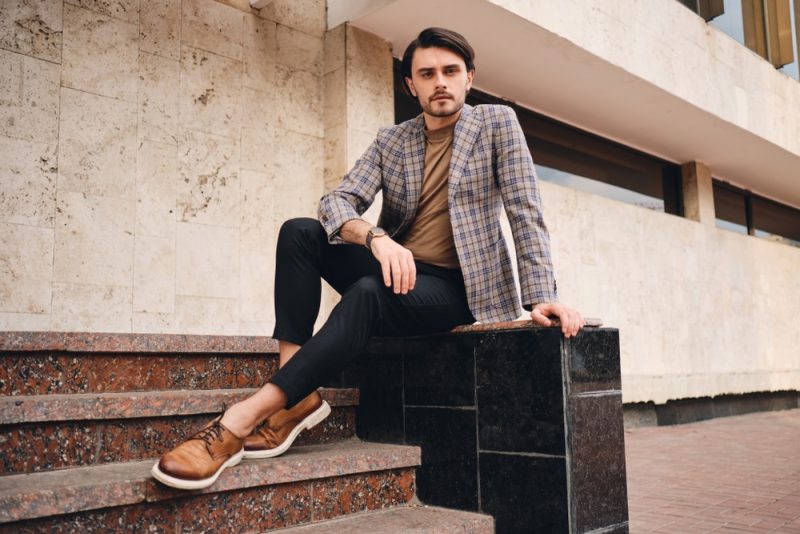 Color patterns range from classic and neutral tones like blues, reds, greens, and oranges, but these coats can be loud. When choosing a sport coat, look for colors that go with what you already have in your closet. Loud, colorful patterns might look appealing in the store, but if you don't have anything to match, you'll never wear it. 
A sport coat should fit a little looser than a suit jacket — they're designed for freedom of movement. When you button the top button — which is the only button that you should be fastening — there should be no fabric pulling or wrinkling. The line of the shoulder should flow cleanly down the arm, with no pulling. The sport coat collar should follow the line of your shirt collar if you're wearing a collared shirt. There should be no rumpling across the top of the shoulder, nor any wrinkling down the sleeve. To wear a sport coat well, not only should the coat itself fit, but any garments worn with it need to fit properly, too.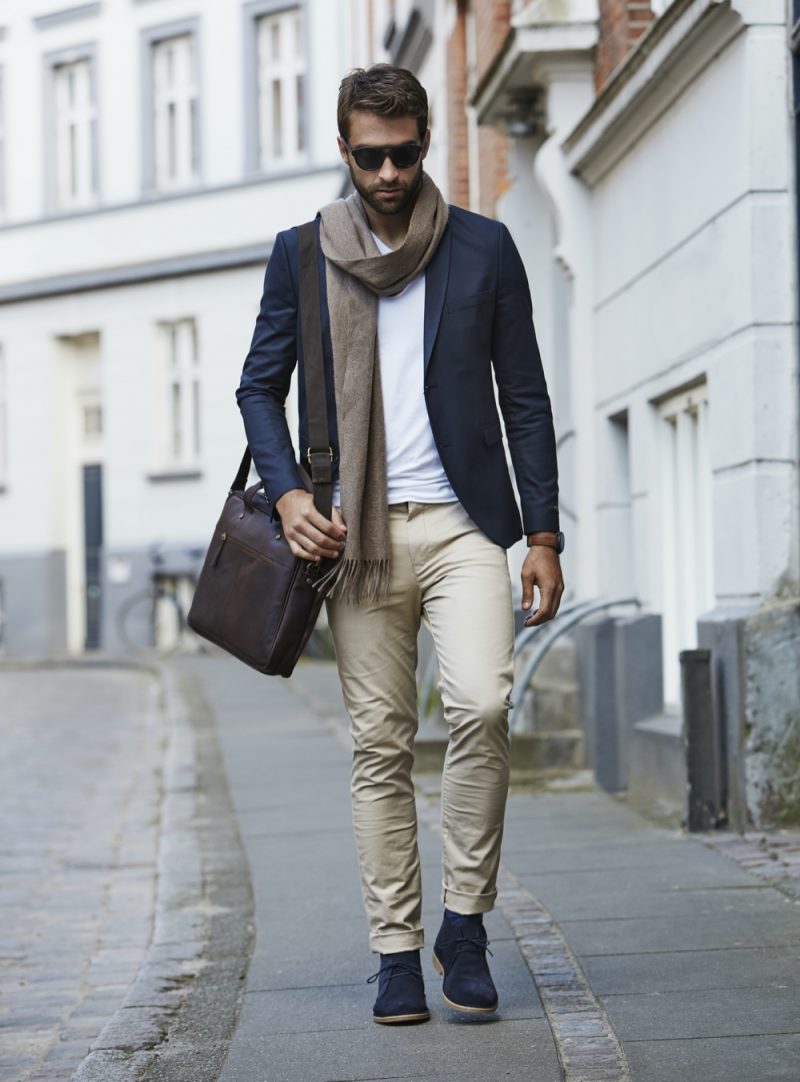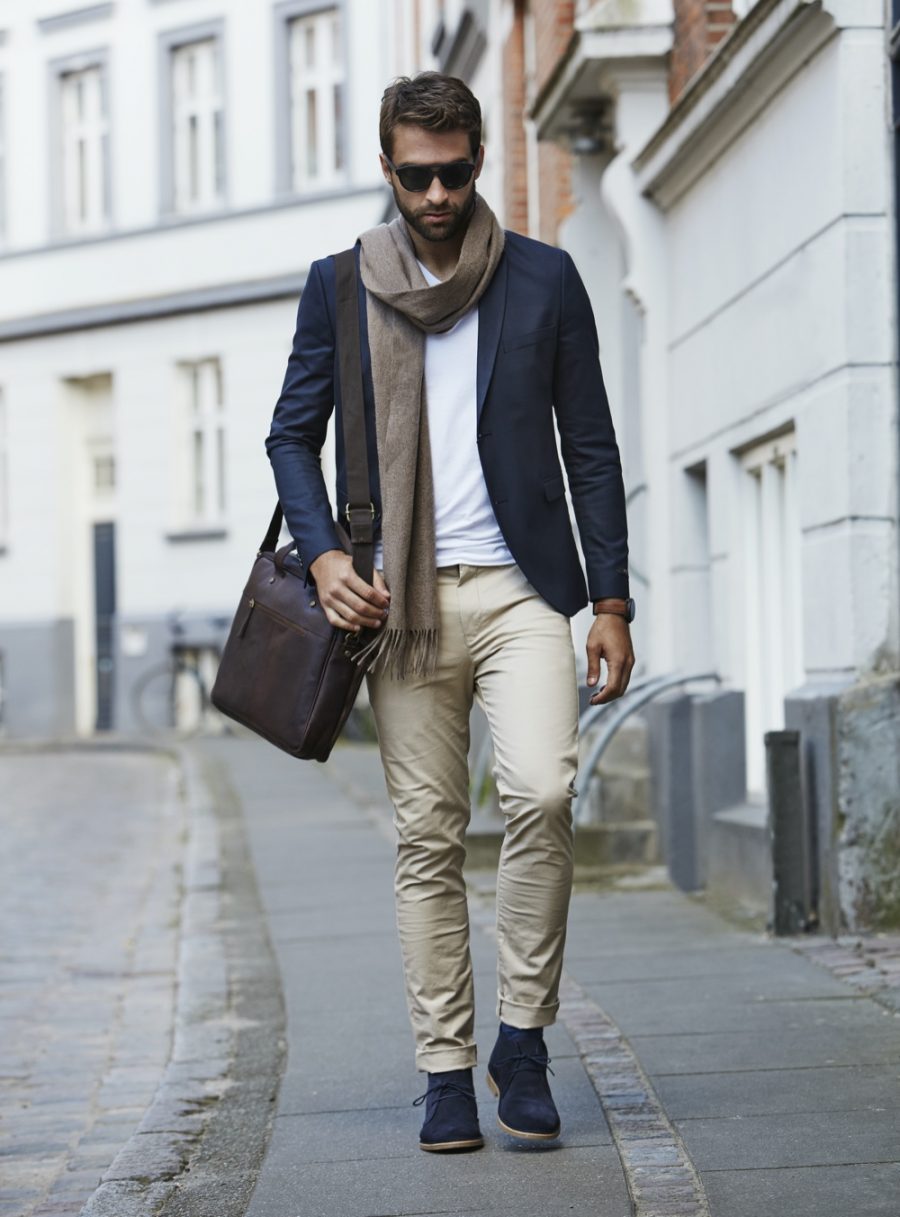 Dress Your Sport Coat Up or Down
Though it was originally intended as a casual garment, the sport coat has become dressier as sartorial mores have changed over the years. To dress a sport coat down while still maintaining some formality to the look, pair it with a nice pair of belted jeans and a button-down shirt. You can wear a tie, or forgo it, but choose a dressier pair of shoes — Oxfords, brogues, loafers, or even Chelsea boots.
Typically, a more formal sport coat look will include dark denim jeans, a tie, a button-down shirt, and dress shoes. However, light-colored denim can also look great with a sport coat, particularly a darker one. Because a sport coat is an odd garment, it's important to create contrast between the coat and the trousers so that it's clear you're intentionally not wearing a suit. An everyday look could be a sport coat with contrasting denim, a button-down shirt, or even a well-fitting, high-quality t-shirt, brogues, moccasins, or boots.
You can also dress up a sport coat with dress trousers. Again, create a color contrast — but not a clash — between the coat and the trousers. You can wear a waistcoat that matches the trousers and bring the look together with a tie that matches at least one of the sport coat colors. Pair a patterned sport coat with solid-color trousers and waistcoat, or vice versa. On icy days, choose a wool sport coat and, if necessary, layer a pea coat, trench coat, or overcoat on top for additional warmth.
If you don't own any sport coats, you're missing out. Every man should have at least one sport coat in his closet, for those days when you need to dress up a casual look or throw on a light jacket. With a little attention to colors and patterns, you can look stylish and sophisticated without sacrificing comfort or utility.