Do you have a significant function or event and want to look your finest in a nice suit? Do you want to have a good suit ready and waiting in your closet for those fancy occasions?
A suit is a mainstay in any man's wardrobe. It can be dressed up or down, perfect for any occasion. That's precisely why you want to find a suit brand that offers classic and stylish designs like this one reviewed by BrandRated.
Additionally, when you're looking to buy your first suit or even just add to your collection, there are a few things you'll want to keep in mind. Here are six things to look for when buying a suit.
The Fit
If it is your first time buying a suit or you haven't bought one that fits the current style or the current times, then there are many things that you will want to keep in mind and that you would like to consider to find the best suit for you.
One of the first things that you should consider is the fit of the suit. If you don't know much about fashion and are not very interested in it, you may not know that there are different kinds of fits when it comes to suits, and they all accentuate different parts of the body and suit different types of people.
When it comes to choosing a suit, you want to choose one that is tailored to your body type and one that complements your body rather than makes it look like it is out of place.
The Fabric
The next consideration is the kind of fabric you want your suit to be made of. Essentially a suit can be made out of any fabric, but this isn't really what you want, and you would stick to one that is a standard material for suits.
Different kinds of fabrics are suitable for suits, and the most common ones are wool, cotton, and polyester, which are all excellent options. When choosing a suit, you should consider whether you're going to wear it on a warmer occasion or a cooler occasion and which fabric is more suited to warm or cold weather.
The Color
In this day and age, color is everything when it comes to clothing, and most people don't just stick to neutrals or dull colors. If you're feeling adventurous and feeling a bit out there, then going for a bright color could be very exciting; you could even go with a fun pattern; however, these aren't suited to all occasions.
Some of the best suit colors include black, navy, charcoal gray, and others similar. These colors are typically relatively neutral, and they go with pretty much any occasion. Depending on the event, they can also be dressed up or dressed down.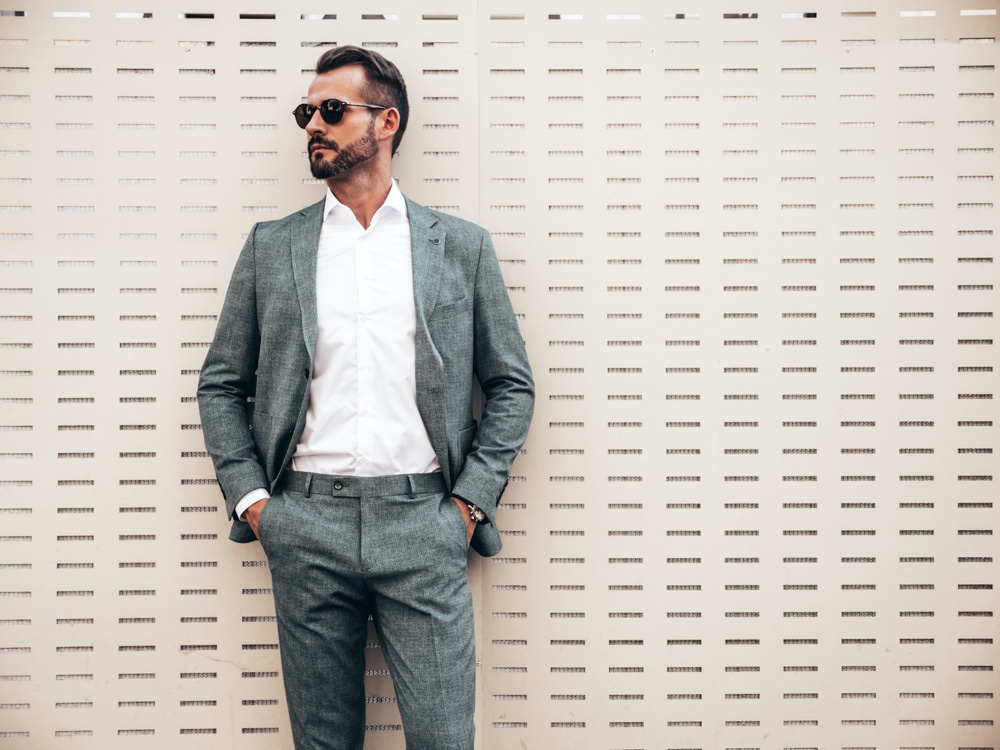 The Style
Another thing that people may not know if they don't know much about suits or fashion because you can get different styles of suits. You can get both single-breasted or double-breasted suits, and they both have their unique look and offer a unique style to the person who wears them.
The Accessories
Accessories are everything when it comes to finding the perfect suit, and the ideal well-fitting suit should include a jacket and pants that match with a bow tie or a regular tie that suited and a shirt that matches.
Other accessories that you can include ah cufflinks or even smaller pieces of jewelry such as rings, bracelets, and a chain necklace
The Price
Last but not least we have the price. It is no secret that suits can get very pricey quickly, especially if you are getting one made of good material and appropriately tailored to your body.
However, getting a good suit is an excellent investment, and they will typically last you for a very long time if you look after them properly. You don't need to break the bank when buying a suit, but it's essential to ensure that you're getting quality materials and craftsmanship.