As a groom, navigating the world of wedding attire can be challenging! There are numerous colors and styles available. The wedding day is not just for the bride; you want to appear as lovely as your partner for the pleasure of your wedding guests. 
It's challenging to prepare a traditional wedding ceremony, but a themed wedding requires an extra level of attention to detail. Consider the following stylistic ideas to ensure your appearance is flawless for your bohemian wedding:
1. Invest in a Boutonniere
A boutonniere worn on the groom's lapel or button-up shirt conveys amazement, beauty, and a connection to nature. On your wedding day, wear a flower or plant that holds special meaning for you and your partner. To connect the groom's outfit to the rest of the reception team, choose a plant or flower that complements the flower centerpieces for your wedding.
2. Wear Suspenders
If you're attending a boho wedding, you may infuse your formal clothes with personality. Suspenders are an easy way to invest your wedding groom's casual dress with elegance and a nod to the past. If this seems appealing to you, you should be aware of some basic suspender etiquette.
To ensure a proper fit and appearance, brush up on your knowledge of suspender rules. Begin by pairing it with a well-fitting shirt. French cuffs are a good choice because they are timeless and allow you to add some eye-catching cufflinks to your ensemble.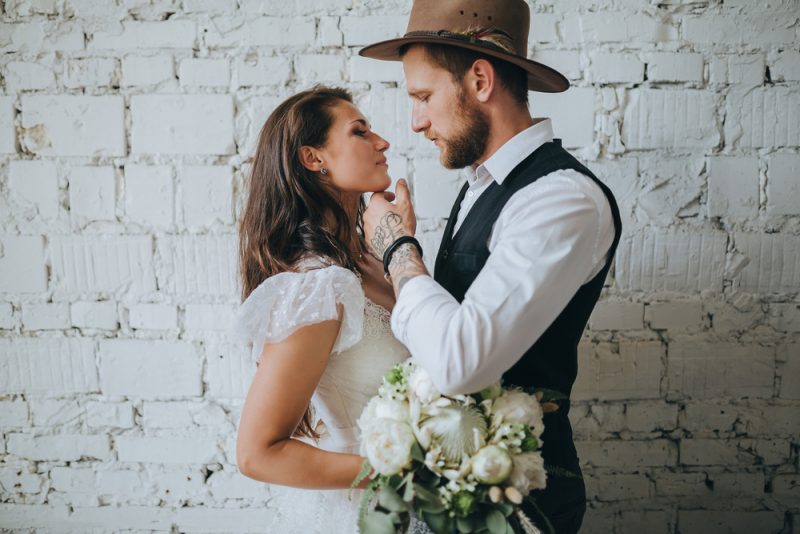 3. Put on a Waistcoat
Additionally, the waistcoat appearance works well as a substitute for a jacket. It's a lovely piece of clothing that will help you get a fashionable style. When wearing a waistcoat, you can wear any shirt with any pair of slacks—completing the appearance with a vintage-inspired plant or floral tie.
A checked shirt is the most appropriate shirt to pair with waistcoats. Additionally, you can place a flower on the groom's vest to give him a more official look. Dark waistcoats and pants are ideal for Boho weddings because they create a stylish hip-hop atmosphere.
4. Utilize Patterns
While a white shirt is often linked with wedding attire, if you enjoy patterns and designs, frequently wear them, and want to demonstrate your trendy side. You can always make a statement with your shirt selection or a check suit. Patterns are permitted as long as they are chosen tastefully and in moderation.
If you're planning to wear a solid suit, consider pairing it with a patterned shirt. If you're going to wear a patterned suit, opt for something simple like chalk stripes. Establish a distinction between your attire and groomsmen by having them wear solid variants wherever pattern is used.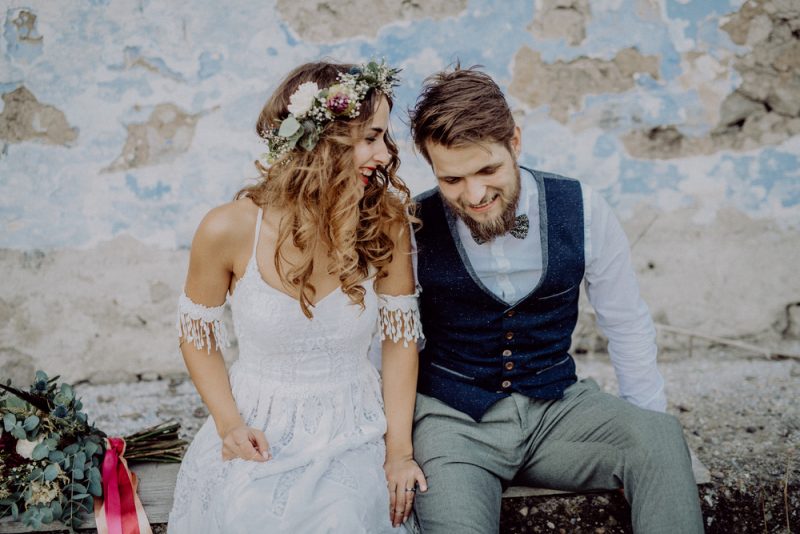 5. Neckwear is Critical
While the cravat was once popular, bow ties and ties are becoming more popular among today's grooms. There are numerous designs, textures, and colors to choose from, making it simple to find something that complements your style. A printed or patterned piece will distinguish you and is an excellent way to inject personality into your neckwear.
Another strategy to differentiate yourself is to have the males dress in the polar opposite of what you are wearing. For instance, if you wear a bow tie, they should do the same, and vice versa. If everyone else is wearing bow ties or ties, you can make a statement by wearing something else.
6. Choose Your Footwear
Without shoes, the Boho groom is incomplete. It is a well-known fact that shoes enhance an ensemble's charm. Brogues are the go-to footwear for any occasion, lending a polished and sophisticated air to the groom's wardrobe.
Brogues are considered the groom's fashion statement regardless of the type of wedding. As we all know, shoes make an outfit complete, and your groom is no different. The brogue is one of those shoe styles that screams old-world refinement and charm.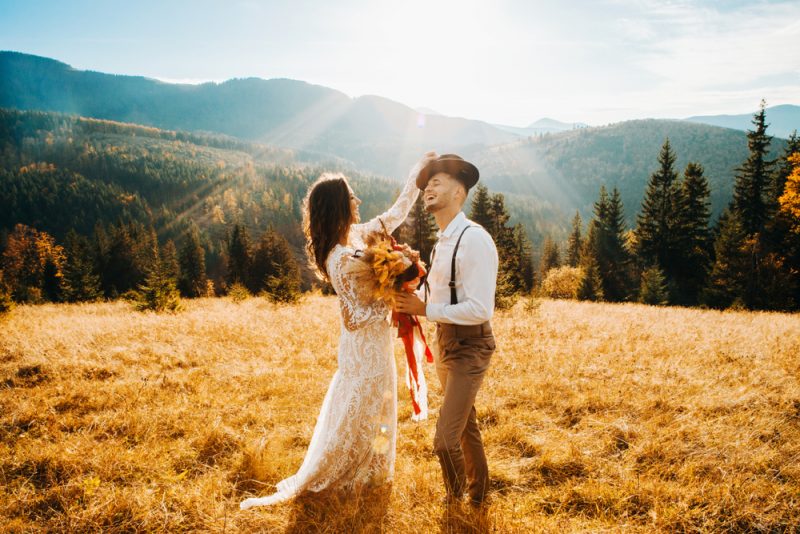 7. Select Your Accessories
Apart from your neckwear, selecting attractive, unorthodox accessories is an easy way to inject personality into your attire and differentiate yourself from your groomsmen! There are many boho bouquet ideas out there, and you can pair the color of your accessories with your bride's bouquet. Consider how you can express yourself aesthetically through your socks, pocket squares, watch, and even your shoes.
If you want to wear eye-catching footwear, choose a pair of socks or shoelaces that either reintroduces the theme or emphasizes your originality. Another accessory that can give the groom a swaggering look is the hat. If the groom wishes to appear intelligent, he should pair his suit with a hat. Another fantastic bohemian aesthetic piece that goes with every ensemble is a pocket watch.
Takeaway
When it comes to developing an entirely own style, consider studying the details of the event. Add some flair to your wardrobe by wearing a new boutonniere, bow tie, vest, necktie, cummerbund, or cuff links in a different color or style. Utilize these styling techniques to create the ideal boho groom appearance for your wedding.