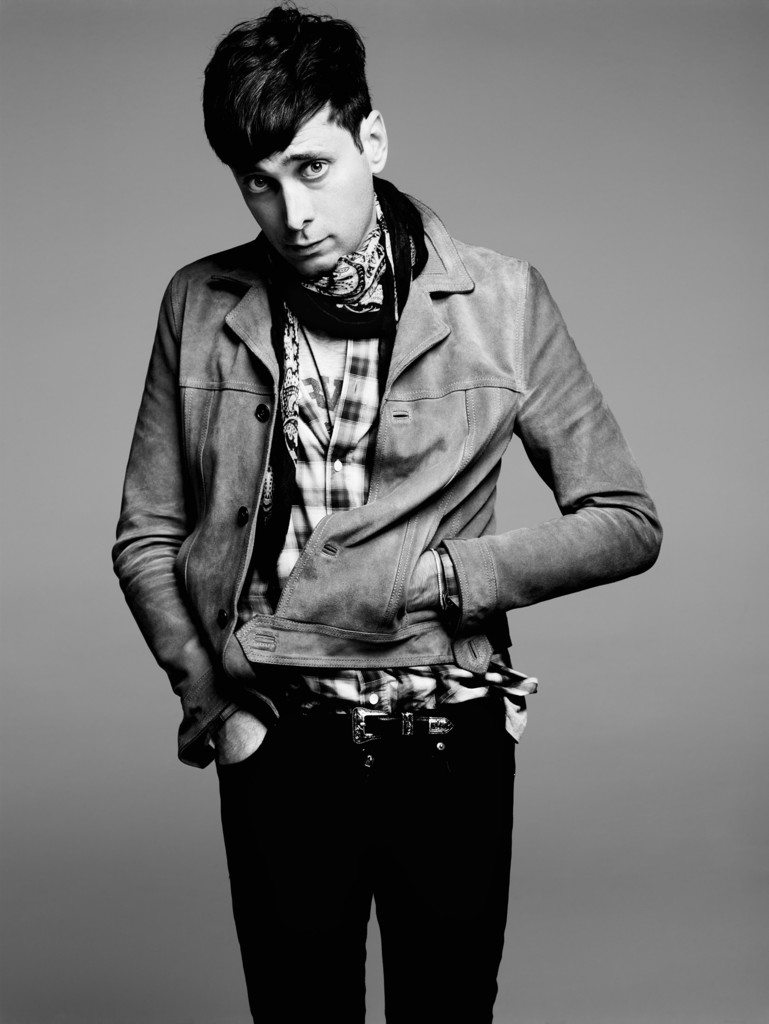 Named creative director of Yves Saint Laurent in 2012, Hedi Slimane quickly made headlines when news was announced that the label would undergo a rebranding. Putting a new label on ready to wear with the name Saint Laurent Paris, Slimane revisited the storied fashion house's trendsetting attitude that was nourished by its original designer, Yves Saint Laurent.
Related: The Skinny on Slim-Cut Denim Jeans
While the brand's former creative director Stefano Pilati had a tailored vision for the label, Slimane brought a youthful, svelte point of view to the brand. Picking up where his iconic tenure for Dior Homme left off, Slimane championed the image of the indie rocker, even going as far as to regularly street cast musicians for his shows. Slimane also followed his inspiration to Los Angeles, where he relocated the fashion house's Parisian design studio.
Saint Laurent Menswear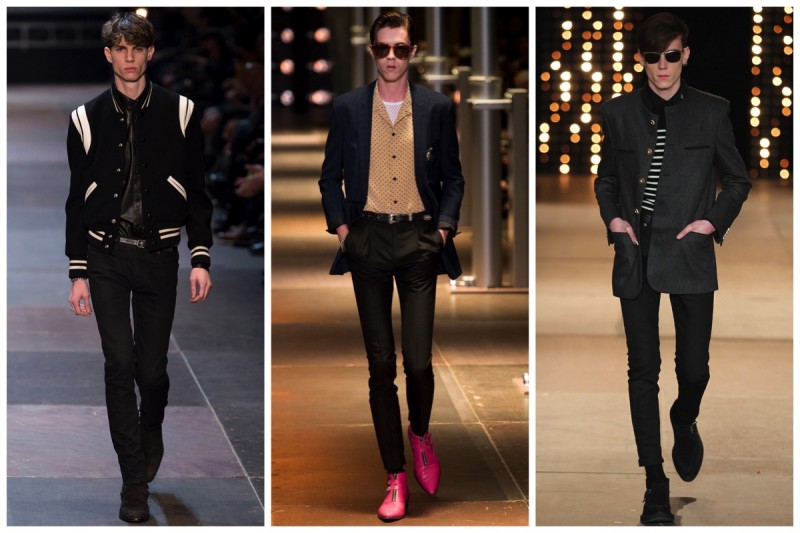 Discussing his design angle in a rare interview with Yahoo Style, Slimane shared, "There is always a part of what you do that refers to your childhood, or youth. I was precisely just like any of these guys I photograph, or that walk my shows. Jackets were always a little too big for me. Many in high school, or in my family, were attempting to make me feel I was half a man because I was lean, and not an athletic build." The designer continued, "I was eating quite much, doing a lot of sport, but when I was 15, 16, or 17, that was simply the way I was built."
Saint Laurent Androgyny
From grunge to glam rock, music subcultures are a constant in Slimane's designs, but there's also an interesting relationship with gender at play. Referencing the androgyny in his work, Slimane explained, "There is that idea of androgyny, which is associated to my silhouette and design since the late '90s, and I presume a reflection of how I was, and how I looked growing up, the lack of gender definition. I could recognize it and feel a connection at the time with The Thin White Duke character of Bowie. This is pretty much the origin of everything I did in design after that, a boy or a girl with the same silhouette."
Saint Laurent in Los Angeles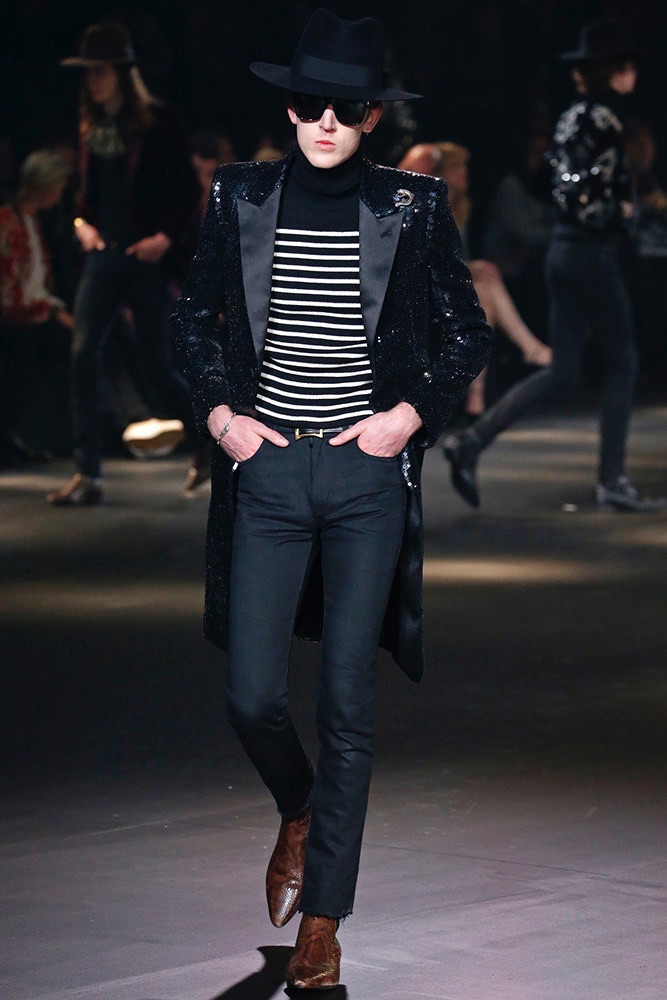 Drawing constant inspiration from the Los Angeles music scene, Slimane disrupted expectations when he showed his final men's lineup for Saint Laurent with his fall-winter 2016 collection in the City of Angels. Leaving Paris behind, the designer presented a dark, skinny and shimmering collection to a star studded front row. Capturing the spirit of the modern Saint Laurent wearer, guests included Justin Bieber, Lenny Kravitz and Beck.
Saint Laurent Men and Celebrity Culture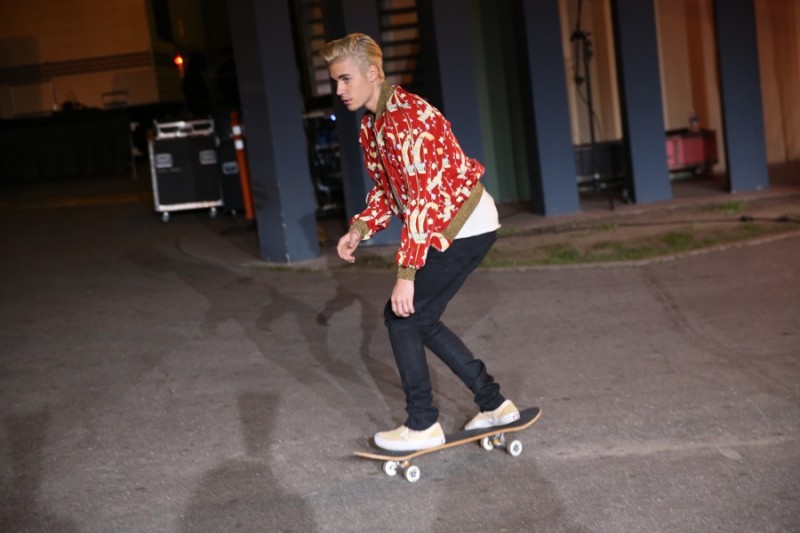 When it comes to fashion, Hedi Slimane may just have the golden touch. Although, he was initially met by criticism when he changed the fashion house's ready to wear collections from Yves Saint Laurent to Saint Laurent, the designer's gamble paid off. In 2015, American GQ reported that the label's sales were up 27 percent. Considering Slimane's celebrity following that has helped make his pieces the new fashion must-haves, the upturn in profits was inevitable.
Saint Laurent Men's Staples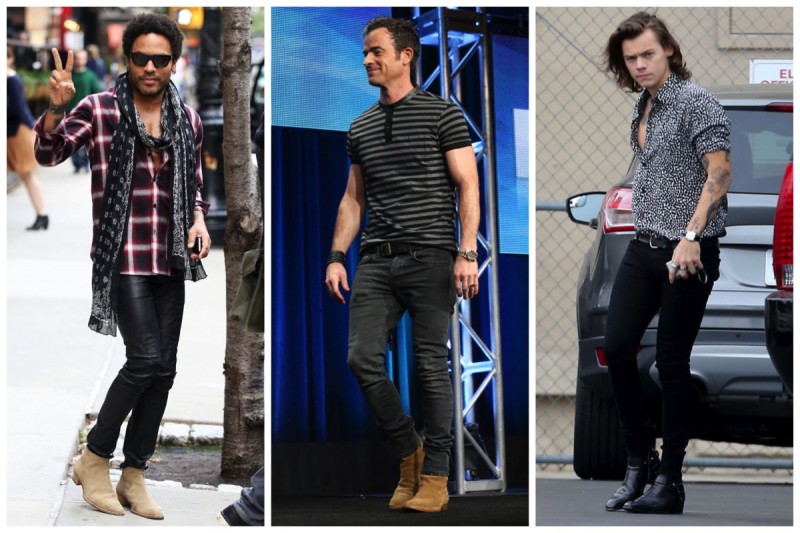 Embracing Saint Laurent's modern set of staples, celebrities helped define the brand's most popular pieces. From skinny jeans and plaid button-down shirts to chelsea boots, the Parisian label's core pieces operated as stylish essentials in the real world.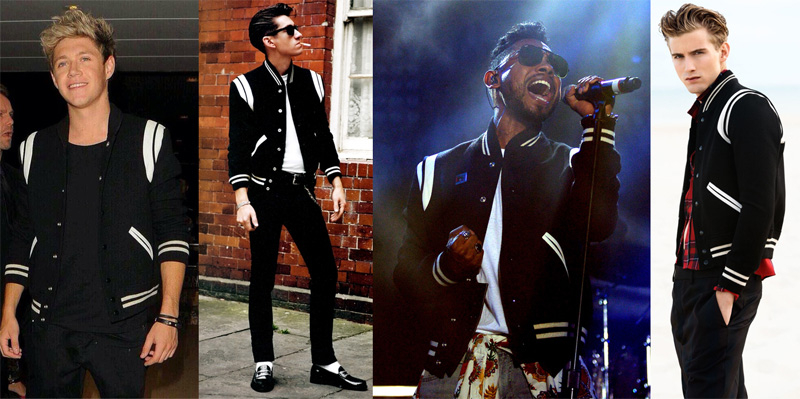 In addition to jumpstarting trends like the reemergence of grunge style, under Hedi Slimane's creative direction, Saint Laurent also found a bestseller in the varsity jacket. After making the rounds in fashion editorials and at events as part of celebrity wardrobes, the varsity jacket initially sold out from retailers, but enjoyed a regular comeback.
Saint Laurent Men's Advertising Campaigns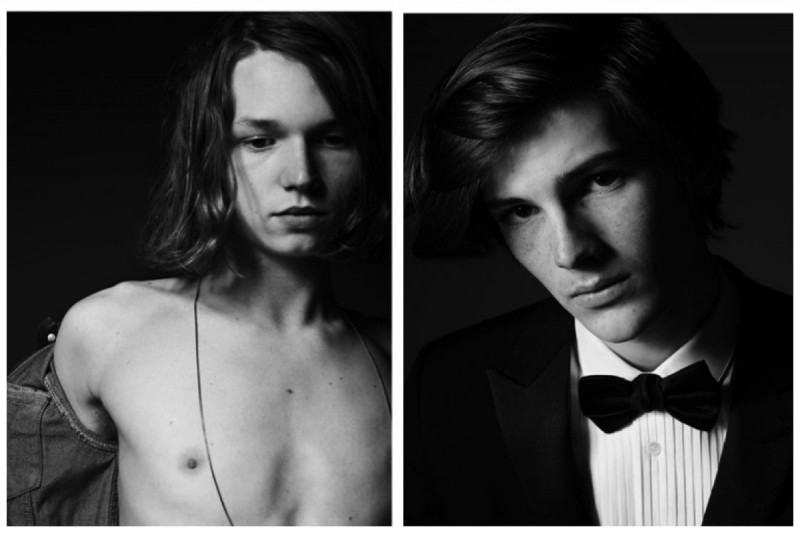 On top of celebrity endorsements, Slimane had a penchant for featuring the children of famous talents in Saint Laurent's advertisements. Pierce Brosnan's son Dylan as well as Val Kilmer's child Jack appeared in campaigns for the brand's Permanent Collection. Acting as creative director and photographer, Slimane demonstrated a knack for finding youth that fit his strong, confident vision.
The Saint Laurent Man
Under the Saint Laurent brand, Hedi Slimane reinvigorated a long, lean silhouette. Associated with the label's attitude, modern menswear pieces cemented a cool vision as exemplified by entertainers like Jared Leto. Armed with a stylish wardrobe, the man of Saint Laurent championed leather biker jackets, patterned button-down shirts, often dressed in patterns such as polka dots, skinny fit denim jeans and chelsea boots.
Saint Laurent Imagery by Hedi Slimane
Shop Saint Laurent Men's Essentials