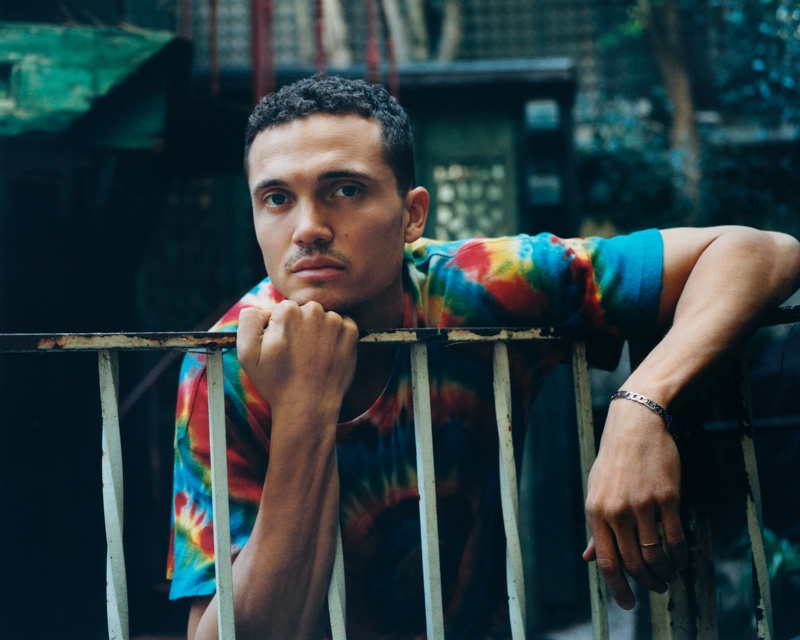 Mr Porter delivers a groovy style update and a new interview with Karl Glusman for its latest update from The Journal. Tie-dye and bold prints paint a bold spring as Glusman poses for images by photographer Bjorn Iooss. Meanwhile, Olie Arnold is responsible for Glusman's covetable wardrobe. Arnold outfits the 32-year-old actor in must-have pieces from brands that range from AMIRI and Dries Van Noten to Gucci.
Related: Mr Porter Spotlights Brands to Watch for Spring
Talking shop with Martha Hayes, Glusman discusses his new show, Devs. "You read scripts that are a bit taxing to get to the end of, but it was so fun to read Alex's writing." Glusman continues, "As a cast we revered him and yet he was so open to our input. Some writers are like, 'I wrote it this way for a reason,' and want to assert their power. Not Alex. He's one of the nicest people I've ever worked with and I'm not just saying that because the show's about to come out!"
Related: Karl Glusman Dons Sharp Suits for Esquire
Switching gears and talking style, Glusman dishes on his laid-back approach and what his wife Zoe Kravitz thinks of it. "When we started dating, I did feel like I needed to get nicer clothes," explains Glusman. "It's funny, over time you relax around each other more, and that's when Zoe started commenting that she really liked how I was dressing. I was like, 'this is how I've been dressing since middle school.' You know, sneakers, baggy pants, and oversized T-shirts. I could have saved myself all that money." Read more at MrPorter.com.
Karl Glusman Mr Porter Photo Shoot