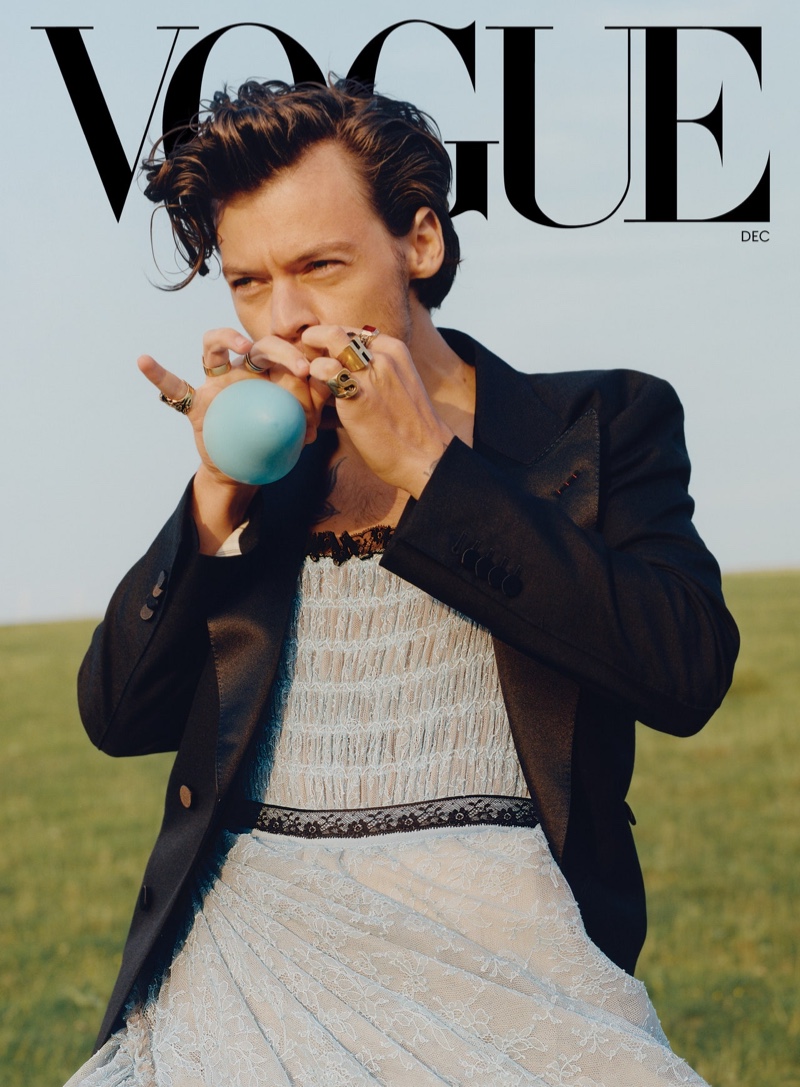 Harry Styles makes history as the first man to land an American Vogue cover by himself. The 26-year-old singer joins fellow artists Zayn Malik and Justin Bieber as some of the few men to cover Vogue since its inception in 1892. Tyler Mitchell has the honor of photographing Styles for the momentous occasion. Mitchell works with fashion editor Camilla Nickerson for the gender-bending photoshoot, which features both men's and women's clothing.  Styles ventures outdoors for the fashion spread, wearing bold looks from brands such as Maison Margiela and Gucci. It's no surprise to see Styles in Gucci. After all, he's a brand ambassador and friends with the label's creative director, Alessandro Michele.
Talking to the magazine about some of his earliest experiences with fashion, Styles recalls, "As a kid, I definitely liked fancy dress. I was really young, and I wore tights for [the play]. I remember it was crazy to me that I was wearing a pair of tights. And that was maybe where it all kicked off!" Now, Styles explains, "I like playing dress-up in general." The Watermelon Sugar singer suggests, "you can never be overdressed…there's no such thing."
Related: Men in Vogue – Men Who Covered American Vogue
Also, when it comes to music and fashion, the possibilities are endless. "The people that I looked up to in music — Prince and David Bowie and Elvis and Freddie Mercury and Elton John –they're such showmen," says Styles. "As a kid, it was completely mind-blowing. Now I'll put on something that feels really flamboyant, and I don't feel crazy wearing it. I think if you get something that you feel amazing in, it's like a superhero outfit. Clothes are there to have fun with and experiment with and play with."
When it comes to gender norms and clothing, Styles sees no place for it. "When you take away 'There's clothes for men, and there's clothes for women,' once you remove any barriers, obviously you open up the arena in which you can play," states Styles. "I'll go in shops sometimes, and I just find myself looking at the women's clothes thinking they're amazing. It's like anything — anytime you're putting barriers up in your own life, you're just limiting yourself. There's so much joy to be had in playing with clothes. I've never really thought too much about what it means — it just becomes this extended part of creating something." Read more at Vogue.com.
Harry Styles Vogue Photoshoot