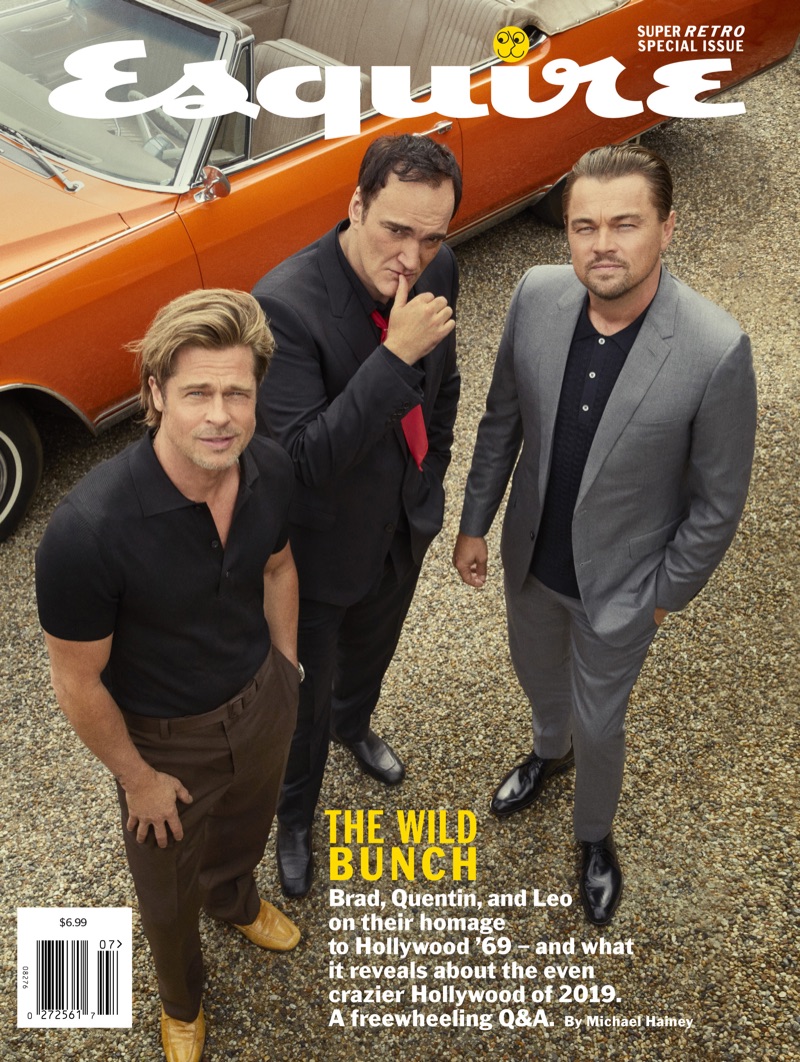 Esquire pulls out all the stops with its summer 2019 issue. Alexi Lubomirski photographs the magazine's latest cover story, which features Leonardo DiCaprio, Brad Pitt, and Quentin Tarantino. The Hollywood heavyweights discuss their project Once Upon a Time in Hollywood. Tarantino explains, This film is the closest thing I've done to Pulp Fiction…[It's] probably my most personal. The director continues, I think of it like my memory piece. Alfonso [Cuarón] had Roma and Mexico City, 1970. I had L.A. and 1969. This is me. This is the year that formed me. I was six years old then. This is my world. And this is my love letter to L.A.
Related: Brad Pitt Covers GQ Style, Stars in Ryan McGinley Portfolio
Explaining what drew him to Once Upon a Time in Hollywood, Pitt shares, Certainly the period is great fun. QT is the last purveyor of cool. If you land in one of his films, you know you're in great hands. Quentin gives you these speeches, the kind that you wished you had said on the drive home, that you think of a day later. I felt the script was an evolution of Quentin's voice. I mean, we know Quentin Tarantino as an auteur sending film in a singular, original direction.
Pitt adds, But I found this an evolution— and an amalgamation of what we loved about the eight films… And doing this with Leo was really cool and a rare opportunity. And then there was just the whole thing, where we all grew up with the lore of the lead actor and his stuntman. That relationship and craft. I mean, there are epic stories of these duos: Burt Reynolds had Hal Needham. Steve McQueen had Bud Ekins. Kurt Russell had his guy. Harrison Ford had his. These guys were partners for decades. And it's something that is not the same in our generation, as the pieces became more movable. Read more at Esquire.com.
Brad Pitt, Quentin Tarantino & Leonardo DiCaprio Esquire Photo Shoot