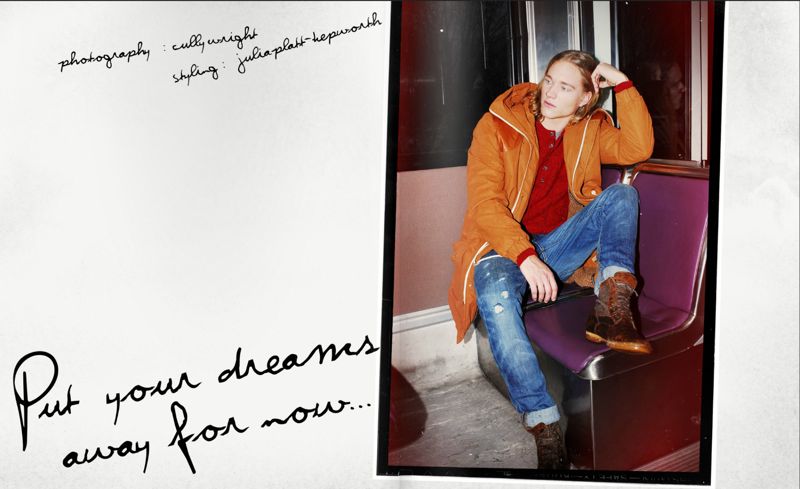 Put Your Dreams Away For Now…–SMG model Morten Bjerregaard remains solemn in the cold for his role in photographer Cully Wright's latest editorial. For this intimate and sentimental photo shoot, Morten dons a winter wardrobe featuring knitwear, leather pieces, denim, and laced boots as styled by Julia Platt-Hepworth to fit the relaxed mood. / Hair by Ngan Savage.
For a look into the muse and many hands behind this project, we turn to the words of Cully Wright himself:
Love, loss: we have all experienced it. It's part of life. It's part of growing. 
I spent the last part of 2011 sad. Many people never would have known I was emotional–
but at times it felt like I couldn't catch my breath. Not original feelings by any means, but still valid. 
We have all gone through break ups, lost friends, relatives, pets, love. It's confusing. It hurts–each time new,
each time an opportunity to evolve and learn.  It still hurts. 
There are reminders that bring all the sadness of loss back. Certain music, a train ride, a concert venue that's across the street from the movie theater we went to on our first date. The list is long, the reminders daily.  Now I choose to look at them as the blessings they are. The blessings that two people were able to share the better part of a year together, making memories, making the sweet reminders of two lives colliding for moments in time.
I decided I don't put enough of myself into my work. So I chose to create rather than dwell in sadness and pity and loss. I am an artist of sorts after all, something I have to remind myself of often.
With the support and help of an amazing team of people I recreated the first few dates of a lost relationship. Places I have to walk by regularly. Places that always brought about a tightness in my chest, a bittersweet memory.
I paired the images with words from my own journal: words that helped me cope with the loss of a great love.
The incredibly talented stylist Julia Platt-Hepworth pulled clothes from local Portland boutiques Machus and Frances May and paired them with clothes from my own wardrobe and some incredible Scandinavian clothing lines. She used them to tell a winter fashion story with a sentimental edge. Heavy knits, wools, leather, and plaids lend a high end Northwest feel to each image. Over $4,000 worth of clothing was on loan, and we are so thankful to all who contributed to something so personal. From Sarah Sorenson who produced the shoot and arranged for us to shoot at each location, to SMG in Seattle for finding us the perfect model, to Ngan Savage who stepped in at the last minute with hair and makeup, and my awesome assistant Ryan Ricketts who was able to turn a rainy December day into a winter snowstorm, my gratitude is endless.  I'm blessed with a network of supporters, and I am thankful everyday for the love in my life and the people that have always been there for me.  This is a story about love and loss, but it's hopeful, and I hope you find it as beautiful to look at as it was for us to create.