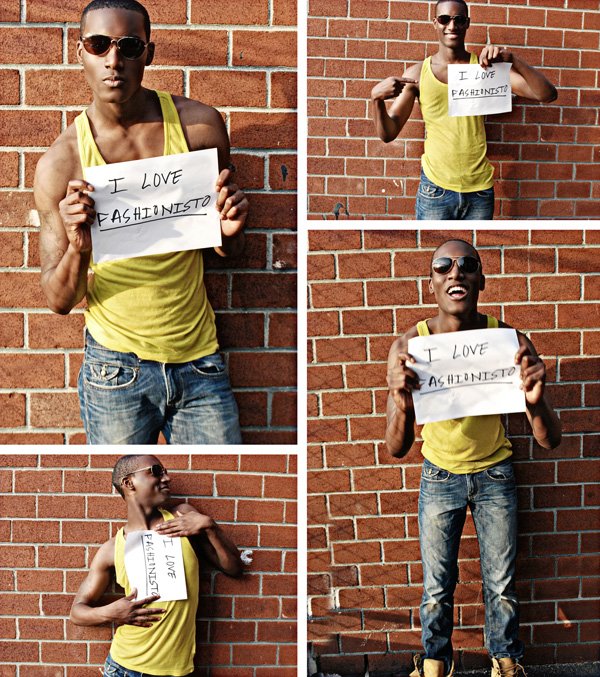 Following our official introduction to VNY model Corey Baptiste, we follow up with an interview before his fall campaign castings are revealed.
Do you recall your first shoot?
Corey Baptiste: Definitely! It was crazy, fun, new, and exciting all at once. It was so new and I had so much to learn but Sean Kilkenny was great to work with and kept me laughing the whole time. I remember taking one shot in particular, Sean kept saying "give me face" and in my head, I was like "huh", but I quickly learned that it was just his way of saying more intensity in the eyes, so I gave him what he wanted and the shot ended up being on the front of my compcard when I signed with VNY. It was definitely a fun shoot.
How would your friends describe you?
Corey Baptiste: My friends would describe me as goofy, silly, funny, and definitely corny. Most would say that I'm the life of the party or maybe even the class clown. I like to crack jokes, that's what I do. I just love to make people laugh.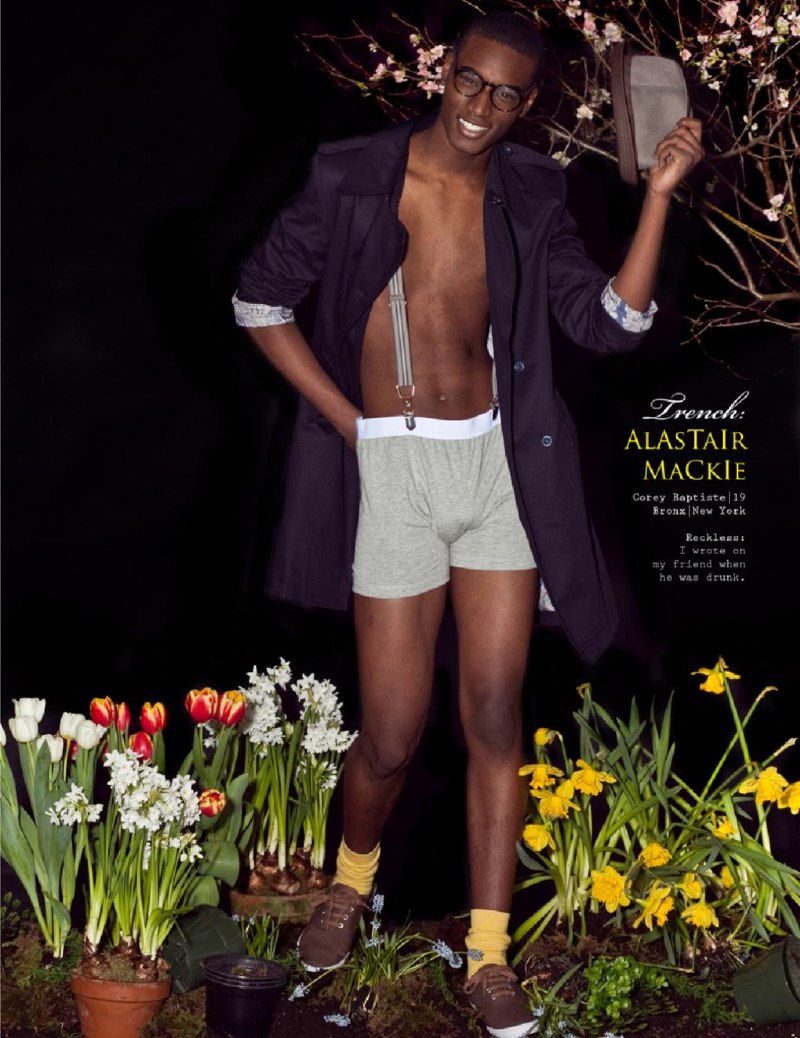 Photo by Henry Hargreaves
What was it like working on the Visual Tales shoot? What was your reaction when you found out the concept?
Corey Baptiste: It was fun and incredible to work on the Visual Tales shoot. It was my first shoot for a magazine and truthfully, I didn't really know what to expect. My reaction to the concept was better than you would think considering what I had on (the suspenders the boxer-briefs) but I was all for it because it gave me the opportunity to be silly and goofy for the shoot, something that I love to be.
How has your background shaped you?
Corey Baptiste: Honestly, me being part Trinidadian, part Grenadian, and growing up in NYC has molded me to be respectable, considerate, strong, and ambitious. My island background gives me a certain "swagger" or flow and confidence that helps me in my everyday life. I would like to think that you could see it just by talking to me.
Where do you currently live?
Corey Baptiste: I live in Astoria, NY with my two friends, Ryan and Harry.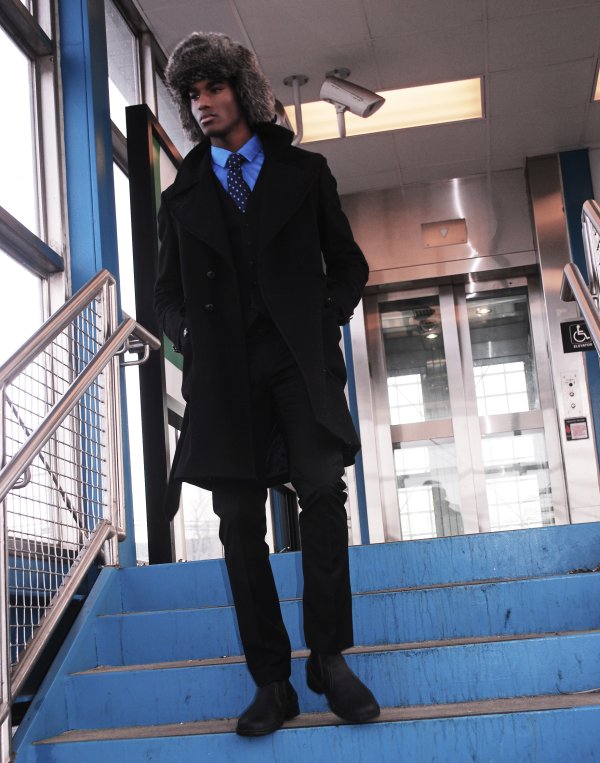 Photo by Sean Kilkenny
How did you meet Sean?
Corey Baptiste: Again, I met Sean through my manager, Brandon. It was sometime in mid to late November, two weeks before my first shoot with him. He was very outgoing, talkative, and funny as hell. Sean is definitely a character but a genuine guy and fun to shoot with.
How often do you shoot with Sean? Does practice make perfect?
Corey Baptiste: I shoot pretty often. In between jobs, I like to test with Sean to keep my game up and yes, I do believe that practice makes perfect, which is why I try to shoot often. I learn something new after every shoot I do.
How has your life changed in the last year?
Corey Baptiste: Wow! My life has changed so much in the last year. This time last year I was finishing up high school. I was attending John Jay College in Manhattan last semester when Brandon discovered me and threw me into this world of fashion. Then as soon as I signed with VNY, my career just skyrocketed—from campaigns to editorials, to now an exclusive interview with Fashionisto, yeah my life has definitely changed a bit, it has been a blessing.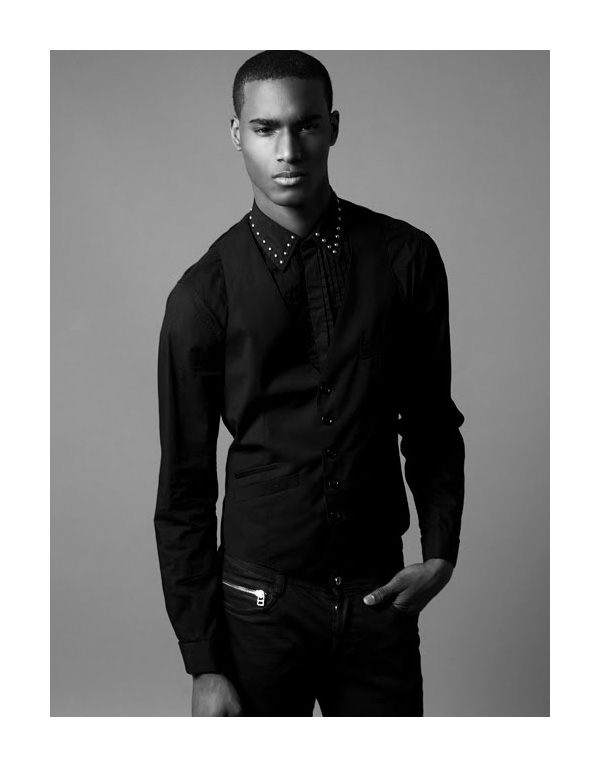 Photo by William Lords
What song represents your life right now?
Corey Baptiste: I think Jay Z's, "Star is born", because I believe, with all that is happening right now, that my star is rising.
Are you currently doing anything besides modeling?
Corey Baptiste: When I'm not modeling, I'm going to school and playing sports with my friends. I try my best to keep my mind and body active.
Interests?
Corey Baptiste: My interests are sports, music, travel, family, and friends. If I can put all of those things together, I'm a pretty happy person. As far as activities go, I like basketball, baseball, and football. I follow the Knicks, the Yankees, and the Jets!
What does the future hold? Outside of modeling?
Corey Baptiste: Hopefully, the future will hold me as one of the most successful male models in the world and a college graduate with a degree in Criminal Justice. Outside of modeling, I would someday like to be an actor. I think I would like to be that guy on the big screen that makes everybody crack up.