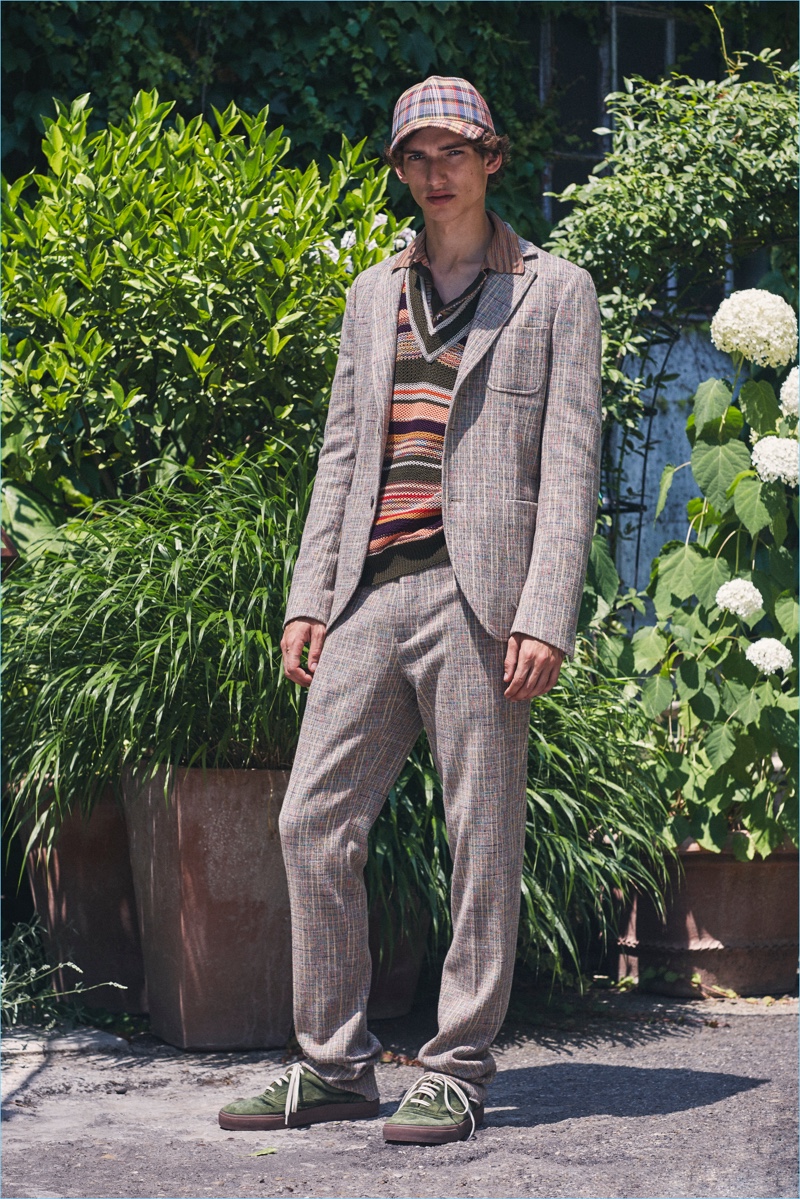 On the heels of a preview, Italian label Missoni unveils its spring-summer 2018 collection. An extended rift on botanical style, Missoni draws color inspiration from photographer Erwin Fieger. Particularly, the brand looks at Fieger's Japan: Sunrise Island.
Related: Missoni Delivers Botanical Inspired Style for Pre-Spring 2018 Collection
Here, Missoni's graphic prints create a dreamlike vibe with a mix of lavender, indigo, cherry blossom, periwinkle, military green, and more. In addition to a wardrobe, complete with must-have polos, check trousers, and lightweight sweaters, Missoni continues its collaboration with Malibu Sandals and milliner Larose.
Missoni Spring/Summer 2018 Men's Collection Lookbook
Permanence and impermanence. Movement and stasis. Initiation and mutation.

Drawing a palette of colors from travel photographer Erwin Fieger's Japan: Sunrise Island, tones seep one into the other as granular particles forming an intelligible whole; weaving together blurred isolations of moods and recollections of past and present. Lavender glimmers against indigo, shadow blue, periwinkle, and cherry blossom; apricot radiates against red birch, military green, and turmeric; mint springs against black plum, bamboo, sawa green, and limestone. Additional dye-and-wash treatments create faded, sun-drenched effects, conferring the fabrics with a patina of experience.

Linen, cotton crepe, lightweight wool, jute, and boucle yarns interlace in silhouettes that are relaxed, oversized, boxy, and softly tailored for a worn and lived-in quality. Key pieces from the collection include: a gentleman gardener's long-sleeve coverall and field jacket in a woven check that has been weft with multicolored space-dye yarns with a diagonal relief texture; a pocketed utility trouser in a custom indigo drill denim that has been flecked with space-dye yarns; a shop coat in a micro garden-check gingham; a blouson in Missoni's exclusive loom-knit madras fabric made from a combination of 137 colors. Honeycomb-stitch knits have been over-embroidered with multicolored yarns in order to appear mended, while graphic stripes, degrade cable knits, and macro space-dye crepes that have been dip-dyed to appear sun-bleached round off this season's assortment. A shopper and rucksack created from over-dyed duck twill in military green, and tangerine orange with oversized detachable pockets furthers this season's flowering mood.

Missoni continues its collaboration with Malibu Sandals, makers of the original modern huarache, presenting a boot and the Colony sandal in their handwoven nylon tapes. Each pair has undergone a hand-sprayed dye treatment to give a sfumato effect and sun-washed appearance. Missoni unites once again with Parisian milliner Larose to create a bucket hat and baseball cap finished in several multicolored fabrics from the collection.