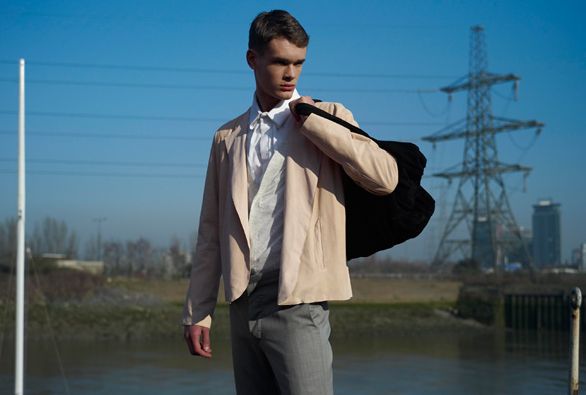 "CLOTHES...introduced to conceal modesty.
...Necessary to hide defects and used to reduce everyone to a decent insignificance of physique, to improve the imaginings of the male body.
Dazzled by the confusion of knowing how to look,
Extreme
EXTREME
From the 70/80's super extreme to the recent heroin chic,
Here comes the man boy...
The new man of narcissism, glowing, sweating and grinning, an exploding signifier of the so called post modern condition
He is a reaction,
a narcissist yet modest, a man, but still a boy.
A body that is perfectly formed, whilst exhibiting manliness in its strongest form.
Modern...yet historical..and futuristic all at the same time.
We are a visual and stylistic culture.
Men are visual commodities
Hair cuts,
The cut of jeans
Ways of walking and being.
Points of comparison between men, not just as aggressive competitors but as stylists in the same club.
Encourage more
Men and others, visually and as objects of consumer desire.
The body in the gaze becomes a public object, it is a surface, a shape, a volume.
with the ever powering campaigns and advertising te moving body must be on display and available for inspection. Whether in visual representation or personal form.
...He is educated
aware of his identity and thus able to move beyond the sphere of unreflecting immediacy,
to raise the question of the purpose and function he serves in human existence as a whole.
Truest manliness will be achieved by freedom rather than a slavish subservience to convention.
A raw material sculpted through clothes.

3D

Designs used to heighten anatomical maleness + Experience pleasures
around the body.
...A reassertion of masculinity over femininity..."