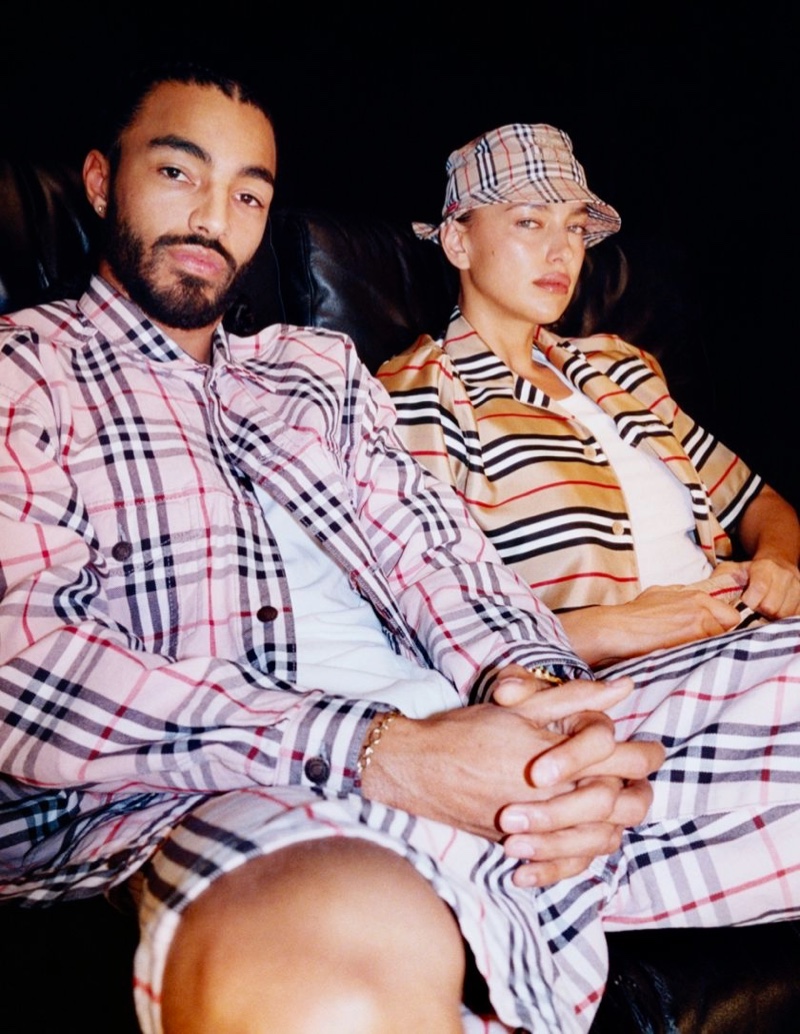 If creative trends continue, then the 2020s will likely be known as the decade of the multihyphenate, a period during which outdated singular notions of form and function were increasingly discarded. The visual language of fashion offers a snapshot of where culture is at.
It's little surprise then to see the multi-directional vision of our time represented in a unique international fusion of two brands known for their individualistic, almost nationalistic, expressions of street style and heritage-wear.
The Supreme x Burberry capsule collection unites the epochal American skateboarding and lifestyle label, with the British fashion house synonymous with plaid, gabardine, and a preppy sensibility.
Here are our standouts from the exclusive 12-piece Supreme x Burberry collaboration: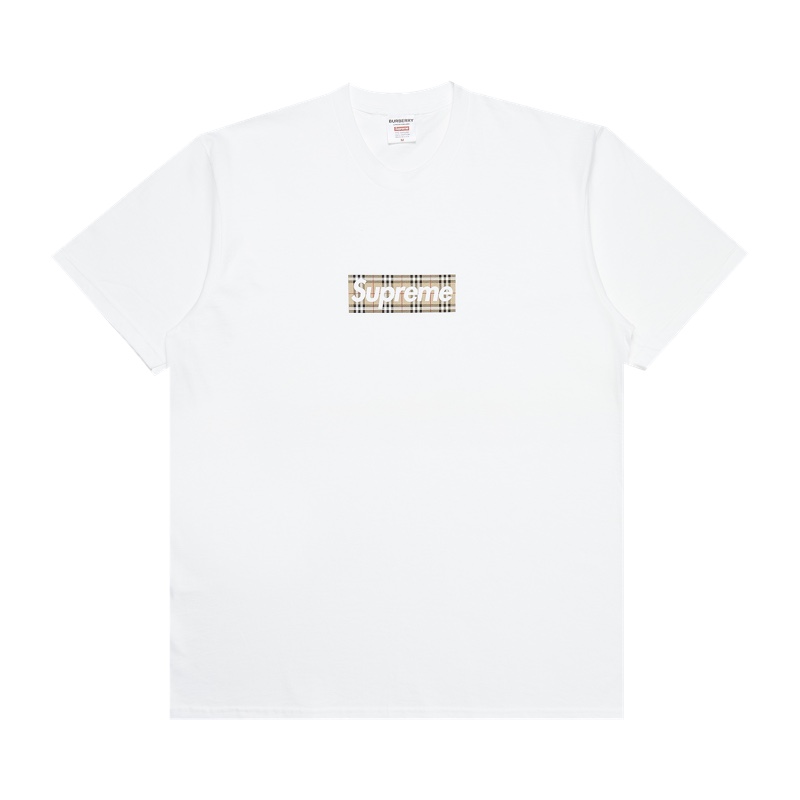 Supreme x Burberry Box Logo Tee 'White'
Supreme x Burberry's Box Logo Tee in white is the most accessible item in terms of price point, but it's also the most versatile. A staple of every wardrobe, this iteration of the classic white tee is made from 100% cotton. It features a co-branded logo marrying Supreme's box insignia with Burberry's distinctive Nova Check pattern.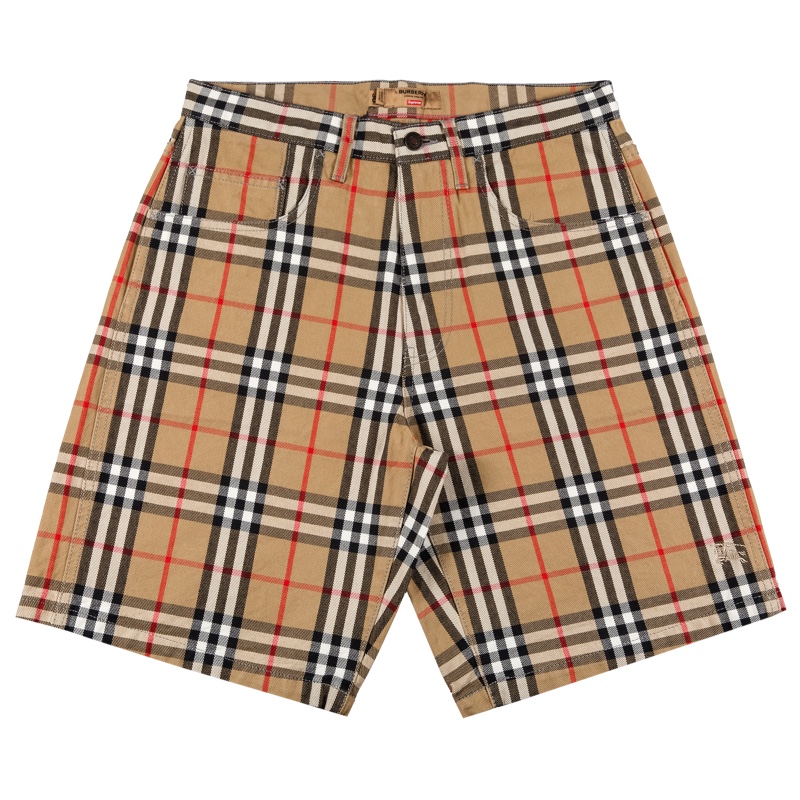 Supreme x Burberry Denim Short 'Beige'
Supreme x Burberry's range of denim shorts is available in three colorways. We chose the beige for its classic Burberry Nova check interpretation of the brand's preppy patterning into a relaxed street shorts style, featuring 13oz denim, zip fly, and five pockets. A large embroidered logo on the back pocket encompassing Burberry's famous equestrian motif, a smaller logo on the lower leg, and an additional leather logo at the back.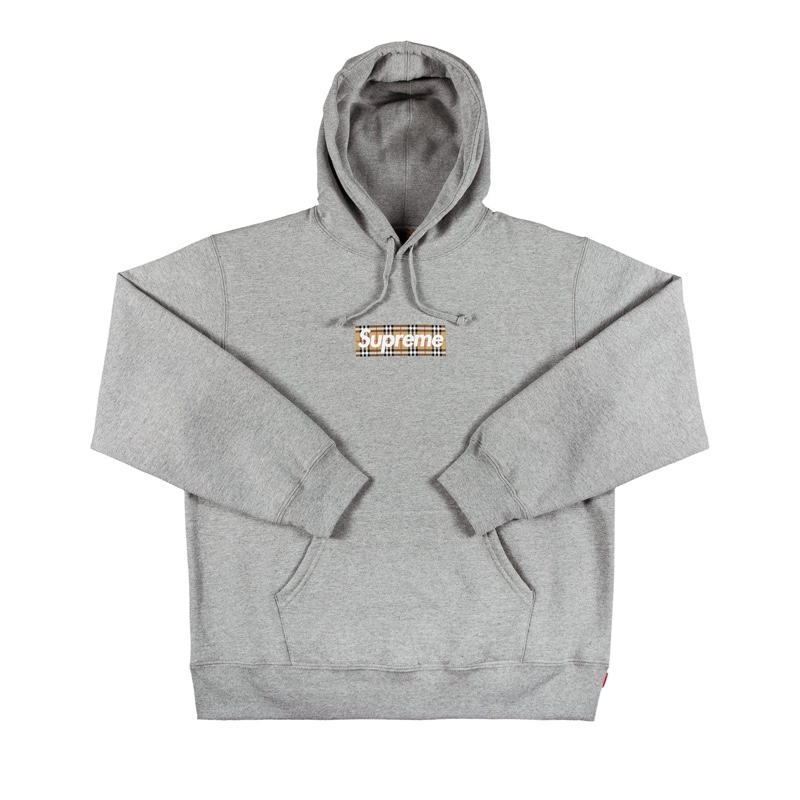 Supreme x Burberry Box Logo Hooded Sweatshirt 'Heather Grey'
Hoodies are standard street and skater wear style, with Supreme x Burberry's Box Logo Hooded Sweatshirt in heather grey adding a tad of Britishness. This classic pocketed hoodie revisits the box logo that appears on the range of Tees, combining Supreme lettering atop Burberry's Nova check pattern—relaxed, functional, and casual.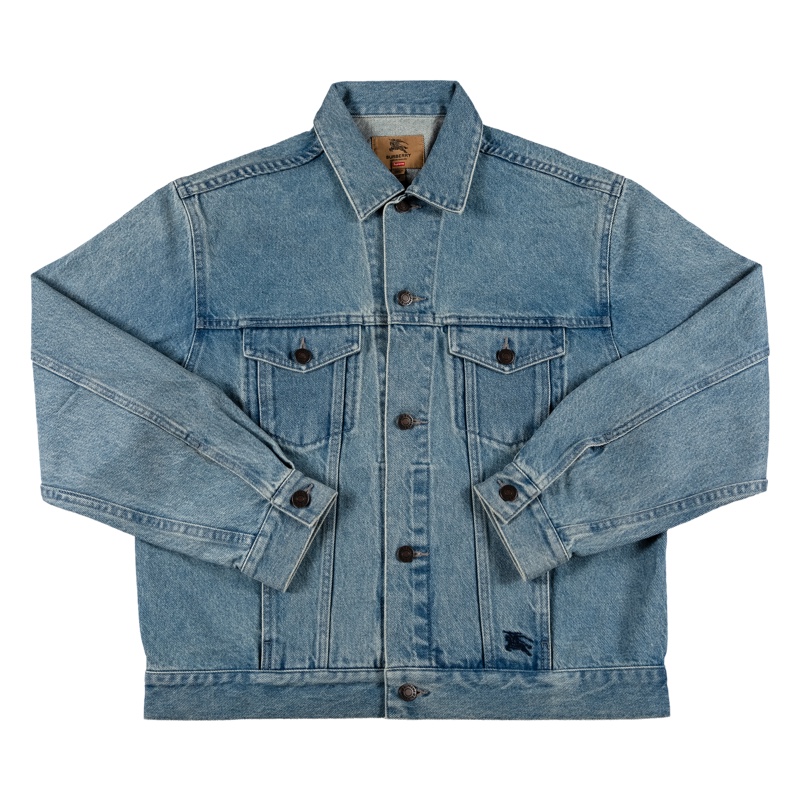 Supreme x Burberry Denim Trucker Jacket 'Washed Blue'
Supreme x Burberry incarnated their Denim Trucker Jacket in three colorways. We've gone with the washed blue version for its Americanized slant. While it features the words 'London England' scribed underneath the large Burberry equestrian logo on the back, its silhouette is quintessential American blue-jean trucker-style. It's lightweight, keeping with the range's spring-summer season release, marking it as ideal layering wear for warm and cooler climates.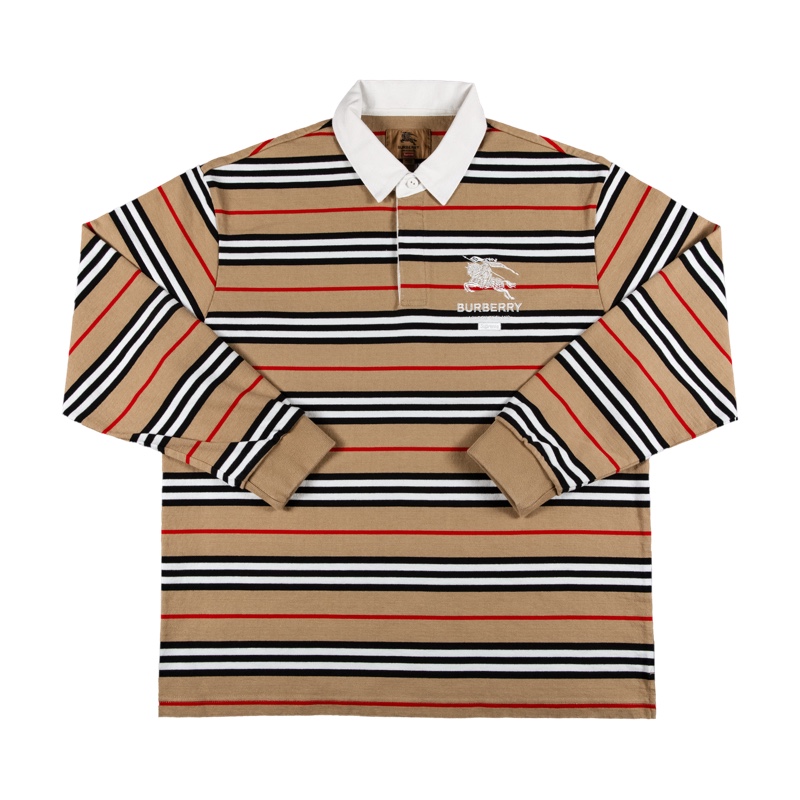 Supreme x Burberry Rugby 'Beige'
The Supreme x Burberry Rugby, again we've gone for the beige colorway out of a five-hued selection, has a classic Burberry sensibility as high as its polo neck collar. Does the Supreme box logo addition to the Burberry equestrian motif and Nova check pattern make it a little more street? Perhaps only marginally. Either way, we like it just as it is. Like the Hooded Sweatshirt, it's loose-fitting apparel designed with movement.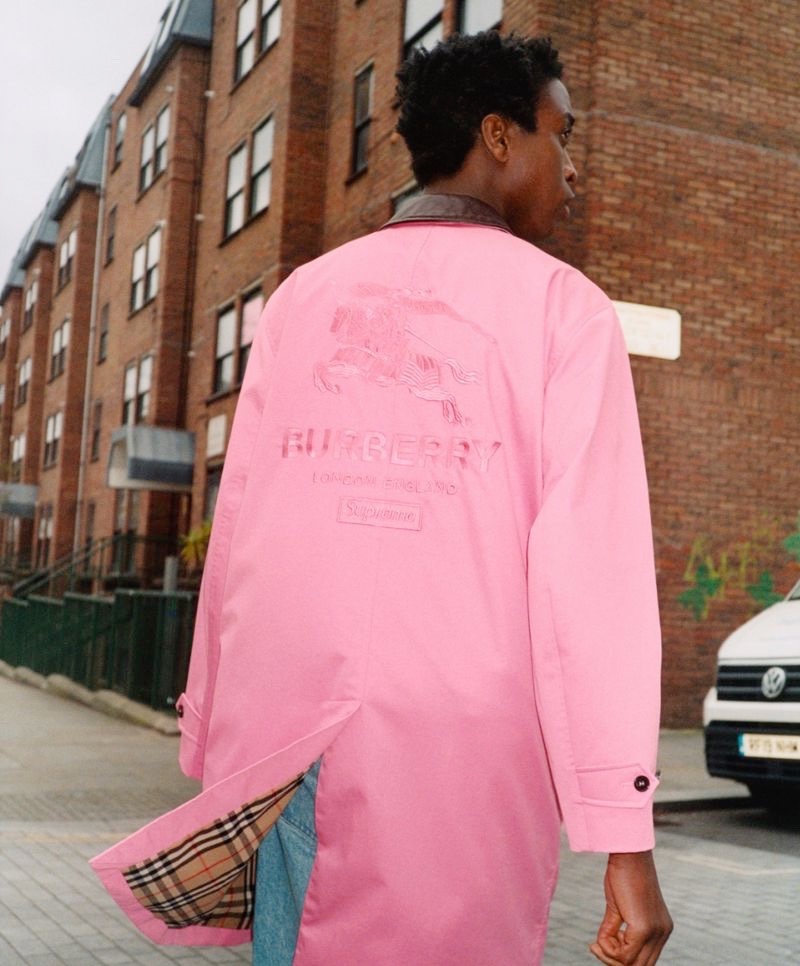 Supreme x Burberry Collaboration
The heavy-on-denim attitude of the Supreme x Burberry collab was likely influenced by the recent appointment of Tremaine Emory as the streetwear label's new creative director. Known for his jeans label Denim Tears, Tremaine, in many ways, represents the ultimate multihyphenate.
This designer stands for more than good style, vocalizing his intention that businesses, like individuals, should strive "to work every day, to change it for women, for black people, Mexican people, for everybody." This focus on ethics and evolution is echoed in the open-ended spirit of this collaboration of two forces in fashion.
It's what we require of tomorrow's change-makers, the ability to disrupt the narrative and not be constrained by a singular point of view, to be simultaneous, streetwise, book-smart, and transatlantic, just like the Supreme x Burberry limited edition range. Shop additional Supreme x Burberry apparel at GOAT.