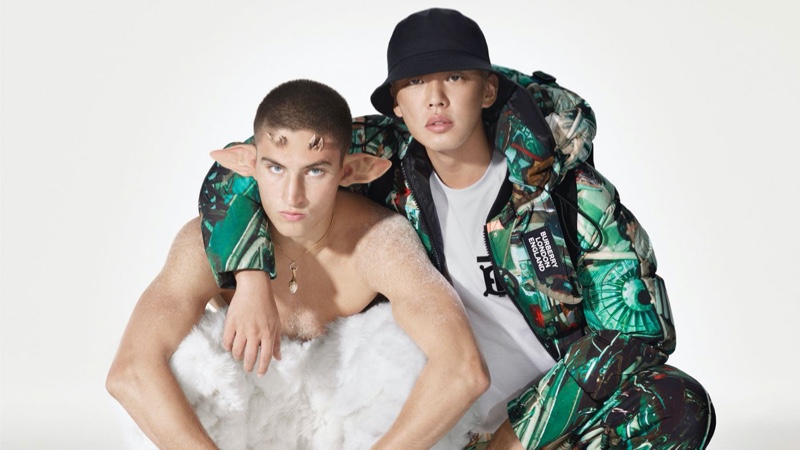 With the holiday shopping season upon us, several brands are launching their holiday campaigns. One of the most impressive recent advertising launches is the first festive campaign from Riccardo Tisci at Burberry. In an explosive video centered around the theme "What is Love?" visuals by Mert Alas and Marcus Piggott are paired along with Deee-Lite's song scoring the looks of the 2019 season.
Related: Burberry Hits the Studio for Fall '19 Campaign
Featured stars throughout the campaign include Carla Bruni, Fran Summers, Mahmood, Zhou Dongyu and Yoo Ah-in. The festive video includes these models dancing along with the scored song against a white studio set. The light background is far from a traditional festive campaign, but it delivers a beautiful contrast to some of the warmer tones of the clothing.
With an eclectic cast of models and entertainers, sharp silhouettes and beautiful prints, this is an advertisement that showcases everything from warm outerwear to elegant evening gowns. Burberry logos are beautifully represented, including the option of the Thomas Burberry monogram, the traditional icon stripe, and bold text logos as well.
The gifts developed for the holiday season include everything from children's wear to accessories, bags and more. Tisci shares the inspiration behind Burberry's festive campaign, I am connected to the idea of unity, togetherness and challenging the perception of 'what is love?' today.
The designer continues, This for me is the real spirit of the season. It's one of my favorite times of the year – when I can stop, reflect and reconnect with those who make me feel happy and at home, no matter where I am in the world. I loved the idea of bringing together a group of people that have been so supportive of me since I joined Burberry to celebrate my first holiday campaign for the house.
Burberry Holiday 2019 Campaign