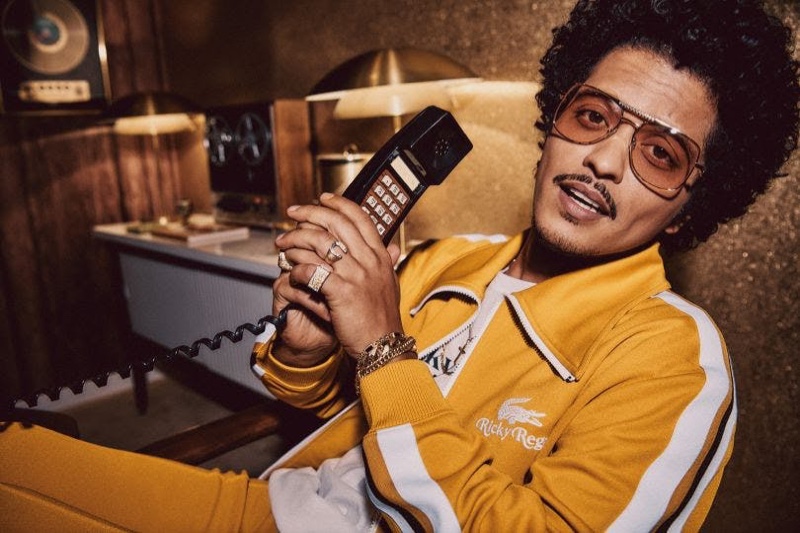 WWD reports that fashion brand Lacoste is off to a huge start this year as they collaborate with pop star Bruno Mars for a collection dubbed Ricky Regal. Believe it or not, this is the first time that Bruno Mars will collaborate with a fashion brand despite being a celebrity for so many years. Mars is front and center to celebrate his first collaboration. He is also joined by Anderson .Paak, ahead of their new musical project, the band Silk Sonic.
In a statement, Mars reflected on how happy he is that Lacoste is the first fashion brand is he is teaming up with. He is excited for the 'Ricky Regal' collection to come out, including sunglasses, shorts, and shirts. All were designed with the pop singer in mind as Ricky Regal is his fashion-minded alter ego. Customers can expect prices as high as $200 and as low as $100. Due to the popularity of Bruno Mars, Lacoste expects the collection to sell out at some point, and they may very well be right.
Related: Lacoste Delivers Timeless Appeal with Fall Collection
The collection will be available in Lacoste stores from March 5 for just two weeks. The collaboration is just a one-time deal, but there are already talks of having another one in the future, even before the collection has launched. Many people are excited about this collaboration since it is Lacoste's second collaboration with a non-athlete.
One of the stores where the Ricky Regal collection will be available in will be Lacoste's new store in Los Angeles that is also opening on March 5. There will be some special festivities for that store to celebrate the launch of Bruno Mars' new collection. Due to the ongoing pandemic, client visits to that store will be by appointment only. It is great how the 88-year old brand is prioritizing the safety of its clients. As a result, all items are regularly sanitized for everyone's safety.
Bruno Mars Lacoste Ricky Regal Collection