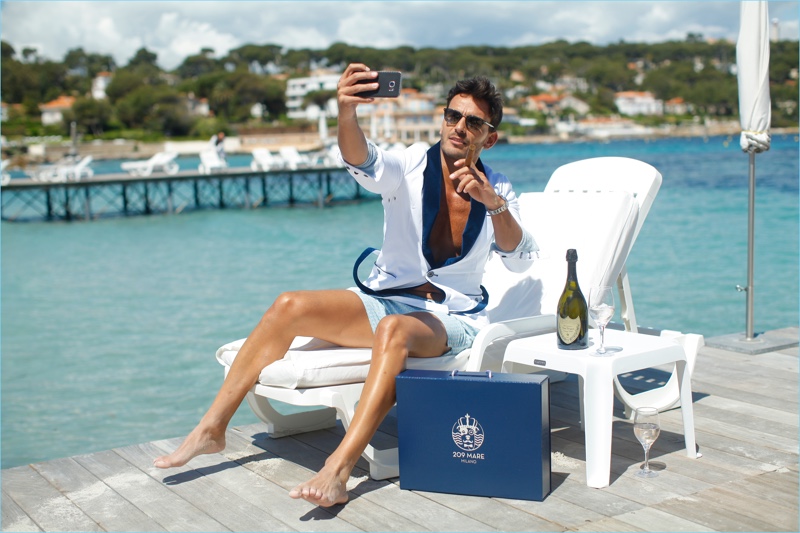 With their latest line of designer beachwear, 209 Mare solves the problem of what to do when you transition from a day in the water to drinks with friends. In addition to their dedication to providing premium luxury beachwear and unrivaled customer service, the Monaco-based fashion house has set its sights on altering the course of luxury beach club apparel trends by seamlessly blending fashion with function in an on-the-water setting. Mare has covered all of the essential beachwear yet our recommended beach watches are a perfect accessory to wear with this line. 209 Mare is undoubtedly setting a new standard for upscale beachwear, as demonstrated by the following:
Beach Blazer
The signature piece of apparel designed by 209 Mare, the 209 Beach Blazer is a superb execution of joining high fashion beachwear with flawless functionality. Let's start with fashion: the exterior has a cotton pique shell which comes in four distinct colors. It also features Tahiti-imported mother of pearl buttons in color synchronization with the jacket color. Finally, it stands out with contrast piping to highlight the pockets and velvet shawl lapel. Ultralight and ultra soft bamboo terry towel lines the interior. The blazer includes a waist belt that you can tie around the back like a Belstaff jacket. Italian tailoring ensures a flattering look for the wearer, while the 3D emblem on the back serves to spot an authentic 209 Blazer.
Part bathrobe, part dinner jacket, the 209 Beach Blazer functions as both a body towel and formalwear. The previously mentioned lining is both absorbent and naturally antibacterial, while chrome vents in the back and under the arms allow for breathability. The blazer uses treated velvet that is machine washable. Therefore, you can put the entire blazer in the washing machine. All materials have been carefully selected and sourced from the most exclusive textile mills in Italy. It is constructed in Italy as well.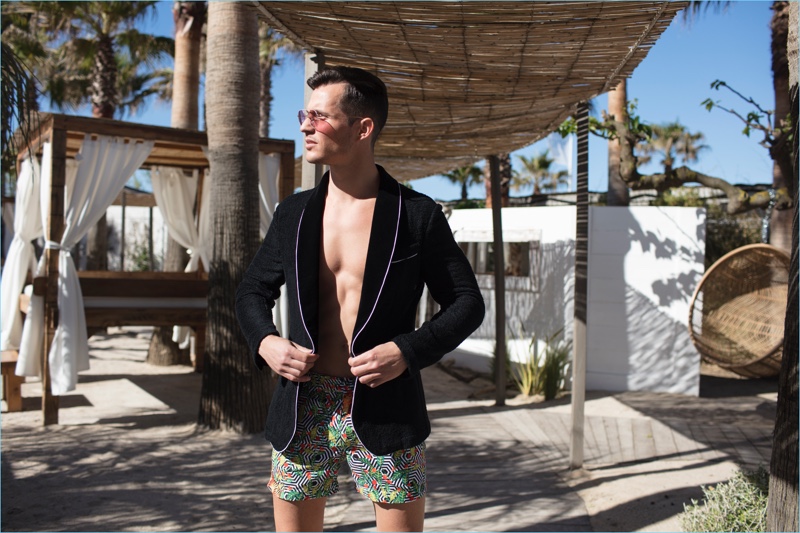 Towel Tuxedo
The Towel Tuxedo has all the same functions, fabric, and trims as the 209 Blazer. However, it has two differences. The Towel Tuxedo consists entirely of towel material. It uses a slightly heavier version of that same bamboo terry to keep it plush. At the same time, it maintains the shape of the garment. It's even available in a women's pattern as well. This jacket has also been launched in a limited edition "Brando" all black version, named after the famed godfather himself. For both the Beach Blazer and Towel Tuxedo there are a variety of colors and sizes.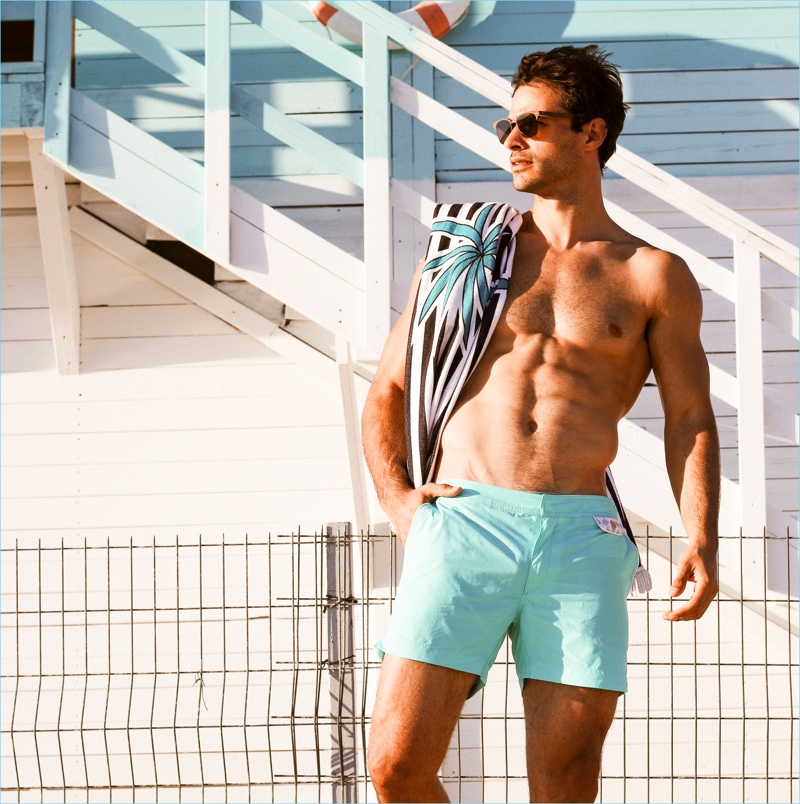 Luxury Swimwear
209 Mare's luxury swimwear spans two categories: swim shorts and swim trunks. Swim shorts possess the traditional elastic waistband, while swim trunks feature tailoring like Bermuda shorts. They also have adjustable side clasps for a better fit. Both styles feature tailoring with a modern slim fit pattern for contemporary fashion.
What sets their swimwear apart from the rest is the attention to detail, as is the case with all 209 Mare products. The cord-ends feature an art deco mold that complements chromed details. Additionally, you can see the 209 Mare Signature Pattern print on all styles of trunks and shorts. Furthermore, the swim shorts and swim trunks have contrast piping to accentuate the silhouette in a very inconspicuous and elegant manner. Color coordinated zippers and mother of pearl monogrammed buttons adorn the pockets of the garments. The interior mesh is designed to last forever, as it is made from polyester and elastane, making it supremely comfortable and durable all at once.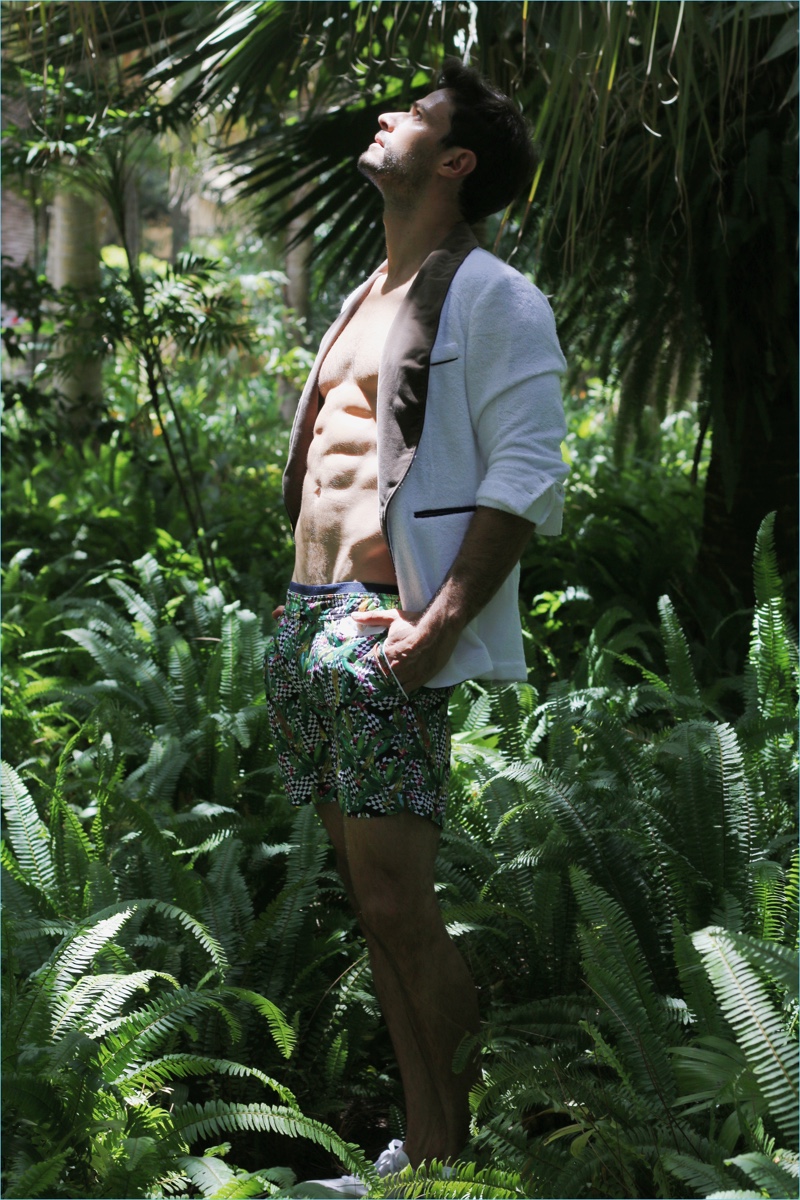 Fashion & Function
A newly released collection called the Africa x 3D Collection uses the aspects of geometry and African nature in an incredibly unique fashion. One can easily describe it as unique and incredibly well synchronized. A renowned Rumanian artist hand-paints the prints. Next, they are digitized and finally placed upon a geometric pattern. This detail gives the swim trunk a 3D effect that you can see from far away as a completely different design than what you observe up close. All five designs are highly limited.
209 Mare swim shorts and trunks come in a pouch designed specifically for the use of beach club goers. The silver water-resistant pouch is there to carry your shorts or trunks as well as to keep your valuables dry and safe while keeping you in fashion. The zipper on the pouch is the same that you would find on a skiing jacket on the pockets, and it too comes massively embroidered with the 209 Logo.
There's no doubting the dominant role played by casual wear when it comes to what we wear to the beach and other places on the water. There's also something to be said for the desire to look our best in these settings. This is precisely what 209 Mare sets out to achieve with their latest line, and it's safe to say they accomplished their goal.