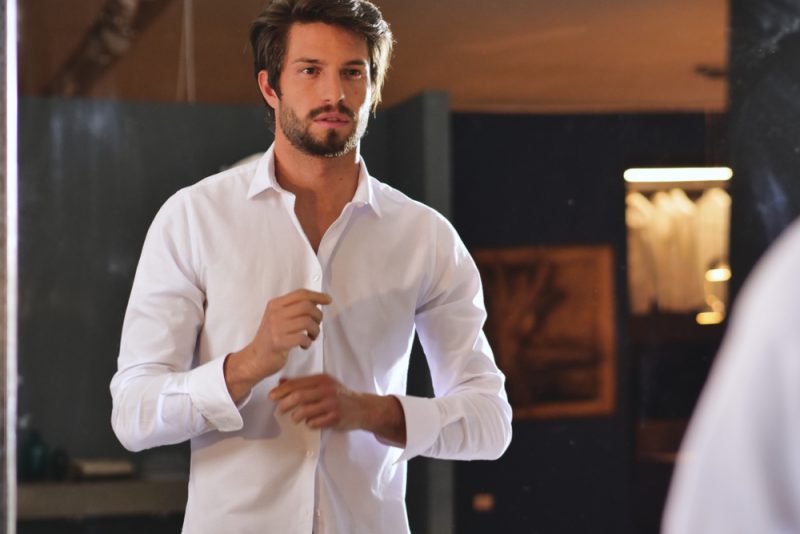 Men's fashion is always considered to be easier to follow and to style when comparing it to women's fashion, but it is not always the case. It is often just as difficult, as more and more styles for men become more readily available. You can choose from a comfortable outfit, tailored to your shape, and fitting of the desired setting. Deciding on a formal outfit can be tough, and knowing when you need to wear a dress shirt and how to wear one can be baffling for most people. 
What is a Dress Shirt?
A dress shirt is a buttoned-up shirt with a collar and long sleeves. The shirt will have wrist cuffs, where cufflinks can be adorned if needed, depending on your style. Dress shirts are usually made from cotton fabric and come in a range of colors; these are generally kept to the more traditional color ranges. 
How to Get a Perfect Fitted Dress Shirt
Unfortunately, most men purchase and wear dress shirts that do not fit them properly. The most critical component of a dress shirt should be that it is comfortable; that it complements your body shape and makes you feel confident. When purchasing a dress shirt, there must be a two fingers space in the collar when it is buttoned up. You also need to make sure that the wrist is tight enough, meaning that it has to be unbuttoned to remove. 
The arm's length of a dress shirt should be long enough to allow you to raise your arms up and over your head. It is also essential that the shoulder points actually extend to the end of the shoulder, and no further; it is also great to have some space in your chest area for comfort.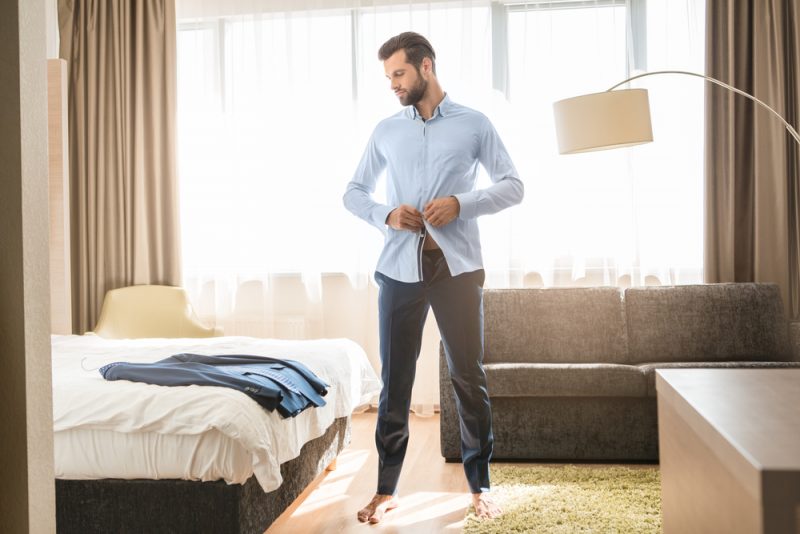 How to Wear a Dress Shirt
Wearing a dress shirt is usually reserved for special occasions or is a requirement for some professions.  You must know when and how to wear a dress shirt correctly to avoid looking out of place in one. 
It is custom to tuck in the hem of a dress shirt, especially if it is uneven. Tucking in your dress shirt can make it instantly look more fitted and smart. You should button up the shirt right to the top when you are not wearing a tie; this keeps the collar in check and reinforces a formal, professional look. Traditionally, dress shirts in a professional setting include white, light blue, light pink, or off-white. 
How to Dress Down Your Dress Shirt
When comparing dress shirts vs normal shirts, the only key differences are the methods of formalizing them to suit the occasion. Dress shirts fall under the category of formal clothing. However, there are many ways to make a dress shirt seem more casual. 
Incorporating different colors or patterned dress shirts are a great way to make them appear more casual. Stylists suggest incorporating patterned shirts and different patterned ties to give of an edgy, less formal approach to office environments. Another obvious way to deformalize a dress shirt is by rolling up the long sleeves to your elbow, or not fully buttoning your shirt.
Conclusion
A dress shirt is almost an old school concept now. While we assume that when a man is wearing one of these style shirts, he is a professional or is of a higher class, etc. it isn't that obvious anymore. Dress shirts are an archaic signal of wealth, but these values are not as necessary in this modern age. Many professionals do still have to adhere to these old rules, but not everyone.
This highlights the fact that really, there is no right or wrong answer to "When do I wear a dress shirt?" You can wear one every day of the week, in whichever style or color. The general public has moved away from these stereotypes or unwritten rules of acceptable clothing. While dress shirts are very flattering and do make whoever is wearing one look formal and well dressed, they can be worn whenever you want to wear them.