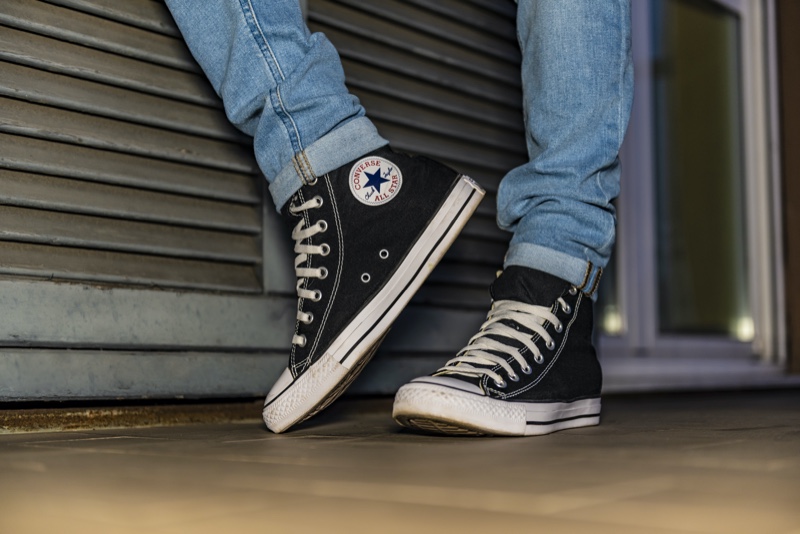 If you're searching for ideas about what to wear with converse high tops, there are many ways men can style this fashionable brand. Whether it's a more casual fit you're after or a smarter look, Converse high tops are the perfect go-to shoe that mysteriously pairs well with every outfit and occasion.
For those days when you're encountering a slight fashion dilemma that requires some inspiration, here are a few ideas on how to style Converse high tops and some of the best outfit ideas for men to wear.
Display Your New Shoes with Stylish Cropped Chinos
When it comes to men's fashion, there are many outfits and clothing pieces that pair well with a pair of new trainers. Most men, and commonly dads, own a pair of chinos; they're the ideal smart-casual, comfortable trouser.
Pairing chinos with Converse high tops won't sacrifice comfort and will remain to look seriously stylish. This look will also avoid overdressing if you're attending a casual event.
If unsure what colors look best, team up your favorite white long-sleeved tee and classic fitted tan chinos with a pair of white socks and black Converse high tops.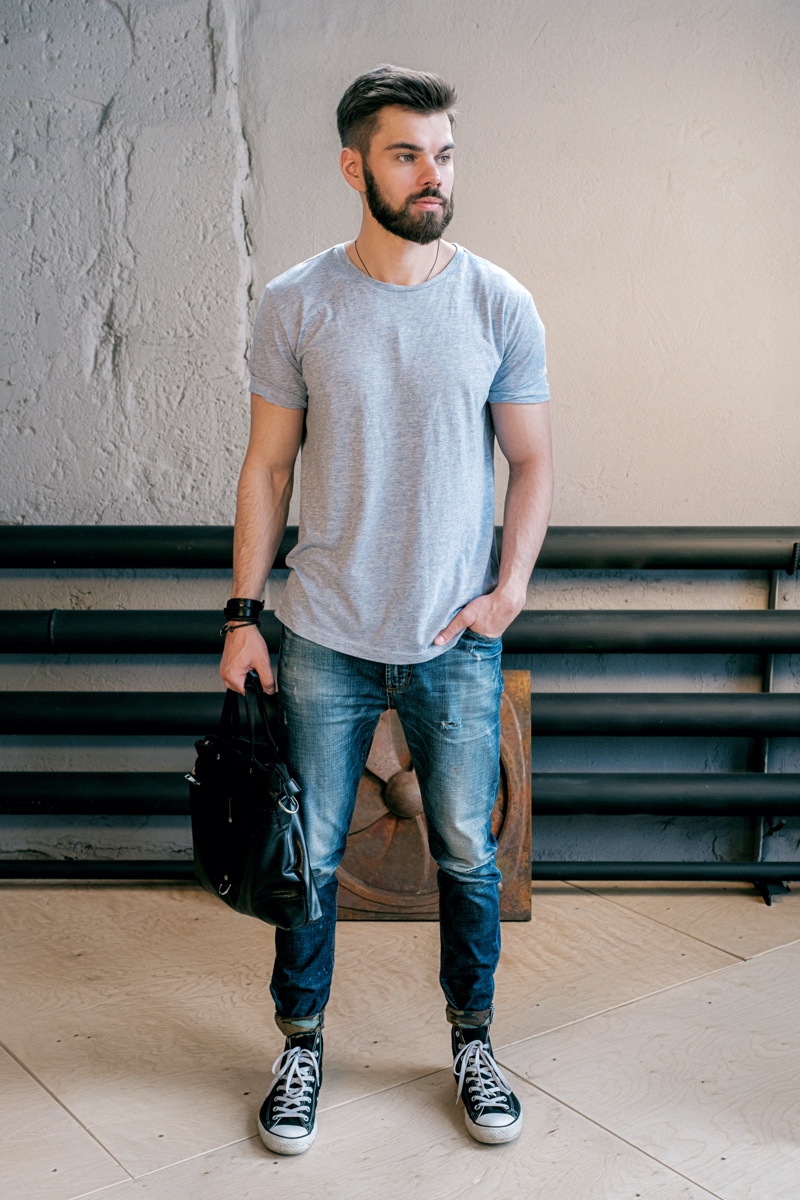 What to Wear with Converse High Tops: Over-the-ankle Jeans
To make those Converse high tops stand out, you don't want them hidden underneath your jeans. Top tip: Men wear skinny or straight-cut blue jeans that hit just above the ankle to show off.
Make the ultimate casual outfit by combining your favorite over-the-ankle blue jeans, hoodie, or jumper with a pair of white Converse high tops.
If you're wondering just how to style Converse high tops this year, wearing them with jeans is one of the easiest and most stylish choices.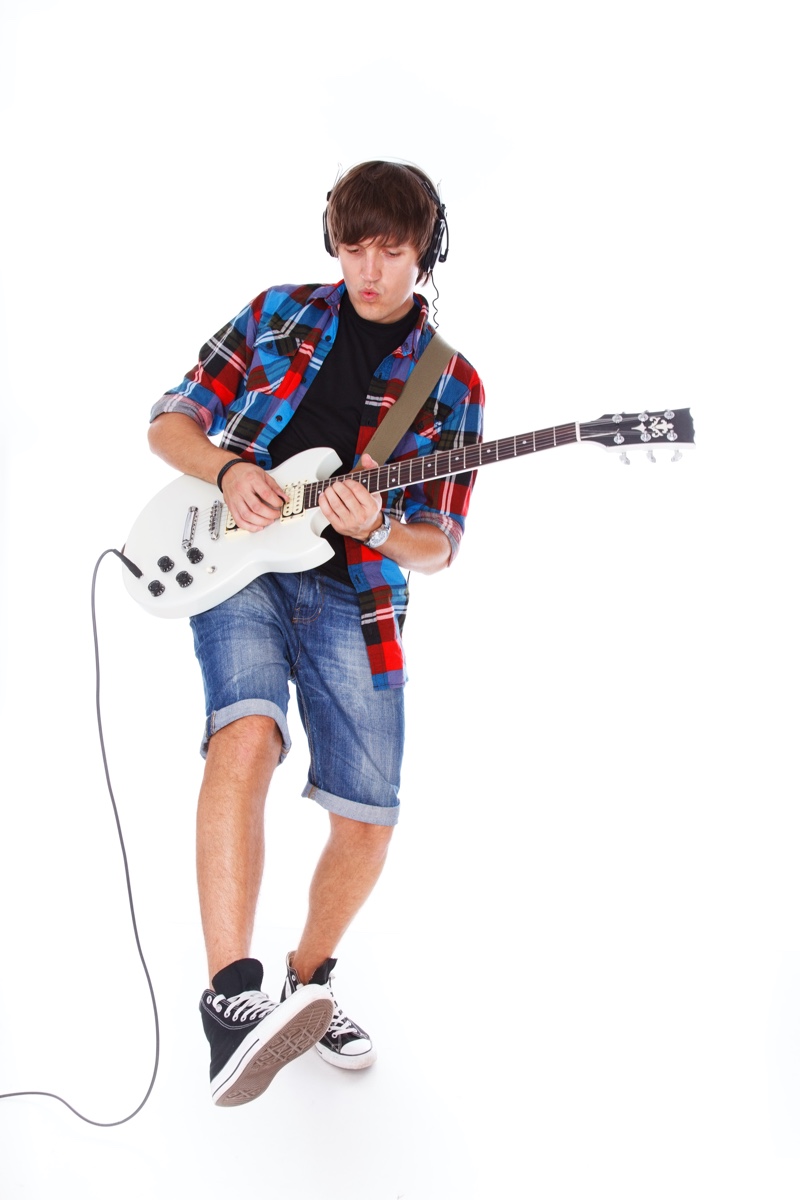 How to Style Converse High Tops with Shorts
You can't go wrong wearing shorts and Converse high tops. Whether on the beach wearing summer shorts above the knee or heading out to walk the dog in your comfy cargo shorts, Converse high tops match perfectly with all types of men's shorts.
Making Converse sneakers work with shorts is easy. Pick your favored material shorts in whatever style and color you like, and match them with your Converse high tops. If unsure, try wearing cotton grey shorts above the knee with a classic cotton black t-shirt.
High tops have been a popular part of Converse history since the originals were produced in 1910. Since then, a range of creative colors and styles have been created for both men and women. Paired with shorts, men can style various Converse high tops from black to white, from red to blue, and many more!
What Socks to Wear with Converse High Tops
Wondering what to wear with Converse high tops? Generally, people like to wear socks that are either a 'no-show' or show just above the top of the shoe. But there is no right way to wear socks with Converse high tops.
If you're wearing shorts and want to wear long socks with a cool pattern, do it. If you want to act like you're not wearing any socks, wear shorter ones around your ankles.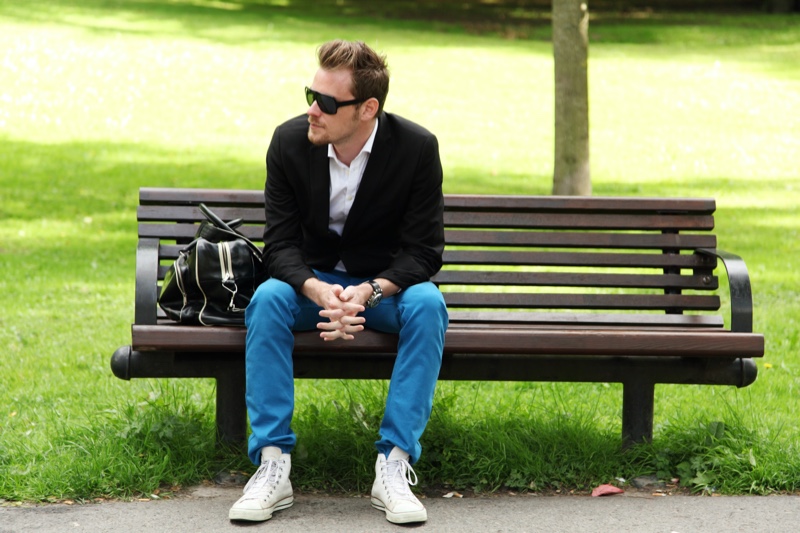 Opting for a Laid-back Business Casual Look
While many office jobs might require smart work wear, business casual work attire has also proven quite popular in workplaces in recent years. It might be hard to imagine, but a suit makes Converse high tops look fabulous.
Try wearing a charcoal or khaki linen blazer and trousers with a cream shirt and cream Converse high tops. This is the perfect outfit for date nights or evenings out. This look is more difficult to pull off, and you must ensure you match your torso's color to your shoes.
To make a smart outfit look a little more casual, avoid wearing a button-down shirt; instead, wear a cotton t-shirt and pair it with the same color as your Converse high tops.
With their ability to complement almost any outfit, Converse high tops offer style that journeys from the smart-casual blazer to the sporty, urban lad. Being retro and modern, Converse high tops are a timeless, affordable pair of trainers.