Despite Milan and Paris setting the scene for a spate of forthcoming Spring 2010 collections, we became acquainted this past week with a varied array of releases available for Fall 2009. While some hit the mark more than others, the collections all seemed to be participating in a parade of plaid. The plaid, or tartan, pattern was all the rage last fall season, seen in almost every runway show – BryanBoy agreed – and we again just couldn't escape it earlier this year in Milan. The latest Fall 2009 releases from such labels as the palindromic Kiryuyrik and Junya Watanabe's self-titled eYe collection with Comme des Garçons continue the trend… is it time to acknowledge that plaid might be just a little overplayed?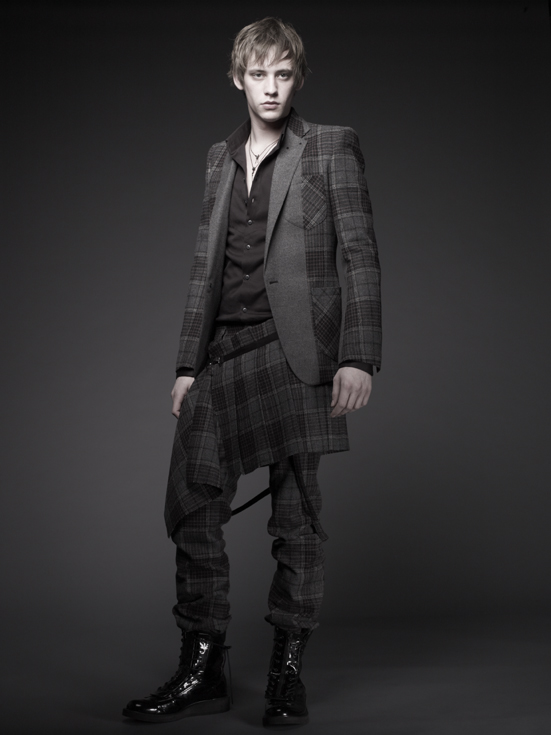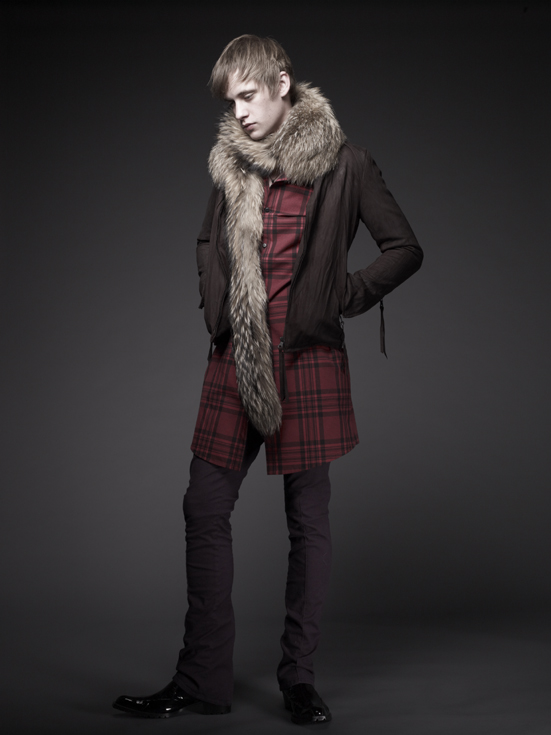 Kiryuyrik Fall 2009
Designer Masakatsu Takayanagi – a former pattern maker at Yohji Yamamoto – seems to have made a game of incorporating almost every current movement in fashion in his latest release under Kiryuyrik. There are sheen fabrics, tassels and bondage-inspired strappings, leather boots, a touch of androgyny in the form of kilts and fur… It comes, then, as no surprise that, having seen plaid aplenty during the fall 2009 collections showcased earlier this year, Takayanagi is more than happy to hedge his bets and embrace the tartan trend.
And he isn't the only one. Japan-born, New York designer Daiki Suzuki – who re-interprets the American outerwear tradition in his designs for Woolrich Woolen Mills – also dishes up a feast of plaid in his latest Fall 2009 collection.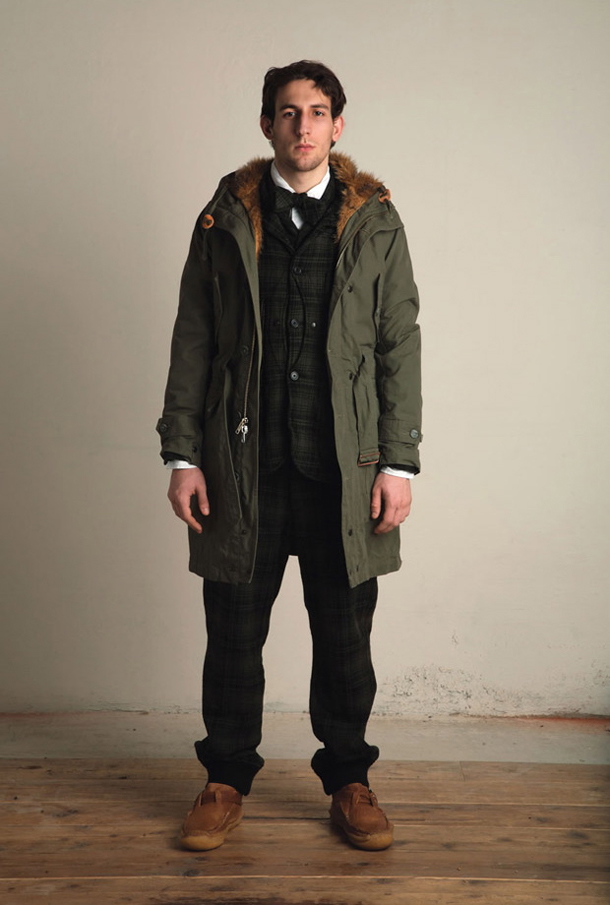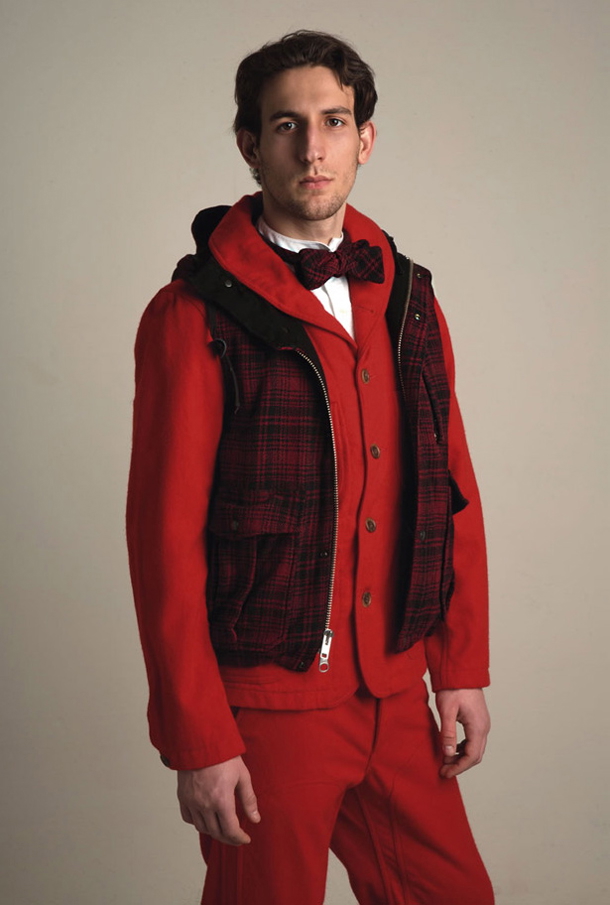 Woolrich Woolen Mills Fall 2009
Junya Watanabe is well-known for checkered and patterned suiting in his runway collections – his latest offering under the eYe Junya Watanabe Comme des Garçons label cashes in on that style. And Tiger of Sweden's latest fall campaign also has no shortage of plaid, finding its way into underwear as well as the suit shown below.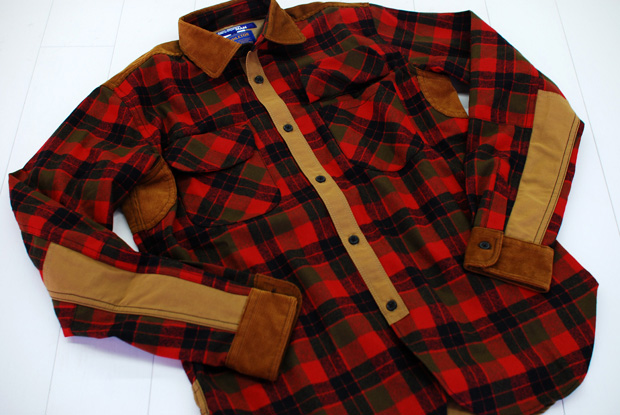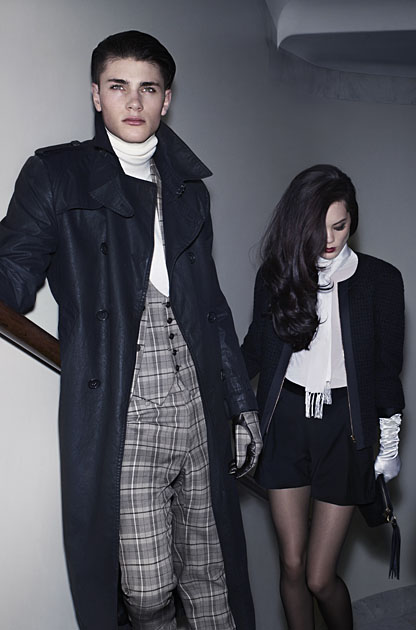 eYe Junya Watanabe Comme des Garçons and Tiger of Sweden Fall 2009
While even the slightest showing of plaid signals a noncompliance with my own personal style, I'm more than willing to accept it as a key feature of upcoming fall releases as I find safety in the knowledge that the pattern is an autumn/winter beast, one that stirs up the least trouble during spring/summer when it lays dormant and hibernates. Somehow, however, plaid seems to have waved aside its aestivation period and made an appearance in spring. It peppered the runways of Milan, at Etro and Vivienne Westwood…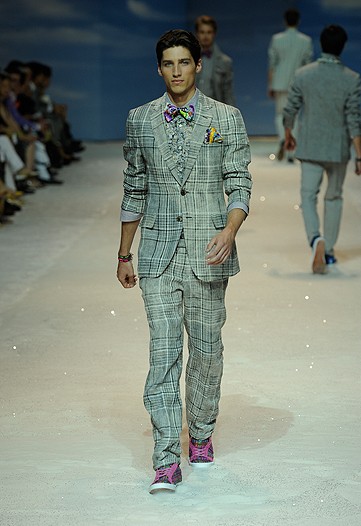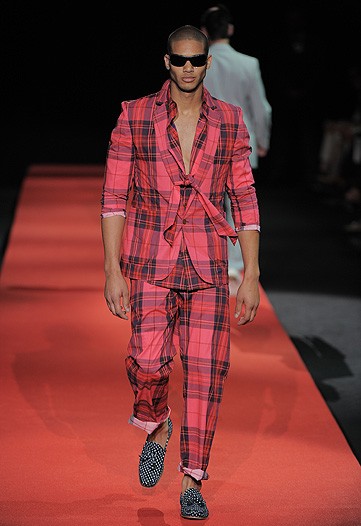 Etro and Vivienne Westwood Spring 2010
…as well as Paris, at Givenchy and Dries van Noten, for example.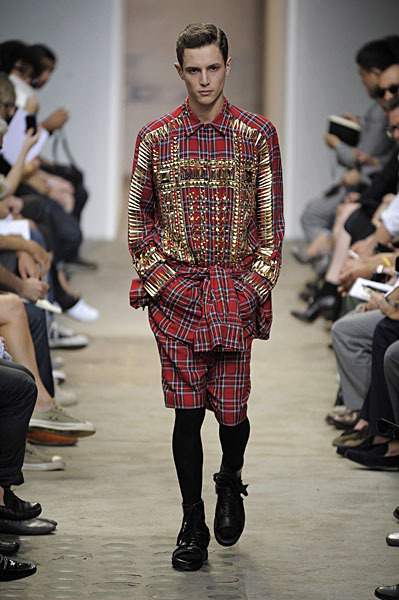 Givenchy and Dries Van Noten Spring 2010
Having experienced a spring/summer revival on the runways, plaid has popped up in a slew of recent spring 2010 collections. Philip Sparks gave plaid a new lease of life for the season in a handful of shirts and blazers, while–in varying fashions–it also peppered two of the best-received and freshest collections of the past fortnight: SOPOPULAR and House of the Very Island.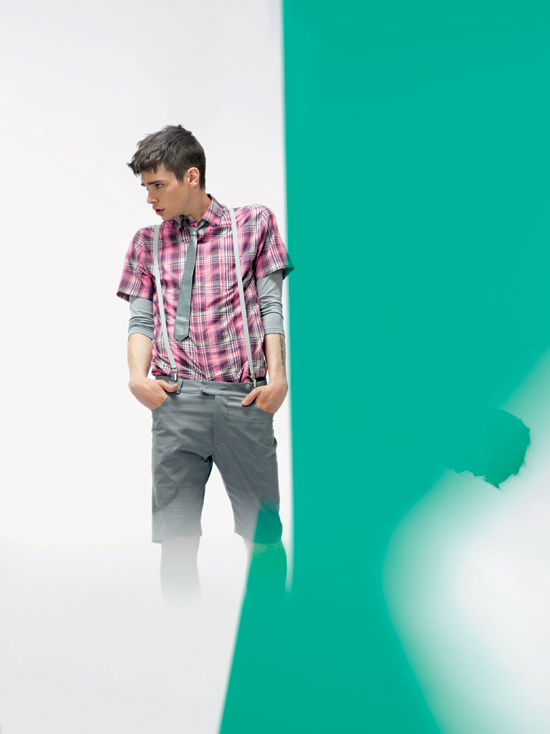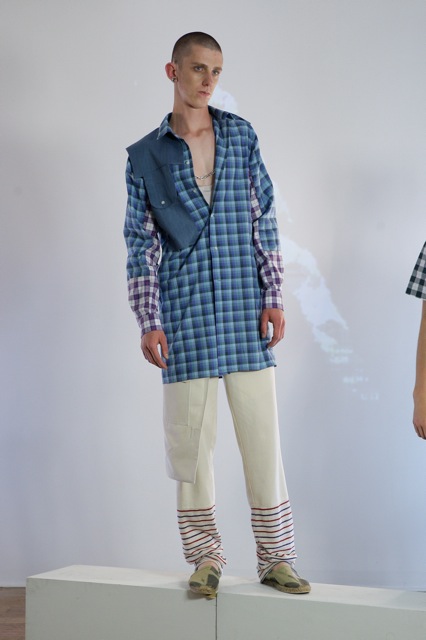 SOPOPULAR and House of the Very Island Spring 2010
Personally, I'm more inclined to appreciate a subversive use of fabrics or a playful attitude to proportion rather than the rehashing of a 300-year old pattern. So this past week has helped me recognize that its time we waved 'ta-ta' to tartan and embraced a new type of patterning: patchwork. In spring 2010, House of the Very Island and for Fall 2009,  C'N'C Costume National – Ennio Capasa's street-style fashion line – both explore patchwork, a severely under-developed style amongst menswear designs.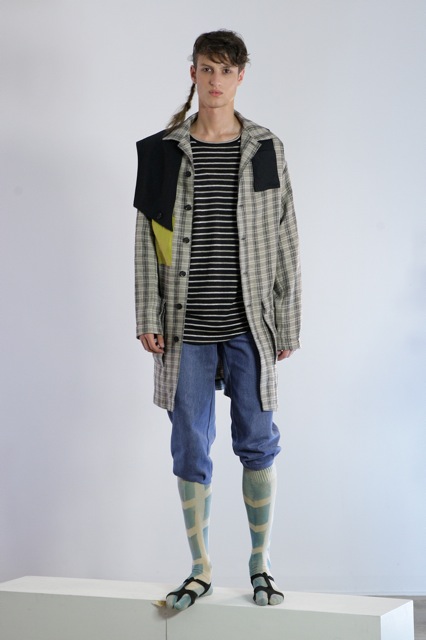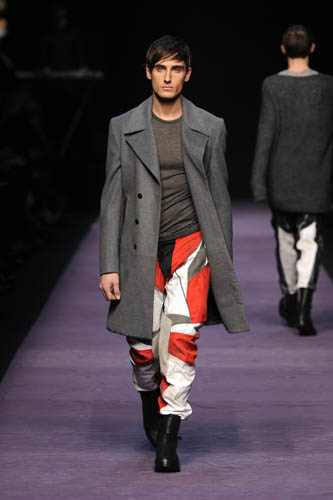 House of the Very Island Spring 2010 and C'N'C Costume National Fall 2009
The spring 2010 offering from Rei Kawakubo for Comme des Garçons in Paris two weeks ago was one of the few I've encountered recently that made creative patchwork a focus of the collection. It was brash without being thoughtless, colourful without being unwearable, avant-garde without being androgynous.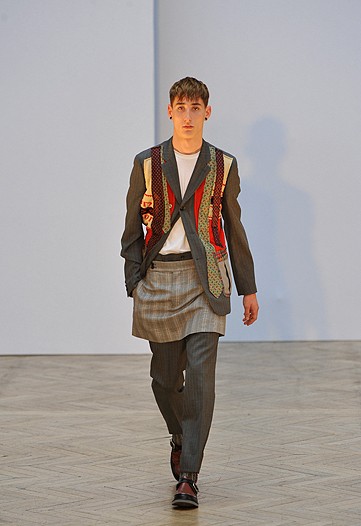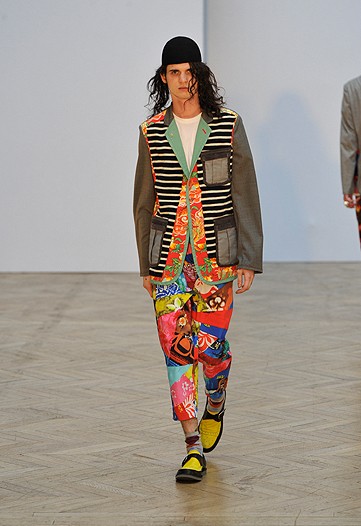 Comme des Garçons Spring 2010
Given its adoption by some in the design community already, I'm certainly hoping that, as it continues to emerge as one of the next movements in menswear, patchwork puts plaid in its place.