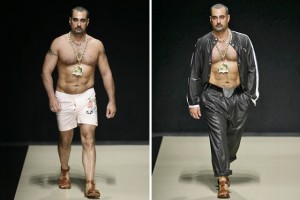 I don't flock to Vivienne Westwood's aesthetic, but I appreciate how quirky and unexpected she is. Just look at the model to the left. I love that she chose to use a man of a heftier build. It snaps you out of the fashionable idea that the only way to look is tall and lanky. Turns out that Vivienne's choice in a model gained people's attention. The Cut found out that the model is "Sergio Lo Re, an actor and bodyguard. He's signed with New Faces Models/Actors in Milan." Do you think he will be getting more work?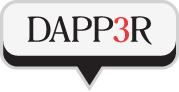 Guiltless plug. Show me love and I'll return the favor. Dapp3r is a great site for those of us blogging about menswear. Dapp3r links to your interesting entries creating a page with engaging entries from various bloggers. Hello, can you say traffic boost? Sign up today.
Pictures from Yahoo News.