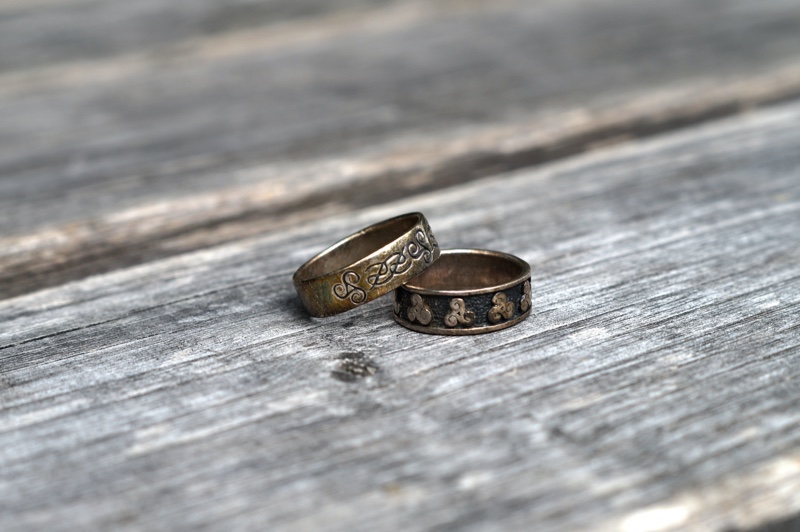 What is a Celtic Wedding Band?
A Celtic engagement ring is based on ancient Celtic motifs with symbolic value. They are available in a number of designs, with the Celtic Knot, Celtic Warrior, and Claddagh being the most popular.
Celtic mens wedding bands give you a once-in-a-lifetime chance to express yourself, to tell a tale, or tell the world something about who you are and where you came from.
According to jeweler Avi Mirpuri, "they integrate unique knots and milgrain braids that symbolize eternal love. The main distinction is the aesthetics of the band and setting, though they may also employ more unusual center stones, such as a heart-shaped diamond."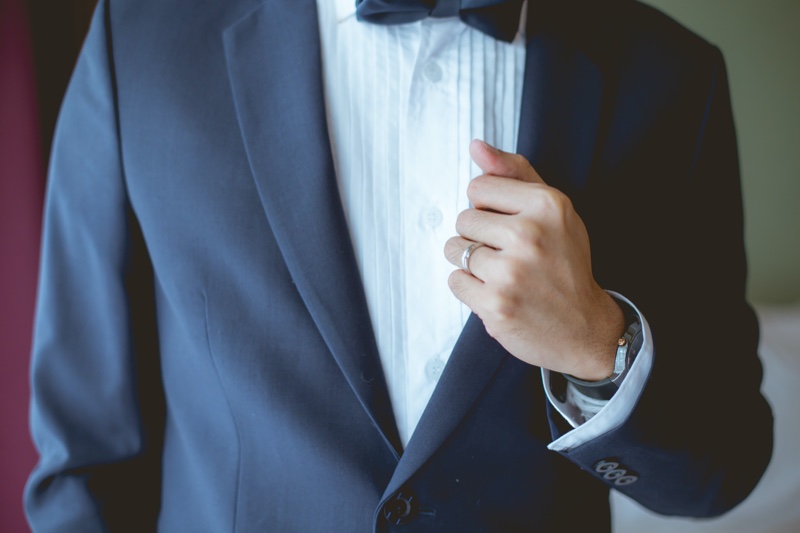 Brief History of Celtic Wedding Bands?
The Celts were a group of tribal people that lived thousands of years ago in what is now Europe. We believe their society was built on an abiding love of the earth, based on archaeological remnants and some of the modern druid customs that are said to spring from those ancient origins.
Their work was influenced by the natural world's beauty and awe. Celtic jewelry is an aesthetic manifestation of culture, a reflection of the deeply held beliefs that have been passed down through the generations.
For individuals who are interested in these old traditions, the Celtic ring can be a talismanic expression that transports the user to another time and place.
Celtic wedding bands known as Claddagh were developed in the small settlements that dot the Celtic islands' borders. According to legend, Richard Joyce went to the West Indies to work and save money in order to marry his love. His ship was seized along the way, and he was sold as a slave to a jeweler in Algiers.
Joyce studied the trade and eventually mastered it. He also made a ring to symbolize his affection. The design featured clasped hands, a heart, and a crown. Joyce returned home to find his sweetheart waiting for him, and the two married soon after.
These rings are frequently viewed as priceless family treasures and passed down generations from mother to daughter, and each style has a distinct meaning.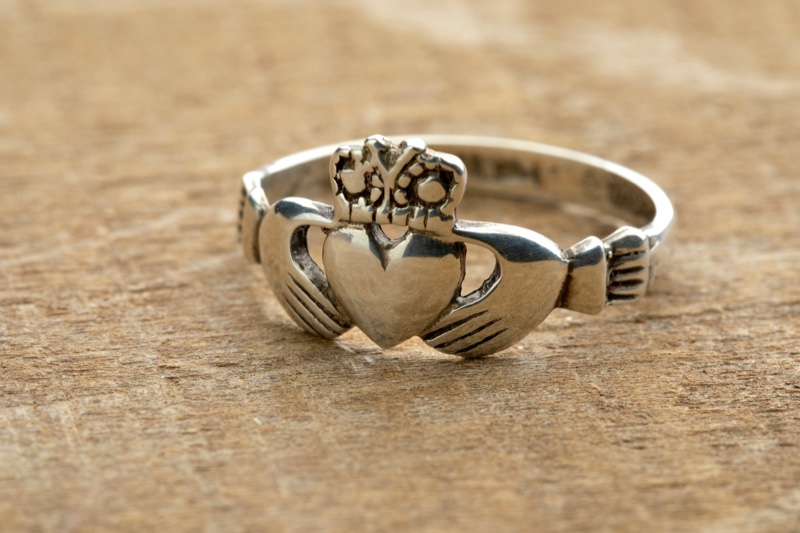 Popular Celtic Wedding Bands Styles
When shopping for the appropriate item, you'll most likely come across three basic Celtic engagement ring styles.
1. Claddagh: It is the most traditional Celtic ring. It appears to be two hands clasping a heart-shaped diamond in the center, with a crown atop the heart.
When a ring with the heart pointing outwards is worn on the right hand, it symbolizes that the individual is not committed. When the design is worn on the right hand with the heart pointed inwards; however, it denotes that the person is linked and loyal. If the ring is worn on the left hand instead of the right, with the heart pointing inward, the person is married.
2. Celtic Warrior: Typically, this is a band with engraved warrior shields. According to an expert jeweler, these are more typically worn by men and are sometimes used as wedding bands.
3. The Trinity Knot: This basic looping pattern on a three-pointed ring is sometimes termed the Celtic Knot. The three points have a variety of meanings, including past, present, and future or life, death, and rebirth.
4. Gaelic Wedding Bands: Wedding bands were also thought to ward off evil spirits by the Gaelic people. Gaelic wedding bands were originally worn on the right hand by males and the left hand by women.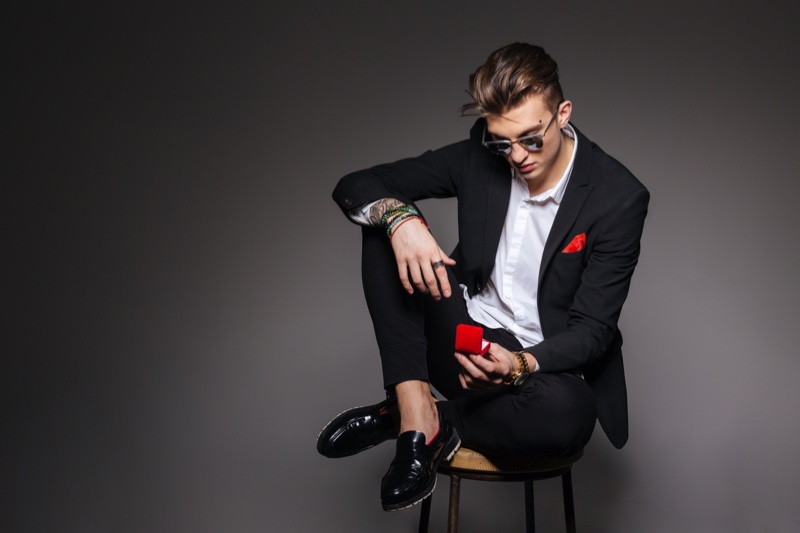 Things to Consider in a Celtic Wedding Band
1. Is The Wedding Band Durable?
According to Kanary, an experienced jeweler, the most crucial thing is to pick a ring that can withstand everyday wear and tear. "Instead of sterling silver, which is usual for Celtic rings, choose a more durable metal like 14k gold or platinum," she advises.
You should also choose a durable stone, such as a diamond, because some Celtic bands incorporate gemstones into the design.
The composition of your Celtic ring will determine how you care for it. Sterling silver, which tarnishes easily, is used in traditional Celtic rings. Remove it during household cleaning and keep it out of bright sunlight to maintain it clean.
If necessary, clean it with gentle soap and water. It will be much more durable and require less cleaning if it has a diamond stone, but simply use soap and water if it needs to be polished.
2. Celtic Wedding Rings With Symbolic Designs
Celtic rings are full of symbolism, and the manner they're worn contributes to the story. Claddagh rings were originally offered as engagement symbols. The ring would be worn on the left hand, the crown pointing away from the heart.
If the ring is given for a cause other than marriage, it is generally worn on the right hand, with the crown pointed toward the heart to indicate an openness to love.
Claddagh rings are most commonly linked with weddings, although they are also popular as Mother's Day, birthday, and graduation gifts. The rings are frequently presented with the wearer's birthstone in the center. Celtic rings are universal symbols of love and appreciation since they represent both friendship and love.
Wedding bands come in an almost fantastic array of Celtic knot patterns, each with its own history and symbolism. The following are some of the most common patterns: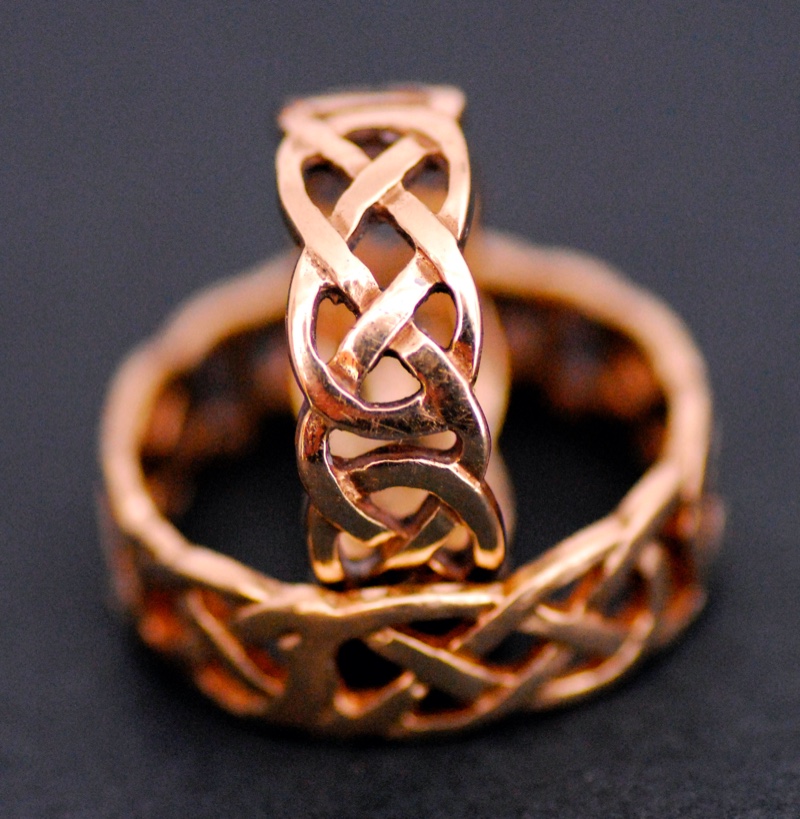 I. The Aria Knot
The Aria Knot is made by the junction of three arcs that converge at a point, symbolizing Trinity's union. Each line in the design is distinct but equally vital. The pattern represents balance and has been used to express a variety of things, including the Holy Trinity, Celtic goddess mythology, and the importance of mind, body, and spirit.
II. The Donegal Pattern
The Donegal design is made up of gold and silver rings, with gold representing the sun and silver representing the moon. The strands are woven together in a strong structure to represent the joining of two routes.
III. The Laura Pattern
This pattern represents how various forces of energy interact, implying a sense of flow and ease in collaboration.
IV. The Rope Pattern
Two gold bands, each the same size and pattern, weave into each other in rope pattern rings. They join together to form a common circle, reflecting the way two sources of energy collaborate to achieve a similar goal.
3. Emotional Elements Behind Wearing A Piece Of Celtic Wedding Band
Wedding bands are nearly as old as the institution of marriage. Wedding bands have always been associated with love and devotion, and in ancient times, they represented family arrangements. The wedding ring's round shape represents eternity because circles have no beginning or endpoints. A wedding band's symbolism is vital, and most couples choose designs that have meaning for them to add yet another layer of symbolism to their bands.
Celtic wedding bands are among the most popular styles available. Couples with Irish ancestry are often drawn to the distinctive designs of Celtic rings, although non-Irish couples appreciate the symbolism of those patterns as well.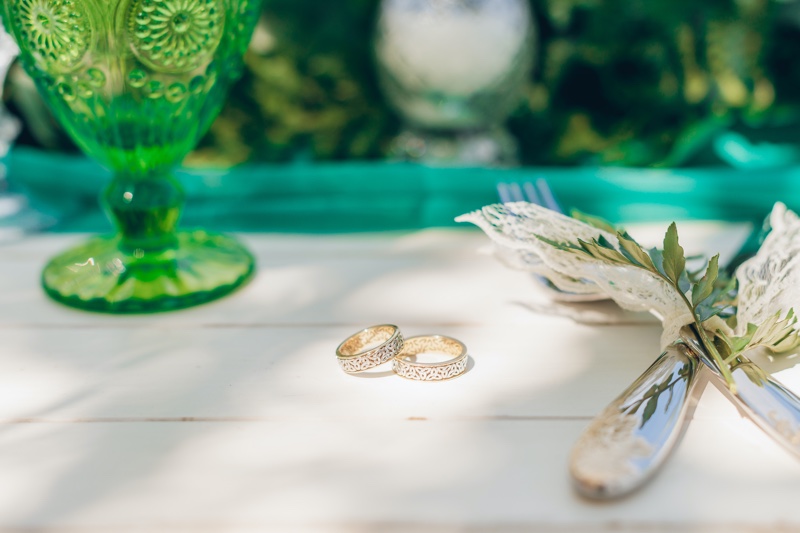 Choose your Perfect Celtic Wedding Band?
There was a time when your wedding band's color was never a question. It wasn't a wedding band unless it was made of yellow gold! Wedding bands are currently available in a variety of metals, according to changing fashions. Some of them aren't even made of metal!
Yellow Gold
If you want tradition, a yellow gold wedding band may be right for you. The classic yellow ring is an unmistakable indication of your marital status.
Rose Gold
Rose gold wedding bands, often known as red gold, have recently gained popularity. It's a warm and attractive option that looks wonderful when combined with yellow or white gold in two-tone jewelry.
White Metals
The bulk of wedding bands we sell these days are white metals. White rings are unquestionably modern, and people who wear them appreciate their simplicity and beauty.
You can even combine two colors for a unique look.
Conclusion
Celtic wedding bands can give the traditional symbol of love and devotion a whole new meaning. Celtic designs, some of the most creative patterns in history, are ideal for couples seeking distinctive patterns with profound symbolism.