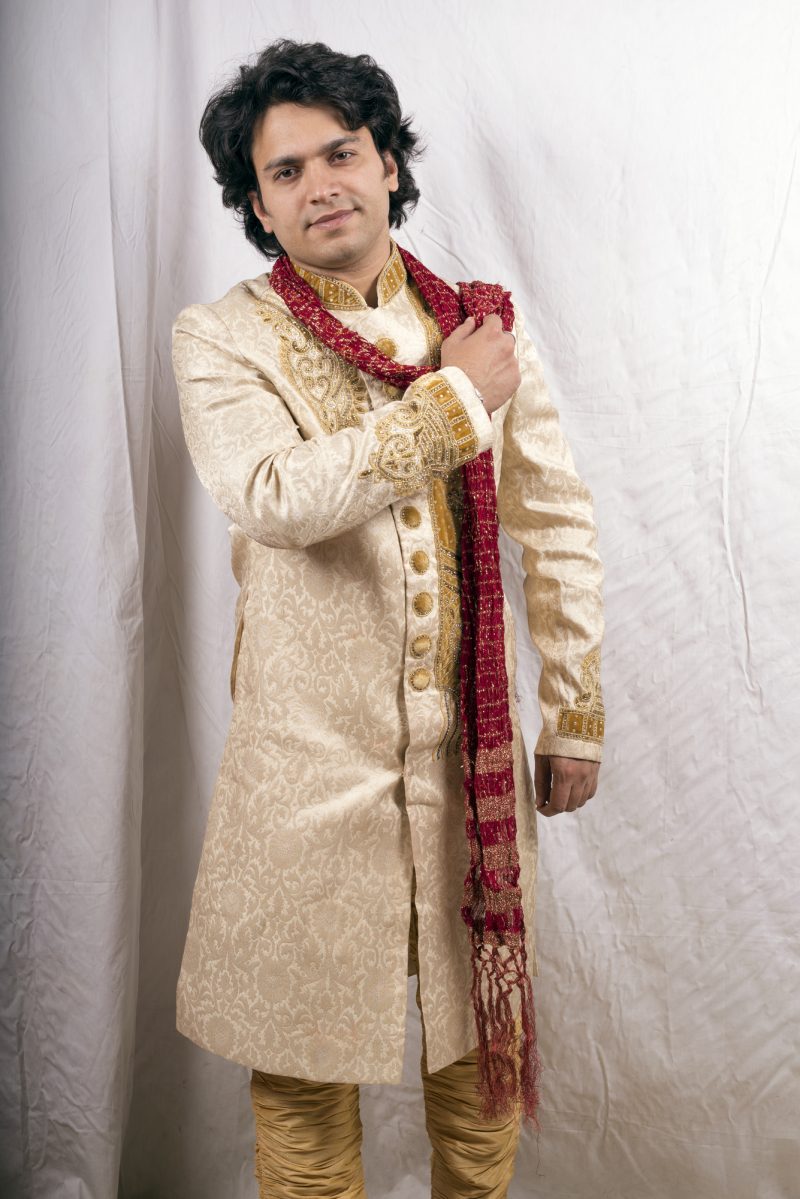 Indian fashion for men is similar to that of women since most of it is ethnic. Indian wear consists of casual, college, wedding, and formal wear that has a different look for every occasion. Indian fashion is unique in the world and has grown dramatically in the last decade. Especially during the wedding season is when many men seek what to wear to look classy and sophisticated. Although many trends have evolved recently due to the growth of e-commerce in the country, many people prefer ethnic Indian attire to trendy ones.    There are various types of Indian men's wear, like jackets, Kurtas, Sherwani, among others. Below are different types of Indian men fashion wear.
The Indian Suit
This is best for formal occasions, weddings, parties, and the many Indian festivities.  This Indian suit does not have much of a difference to the western suit. The difference is in the Indian touch that it has, but the cut is similar and the fitting too. Their suits usually are well embellished or embroidered with royal colors like burgundy, purple, blue, and maroon. The standard fabrics that are used are brocade, cotton to make the suits look as formal as possible, and most of them are collarless.
The Sherwani
Three common types of Sherwani are worn by Indian men. The Sherwani evokes a royal and luxurious feel to the wearer. They are generally worn with churidar or dhotis for bottoms and can be accessorized with dupatta, jootis, and mala. The classic Sherwani has the most straightforward cut of them all. This Sherwani has been there for a long time in the Indian fashion world. Sherwani used to be the dress for the royal family in olden days, but now most grooms prefer it as their wedding outfit. Another Sherwani is the Asymmetric Sherwani, which is also made with exotic and luxurious Indian fabrics every season. The Indo-western Sherwani is the most recent trend of Sherwani that is a fusion of Indian attire and western clothes their designs are unique with a curved hemline to bring out the western elegance for an extraordinary look. 
The Kurta
This is casual wear for men in India. Kurtas are the opposite of Kurtis for women in fashion. The design is the same, but they have a different twist to differentiate the sexes. As Kurtis for weddings is for parties and festivities, the Kurta is the same. The kurtas have evolved a lot in the current Indian fashion industry. They can be made shorter to be worn by jeans for simple casual wear. Kurtas are either long or short-sleeved and are made of cotton, silk, and brocade. They also look elegant in matching or contrasting churidar bottoms. When you choose a kurta as a groom, the bride can wear wedding Kurtis to match the design.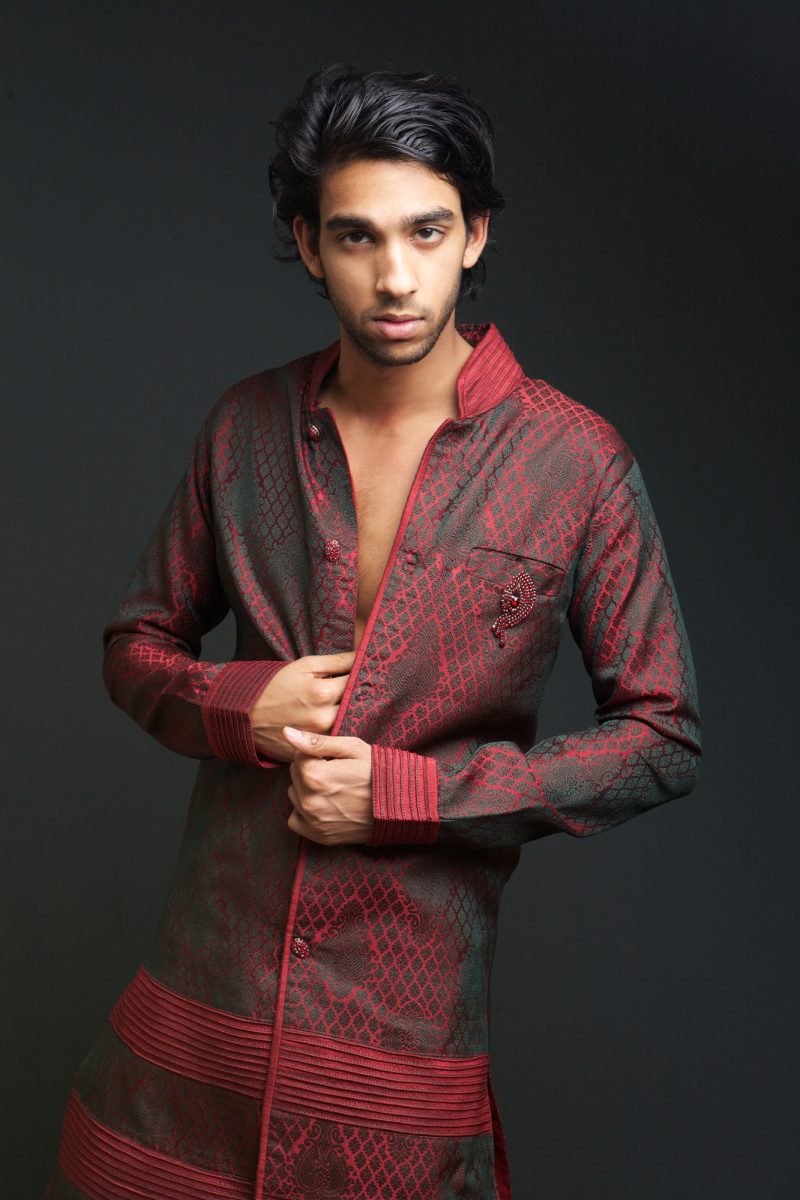 Achkan
This is a form of Sherwani that has a button placket in the front. It is almost similar to the jacket Sherwani at knee-length and is buttoned to accentuate the classy look. The Achkan can be embroidered, plain, or designed in other various ways as the owner would desire. It is paired with Churidar pants or dhotis and is also made with heavy fabric that is fitting. Achkan is an excellent choice for attending weddings, the Sangeet ceremony, and other Indian festivals. The Achkan can be worn by male guests that have been invited for the wedding.
Bandi
Bandi is a beautiful waistcoat that every man needs in their collection. Bandi is worn a lot by men in India as a casual outfit to different events. The Bandi helps to add more pop as its worn with a long-sleeved Kurta and churidar pants. The Bandi is easily paired with either patterned or plain casual Kurta to attend occasions like graduation and wedding ceremonies.
Nehru Jacket
This versatile jacket for the Indian man is worn like the Bandi. The unique thing about the Nehru is that it has various styles and cuts with its design. The Nehru originated from Jawaharlal Nehru who was the first Indian prime minister who always wore it. This is a must-have for every man's wardrobe for the blend of ethnic and complete modern look. It is paired perfectly with a Kurta or a Sherwani that is in plain color and salwar or churidar bottoms.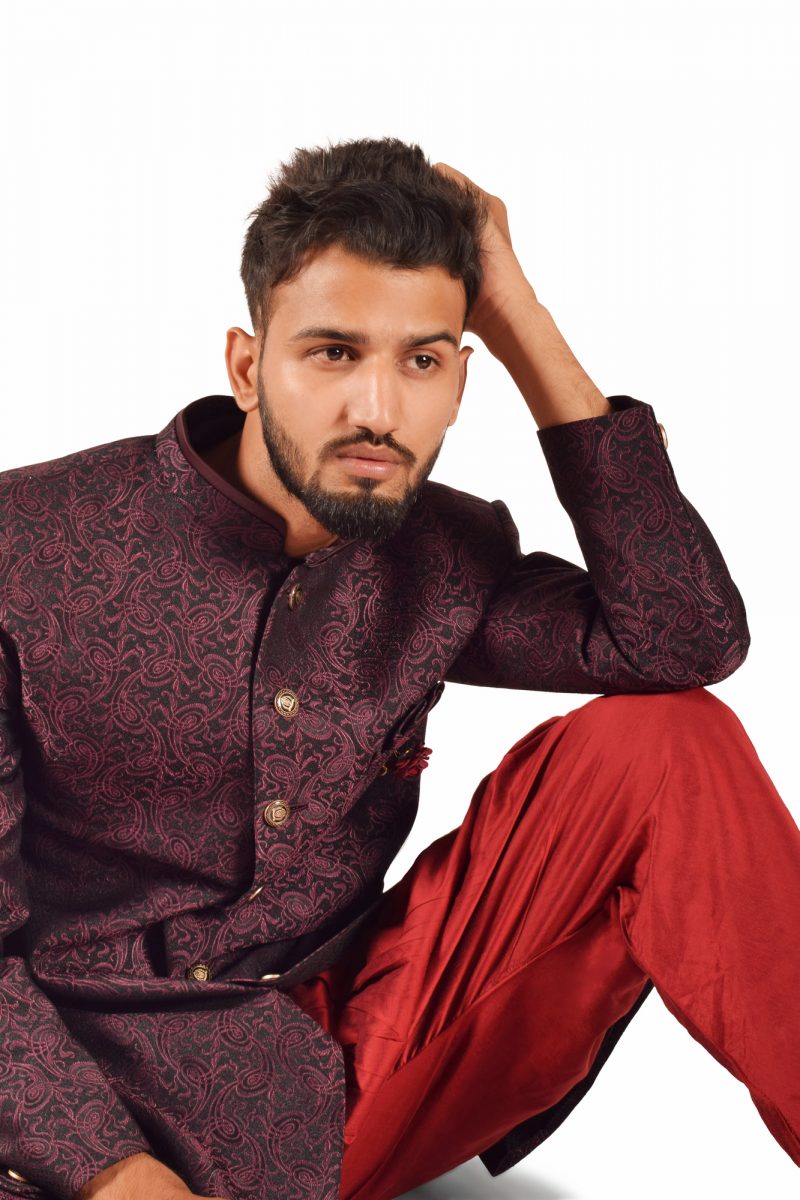 The Bottoms
The churidar is the most common and preferred pants to match up with most Indian attires. These tight pants are worn by both men and women and are better when worn to formal events. Another typical bottom is the dhoti, which was used by yogis, and they still do. They are traditionally dressed for religious or wedding ceremonies. Dhotis are paired well with Sherwani in various patterns. The Salwar and Pajamas are other bottoms that are preferred for their style and comfort.
Accessories
Men too have accessories to blend in with their clothes. The Turban has been the most famous and everyday accessory since the ancient days. There are different types of turbans in the male fashion world. For instance, there are printed, plain, bordered ones and in various fabrics too like cotton and silk. Another accessory that the men adorn on is the dupatta that is also very ethnic in the Indian culture. Dupatta symbolizes class, and when paired with Kurtas or Sherwani, it makes them look more formal and elegant. Jootis is the type of Indian men slip-on shoes to match their attires that are embellished or plain. When paired with a kurta or Sherwani, they complete the outfit for a wedding look.
Jewelry
Indian men love to accessorize too, and therefore, they also have beautiful jewelry that they can adorn with. Some of the traditional pieces of jewelry are the turban brooch, also known as the kilangi, the gold necklace or mala and a standard brooch that holds the dupattas in place when worn to accessorize their outfit. Mixing one of each fashion trend together completes a man's entire attire.