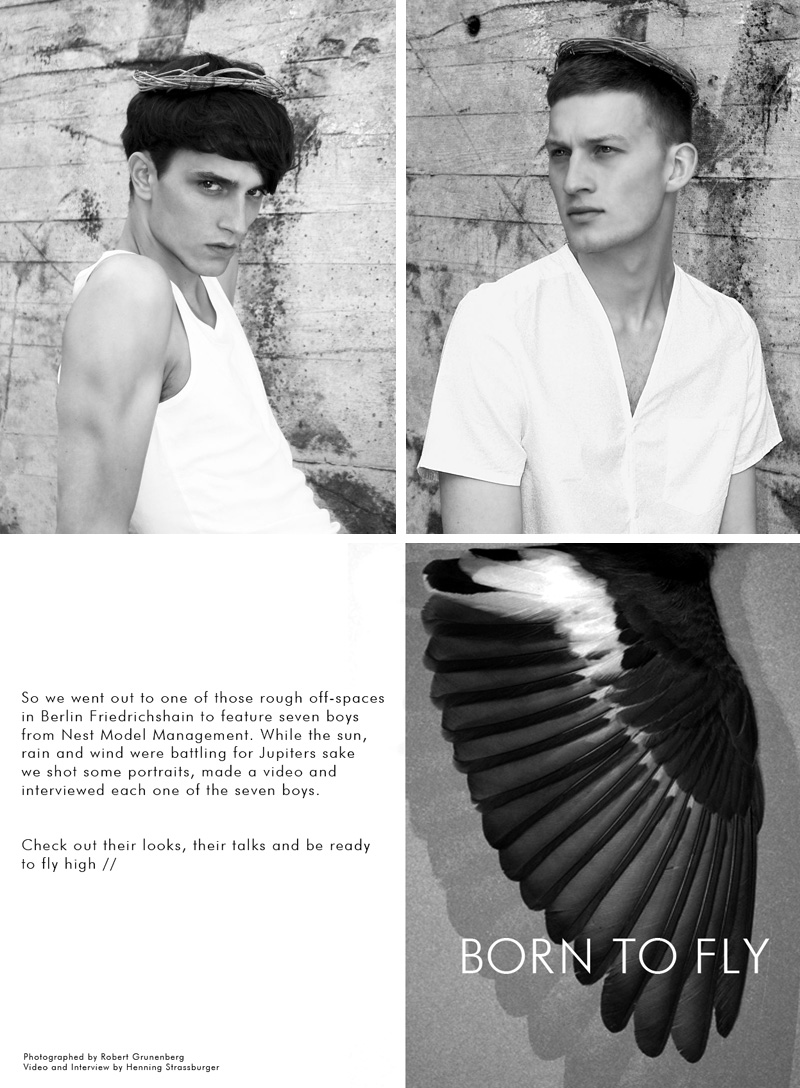 Born to Fly–Model turned photographer, Robert Grunenberg picks up his camera for a feature starring seven Nest models. Photographed and interviewed, Jakob Wiechmann, Adam Merks, Nikola Jovanovic, Simon Paul, Chris Sitzler and Philip Milojovic are the topic of conversation as they talk about modeling, interests and future dreams. / Interviews and video by Henning Strassburger.
<!–eapheader–>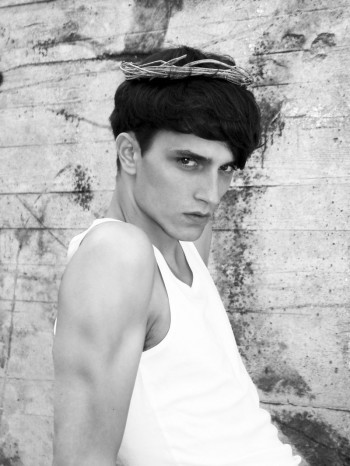 HS: Jakob, you finished your studies of Business and Engineering yesterday. Is that your dream job?
JW: Haha, nope…
HS: But it is not the easiest subject to study, many don't make it. Busy busy…!
JW: No (laughing), more lazy lazy… It took me 5 years for a bachelor! I wrote my Bachelor thesis about the strategic management of a french fashion brand.
HS: And did your fellow students from University know about your model career?
JW: I told the cool ones in the beginning. But it makes the rounds relatively fast, you know.
HS: Do you have a certain masterplan for how long you want to go on working as a model? Because you're doing it for a while now…
JW: Well, as long as nice people want to work with me. Because it is definitely fun, when you have a cool team around you.
HS: And afterwards, changing the sides?
JW: That's what I can imagine, of course. As a photographer. Maybe as a designer. But I have never done such things so far.
HS: I have a special question: Seeing yourself in a campaign for example, how does it feel? I mean in the way, that it is not you as a person anymore, more like role. Do you separate between these characters?
JW: No, that's definitely me. I know how the image was created and what it took, that the result looks this way. With this consciousness, it is no big deal for me anymore.
I also try to explain my friends the whole business as close to reality as I can, without making a big story out of it. They sometimes think I only live in 5 Star Hotels with lots of massages (laughing). But I must confess, as a model it is honestly suffering on a higher level. You are in the position to enjoy some advantages: Everybody takes care of you at the set, they want you to feel good. This really rocks! (laughing) Except for today, if your half naked, it is raining and it's cold… (laughing).
HS: Now that you mention it, what is the most uncomfortable situation for you in the job?
JW: Actually if someone thinks he knows best. I mean if somebody really thinks he is a big deal and it then is no teamwork anymore.
HS: What do you like most coming back to Berlin after shootings?
JW: Watching tracks and the sunset from the Modersohnbrücke and drinking a Sternburg Export. That's from Leipzig. And costs only 48 Cents in my Späti*.
HS: Oh I shouldn't write this, it's my neighborhood and all the tourists shouldn't know about these places (laughing).
And what's the perfect music for this situation?
JW: Alle Farben.
HS: And which club afterwords?
JW: Suicide. No, better say Tresor!
* Late Night Delis in Berlin
<!–eapdivider–>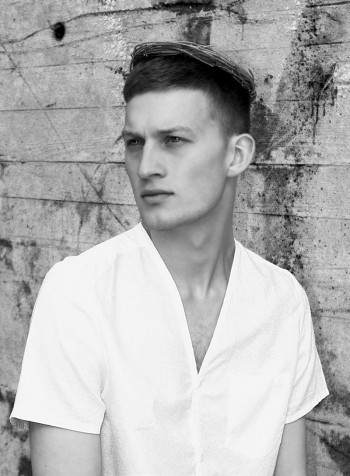 HS: Bastian, tell me, what is it about, being a successful model from one day to the next and everybody seems to be interested into you suddenly?
BT: Weeeeell, that's…eehhm… interesting (laughing).
HS: And especially what is it like coming back home? Are your friends interested into your new career?
BT: There are many questions, of course. But luckily not too many. It is really nice having a kind of vacation after coming back home.
HS: What about your mother?
BT: She is proud! I guess she is the one who is searching the most on google to see the latest editorials on blogs, that's what she is doing with lots of discipline!
HS: Where you interested into the whole model business before? Did you assume it to be fun or to be fucked up?
BT: It wasn't actually part of my personal world. I haven't had any interest so far. As well as my friends, they are getting a taste of it right now, too. It is definitely interesting… a nice experience.
HS: And do you post your model pics on facebook?
BT: Mmhh, maybe some backstage shots and I sometimes "like" certain photos of me. But posting magazine-pictures would be too much on purpose I guess.
HS: Did you change something ever since you're modeling, I mean do you eat less or do you do more sports?
BT: Nope, not really. I go for a jog from time to time, but more to calm down. I don't get fat anyways, because I don't eat any meat. I am vegetarian. But of course, I am surely more aware of my body now.
HS: Where have you been for a job lately?
BT: I was in London and Paris on stay and I am coming from a job in New York right now. New York is the best city to be!
HS: What was the most stressful situation for you so far?
BT: Well, the worst is waiting at a casting for 3 hours and then being inside for only 30 seconds. That sucks!
HS: Ok, so what do you do to chill when you're back in Berlin?
BT: I go to my favorite clubs, I really enjoy the "Wilde Renate" and the "about:blanc" Club here in Friedrichshain.
HS: Is this the music you like the most?
BT: Yes, all electronic music. I also like listening to Chill Out or Lounge a lot. And I love to dance to Funk Music!
<!–eapdivider–>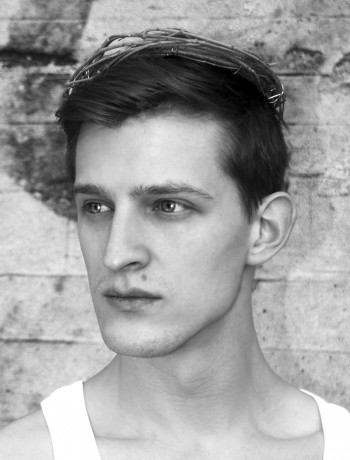 HS: You are modeling for half a year now. Was there any interest into that before?
AM: Not really – I have never thought about it. I knew there are models and they live in a crazy world, but I have never had any relation to it…
HS: And now you are part of this crazy world!
AM: Yes, I am halfway in between. Funny shootings and so on, I like it a lot!
HS: You where trained as a programmer before, right?
AM: Well, I could say yes (laughing)… 90% trained. There is a final exam that I need to do.
HS: And your second career suddenly started, you had a bunch of editorials and shows already. What did you like the most?
AM: Definitely the people!
HS: And what's annoying so far?
AM: Definitely the people (laughing)!
HS: Is there a certain kick in being the centre of attention? I mean talking about your personal ego?
AM: Yes, from time to time. Actually I have never been the kind of guy who likes being in the focus and therefore it was difficult for me in the beginning. I always had problems in doing that. Therefore I see the whole model experience as a chance to work on myself and to develop myself. That makes it cool in many ways for sure.
HS: How does your girlfriend thinks about all of these new adventures?
AM: She's so proud! She still can't believe seeing any look-books and editorials from me online. She can't imagine people seeing me as a model, because for her I am still the same. It is a crazy world for her too!
HS: What about your mother?
AM: She is happy! She told me to get every possible job and to bring all the money back home (laughing)!
HS: By meeting you in Berlin without intention, where would it be?
AM: In the 24Stunden Reichelt* in the Berliner Straße (laughing).
HS: And which music would be played on your i-pod in this moment?
AM: A crazy Electro song that I like a lot, I guess it is by Standhall Syndrom and the song is called D's Waltz in the Cora Nuvoa Remix.
* A well-known 24hour supermarket in Berlin
<!–eapdivider–>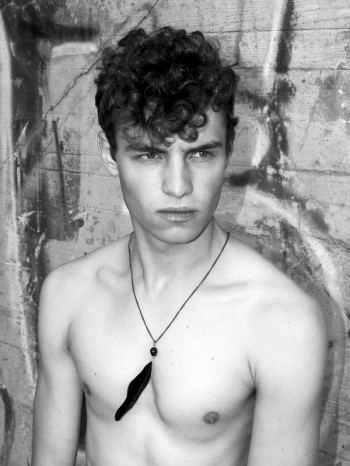 HS: Chris, you where discovered on facebook, right? Was it a strange feeling to be approached by a stranger?
CS: Well, definitely unusual. And I was really skeptical on first hand and I suddenly checked the agency website then… and I liked it a lot!
HS: Do you post your photos from shootings on facebook meanwhile?
CS: Actually not the Model pics…
HS: What about your parents, do they like your modeling?
CS: Oh, I guess they haven't heard about it yet.
HS: Speaking about your model efforts: what do you like the most and what the less about yourself?
CS: I can't tell about the most, but what I don't like is that work out three times a week in the gym to increase muscles and I still stay so slim…(laughing).
HS: If I would give you 100 Euros, what would you do?
CS: Shopping of course! Clothes!
HS: Any special brands?
CS: I don't care. As long as I like it.
HS: Besides modeling you're studying architecture. By having to sketch a building right now, what would it be?
CS: Difficult question. But simply a house I guess.
HS: And what would the special advantage of your house be?
CS: Mmh, let me think, maybe dealing in a special way with the environment or the clients wishes…
HS: And would there be any preferences regarding the material?
CS: Actually I am a fetishist of material. But it would be the architects beloved for sure: concrete!
HS: And is there a favorite building of yours here in Berlin?
CS: Definitely the Neue Nationalgalerie by Mies van der Rohe.
HS: What's your biggest aim in life?
CS: To have my own architecture office once. In Berlin, London, New York, no matter where (laughing)!
<!–eapdivider–>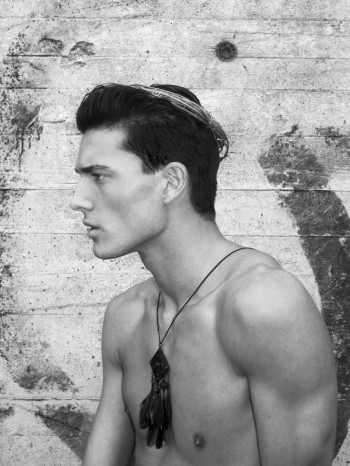 HS: Nikola, you sad you had dark purple hair yesterday?! Did you do it by yourself??!!
NJ: Noooo, I was blond and it was supposed to be my natural hair color after the shooting, but they fucked up and it was purple. They tried to fix it. Now I am orange… That's the color for today (laughing).
HS: Do you hate the world when they do things like that with you?
NJ: No, I don't care anymore…
HS: You live in New York City, right?
NJ: Yes! But don't move to NYC, it is horrible! The other day I climbed a tree next to my apartment in Central Park. Actually it was a branch, I was obviously sitting on a thick branch to chill and enjoy the sun. Suddenly someone shouted: We gonna call the police! Like I'm going to ruin the tree!
HS: Well, it's Central Park…
NJ: Yeah, it's Central Park, and there is just oooone tree like that (laughing)!
HS: So after today's shoot in Berlin you are going back to Belgrade…
NJ: Yes, my family lives there. And I am so happy to see all of my friends!
HS: Are they still the same after all this traveling throughout your career and being somewhere in the world,?
NJ: Yes! You know, when you where together in kindergarten or in primary school, they just know you as you really are. That's why I love being in Belgrade so much.
HS: Many would dream about living in NYC anyways.
NJ: Yes, but I can tell, it is so hard to find friends in NYC. Everybody is busy and is just working working working, 'cause it's so expensive there!
Oh wow, it really starts raining…
HS: Aaahhh…fuck Nikola, run, it starts raining as hell (laughing)!
NJ: Yes, to the car, yeeeeaaah!
Suddenly it started raining cats and dogs. Everybody had fun and was jumping around the puddles while running to the car. Rain can be fun too! That's Berlin baby!
<!–eapdivider–>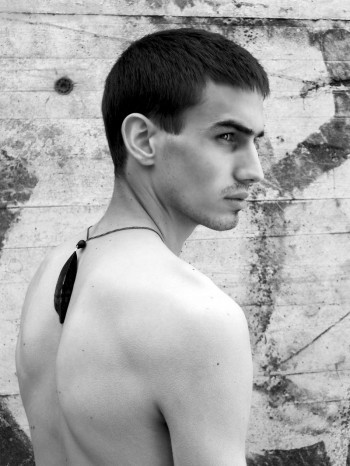 HS: You are working as a car mechanic at your father's right now. Were you educated as one?
PM: Nope – I just do it meanwhile, 'cause I was in town for the last three months. I got my high school degree one year ago and immediately started to work as a full time model. I was a lot abroad, Paris, London, Milan and Barcelona.
HS: Ah, got it. And is modeling your kind of thing?
PM: Of course! You're getting 'round, get to meet lots of people and to see lots of new things…
HS: And is there something annoying about it, too?
PM: Waiting during the shows, definitely!
HS: Well nevertheless, you are very interested in cars, right? Which car would you like to drive, if you had to choose now?
PM: Damn, that's hard! I was already thinking so much about this question, but there are so many cool cars, the selection should be stretched onto 5 cars at least (laughing).
HS: So if you can't decide for a car now, what would you buy, if I would give you 100 Euros?
PM: A Croatia jersey for the Euro Cup. Because my family originally comes from Croatia.
HS: Oh you're a soccer fan. You're going to miss the matches while being out of town for the upcoming fashion weeks…!
PM: Well I'll try to see as much as I can after the castings and shows! But I will watch the first match in Berlin, in the Café King I guess. I am going to fly to London the next day then and will watch the other matches in France and Italy.
HS: Which city are you looking forward to be the most? Paris, Milan?
PM: I had the best times in Paris so far. I was there very often and for a relatively long time and I got to know many people, whom I am still staying in contact with. So it is like being in Berlin, I have friends there. Not only those that I know from the jobs…
HS: That sounds like fun! Coming back from the stressful show season in a couple of weeks, where is your personal place to relax in Berlin?
PM: The Kreuzberg is definitely cool, as well as the Teufelsberg. Someplace to chill…
HS: And do you party a lot?
PM: Not too much these days … for some reason it's not my kind of thing now. I prefer meeting friends in the evening and doing something chill. But it doesn't mean that I don't like to party, no way!
<!–eapdivider–>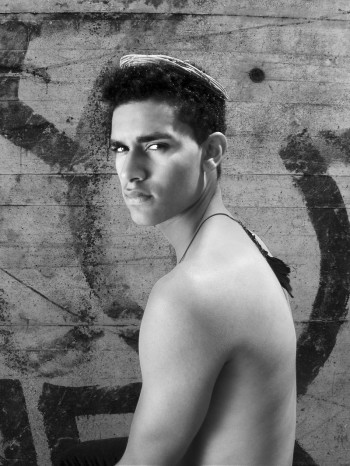 HS: Simon, you came back from a school exchange to Turkey some days ago. What has been the best impression from this trip?
SP: In comparison to Germany, hospitality is given a lot of attention. No matter when we came home, there was always a whole 3 to 4 course menu served, from salad to dessert. That was fantastic!
HS: And did you know your exchange student before?
SP: Yes, he spent a week with me and my family here in Berlin before. And then we where for 2 days in Istanbul and in Baliksir afterwards, where he is living. That's a small city close to Ismir.
HS: Wow, your Turkish accent sounds great, do you speak any Turkish?
SP: Unfortunately not. It was just an optional integration course from school, that I was interested in.
HS: Besides that, you are playing a lot of basketball, don't you?
SP: Yes, I used to pratice 4 to 5 times a week, and additionally had 2 matches on the weekends. That took a lot of time! Nowadays I only practice 2 times a week, 'cause partying and girls became part of my life too (laughing).
HS: Cool. What's your favorite club for partying in Berlin?
SP: The Tube Station.
HS: And where do you like to spend time with friends?
In the Radarstation on the Teufelsberg.
HS: Do you already know what's next after you graduate from school?
SP: I would like to invest one year into modeling and will see what's happening. Alternatively, I would like to study psychology.