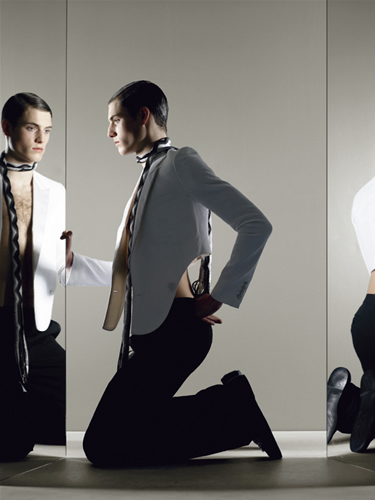 Shoes have the ability to make or break an outfit. It's difficult to find shoes that compliment your wardrobe perfectly, but if you have patience and are persistent in your search, eventually you'll happen upon the perfect pair. I must reiterate, HAVE PATIENCE. In my search, I fell into the typical trap of buying way too many pairs of shoes to appease my temporary want, only to eventually replace them with the perfect pair that came with time.
Considering color, I gravitate towards dark colors, but I do experiment with bursts of bright colors occasionally. Shoes are the one area of my wardrobe in which I do not experiment. Unless you're a shoe aficionado with a plethora of shoes to choose from, shoes need to be the most versatile part of a wardrobe. I recommend selecting colors that have endless options when working with your current wardrobe. Brown, black, and gray are great staple colors. If you're one of the few who can pull it off, white is an excellent color as well. In relation to price, higher quality often demands a higher price that accompanies greater comfort. If you are looking at a pair of shoes that will only cross your path once or the shoes you are likely to be buried in, go ahead and break the bank. If you're looking for a temporary fix, hold on tight to your pocket.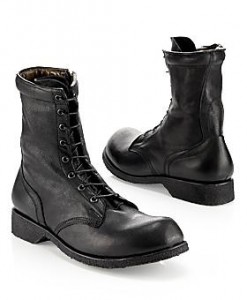 Stomping Tales
Boots are increasingly popular on the runway and the market is expanding.  Personally for me, boots emerged as a trend, but are now here to stay as a staple.  Over pants and worn with thick wool socks, boots add punch to ordinary outfits.  There are two options for boots; pull-on or laced.  The pull-on boot offers a clean sophisticated look and it's laced counterpart usually contributes to a dressed down militant look.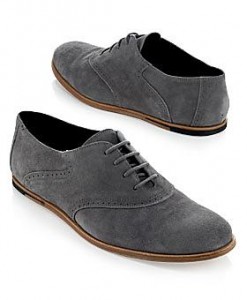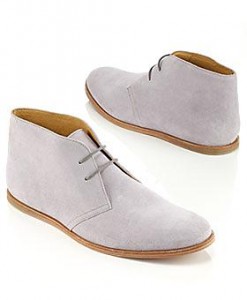 Suede: The Versatile Shoe
Suede shoes are quite the find; just don't get them wet!  Because of their texture and obvious visual difference among other materials, suede shoes compliment many styles.  They look great, whether worn with a button down and slacks or a flannel shirt and jeans.  In both styles, they act as a grounder.  Worn dressed down, they indicate casual dress, but with a sophisticated style.  Dressed up, they create a harmonious blend of casual and dress.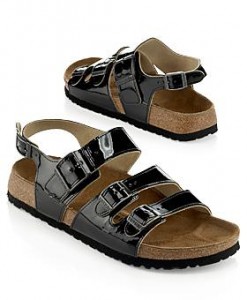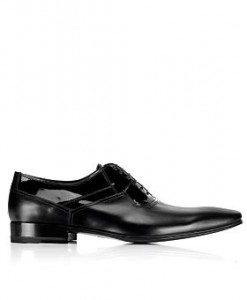 Opposite Ends of the Spectrum
Sandals and dress shoes are perhaps two of the hardest types of shoes to shop for.  With sandals, you are met with the dilemma if finding something stylish in a limited market and with dress shoes, you are on the hunt for shoes that are fashion forward, yet timeless.
SANDALS – In real life and on numerous fashion communities, I have seen women proclaim that men should not wear sandals.  Two of the most common reasons I have come across have been the thought that men have unsightly feet and that sandals are feminine.  I reject the opinion altogether.  Fashion should be about what makes you comfortable and what you find stylish, not what others think.  And believe me, for all the talk, I've seen some women with some ghastly looking feet.  Instead of buying cheap flip flops, I suggest looking for sandals of quality that offer good support and an attention to detail.  Unfortunately, this often means staying in the realms of high fashion and scouting the looks of the runways of Paris and Milan.  However, lately thanks to high fashion inspired high street stores like Topman and ASOS, different styles are more accessible.
DRESS SHOES – I like mine with a narrow shape, little heel and rounded toe.  Clunky heavy dress shoes are of the past.  The new look is not hard to get down, but the fit is.  I highly recommend a trip to a physical store and trying on multiple pairs.  Shop around!  For style inspiration, check out brands Acne and A.P.C. They are style conscious and on point.  Also when shopping, consider a large budget.  I don't know about you, but I don't plan on replacing my dress shoes every year or two.  I plan to wear them for years, so when purchasing, I viewed them as an investment.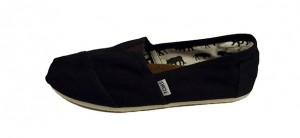 Everyday Wear
I am the biggest fan of Toms.  Visually, they are minimal and perfect for outfits that have a lot going on.  They also conform well to tapered fits.  The fit and comfort is remarkable.  When you first break them in, they are tight, but quickly mold to the shape of your foot.  They are like walking on air and look great with or without socks.  Another great thing about Toms is that for every pair you purchase, a pair is given to a child in need.  It's the best of both worlds!