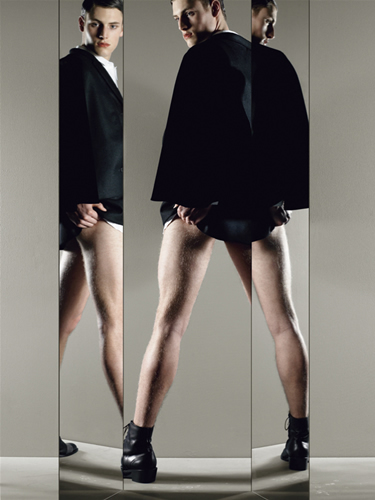 If you are building your wardrobe or revisiting your wardrobe, I suggest that you try to incorporate one to two of each these pieces in safe complimentary colors (earth tones, darks, neutrals) before heading off into the colorful spectrum (red, aqua, orange, etc.).
TEES
I like to layer, so I like to keep my tees light and thin. On most guys, I do not like the v-neck craze that has run rampant, but as an alternative I do like Phillip Lim's pocket tees (top left).  Rick Owens (top right) as well as Ann Demeulemeester offer thin tees long and short sleeve that are perfect for layering.  They also look great with a waistcoat.  However, please please DO NOT ATTEMPT to wear a waistcoat with a regular plain shirt.  It looks extremely sloppy and negates the point of a waistcoat.
Not everyday needs to be a day on the runway, so a good supply of graphic tees is nice whether lounging around the house, running to the store, or going to grab a quick bite to eat.
For basic tees, I like the material and workmanship done by B.Son.  They come in a plentitude of colors.
TANKS, VESTS, & HOODIES
Tanks are another great piece for layering or wearing alone if you have the bod.  I chose to show this big tank from American Apparel, because I like my tanks oversized and would never spend a lot of money.  Personally, for me, tanks are throw away pieces that have no longevity, so I feel no need to spend a great amount money on them.
Now, I'm going to take a step back.  Just above, I said not to wear waistcoats with plain tees, BUT here is a way you can.  Cotton vests are the dressed down waistcoats that look great with tees.
I feel the same way about hoodies as I feel about tanks.  For me, they are lazy wear and great especially when it is raining and/or bad weather out and I'm on the run.
BUTTON DOWNS, SWEATERS, WAISTCOATS, & BLAZERS
This section is quite straight forward.  I recommend owning casual and dress button downs.  These are the pieces I'm willing to spend money on, because for the most part, they are not going anywhere once I purchase them.  Decide on your own budget by how often you'll wear each piece.  I already recommended what colors to buy, but for this section especially, since it can go back and forth between dressing down and dressing up; I highly recommend that for your staple purchases, you stick to complimentary dark colors like navy, black, gray, etc.