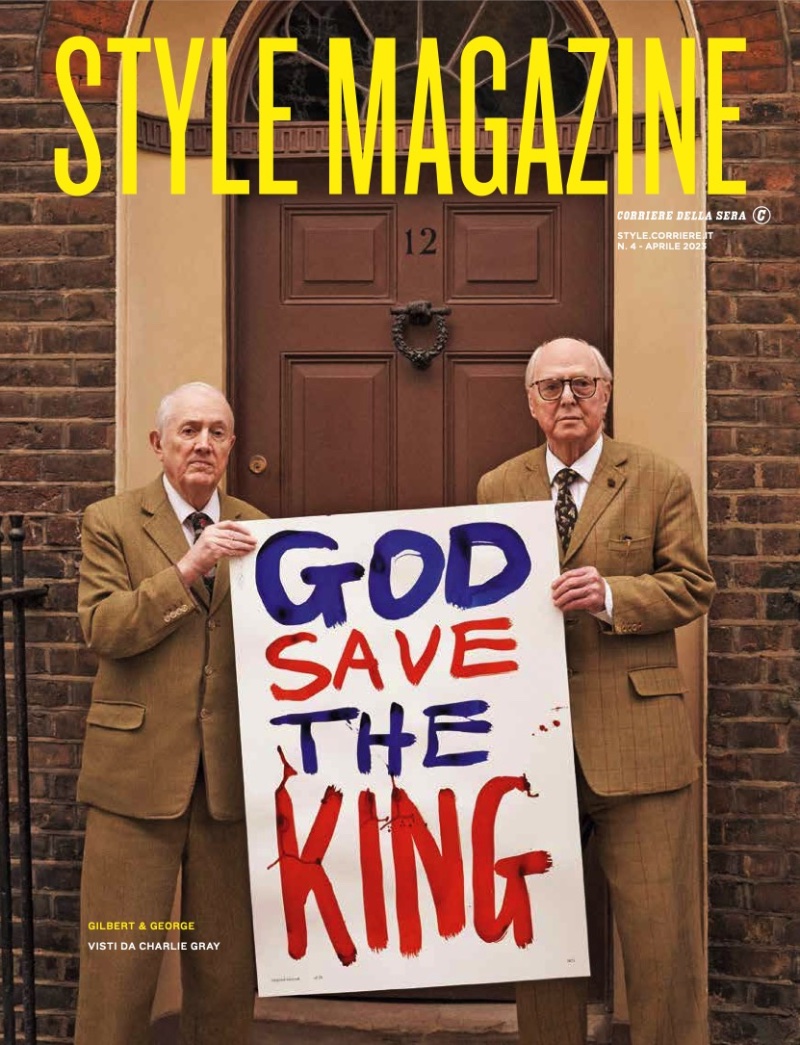 Launching its special British issue, Corriere della Sera Style magazine unveils a captivating feature celebrating the crème de la crème of emerging national talents. Masterfully captured by the sharp lens of photographer Charlie Gray and styled by the gifted hand of Fabio Immediato, the story showcases a symphony of visual delight. From actors to musicians, poets to visual artists, this array of talent underscores the United Kingdom's vibrant, multidimensional creative scene.
The editorial spread marries the beauty of fashion with the dynamism of each individual's artistic prowess. Sleek silhouettes and modern ensembles by the world's most esteemed designers combine with the unique energy of each subject, creating a harmonious fusion of style and substance. This celebration of British talent is a testament to the extraordinary range of creativity within the nation's borders, making it an unforgettable addition to Corriere della Sera Style's British issue.
Alastair Webber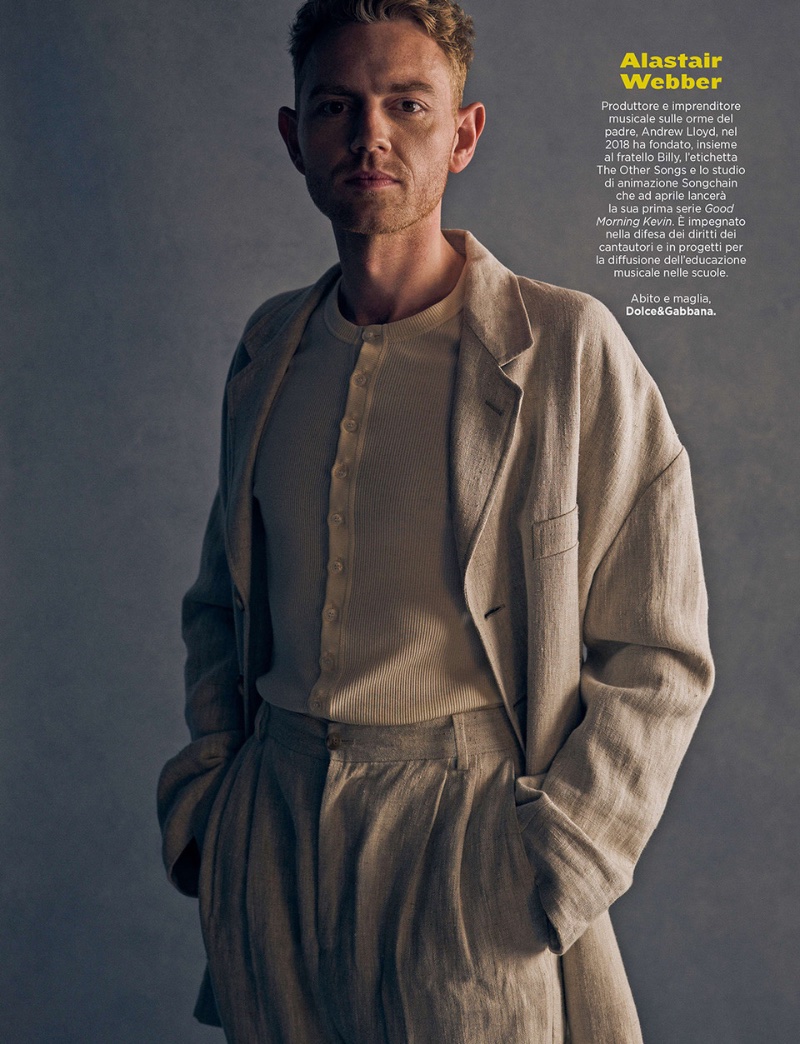 A noteworthy luminary in this prestigious lineup is Alastair Webber, the son of the legendary Andrew Lloyd Webber and one of the creative forces behind the burgeoning independent music group, The Other Songs. The younger Webber's artistic flair is unmistakable, embodying a harmonious blend of music and fashion.
Ben Aldridge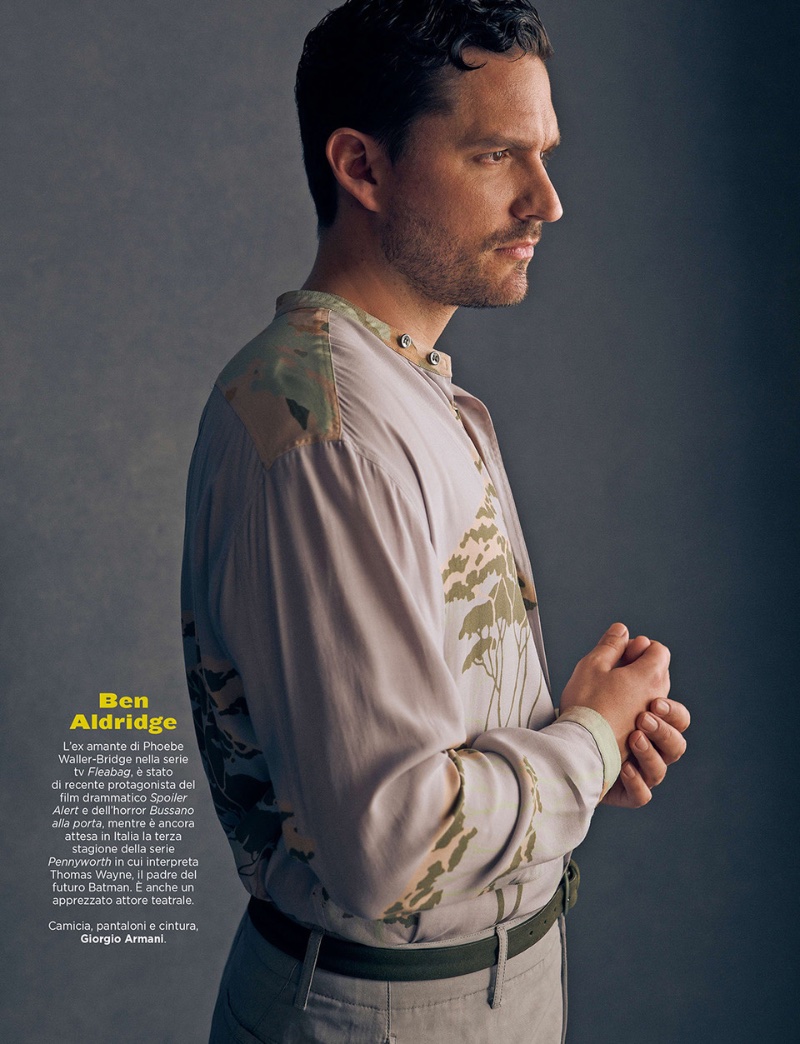 Embodying the essence of a romantic spring, Ben Aldridge appears resplendent in a dreamy ensemble from Giorgio Armani. The English actor, whose artistry has graced the screen in series such as Fleabag, Our Girl, and Pennyworth, now revels in the spotlight, captivating audiences in his latest cinematic ventures, Spoiler Alert and Knock at the Cabin.
Dan Rawlings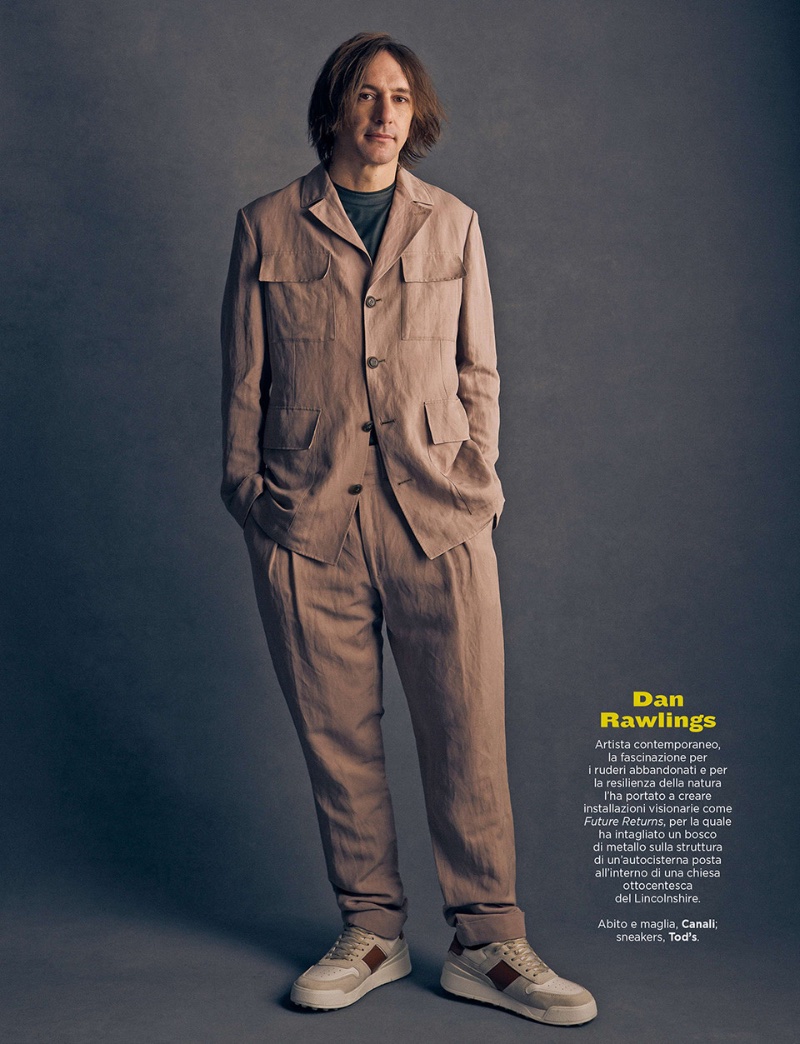 British artist Dan Rawlings exudes a quiet sophistication as he graces the photo studio in a matching jacket and pants by Canali. The ensemble's understated elegance mirrors the evocative essence of Rawlings' artistry, where nature's resilience and beauty are masterfully captured through his virtuosic manipulation of metal, light, and a plasma cutter.
Harry Melling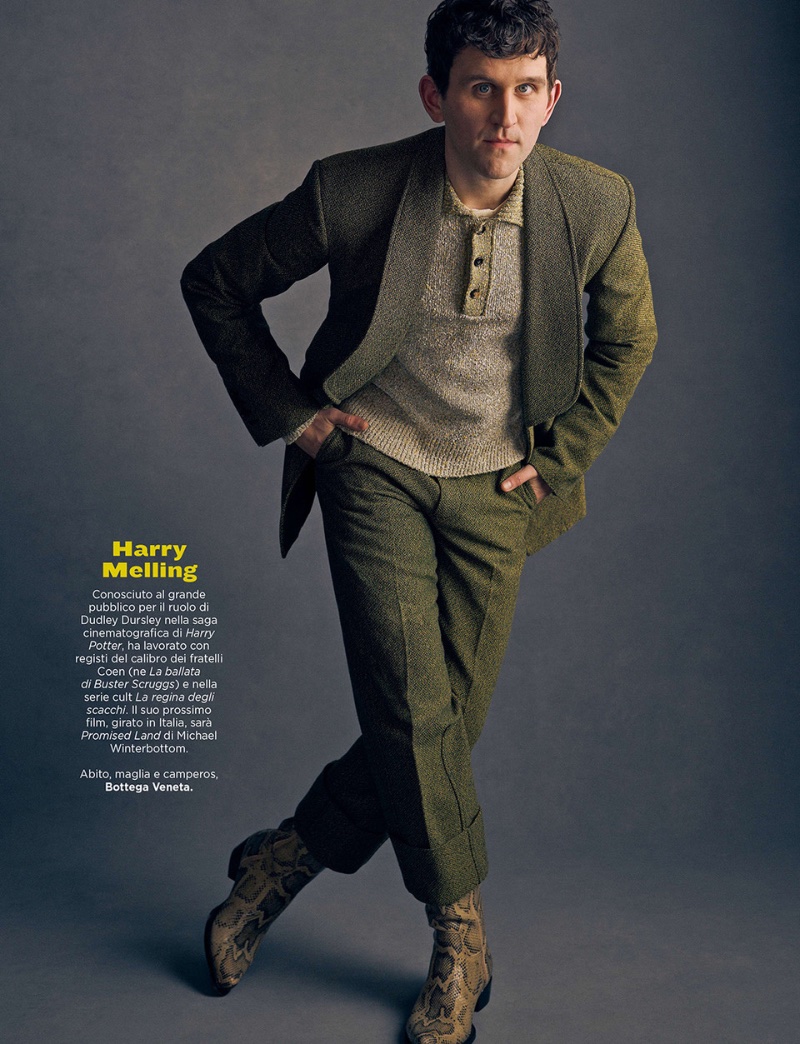 Harry Melling strikes a poised stance in a portrait, dressed in an earthy-hued ensemble from the esteemed Italian fashion house Bottega Veneta. The attire harmoniously complements Melling's transformative abilities as an actor, which have been brilliantly showcased in roles such as the irksome Dudley Dursley in five enchanting Harry Potter films and the complex character of Harry Beltik in the riveting series, The Queen's Gambit.
James Massiah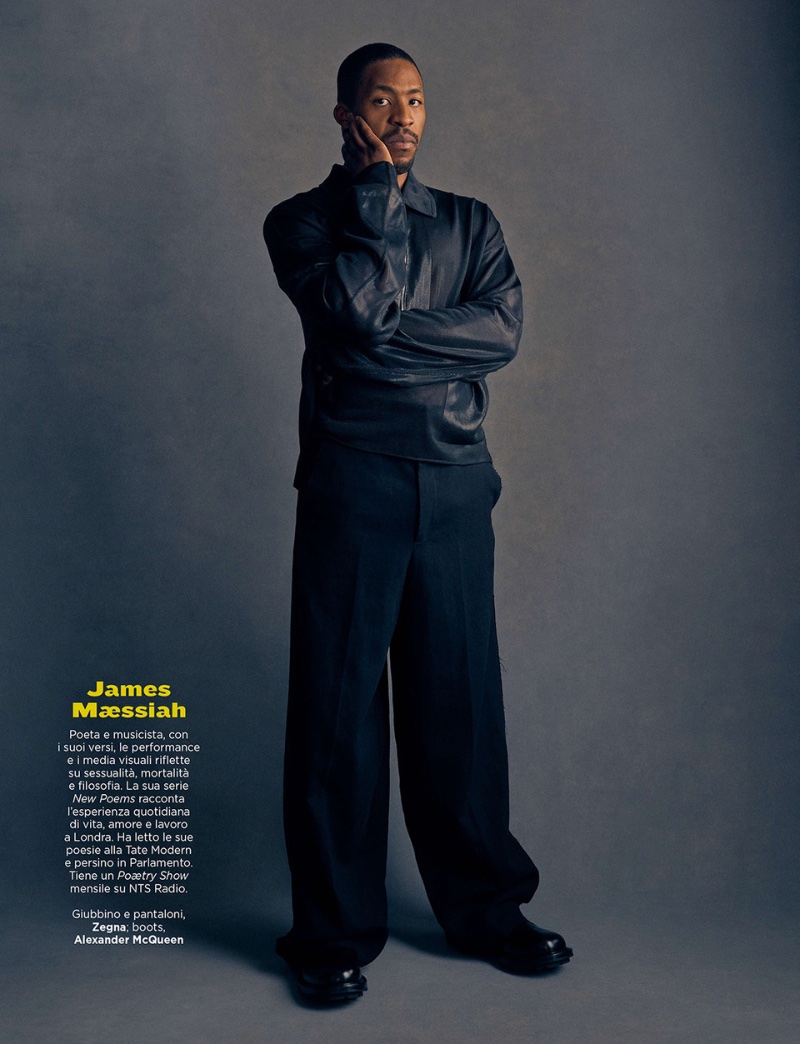 James Massiah, a contemporary London poet and DJ, confidently dons a spacious Zegna ensemble, reflecting the ease of today's fashion. With a talent for merging disparate influences like grime and the King James Bible, Massiah's work is a testament to his eclectic life experiences.
John Booth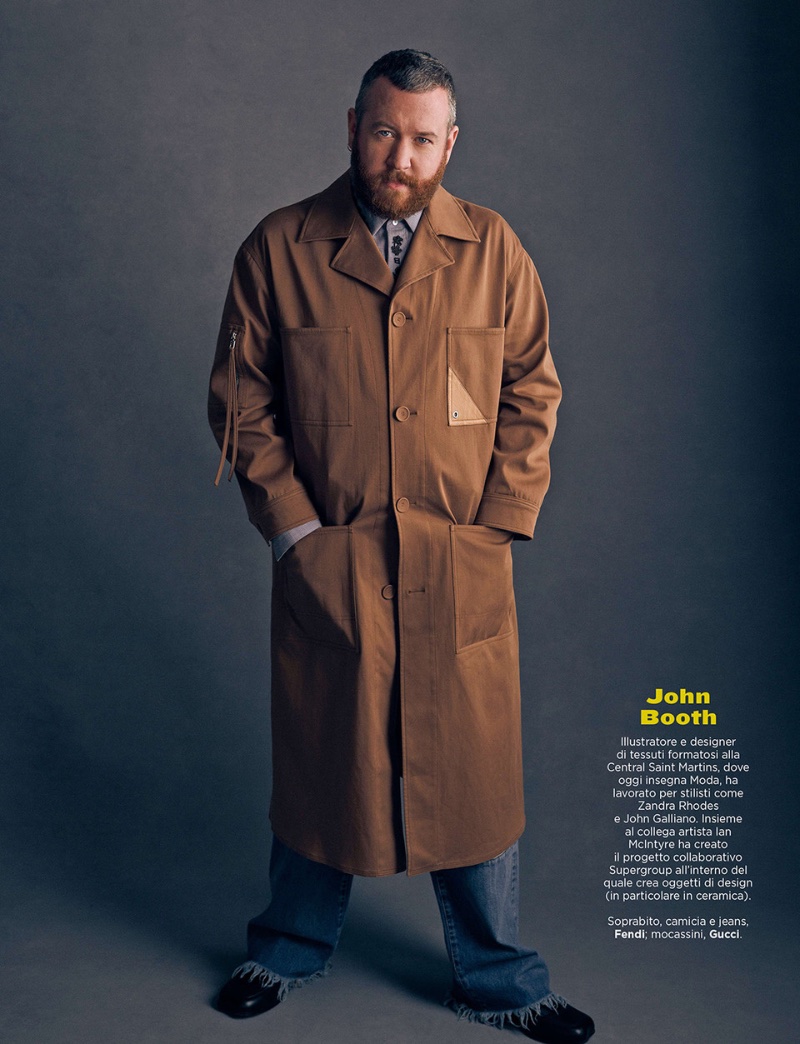 John Booth, a celebrated fashion illustrator, ceramicist, and textile designer, keeps it casual in a Fendi outfit for spring. Adept at creating multi-layered collages of textures and graphics, Booth's Central Saint Martins training shines through in his highly regarded work.
Noam Durand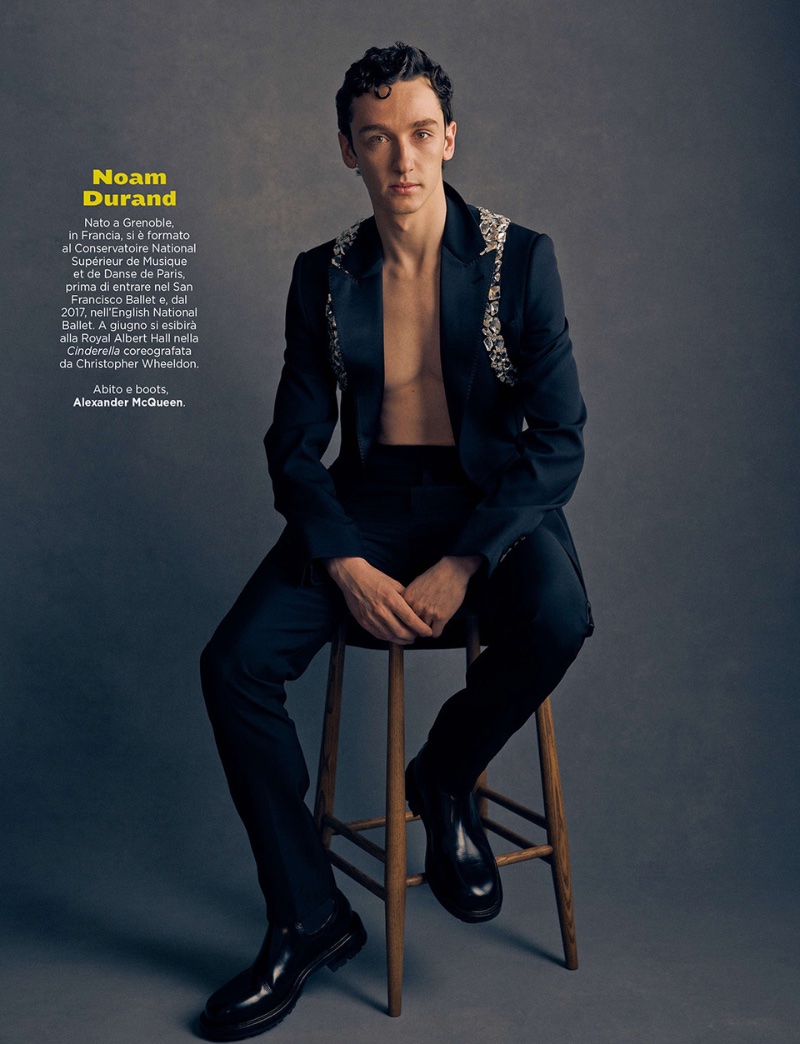 Noam Durand, an English National Ballet dancer, poses in an impeccably tailored Alexander McQueen piece. Anticipation builds as he prepares for his next major performance in Christopher Wheeldon's Cinderella at the illustrious Royal Albert Hall.
Ryan Lanji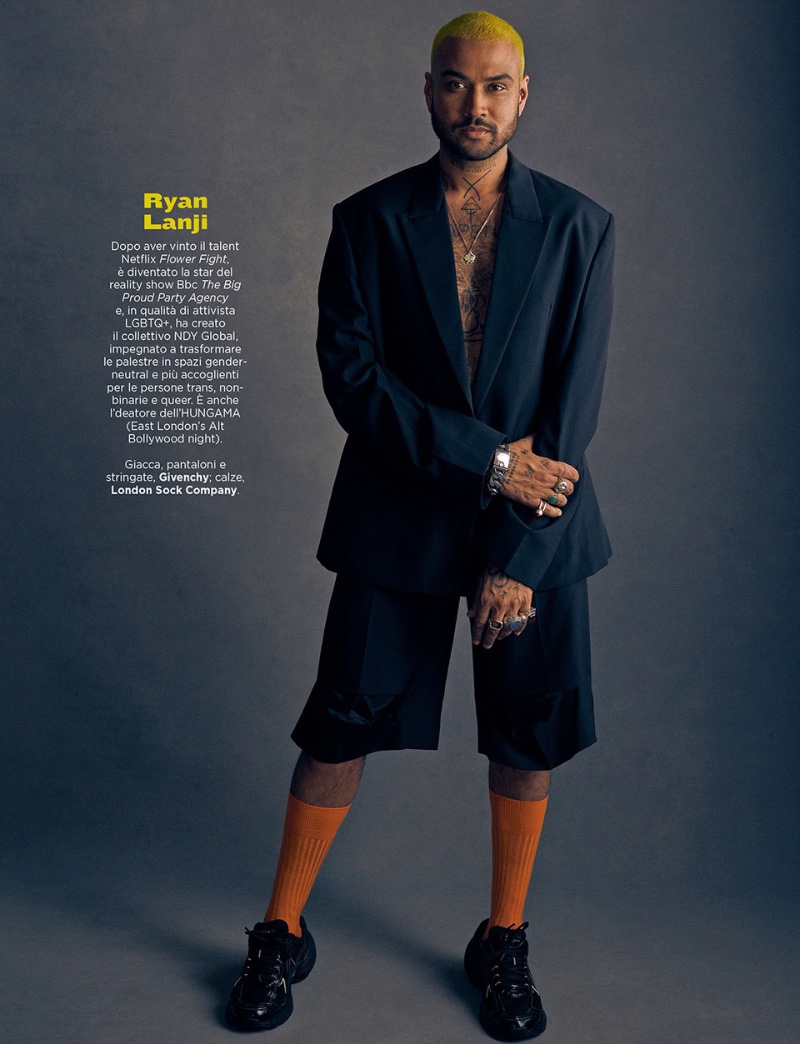 Ryan Lanji, a host and influential personality, catches the eye in a striking Givenchy short suit, complemented by vibrant orange socks from the London Sock Company. A fervent advocate for South Asian representation, Lanji is famed for his LGBTQ+ Bollywood club night HUNGAMA and the BBC Three series The Big Proud Party Agency.
Sam Clemmett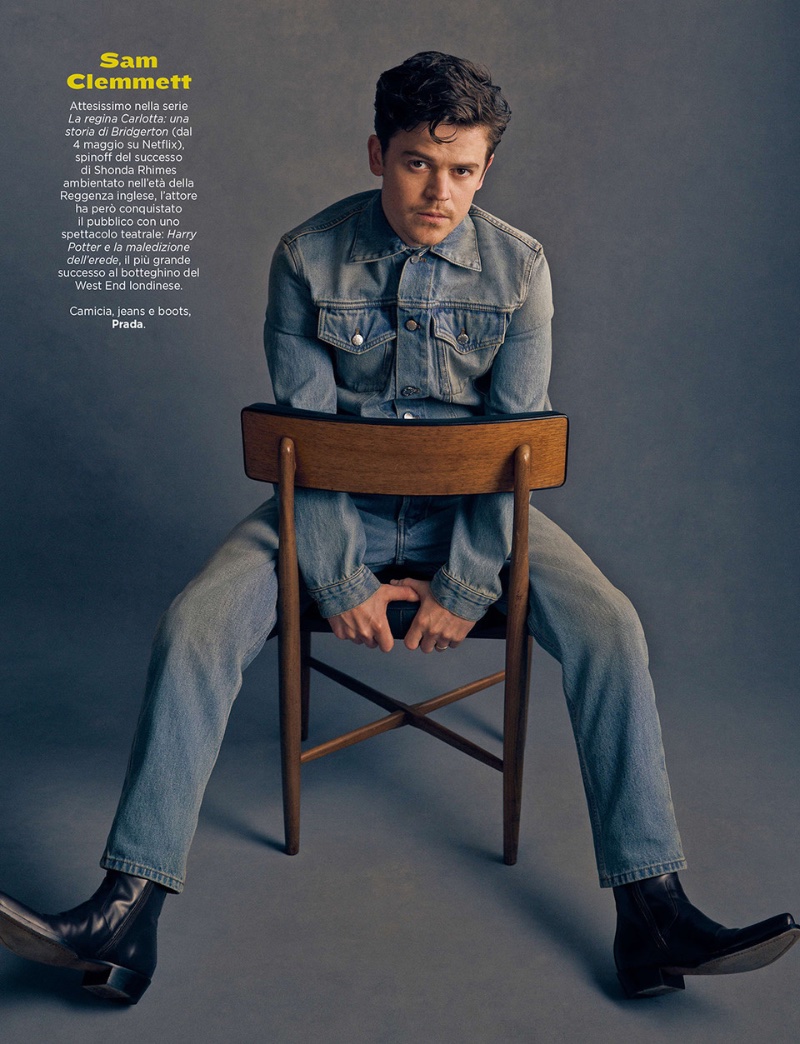 Sam Clemmett, the versatile 29-year-old actor, sports a chic Prada denim outfit as he rounds out Corriere della Sera Style's showcase of British talent. Best known for portraying Albus Potter in Harry Potter and the Cursed Child, Clemmett has since starred in television series such as Queen Charlotte: A Bridgerton Story and Endeavour and films like Cherry and The War Below.