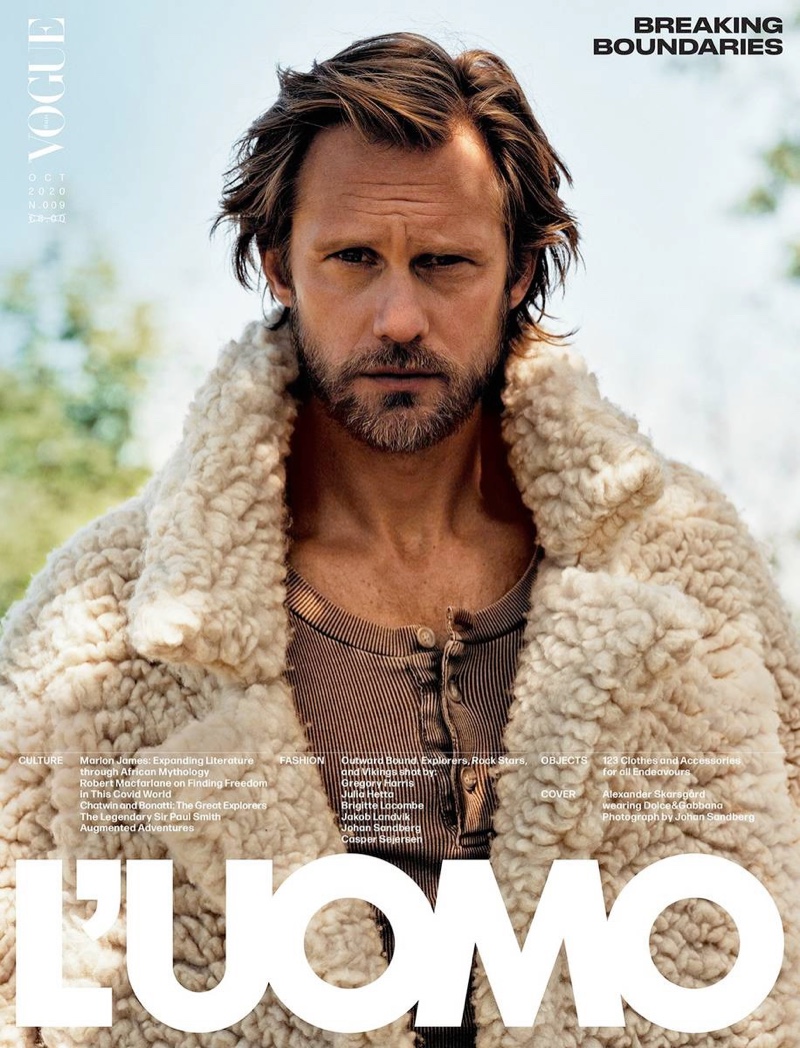 Swedish actor Alexander Skarsgård takes the spotlight as L'Uomo Vogue's cover star for October. Skarsgård dons a ribbed top and oversized coat by Dolce & Gabbana for an outdoor cover shot. Johan Sandberg photographs the actor for the occasion, utilizing the ambient light to enhance a rugged mood, propelled by shadows cast. Meanwhile, Martin Persson is responsible for styling Skarsgård. Persson pulls pieces from Dolce & Gabbana's fall-winter 2020 collection, fittingly mirroring the ultra-masculine attitude of Skarsgård's latest project, The Northman.
Related: Alexander Skarsgård Returns for Clarks Spring '20 Campaign
The Northman results from Skarsgård's tireless efforts to bring a Vikings story to the big screen with immense heart. "It's a real adventure movie, but it's much more," says Skarsgård. "It taps into the culture, and the mysticism of the Vikings, it becomes more intimate and more personal. I didn't want it to be a generic 'swords-and-sandals' movie. Robert [Eggers] is one of the best filmmakers out there. And the whole process is so much more gratifying than when you're quote-unquote 'just an actor.' It's been truly extraordinary." Read more at Vogue.it.
Alexander Skarsgård L'Uomo Vogue Photo Shoot