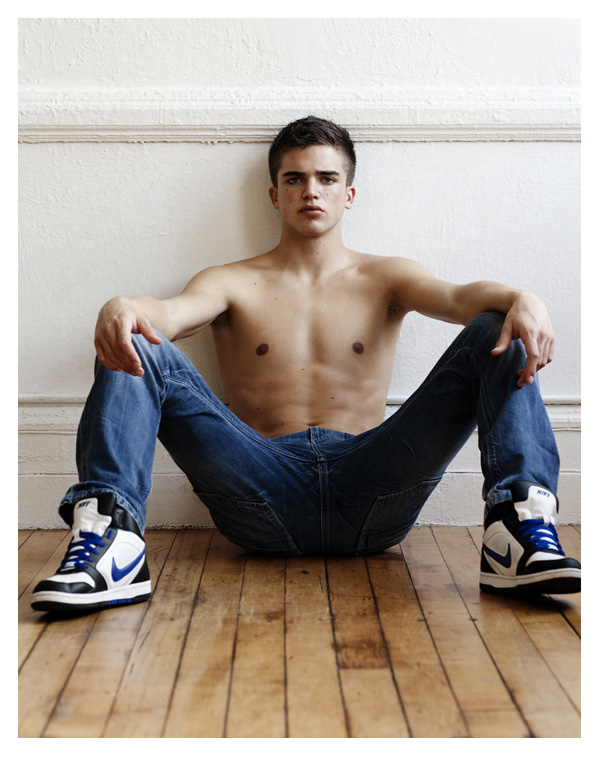 Major model River Viiperi, also known as River Delfin has made quite the name for himself in a short moments time since exploding on the scene late last year. An editorial standout, River exudes a fun, upbeat personality that is rather addictive, while also having struck up quite the allegiance at Calvin Klein. In the interview that follows, the 18-year-old Spanish model shares more about himself and the last couple months of his whirlwind introduction to the hectic world of modeling.
Where did you grow up?
River: I was born in Ibiza, but since I was a child I have [traveled] from one place to another. In Ibiza, I [lived] for about 6 months, then my family moved to Madrid. After that, we moved to the Canary Islands, then to Finland, and now I have been in Spain for about 10 years.
When did you start modeling?
River: I started modeling about 6 months ago.
What did you family and friends think?
River: My mother was a model, so she was happy and excited about it. My father wanted me to keep studying but when he saw that my studies weren't going so well, he understood that it wasn't for me to study. And my friends don't believe it LOL. But they are happy [for] me and excited.
What was your first shoot?
River: My first shoot was for Hero Magazine and it was fun. Nice weather because it was summer and the staff were great.
How has your life changed since modeling?
River: The only thing that has changed in my life is that I travel a lot and I don't get to see my friends and family as much as I would like.
You have completed a lot of editorial work recently…what is the most memorable?
River: The most memorable shoot I have done was the shoot for VMAN with Hedi Slimane and Nicola Formichetti. Nice duo.
So, how is a model's life treating you?
River: I love this world, but it's hard sometimes because I have to travel a lot and I miss my family and friends. But otherwise, it's a very nice opportunity. You meet a lot of great people, you also meet people that are not so great but well…nothing is perfect.
What is your day to day schedule like?
River: Well my day to day schedule has changed completely. I can't do all the sports I used to do. I wake up, depending if I have work, castings, etc. and when I don't have anything, I just wake up late and think about what to do.
What do you like to do in your free time?
River: I like to watch movies, go bowling, chill [at] home, go shopping, do anything people would do in their free time.
Are you personally interested in fashion?
River: Not really. I like other things more but now that I am in this fashion industry, I might have to start liking it.
Has being a model changed your view on fashion?
Modeling has changed my view of fashion indeed, that's why I did my own blog, to tell the truth about this industry, at least from my point of view. I didn't think much about fashion before entering this industry.
What are your plans outside modeling?
River: A part from modeling, I would like to do some acting, and if none of those things work out, I guess I will study Public Relations or something.
Upcoming work?
River: Maybe. LOL. You will see.