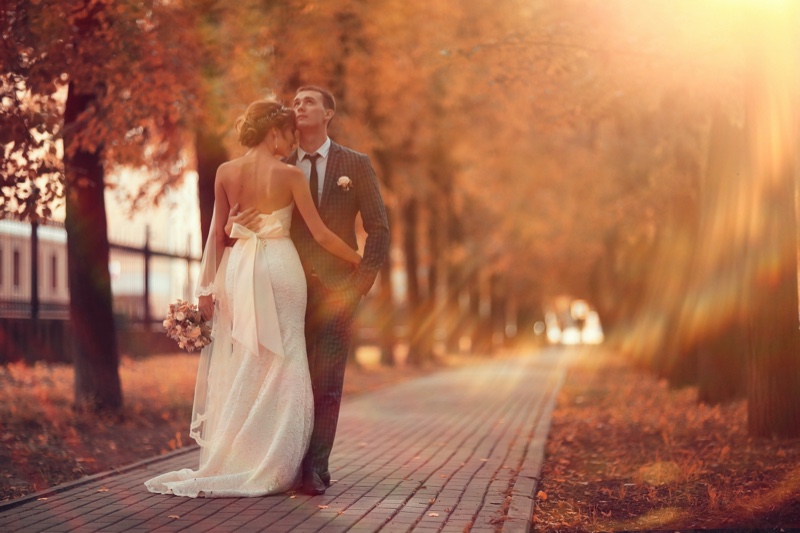 When it comes to wedding outfits, people tend to focus on the bride. From the wedding dress to the makeup, it is clear that there is a lot of effort placed into making the bride look her best. However, the groom's outfit needs some extra love too. After all, it is also his special day, and it would be wonderful to see the couple shine together on the day of their wedding.
Compared to the bride, the accessories that grooms can wear may seem limited. However, with a dash of creativity and willingness to explore other styles, a groom can surely find items that will elevate his wedding look. To start, here are a couple of accessories that a groom should consider wearing on the big day.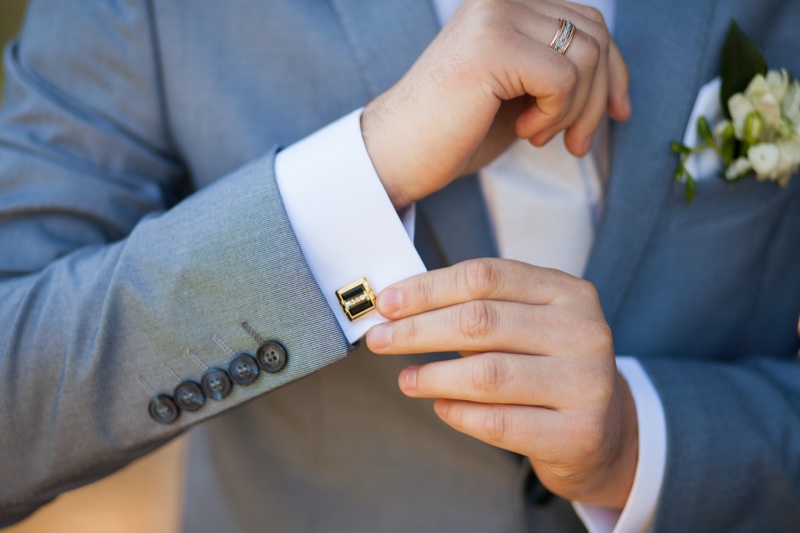 Classy Cuff Links
Cuff links are small jewelry-like accessories that secure the cuffs of a dress shirt. They primarily serve as a lock to hold the cuffs in place, but through the years, people have started using them for aesthetic purposes as well. They give your cuffs a clean, polished look and add more elegance to the ensemble.
A quick look at what's available on the market will reveal a wide selection of cuff links designs. They come in different colors, lock mechanisms, finishes, and styles–plenty for a groom to choose from. However, considering the importance of the event, getting a pair of custom cuff links could be the way to go. You can have them customized with both of your initials or your wedding date as a remembrance of your special day.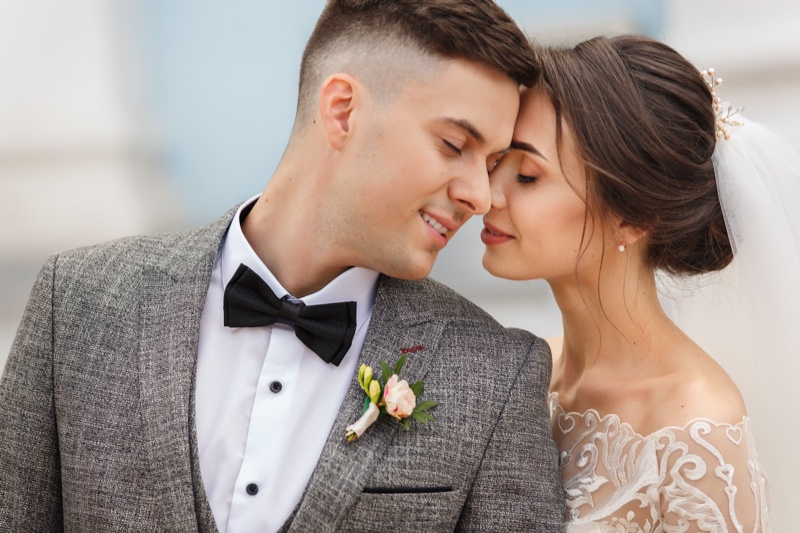 Stylish Neckwear
Whether a groom is wearing a suit or a tuxedo, his wedding outfit is not complete without suitable neckwear. They generally fall into two groups: neckties and bow ties. Neckties give an air of chicness to attires, but there is something quite charming about bow ties as well. It all depends on whichever a groom prefers to wear.
Putting on a tie is an opportunity to add a dash of color, pattern, or texture to an otherwise monochrome garb. Aside from solid-colored ties, consider grabbing patterned ones with floral prints or polka dots for something more subdued. One tip in choosing neckwear is to go with the theme of your wedding. If your wedding has a lilac palette, a lavender silk tie will match well with the standard black and white suit as well as the rest of your wedding decorations.
Another tip in choosing neckwear is to use the season as your guide. This is because certain textures go better in distinct seasons. For example, knitted and velvet neckwear look more fitting in wintry weddings. On the other hand, spring and summer are the perfect time for silk or cotton neckwear.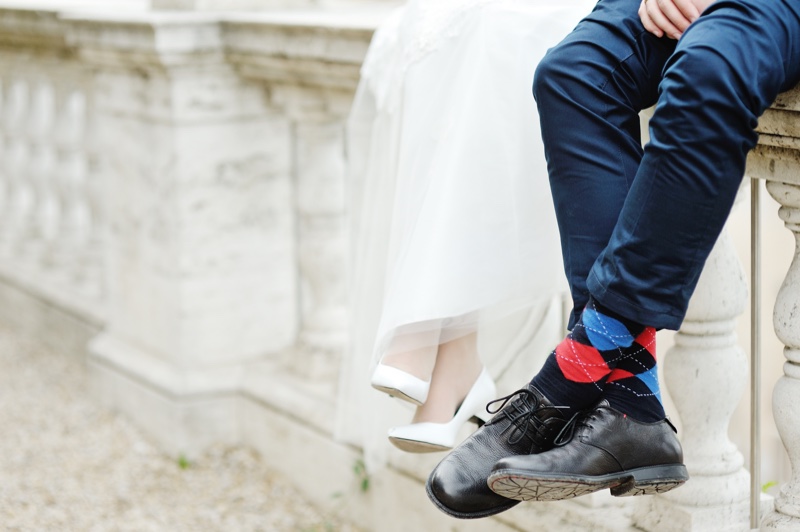 Patterned Socks
For grooms that prefer a more subdued look, wearing patterned socks is another effective way to add some color to their ensemble without being too bold about it. Depending on one's taste, he can go as wild as he wants with elaborate patterns and colors, such as argyle or themed socks. Meanwhile, if someone wishes for something more subtle, he can opt for dark-colored socks with fine patterns like muted lines or polka dots. Either way, the different designs available can give a hint of fun to one's attire and spruce up his look in a classy way.
Colorful Pocket Squares
Not everybody is a fan of pocket squares, but they can bring a lot to the table. A pocket square that contrasts nicely against a suit breaks up the solid color and adds some flair to an otherwise dull ensemble. Like ties, pocket squares come in a rich selection of textures and colors that a groom can choose from. However, consider having the pocket square embroidered with your initials for something more remarkable. The embroidery does not necessarily have to be seen, but it will be a heartwarming remembrance of the marriage ceremony.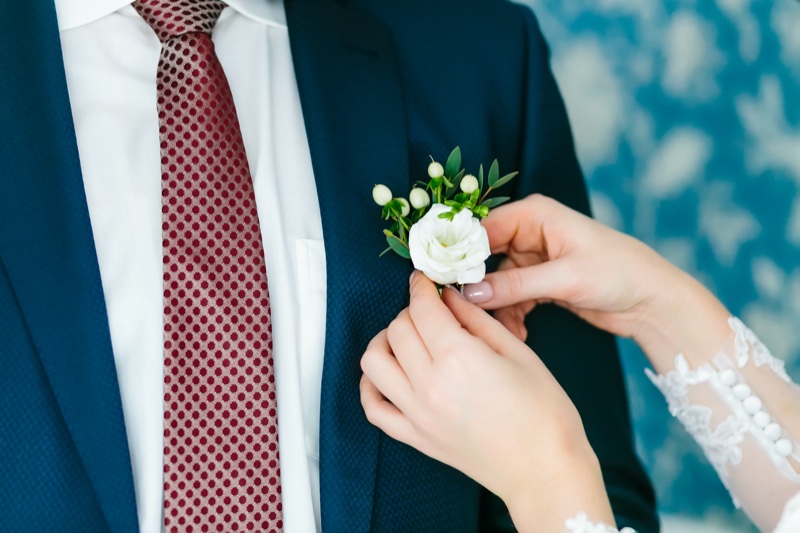 Pins
The pins are the last finishing touches to a groom's wedding suit. Like cuff links, they have a metallic sheen that can significantly elevate a groom's styling. Aside from the standard lapel pins, a groom may opt for pins with other designs that showcase more of his personality. For example, if he loves dogs, he can have an enamel pin attached to his breast coat pocket with a small dog design. You may also choose a pin that features your wedding's motif, like flowers, butterflies, or an icon from a fictional movie or book that the couple both loves.
Overall, a groom also deserves to look his best on their wedding day. Whether he is a fashion-forward person or a complete newbie to styling clothes, adding some accessories to his attire can significantly improve his overall look. Just don't forget to talk and coordinate your clothes with one another to produce those perfect wedding photos. When both partners look back on the day, your fashionable outfits will surely stand out.