Can someone please pick me up off the ground?  This collection is one of the best I've seen for spring 2009.  It makes me feel like a small child in a candy shop.  I don't care how greedy it sounds, I want everything.  I'm a sucker for knits and light pieces you can layer.  Now-get this.  This is Lars Andersson's first menswear collection.  It's just sickening and I cannot believe we have been deprived so long. I am absolutely delighted that he has joined the menswear realm and I anxiously await the release of his collection.
Want to see more of the collection and read Lar's bio?  Follow the cut...

Lars Andersson describes his knitwear as "urban romantic hippie." His clothes are minimal and elegant in their deconstructed simplicity, at once sophisticated and rough. They lay claim to old traditions and new possibilities, combining the deep roots of the craft of knitting with fresh constructions.

Andersson was born in Lindesberg, Sweden, a place he describes as "very dark, not fancy" and a place that still exerts a powerful influence on his work. "It's a minimal environment, really old, dark and mysterious.  It's raw and unfinished, but still beautiful. There's history there  - it's the area of the Vikings, very dramatic. The countryside is inspiring  - the pitch-black of the forest, the deep greens of the mosses and pine tress, the grays of the stones. In the summer, the sky is a pale white at night and you see the dark silhouette of the forest on the horizon."

That light and darkness are at play in Andersson's designs, which mix body-hugging shapes in silk and cashmere with rough, punked-up vests, sweaters and jackets in wool. Andersson began knitting as child. "In Sweden," he says, "everyone learns to knit. When I was six, I made a sweater for my Monchichi - that's a little monkey doll everyone had, like a Cabbage Patch Kid." Later, after two years of fashion school in Sweden, he came to Manhattan to study at FIT, but stopped short of his degree. "I hated to draw, and I was going to clubs, living the downtown kid life." But when he started knitting sweaters by hand for his friends, his path was clear.

For the last three years, Andersson has been designing and manufacturing his line of urban knitwear. "It's funny," he says, "what inspires me is the countryside, and lately I've been incorporating equestrian details. But it becomes an urban look in the end." He sees the influence of country life in the craft of knitting. "These clothes aren't made in a factory," he says. "Me and my knitters, we're five people working. We work with machines, but it's still hand made."

Andersson's work is shaped by diverse influences: his childhood in Lindesberg; his current life in Brooklyn, in an apartment just off the Gowanus canal, an industrial waterway; his days at FIT and his nights in downtown clubs; and, lately, the Robert Mapplethorpe portrait of Patti Smith on the cover of Horses. "I like living-on-the-edge people," he says. "That's what she looks like to me. But it still has that androgynous, clean, simple thing. That's what I want my clothes to be."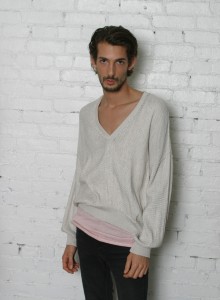 Pictures & Bio provided by Anna of W29 Showroom