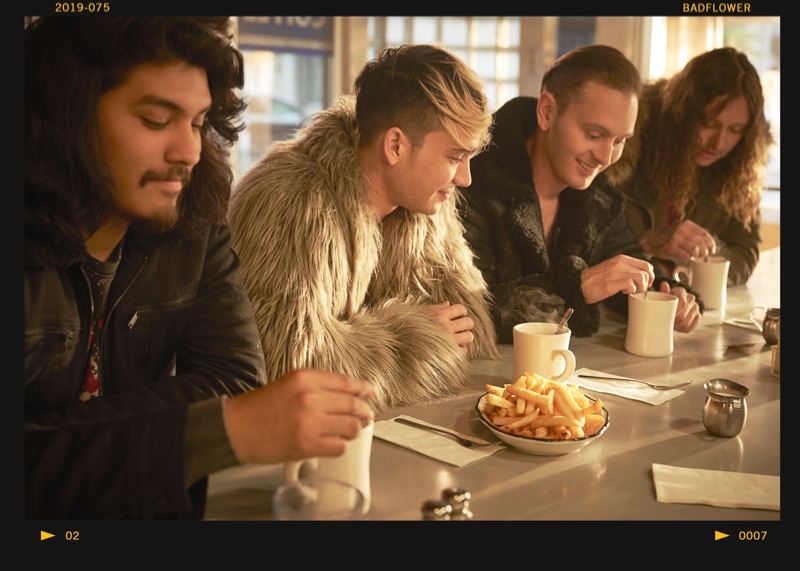 John Varvatos Star USA enlists California's Badflower to front its fall-winter 2019 campaign. Not strangers to John Varvatos, the rock band was also personally signed by the designer to his record label, Big Machine/John Varvatos Records. The faces of the season, Josh Katz, Joey Morrow, Alex Espiritu, and Anthony Sonetti embody the spirit of John Varvatos Star USA as they tackle a day in New York as entertainers.
Mark Seliger photographs Badflower, following them from a downtown venue to a Manhattan diner. Badflower wears key pieces for the season, which range from a faux-fur coat to vintage-inspired tees.
Related: Lucky Blue Smith is Cool & Sleek for John Varvatos Fall '19 Campaign
Discussing his work with Badflower, Varvatos explains that they represent everything that's missing in music and style today…they're rebels and amazing storytellers that carry themselves with ease and confidence. The designer continues, At the same time they are absolutely one of the best rock bands on the planet.
Badflower frontman Josh Katz adds, John's been with us longer than a lot of other people…he's always willing to get in the trenches with us. Katz says, Working with I'm now, it's a lot of laughter. We usually go to a bar, have a beer and talk about everything. He's a creative and isn't afraid to think outside the box.
John Varvatos Star USA Fall/Winter 2019 Campaign