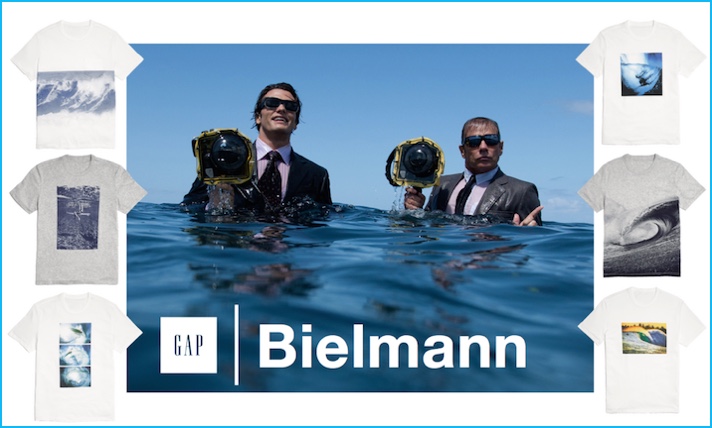 It's surf's up for Gap as the brand collaborates with renown surf and underwater photographers Brian and Brent Bielmann. Celebrating summer in a cool fashion, Gap collaborates with the Bielmanns to transfer their photography to a series of graphic tees.
Gap VP of Men's Design John Caruso shares, "The Bielmanns capture the spirit of surfing like no other photographer." Caruso continues, "Whether it's the rush of catching the perfect wave or the peacefulness of being at one with the water, their images spark the kind of summer memories that we're thrilled to celebrate in Gap's collection of exclusive tees."
Brian and Brent Bielmann bring an interesting dynamic to surf photography. At the forefront of his genre, Brian has nearly forty years of photography under his belt and is one of the most respected names. Brian's nephew Brent is representative of the next generation, pushing the limits of surf photography. We connected with the Bielmanns for a Q&A session.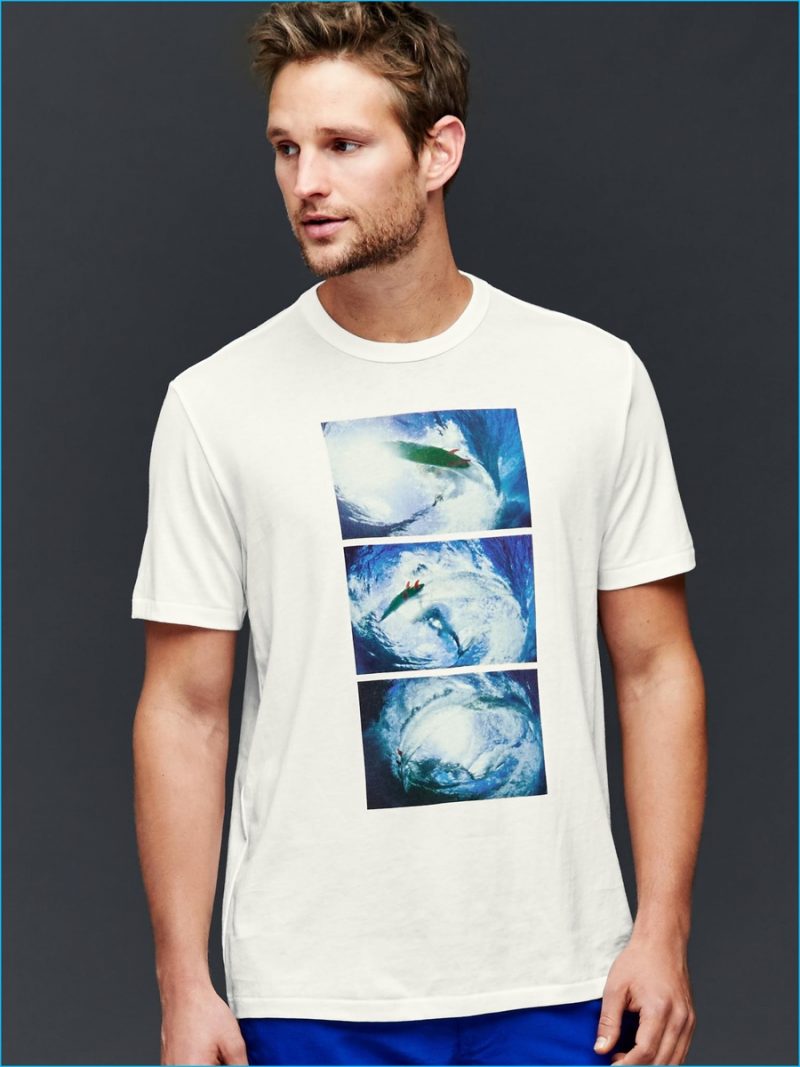 How did your collaboration with Gap come about?
Brian: I think someone at Gap had been following my Instagram and someone had been following my nephew's (Brent) and they put 2 and 2 together and came to a conclusion there was a really good story there. Mine was shooting for 40 years and still pushing the limits and staying relevant as well as breaking outside of the surfing industry doing ad campaigns for Guinness, Athleta, amongst others, as well as participating in speaking engagements, most recently for IBM last week on Maui.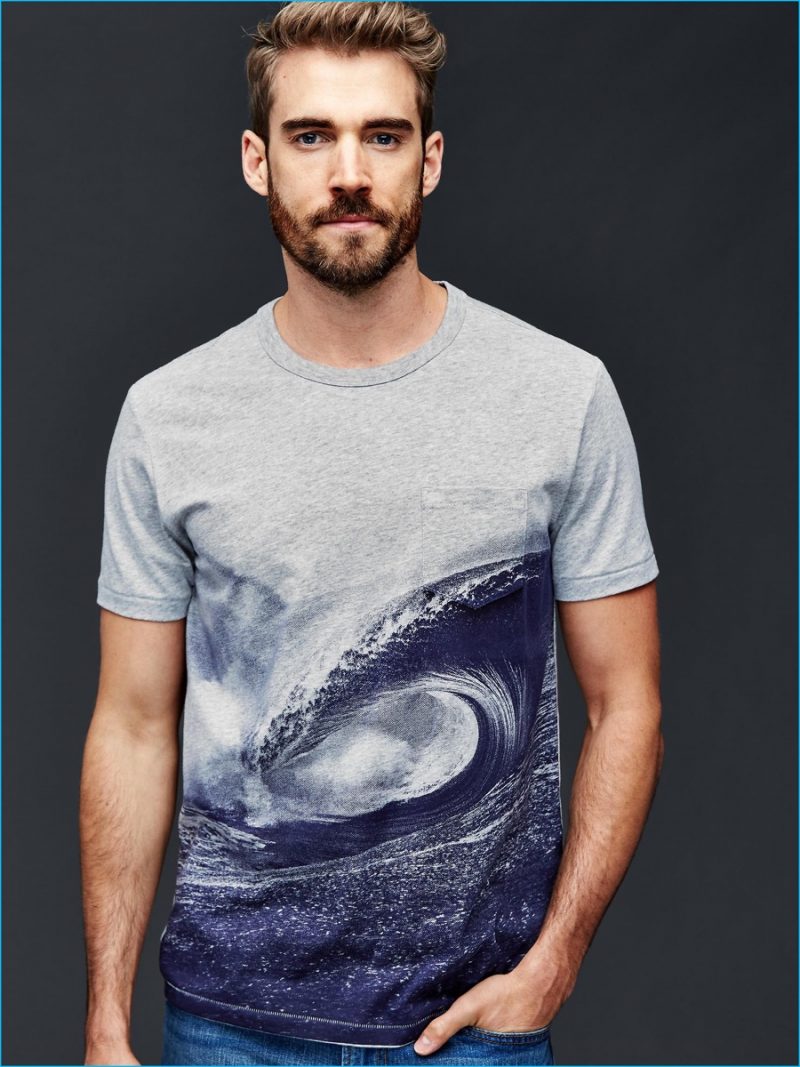 I really enjoyed it. The people from IBM, and Jack Morton, were happy with me and are trying to help me go more in this direction, so, I'm talking to some agencies. I have a lot of stories from years of traveling and staying on the cutting edge of surf photography. Brent's, of course, was being my nephew and really pushing the limits in the danger zone and he's a pretty good looking kid so he's been doing the modeling for companies like Apple in addition to his photography career.
I think as a team we make a pretty interesting story, and Gap realized that so instead of just making a bunch of surf t-shirts they got us and have some foundation there 'cause we are the real deal! Lots of photographers out there much better than us at marketing themselves and there isn't always a lot of substance or history in the surfing industry, so together we have a stronger and more legit brand.
Brent: Gap approached me and asked if I was interested in a collaboration with them.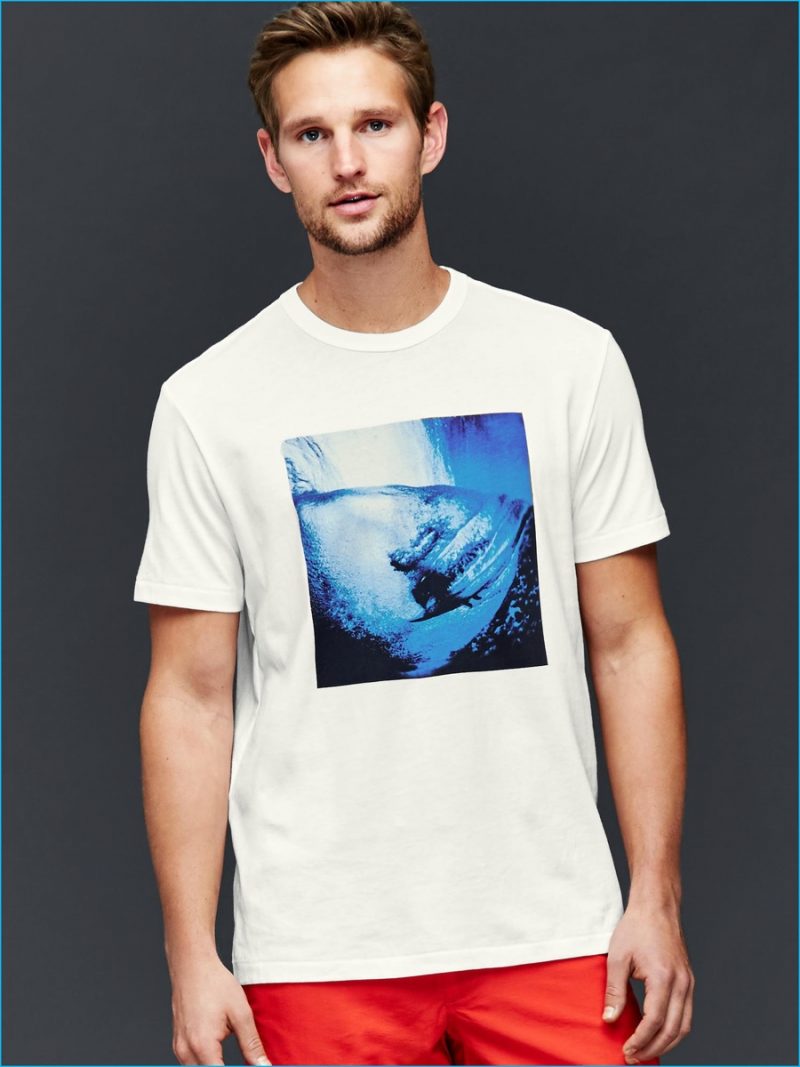 How were the final images narrowed down for the collaboration?
Brian: I actually gave Gap more than enough to choose from and I was happy with the ones they picked. I have been shooting above the surface for quite some time and decided to take some chances, redefine myself underwater and it really took off, so having these images on the t-shirts really is who I am and they looked cool the way they did them. I'm stoked.
Brent: Well…it was tough, haha! I have been shooting since I was thirteen years old and have quite a collection of images now. I selected some of my favorite images from my travels, (Hawaii, Indonesia, and Tahiti). I decided to select images I thought would showcase the power and beauty of the ocean in a unique way. I wanted to show it to people from a perspective many haven't seen before.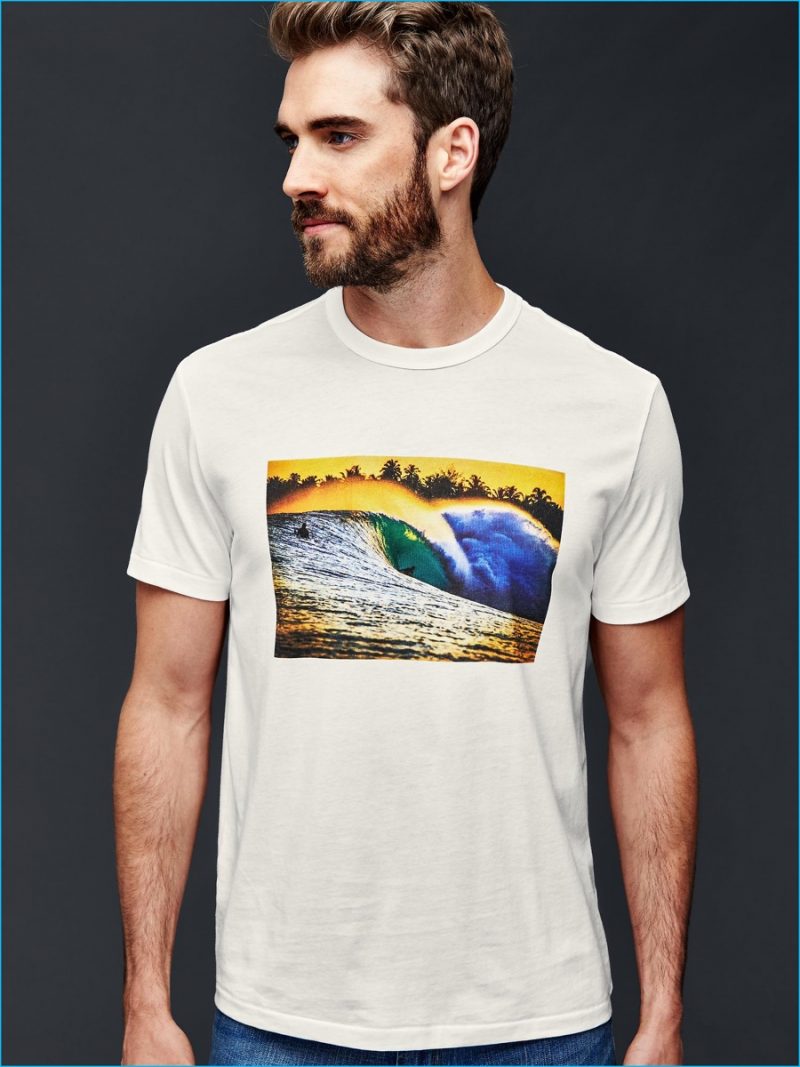 How do you feel seeing your photography in a different medium?
Brian: Love someone like Gap bringing our images to a broader audience. More people experiencing joy out of what we do, and honestly, that should be the reason you do what you do.
Brent: It's exciting, to say the least. It is another outlet for me to showcase my love for nature's elements and share it with the rest of the world.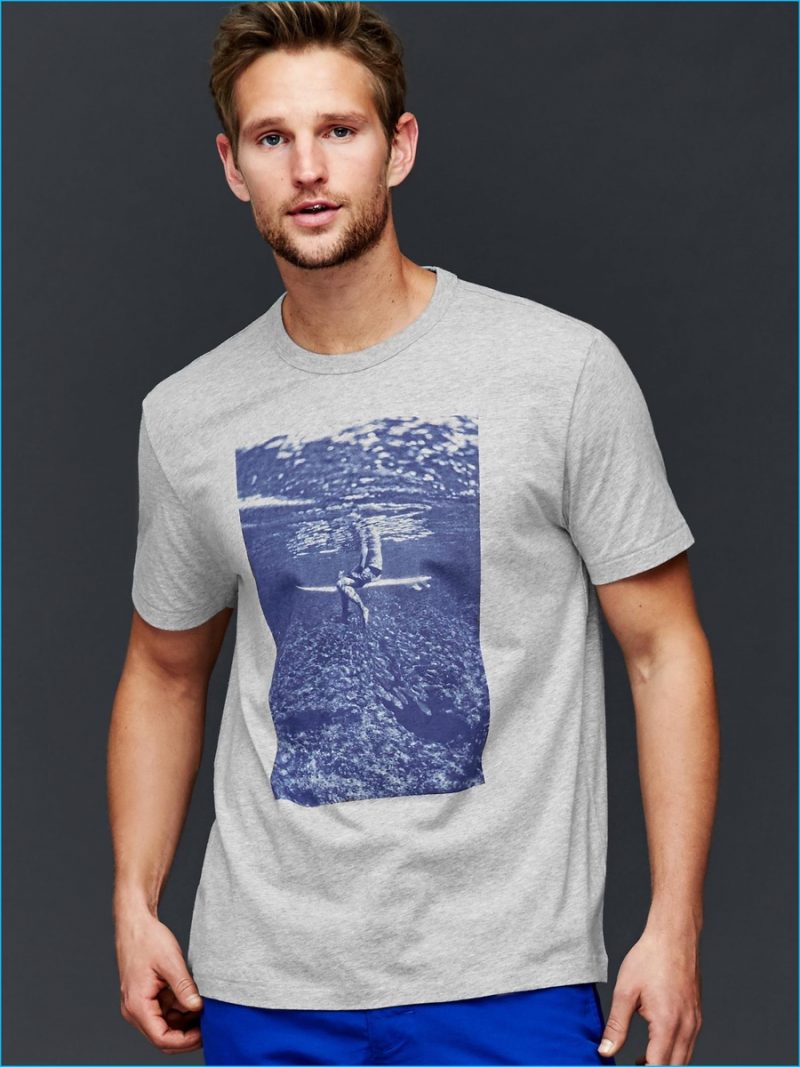 How did you find your voice in photography?
Brian: I was a surfer and decided I wanted to shoot surf photos, but couldn't seem to stop surfing to actually get behind the camera, until I almost died hitting my head on the reef,(you need to watch my TED Talk, I explain it all there). Long story short, I decided to not surf as much after that, start shooting more and the rest is history. I also moved to California in the 80s and started assisting fashion photographers so that had a lot to do with why I shoot so much beach lifestyle for so many surf companies.
Brent: Born and raised on the North Shore of Oahu is where I first found my love for the ocean. Being surrounded by something greater and more powerful was captivating to me at a young age. I spent countless hours in the water as a child. I always wanted to push the limits of water photography and the size of waves people thought couldn't or shouldn't be swam in. By putting myself inside of these waves I was able to get unique angles many hadn't see before. To me one unique water angle was more exciting than a days worth of land angles that many other people had.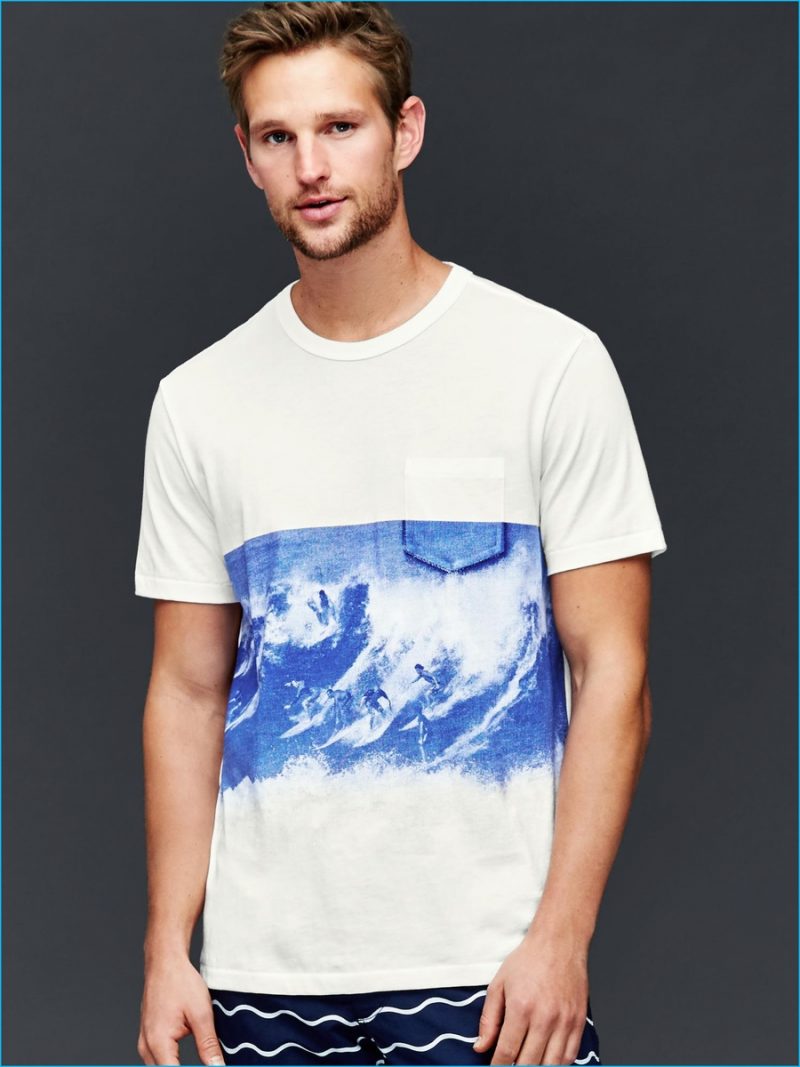 What would you wear your Gap t-shirt with?
Brian: Gap t-shirt with a pair of jeans and a Mai Tai sounds like the best idea to me!
Brent: I feel like I could wear it with anything! I think the graphics were designed in a subtle modern way, not too overpowering and suitable for any occasion.
This slideshow requires JavaScript.
For more information about Brian and Brent Bielmann, visit BrianBielmann.com and BrentBielmann.com.