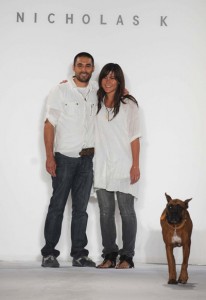 Pin
BEHIND THE LABEL
Nicholas Kunz  grew up in Tucson, Arizona, but currently resides in New York City.  Kunz finds New York inspiring "from the people on the streets to the flea markets, stores, [and] galleries.  It's a great place to be and work, but [she] also needs [her] moments away in nature."  Not only does she find nature inspiring, but she feels that it helps her remain grounded.  "At the end of the day, life is all about balance.  Trying to achieve [this] balance" ultimately inspires Kunz.
Before creating Nicholas K with her brother Christopher, Kunz worked for larger companies like DKNY men, CK outerwear, and Polo Jeans for about ten years.  "After the corporate circuit, [she] felt it was time for a change."  Although she felt change a necessity, Kunz values her time spent working with various companies.  "It's important to get that kind of experience and [she was able] to meet a lot of talented and great people."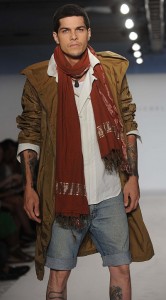 Pin
WHO IS NICHOLAS K?

Nicholas K encompasses both men and women fashion lines.  Asked how masculinity and femininity work within the line, Kunz shared that "menswear is more about subtle details and fit, where as women's clothing is much more open.  It doesn't have any boundaries."  With the line, Kunz "loves the balance of subtle menswear details with exaggerated women's silhouettes." When she designs, she always considers "an effortless wardrobe that can be mixed and matched" to the point that it can be thrown into a suitcase "for a last minute vacation or business trip and [still have] everything work from day to night."
This upcoming season's collection is untitled, but Kunz considers it "very urban safari."  The collection utilizes "a lot of military/safari details" in the outerwear.  "The color palette is the hues of an African sunset: red, coral, orange, brown."  These colors are complimented by "batiks and animals prints for women and vibrant colors for men."  Kunz thinks that "men should use more color."
Q&A

Do you have any fashion role models?

Well, lot of people have great style…Kate moss, Lou Doillon…but my role models are more people who don't appear to be influenced by main stream fashion/trends and just do their own thing. I love fashion that has no age, [is] more chic and sophisticated than trendy, [and is] all about the balance of being modern, yet timeless.

What are you favorite magazines/websites?

Magazines – Jalouse, Numero, French Vogue, L'officiel, [and] L'officiel Hommes.
Websites – Dior Homme, my friend Christophe is very talented and has a great eye.

Who do you imagine wearing your clothes?

Michelle Williams, Isabel Lucas, Charlotte Gainsbourg, Lou Doillon, Christian Bale, Ryan Gosling…but more importantly women and men who are confident, independent, naturally sexy, passionate about their lives, and grounded . Being obvious or obsessed with vanity is never sexy.
For more information and/or stockists, please visit the official Nicholas K website.
Thanks go out to Alexandria from Exposure and Nicholas!
Pictures from Coutorture