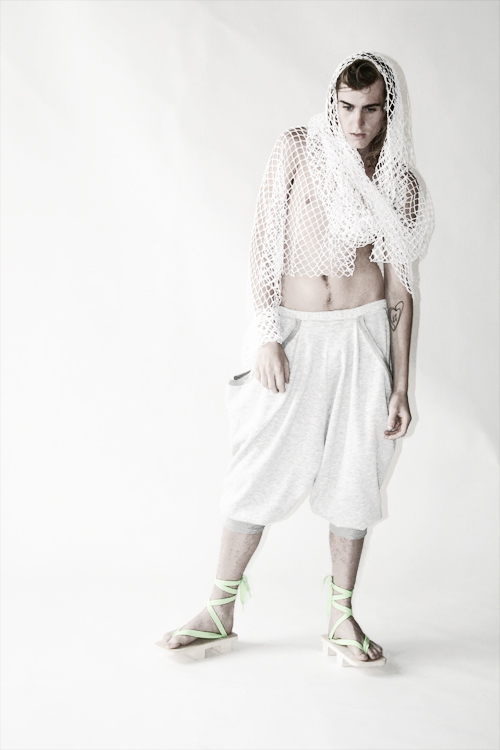 House of Bare makes its debut this spring with a collection available exclusively at Welcome Hunters.  Behind the label is Johnny Rodriguez.  Rodriguez is no stranger to the fashion industry, having worked as a designer for over five years.  Interestingly enough, up until this point, Rodriguez worked with womenswear earning praise and accolades in media outlets such as Woman's Wear Daily, Paper, and Missbehave.
According to Rodriguez, the exciting venture into menswear was the "easiest way of expanding [his own] personal wardrobe."  The idea of creating a functioning brand, however, came unexpected.  House of Bare began as "a little inside joke."  The name, House of Bare was thought up, and then "silly ideas" were tossed around, "and the next thing" Rodriguez knew, he was "making patterns, cutting, [and] sewing."  The label's first collection encompasses Rodriguez's fashion tastes.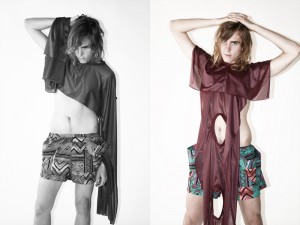 Discovering Rodriguez's own personal aesthetic reveals quite a personal collection.  Rodriguez's typical everyday wear is "messy, oversized, and simple."  This look transfers over to his collection in which he plays "with shapes and proportions."
Rodriguez likes "ill-fitted and awkward silhouettes" with a dash of skin for fun. His color of choice is heather gray, because "it's an amazing modern day neutral [that] can be mixed with fluorescent highlighter colors to black and anything in between."
House of Bare will be available this coming spring at Los Angeles fashion hot spot, Welcome Hunters.  Ultimately, Rodriguez wants people to have fun with his collection "and make it their own."  He feels that his clothes "are simple yet clever enough that anyone can incorporate a piece into their existing wardrobe with ease.  Fashion should be fun and not taken so seriously...it's just clothes."
GETTING TO KNOW JOHNNY

JOHNNY'S FAVORITE...

Designers: Henrik Vibskov, Kim Jones, Eric Lebon, Acne, Bernhard Willhelm, So Last Season, and Alexandre Herchovitch

Websites: Face Hunters, Style Bubble, Lynn & Horst, Refinery29, Bored & Beautiful...and if course theFASHIONISTO!

JOHNNY LAST...

Read the Japanese magazines POPEYE, and MEN'S NON+NO

Read the BUTT Book and Balenciaga Paris

Watched the movie Crooklyn

Listened to the Uncanny Alliance CD "The Groove Won't Bite" that has been on shuffle from '94

Wore an oversized white Daniel Palillo t-shirt from Welcome Hunters, ripped black denim shorts, and white patent gladiators from Topman
Please visit the House of Bare blog for more pictures and information.