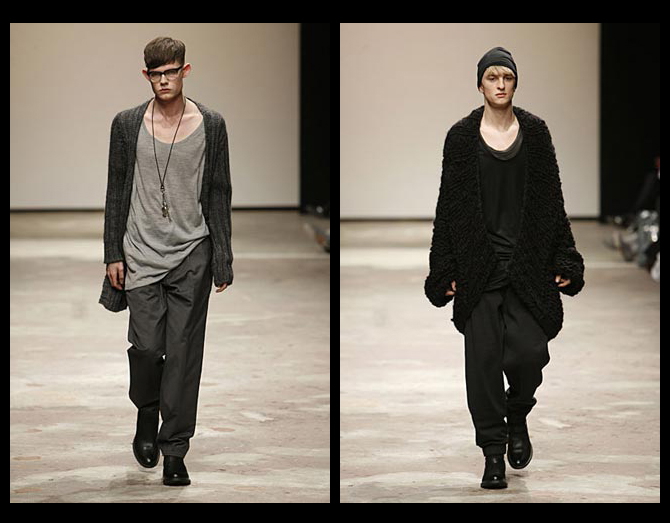 Introducing Hans Madsen
Hans Madsen was born and raised in Denmark.  Madsen believes that his "Scandinavian background has been a great inspiration" for his work.  Madsen graduated in 2007 with an MA in knitwear from the Royal College of Art.  Madsen's first collection "was recognized for his well-crafted conceptual," yet approachable pieces.  A key element of Madsen's work is "Nordic folklore reinvented."  Madsen uses his clothing line to explore the past and present of Nordic design and craftsmanship, "while fusing functional and comfortable fashion with personal expression."
Hans Madsen's fall collection will be available for purchase at the b Store.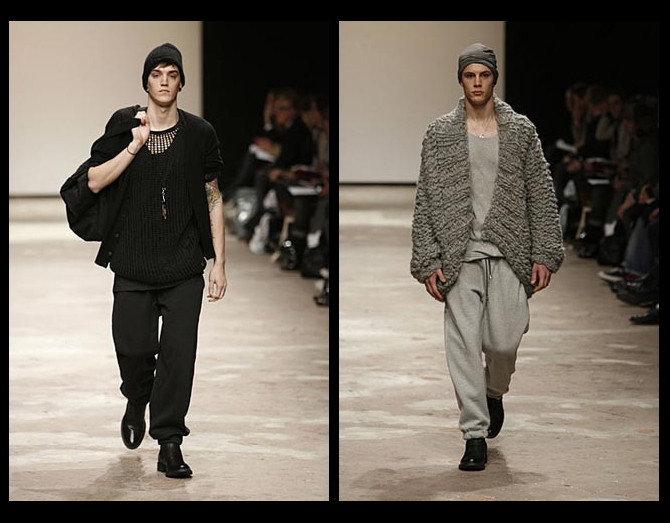 Q & A
Do you have any fashion role models?
I do admire designers that are able to combine conceptual fashion with wearable garments, and do find that Yohji Yamamoto is a good example of this combination.
What are your favorite websites or magazines?
No favorite, [but it is] always great to find and explore a new website or magazine. [However], I do like the good old classics like ID and Vogue.
What have you been doing since graduation?
Since my graduation, I have been working with Diesel, and won the world's most prestigious fur competition, The Golden Fur Pin in 2007. A limited HANS MADSEN hand-knit collection will be available at the b Store pop-in store at Selfridges this autumn.
What inspired you to start your own line?
The inspiration to start my own line came from the great feedback I received after my graduate collection and the invitation from Fashion East to join MAN.
How did you become involved with Topman?
Menswear is the area where my enthusiasm is. It is the area where I am able to express my work and I got contacted by Fashion East in December 2007 with an invitation to join the MAN Show at Fashion Week in February 2008 with an A/W 08 collection.
What should every fashion conscious man have in his wardrobe when it comes to knitwear?
V-neck jumper in gray or black lambswool or Cashmere-classic comfortable fashion.
Who do imagine wearing your clothes?
My collection [consists of] clothes for everyday use, never compromising garment or design quality. It is modest affluence for the man who appreciates fashion that liberates and supports his own exceptional personality.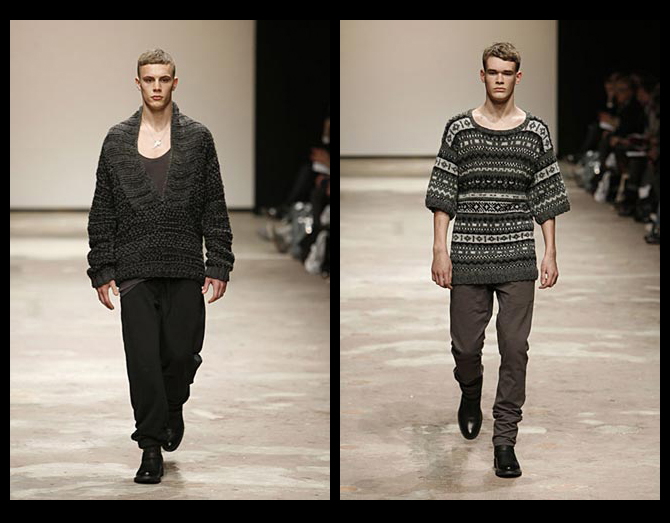 The Spring Collection
"The S/S 09 collection is a tribute to meditative style military clothing and the Fair Isle while taking a strong nod to the Scandinavian knitting tradition. It plays with clever high-tech materials and an interesting mix of innovative fabrics still with strong emphasis on the importance of perfected design and craftsmanship. Elegant black tailored pieces and sportswear pay attention to silhouettes and voluminous upper bodies to evoke refined graphic elements, bringing to mind a sporty look that never becomes too casual. Nordic folklore reinvented."