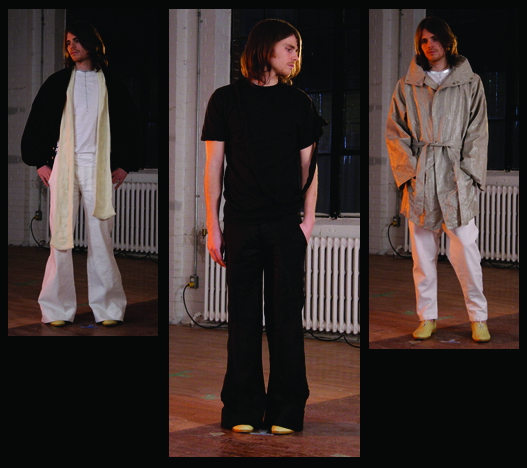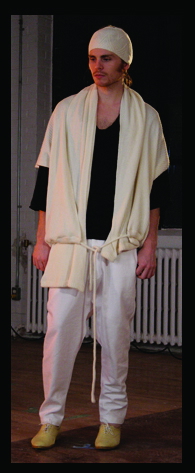 Complex Geometries' upcoming fall collection is titled, Sex of the Ancients.  For a label that embraces unisex clothing, it is not surprising that the new collection plays with the art of age and attraction.  Although the shapes and silhouettes invoke a strong image of antiquity, they are also the "result of expansion and exploration of the previous season's shapes; its a continuous process."  Each season has it's own individual story, but when the seasons are viewed in retrospect, they tell the story of Complex Geometries.
Each season, Complex Geometries manages to introduce pieces with unique cuts and drapes.  Designer Clayton Evans gets his inspiration from various sources.  Exploring a multitude of sources often takes Evans on a varied path.  Google image search has become a must have.  "Each season we choose a theme to explore.  Then by taking bits of unrelated inspiration, we recombine ideas to (hopefully) create something new."   For this season, the line explores ideas "related to sexuality and gender in both the recent past and antiquity.  Everything from sex symbols (Dolly Parton and Athena) and fetishes, to modesty in dress and  the gay pride movement had an influence on the choices we made."  With it's theme in mind, Complex Geometries is a stand out in the fashion world, yet at the same time the label is part of a larger picture.
The Spring 2009 shows in Milan and Paris saw a lot of designers letting out silhouettes, shifting from skinny jeans to wide legged pants.  Evans and others are ahead of the pack this season making silhouette adjustments in their fall collections.  "The wide silhouette is a reaction to the proliferation of skinny jeans.  It [also] relates to the season's theme by invoking images of 70's sleaze, ravers on E and the Oxford bags of a bygone era."  In addition to loose and wide silhouettes, the collection is based in hues of black, white, gray, and beige.  The colors black and white are a staple for the line.  In respect to their color palette, Evans responded, "I guess we use a lot of black and white because they're constants.  They're powerful and absolute.  I have a special fascination with white too, because there is so much controversy around its appropriateness.  There's also a great diversity in colors that are called 'white'.  As for the rest of the palette, color is carefully considered and, again, usually relates to the theme.  I've also studied a lot of color theory and think quite a bit about the mechanics of colors, in relation to other colors in the collection and to potential environmental settings."
This fall, with drape and ambiguity in hand, Complex Geometries pushes the gender boundaries with clothes fit for the likes of Alexander the Great and Helen of Troy.  In recent years, it appears that the media has become highly sensitive to what defines masculinity and femininity.  Perhaps, it's time to take a step back and gravitate to what is aesthetically pleasing regardless of norms.
For stockist information or to online shopping, please visit the official Complex Geometries website.
Thanks to Clayton for the interview!
NEXT FEATURE LABEL – WAYNE HADLY